A human being has so many things to protect, so many memories to keep. And lamination is an effective way to save some of them from
decaying by encasing paper-thin objects in a plastic film. Take a look at our pick of 5 pouch laminators and find out the best suitable for your needs.
...
Read more
...Read less
Speed (A4 papers per minute)
X
This site is a free online resource that strives to offer helpful content and comparison features to its visitors. Please be advised that the operator of this site accepts advertising compensation from certain companies that appear on the site, and such compensation impacts the location and order in which the companies (and/or their products) are presented, and in some cases may also impact the scoring that is assigned to them. The scoring that appears on this site is determined by the site operator in its sole discretion, and should NOT be relied upon for accuracy purposes. In fact, Company/product listings on this page DO NOT imply endorsement by the site operator. Except as expressly set forth in our Terms of Use, all representations and warranties regarding the information presented on this page are disclaimed. The information which appears on this site is subject to change at any time. More info
Fellowes Saturn3i
Time-tested Leader
Fellowes is a USA-based company with a century-old history. What started out as a small family business of cardboard boxes for archive documents now evolved into original equipment manufacturer with hundreds of various office devices. Fellowes products are sold worldwide, and they have official representatives in over a dozen countries. That is why we've decided to pick up one of their laminators and check out if they are as good as they say.
Vast Possibilies
Do you have precious memories with your family of friends captioned with a camera, that you want to keep for as long as you can? Or maybe you have a diploma to show your clients in an office, but want to keep it all safe and shiny? Then, in our opinion, this model is ideal for home use or small office tasks just like these, because Fellowes Saturn3i 125 works with three pouch thickness types: 3, 4 or 5 mil.
Glazed paper's colors like the ones used for photos may be destroyed or bleached out at hot temperatures. But worry not! This Fellowes laminator has a cold lamination feature. All you need is to get special pouches and you will easily encase them with this device. As for diplomas or documents, the thicker the layer, the better. The device comes with a little starter pack of ten 3 mil pouches for you to start working with it right away. It also automatically shuts down after 30 minutes of standby.
The creased adhesives on rollers and jammed pouches are the main sources of headache during a lamination process. The Saturn3i features anti-jam lever on the back. Use it to loosen rollers so that you could take a stuck envelope out.
In conclusion, we want to add that the n-style design looks good. At 20" wide body, the Saturn3i model does require some space, but it's comparatively light - at 5 lbs., you can easily store it on a shelf and put it on your table when you need it. On the whole, Fellowes Saturn3i 125 is a nice tool to use several times a day in the office or home.
A Small Piece of Advice
If a laminated object and the film didn't stick together the first time you may repeat the process once again. This applies to all laminators. Just don't overdo it.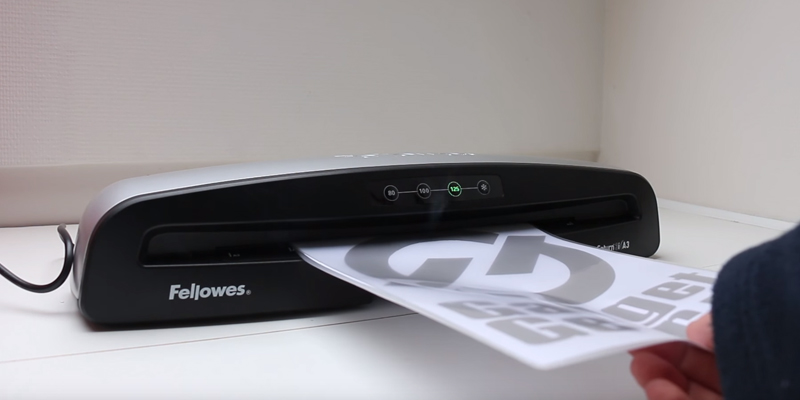 Extras
Here is a pack of 200 pouches for heated lamination. This time by Crystal Clear company. They come at 9"x11.5" size, that will be great for diplomas or awards of sizes at up to 8.5" x 11". The rounded edges will also prevent ripping the holders of a frame.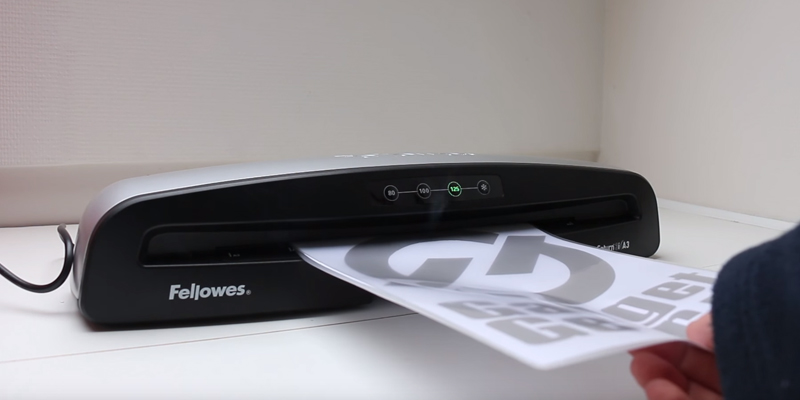 Additional Info
Last updated price

$

111.54

Stock
In stock
ASIN

B00OILZNIG
---
VIDEO
Saturn™3i 125 Laminator with Pouch Starter Kit
Fellowes Saturn3i
Swingline GBC Fusion 3100L
Fastest Hand in the West
Before portable office laminators became available, people had to visit special print shops, that usually had huge industrial-like bench-presses with heated rollers. Now, you can easily grab this Swingline pouch laminator and get the job done in a couple of minutes without leaving a room.
Upon closer inspection you can see, that there are 4 rollers to evenly squeeze the air out of a pouch and tightly seal a sheet inside. Keep in mind, that laminators are not printers, they don't spit out sheet after sheet. It is a tedious process, and sometimes they can process only one A4 pouch per minute. However, 3100L shows a top-class result with a rate at more than 2.5 sheets per minute. This model works with up to A3 formats sheets. As for the smaller sizes, there are adjustable guides at the feeder to prevent a pouch from bending or curling.
This laminator has black and silver body panels with stylish rounded edges. Some might find the 20" body of the 3100L model somewhat large. But it is still only 7" wide, so it won't take that much space on an office shelf or table. Anyway, at mere 5.5 lbs weight, you can pick it up and place anywhere you want.
Keep Rolling
Hands down, the most annoying thing when working with a laminator is jamming. The thin paper sheets become stuck, the adhesive might smear onto the rollers. All in all, it becomes a mess. The easiest way to prevent this is to hold the pouch with a paper as straight as possible when you are feeding them into the laminator. However, do not force the pouch in or out of the device.
As we've mentioned, this model has two pairs of rollers instead of one, so it should laminate smoothly. But even if a paper gets jammed, there is a reverse feature to fix this. Just hold your finger on the special sensor button and the rollers will run the pouch backward. Neat!
Sharp-witted Tool
3100L is pretty versatile: it has an option of cold lamination, where the pouch layers are squeezed together by rollers without heating. Although this requires a special type of pouch, it's not so hard to find them on the market. Sensor buttons on the top panel are used to choose the laminating type and pouch thickness of 3, 5 and 7 mil. This Swingline laminator has a sensor, that makes a beeping sound when rollers have finished warming up or a pouch got stuck inside the device.
It's not rare that people get anxious about whether they turned off an iron at home or not. This device features auto-shutdown after not being used for 30 minutes straight. Therefore, you won't have to return to the office to re-check, whether you have unplugged it or not. Considering all of the above, it's safe to say that the 3100L laminator is an awesome office tool that excels at its task. We encourage you to check it out and see for yourself that it's true.
More Products to Consider
If you have to laminate a bunch of letter-sized or smaller papers, make sure that you have enough pouches for this. Many customers tend to choose whole packs of pouches produced by Swingline as they have the best price/amount ratio compared to other packs as of today.
Additional Info
Last updated price

$

165.45

Stock
In stock
ASIN

B009FFQRBC
---
VIDEO
Swingline GBC Fusion 3100L Laminator
Swingline GBC Fusion 3100L
Apache AL13 13"
Cherished Memories
Obviously, pouches are used with papers, photos, thin cartons, and so on. But did you know that you can laminate kids appliqué, fabrics or any other paper-thin materials? You can readily use the Apache AL13 for this task. Just be sure that adhesive chemicals of the pouches can be applied to a laminated object and it's also thin enough to come through the rollers. Encasing your heatproof handiwork in a shiny film is also a great way to display it in the best light alongside with giving it protective qualities. We recommend ironing a piece of fabric beforehand to even it out and prevent air bubbles inside the sealed pouch.
Furthermore, imagine taking out the pictures drawn by your kid or his inked footprints out of the box a couple of decades later with them having all the same bright colors and exact precious details. Lots of films also provide UV protection. That's why you can frame a picture and hang it in a visible place on a wall even if it is illuminated by the sun during a day. We won't lie, laminating will not preserve the colors forever, but they will drastically increase their longevity for you to still enjoy them in a long time.
Straightforward and Honest
Let's look into details. First of all, the laminator's width is only a slightly bigger than 17". It's great for storing, but using it requires somewhat large flat surface in a dry, ventilated room anyway. AL13 is stated to work with 3 mil and 5 mil thick pouches, however, there is no option to adjust the temperature or distance between rollers for each of them. This means that you can use it for 4 mil pouches too!
There are on/off switch on the front panel and anti-jam button on the back to release the pouch in case it's become stuck. After turning the device on, it immediately begins warming the rollers up. The green LED lights up to inform you when it's ready. Despite its simplicity, the Apache does cope well with its task by laminating the paper evenly and without bubbles.
The heating element has a very high temperature and its body might not withstand a long continuous use. Thus, give it a pause to cool down after every two or three runs. Finally, the package includes a starter pack of 20 letter-sized pouches, which is pretty cool, considering the price.
Still and all, we can readily recommend this very affordable heating laminator to people who might occasionally need to laminate a sheet or two at home or at the office.
Extras
We wanted to show you this tiny paper circle-punch by EK Tools. It's a nice office tool for when you need to bind a couple of document sheets or cartons really fast. There are different models available for various hole sizes.
Last updated price

$

29.69

Stock
In stock
ASIN

B0012UEXTQ
---
VIDEO
Apache AL13 13" Hot/Cold Laminator Review
Apache AL13 13"
Swingline 1701857ECR
Swingline Knows the Ropes
The Swingline company started out in 1925 with one product - simple paper stapler. Today, they produce mechanical and electronic office equipment of various types. This is the second their product in this review, though this model proved to be very different from the top one.
First of all, this Swingline Inspire Plus features 2 rollers that can be used either for heated or cold lamination. The warming up time is drastically increased to 3-4 minutes. This model of pouch laminator works only with up to 9" paper (A4). The laminating speed is just around 1 A4 sheet per minute.
Although it loses the speed race to its bigger brother, it wins in the other field. Having less than 15" width and weighing mere 3.2 lbs. this is the lightest and the most compact model in this review. We can recommend this model to school teachers right off the bet because they can easily grab it from a store room and laminate some cards with texts or pictures right in the classroom.
There's a larger model for A3 sheets available too, but it comes at a bigger price.
Plain and Simple
You don't need a diploma to use this model, as the controls are very uncomplicated. Power on/off and cold/hot switches are to your right if you are looking at the feeder. The LED indicator lights up when it's ready to roll. Also, you don't have to bother choosing a pouch thickness because the device works just fine with either 3 or 5 mil pouches without additional adjustments. Finally, use the release lever to loosen the rollers grip when you need to take out a jammed pouch.
A Piece of Advice
As we've mentioned, the Inspire Plus can work as a cold laminator. Therefore, you can laminate some photos or even security passes yourself.
However, some government agencies may refuse to accept laminated official documents, as they can't tell the difference between original and a copy. That's why we suggest getting a second copy of official documents like birth certificates, whenever it's possible.
More Products to Consider
If you often hold press conferences or business meetings, take a look at our selection of digital pens.
Additional Info
Last updated price

$

0.00

Stock
May be out of stock
ASIN

B010PK3GL4
---
VIDEO
Swingline Inspire Plus Thermal Pouch Laminator
Swingline 1701857ECR
Purple Cows 3016c
Small Yet Capable
The laminator from Purple Cows is a sturdy piece of equipment that will be able to handle a moderate amount of daily laminating projects without a hassle. The appliance has a fairly simple set of handles and buttons so even a person that hasn't used the laminator before will be able to laminate documents and papers in no time after reading a manual.
As for the specifications, the model allows for laminating any printing materials that are not bigger than 9" in diameter - a maximum allowed size for covering them with a protective coating as big as A4. The maximum allowed lamination thickness is 5mm (125 microns), which will be more than enough to protect your valuable papers from various types of damage and to extend their service life.
The device can be used for smaller pieces too, however, in order to run them through you will need to manually pull them from the other side so that the pieces won't get stuck between the roller and the rear opening. In case a document gets stuck, the laminator has a Jam Release switch which will release the piece that is being laminated allowing you to place it properly.
The weight of 3.8 pounds makes this model highly portable, allowing its use at home as well as in the office. On top of that, it has a neat white housing which perfectly blends with most interiors.

Extra Features
Suitable both for hot and cold lamination, the Purple Cows 3016c is able to laminate one A4 page in just one minute, which is impressive for a portable device. Along with that, the device is not meant for sustained loads, meaning if you use it continuously, it is likely to overheat. Generally, it takes around 3-5 minutes for the laminator to warm up, and around 10 minutes before it needs a break. During this time, the laminator can handle up to 20 sheets of paper. Though these numbers aren't as big as in some other laminators, they should be enough if you laminate documents occasionally and do not expect a device to handle piles of paper. 
One other interesting thing about the Purple Cows 3016c is that it offers an option to install a special tray for collecting the laminated paper. This way rather than turning your desk into scrambles, all your docs will be collected in a neat way. 
Yet, the biggest ace of the company is that they use their own branded technology which allows the laminator to consume 50% less energy than most traditional laminators do. 
All of this speaks in favor of this small boy and makes it one of the better offers for those who are looking for a budget-friendly laminator that will be suitable both for home and for small office use. If you do not plan to laminate huge posters, it will suit you fine.
Additional Info
Last updated price

$

0.00

Stock
May be out of stock
ASIN

B005FVNH68
---
VIDEO
Purple cows hot & cold laminator
Purple Cows 3016c
What Is a Laminator?
The pouch laminators are special laminating machines that are used for wrapping a paper or cardboard pieces into a transparent, thin and somewhat flexible plastic layer. Usually, it's done to save the paper from folding, tearing or to preserve the print on documents from the exposure to dirt or humidity. Lamination enhances the durability of a paper sheet and overall improve its look.
Some laminators have industrial application, like wrapping a food container with a special coating. However, our attention in this review is drawn towards the pouch laminators for papers and photos that you might want to get to your office or house. The pouch itself is a two-layered transparent polymer film with a special adhesive material on the inner sides. You put a paper tightly inside a pouch, then put this wrapping into a laminator. Finally, after running through the cylinder rollers, this pouch becomes fully sealed. That way you can laminate documents, posters, postcards, letters or even photos.
Speaking of documents, take a look at our review of wireless printers. After printing out a sheet of paper, you can laminate it right away to keep it protected.
What Features to Compare
The first step before buying a laminator is to sort out what document sizes you will use it for. Maximum Paper Width is usually given in inches. Remember, that A4 papers have a width at 8.3", A3 – 11.7", and A2 – 16.5". Of course, you can use the A3 model for laminating A4 or smaller sizes.
The next thing to look for is a Maximum Pouch Thickness. The standard operating range is from 3 up to 10 mil thick pouches. The thicker the pouch is, the sturdier and more durable the lamination will be. Please note, pouch laminators are designed for sealing paper-thick materials and might not cope with a stapled stack of papers or with a very thick piece of cardboard carton.
Don't forget to take a look at Laminating Speed. This value represents how many standard A4 papers can be processed in a minute or in 10 minutes. On average, a laminator can seal around one A4 sheet per minute. It's recommended to laminate only 10-20 sheets of paper at once on many models. Sometimes, even less that this. Of course, you can do a little more, but during the process, the rollers become so hot that they require being cooled down from time to time in order to not overheat and not melt the plastic body away.
If you or your boss always wants documents to be laminated asap, keep in mind that rollers also require some Time to Warm Up. There are models that can get hot enough to start lamination after mere 30 seconds. Others may warm up longer, but process two or even three A4 sheets per minute. Try to find the balance between warm-up time and lamination speed before you make a final decision.
Some models can work as a Cold Laminator. In such device, the pouch layers are sealed together with the rollers by a sheer force of pressure, that melt together adhesives on inner sides. This method is used mostly for photos or other temperature-sensitive materials, as the heat may bleach out the colorful prints. Still, heated lamination is overall more effective.
The last but not the least, take a look at the Additional Features that will make the process way more comfortable. No matter how much manufacturers try to disclaim it, in a long run, rollers always become dirty due to adhesive leftovers and dust. Therefore, a pouch may eventually become stuck in the laminator, just like a paper in a printer. Yet, there's no need to call an IT-guy each time when this happens. Most of the modern models have either a special button/lever to unjam the rollers, or a reverse option to drive the paper back. After that, you might want to clean the rollers or just try again. Auto shut-down option is a welcome addition, as a daily office life can be very distractive. A temperature regulator may come handy if you work with temperature sensitive materials, such as thin paper, some types of carton or photos.