Audio & Video
Sony WH-1000XM3 vs Sony WH-1000XM2
Product Comparison: Sony WH-1000XM3 vs Sony WH-1000XM2
About the Product
WH-1000XM3 headphones take you even deeper into silence with further improvements to our industry-leading noise cancellation, and smart listening that adjusts to your situation.
Sony WH-1000XM2 premium noise-canceling headphones let you completely immerse yourself in your music anytime, anywhere. Bluetooth and NFC technology offer wireless freedom, while industry-leading noise cancellation blocks out background noise. We enhance your listening experience even further by adjusting the sound for atmospheric pressure and small but significant factors like your face shape, hairstyle and glasses.
What customers say about "Size & Weight"
Sony WH-1000XM3 Wireless Noise Cancelling Headphones
I like the compact carrying case and how the headphones fold-up in it. Nice.
Compact, solidly built, has a built-in divider for the cords, has both a handle strap and an outer mesh slip pocket.
They are comfortable and fold up very compact into the case that they come with.
They're also very compact and light compared to other competitors noise cancelling headphones I've tried.
They are also very light weight. Ear cups are nice and soft. Noise canceling is fantastic just walking around a busy city.
Sony WH-1000XM2 Premium Noise Cancelling Wireless Headphones
Not heavy at all, for being a full size over ear.
The metal bar and size adjuster are very solid but do not make the headphones too heavy.
The materials used are pretty comfy and they fold into a smaller size for travel.
They're easily adjustable for head size and fold flat to lay on your neck when not in use.
The headphones themselves are a bit on the heavy size, but even after a few prolonged listening sessions the weight didn't bother me that much.
Type
Over-Ear
Over-ear, Full-size
Wireless Technology
Bluetooth, Wired, NFC
Bluetooth
Frequency Range
20 Hz - 20000 Hz
4–40 000
Extras
Swivel folding design, Carry case, HD Noise-Canceling Processor, Atmospheric Pressure optimization, Smart Listening, DSEE HX™, LDAC, Sony | Headphones Connect app, Virtual surround sound, Touch control, Ambient Sound mode, Voice-assistant
NFC, Microphone, Carry case, Audio cable, DSEE HX
Sony WH-1000XM3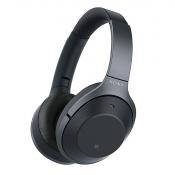 Sony WH-1000XM2
Sony WH-1000XM3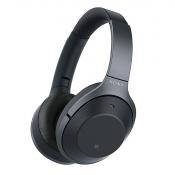 Sony WH-1000XM2
What customers say about "Features"
Sony WH-1000XM3 Wireless Noise Cancelling Headphones
The app was very cool with tons of customization possible. NFC pairing is very quick and painless pairing.
Nice quality sound, excellent connection, and even the microphones had a pretty good quality for phone calls.
The bass is pronounced but not overbearing and the mids and highs are crisp and clear.
The headphones sound great. Noise cancelling is superb. They are comfy. I use them as a phone headset a lot.
The function touch pad is sensitive and easy to unintentionally do something like skip the track when adjusting the headset on your ears. It's annoying when it happens.
Sony WH-1000XM2 Premium Noise Cancelling Wireless Headphones
These Headphones are unbelievably good. I use them mostly for bluetooth on my TV when everyone is asleep. The noice canceling feature is unreal.
Sound for music with bluetooth on my phone sounds amazing.
Sore and for that reason I returned them. This could just be a personal problem which is why I rated them 4 stars. The Bluetooth distance is really good and sound quality is pretty good as well.
Sound quality is great and the technology that Sony uses to change the range of noise control depending on whether you're walking, sitting, or commuting is amazing.
The NFC function ia nice so you just get it close enough and the earphones automatically connect.
Sony WH-1000XM3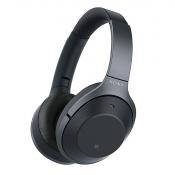 Sony WH-1000XM2
What customers say about "Power"
Sony WH-1000XM3 Wireless Noise Cancelling Headphones
These headphones have excellent battery life, amazing noise-canceling and I'd highly recommend them, if my pair hadn't broken.
The battery life on these is also amazing! And USB-C definitely takes that to the next level with the quick charge feature.
These are my first set of noise cancelling headphones and I'm very impressed. The battery life is phenomenal. The noise cancelling is incredible.
Battery life is as advertised. Long lasting and easy to recharge. Usb C is a great choice when trying to plug in in the dark.
Battery life isn't anywhere near the 30 hours advertised. Changing the volume is hard, a lot of the time you skip tracks instead of adjusting volume.
Sony WH-1000XM2 Premium Noise Cancelling Wireless Headphones
The noise canceling feature is great on airplanes, and the battery life let's me fly long hours in comfort and quiet.
Long battery life and great sound. They also are great at cancelling noise.
These headphones are incredibly comfortable and have a very long battery life.
Also, the battery life is very good so I'm very happy.
These headphones have an outstanding battery life. I flew half way around the world listening to music the whole time. I arrived with half the battery left.
Warranty / Certifications
Sony WH-1000XM3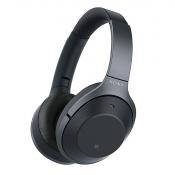 Sony WH-1000XM2