Echo smart speakers can help you in dozens of ways and you don't even need to lift a finger to summon them. Just speak their names
and they will be ready to playback your favorite music, stream podcasts, play audiobooks, as well as perform an array of smart functions.
...
Read more
...Read less
X
This site is a free online resource that strives to offer helpful content and comparison features to its visitors. Please be advised that the operator of this site accepts advertising compensation from certain companies that appear on the site, and such compensation impacts the location and order in which the companies (and/or their products) are presented, and in some cases may also impact the scoring that is assigned to them. The scoring that appears on this site is determined by the site operator in its sole discretion, and should NOT be relied upon for accuracy purposes. In fact, Company/product listings on this page DO NOT imply endorsement by the site operator. Except as expressly set forth in our Terms of Use, all representations and warranties regarding the information presented on this page are disclaimed. The information which appears on this site is subject to change at any time. More info
ECHO Studio
Exceptional Sound Quality
The Echo Studio High-fidelity smart speaker plays music and follows commands equally great. With its 360-degree setup, the speaker produces a really thrilling sound with exceptional dynamic range and stunning stereo image. Plus, it can shake your walls with powerful bass that is both deliberate and authoritative. Very punchy indeed!
Being 8.1 inches in height and 6.9 inches in diameter, this is obviously not a speaker that would sit demurely upon a table. Yet, its large size is easily justified with five strategically positioned speakers neatly hidden inside. They send different parts of the song to your ears from different directions, thus delivering room-filling sound and making the listening experience as immersive and expansive as possible. The Echo Studio can easily handle max volume with strong bass, dynamic midrange, and crisp highs. And whatever the source, the speaker will add space, clarity, and depth. This is achieved owing to the addition of the Dolby Atmos technology that enables a multidimensional audio experience.
What's more, this speaker sounds quite nice wherever you put it in. This is helped a great deal by the Automatic adaptation technology, which can sense and analyze the acoustics of your space and automatically adjust the sound to give you the best-quality audio playback. Also, this means you won't need to worry about your room's acoustics having a negative effect on this speaker.
Compatible with a Wide Variety of Formats
Yet, what definitely brings the Echo Studio above the competition is the compatibility with a wide range of formats including MP3, FLAC, AAC, Vorbis, Opus, Dolby Digital, Dolby Digital +, Dolby Atmos, Sony 360 Reality Audio/MPEG-H, and more. Actually, it's the only Echo smart speaker that plays music in 3D and Ultra HD. The new 3D format sounds excellent with no faults. So, just anything you're going to play on this speaker will sound exceptional. And to let you enjoy high-definition sound right away, you can get an Amazon Music HD subscription that will give you access to a growing catalog of 3D music and Ultra HD songs.
All this surely makes the Echo Studio an ideal bet for those who cherish high-quality sound the most. It'll give you some of the best audio, making the sound full and clear with deep and intense bass.
Last updated price

$

199.99

Stock
In stock
ASIN

B07G9Y3ZMC
---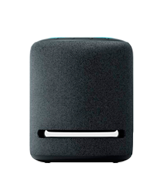 ECHO Studio
ECHO Plus (2nd Gen)
Includes a Built-in Smart Home Hub
Smart home devices have become incredibly popular over the past few years. We've got such smart devices as light bulbs, heaters, cameras, door locks, in-wall switches, plugs, and sensors for just about everything. Plus, new devices continue to pop up every week to drag your house into a connected future. And when all of these devices are being handled by a single network, you have a smart home. The whole idea is to have everything talking to everything. For example, it may be your lighting bulb that talks to your security camera or send signals to your coffee machine to make you a hot cup of coffee once you get out of bed. But there's one problem - different companies make different smart devices. And if you want them to work together, they should speak a common language. That's where the Echo Plus comes in handy.
Made with the Zigbee hub, it's able to easily control and tie all your compatible smart home devices together. With a built-in Zigbee, there will be no barriers to communication between smart devices even if they're from different manufacturers. Namely, it's compatible with such big names as Amazon, Comcast, Honeywell, Huawei, Philips, SmartThings, Texas Instruments, Amazon, Belkin, Ikea, Lutron, Nokia, Osram, Bosch, Indesit, Samsung, Velux, Humax, Panasonic, Miele, and others. So, if you've got quite a lot of different smart devices from pretty much different companies, the Echo Plus will let them work in harmony without the need for separate hubs.
Simple Interface
Measuring 5.8 x 3.9 x 3.9 inches, the cylinder-shaped speaker has clean lines and an iconic Echo look. Like the majority of 360-degree smart speakers, the volume goes to great levels and the sound performs exactly what it's built for. Moreover, you can further customize your listening experience by adjusting the equalizer settings or pairing this device with an additional Echo Plus (2nd Gen) speaker or Echo (3rd Gen) speaker. Alternatively, you can make the bass more powerful and rich by connecting the speaker to an Echo Sub.
On top, you'll find a 7-microphone array and an "off" button that electronically disconnects the microphones. When you activate the mute option, the classic blue ring surrounding the unit will fall into the red, giving you the visual approval that your privacy is being protected.
Being smart, loud, and nice-looking, the Echo Plus (2nd Gen) is a must-have thing for homes with lots of different gizmos from different manufacturers. Thanks to the integrated Zigbee hub, it'll let all your smart devices to communicate with each other.
Last updated price

$

0.00

Stock
May be out of stock
ASIN

B07CT3W44K
---
ECHO Plus (2nd Gen)
ECHO Echo Dot (3rd Gen)
The Best Seller
The Echo Dot (3rd Gen) is probably the most popular smart speaker in the world. It's a very compact, extraordinarily useful, and versatile device that can help you keep up with the technologies and live a smarter life. That's become possible owing to the quick integration with Alexa and its broad set of skills that continuously expands. Actually, the Echo Dot is one of the easiest devices to set up. You simply should plug in the power cable and then use the Alexa app on your smartphone to connect the Dot to your Wi-Fi network. The app will lead you through everything, and the whole process won't take you longer than a minute.
Once connected to Alexa, the speaker will give you a whole new world of opportunities. Moreover, Amazon often adds new features and updates to Alexa and they automatically become available on all Echo devices, including this. For now, you can use the speaker to control almost everything with your voice (smart lights, locks, TVs, music, thermostats, and many more), stream music via Wi-Fi from multiple sources, make hands-free calls to almost any number in North America, communicate between different Echo devices like an intercom, make purchases from your Amazon account, set timers, create calendar reminders, etc.
When it comes to entertainment, you can check the news, weather, or traffic, as well as ask for sports scores, movie showtimes, restaurant hours, or any other sort of information. The opportunities are almost endless with Alexa and Echo Dot!
Improved Design
The Echo Dot (3rd Gen) has been recently upgraded to become even better than ever before. And the most obvious update is the new look. Now, it has more rounded edges and a fabric exterior which gives it a luxury appearance. It's available in three neutral colors that blend in with nearly any decor.
The 3rd generation Dot has also got a larger speaker (1.6" vs 1.1" on the 2nd generation model) and a larger driver. So, now the sound is slightly fuller, yet still weak compared to full-sized Echo speakers. That said, you can make things better by pairing two Echo Dots in a "stereo mode", which will essentially give you left and right speakers.
The placement of the microphones also differs - while the previous model had 7 small microphones on the top surface, the 3rd generation Dot has 4 of them. However, that didn't influence the sensitivity of the device and didn't reduce its ability to pick up your voice from different distances and angles.
In all, the Echo Dot (3rd Gen) is a great model that will be ideal for those who'd like to use it mainly for voice-controlling your smart home devices. Even though the audio quality can't match the fullness and heft of full-sized Echo speakers, it is pretty good nevertheless. 
Last updated price

$

39.99

Stock
In stock
ASIN

B07FZ8S74R
---
ECHO Echo Dot (3rd Gen)
ECHO Echo Flex
Makes any Tight Space Smarter
What we have here is a very minimalistic Echo wireless device that looks nothing like other Echo speakers. Actually, it's a small plug-in unit that can fit any room without sticking like a sore thumb. It plugs directly into a power outlet and requires neither a messy cord nor an accessory shelf to hold it. It just neatly sits in an electrical outlet out of the way, ridding you of the need to run a cord for a bulky dot. So, if you have some areas where it's impossible to install a full-sized device or just want to make all the nooks and crannies smarter, then you should definitely take a closer look at this model.
Of course, the Echo Flex lacks sound fidelity due to its compact size, but if you don't plan to use it as a primary music source, then you're good to go. The Echo Flex connects through the Alexa app (like other Echo devices do) and performs all the same functions. For instance, it lets users turn lights or TV on/off; set timers and reminders; ask for weather or traffic information; check the time; activate motion sensor in the garage; and many more useful commands.
The device is quite affordable, which means you can equip your home with multiple speakers and get help from Alexa in more places. This way, you'll be able to benefit from the Drop-in feature and talk to any room in your house. The Drop-in opens a two-way communication channel between different Echo devices, allowing you to remind your kids that it's bedtime from the opposite end of the house, for example. Quite handy.
Nice Extras
The setup process of the Echo Flex is as easy as on other smart speakers. You simply plug this wireless device in and it starts up. As a nice extra, there's an additional USB port on the bottom of the device so that you can connect a charger cord or whatever else you want. That is to say, you can add an optional motion sensor if you're planning to use it in a bathroom or a night-light if it's going to be installed in a bedroom. For a bathroom, you can use it in conjunction with a waterproof Bluetooth speaker. As the Echo Flex is a tiny speaker, the sound it produces isn't rich even at the highest volume, so an external speaker may be required.
All told, the mics on this device are very good and the voice pickup is very responsive. So, if you need a compact unit to send commands mostly, the Echo Flex is up to the task. It'll definitely reduce clutter in small spaces and may be a much safer alternative to regular Echo Dots in baths and other tricky locations.
Last updated price

$

0.00

Stock
May be out of stock
ASIN

B07MLY3JKV
---
ECHO Echo Flex
ECHO Auto
Take Alexa with You!
If you're a huge fan of Echo devices and have one in nearly every room, there is still some area for improvement. We offer you the Echo Auto for use in your vehicle. It seamlessly connects to Alexa via your smartphone's Alexa app and then plays through your car's speakers. You can use either an auxiliary input or the Bluetooth connection. Yet, do note that the Echo Auto can't be paired with some vehicles, so you should check compatibility in advance (only if you're going to use the Bluetooth technology).
Once set up, the device will respond to your voice flawlessly, just say "Alexa" and wait for the chime to give commands or ask something. It starts up in mere seconds and works through your car speakers, using your existing phone plan. The Echo Auto is fitted with eight microphones that are strategically placed all around, so it'll hear you even on the noisiest of roads.
Once synced, this auto smark speaker will let you do almost all the same things as standard Echo models. To specify, you'll be able to update to-do lists, check the calendar, set events, or make hand-free calls while staying fully concentrated on the road. Also, the Echo Auto allows for Drop-In connection with Echo devices at your home. This way, you'll get an opportunity to send announcements to your family members on-the-go. Needless to say, you can ask Alexa for directions and it'll connect to supported apps like Google Maps or Apple Maps on your phone.
Brings Entertainment on the Road
What also sells the product is its ability to bring you fun on-the-go. It goes far beyond simple radio by letting you stream audio from Amazon Music, Apple Music, Audible, Spotify, SiriusXM, and radio stations with TuneIn and iHeartRadio. Also, you can use the Alexa app to access your favorite music content. Just ask the device to play a song, genre, artist, station, or audiobook of your preference.
Even better, with the Flash Briefing feature, you'll enjoy the fully-customizable daily digest of news and other information that may be interesting to you (news updates, weather forecasts, sports and traffic updates, educational snippets, and many other humorous or entertaining things). Just ask "What's my flash briefing?"
All things considered, this Echo Auto device can keep the whole car entertained with lots of useful Alexa features. If you're eager to make your life even smarter and take Alexa on-the-go, you'll be hard-pressed to find a better option than this.

Last updated price

$

0.00

Stock
In stock
ASIN

B07VTK654B
---
ECHO Auto
What Are Echo Smart Speakers?
Smart speakers are some of the most multi-functional devices you can own nowadays. And that's because they can help us fully control our smart home ecosystems. Coming equipped with different voice assistants, they are ready to answer our questions and respond to our commands. Of course, they aren't perfect collocutors, but they can tell you the weather forecast, remind you of important events or appointments, tell you the news, and even order pizza for you. So, by purchasing a smart speaker, you get not a simple device that just plays music but an intelligent gizmo that will do whatever you tell it to do.
Yet, there are dozens of smart speakers available on the market today, and picking the best ones is getting tougher. That's why we have selected the best Echo smart speakers for this review. The era of smart speakers started with the Amazon Echo (shortened to Echo) when the company released the first-generation model. Since then, the devices have become much more intelligent, powerful, and visually appealing. Echo devices are connected to the voice-controlled intelligent assistant service called Alexa and will respond when you simply say "Alexa".
In addition to music playback, streaming podcasts, and playing audiobooks, they can perform an array of additional features including voice interaction, making to-do lists, setting alarms, providing weather, traffic, and other useful real-time information. Some high-end Echo speakers can even act as home hubs to control several smart devices at once. The choice is really vast and it's up to you what suits you better.
What Features to Compare
There are quite a lot of Echo speakers to choose from, but the good news is that you don't need to worry about tricky specs or details since just a few key features that we describe below will help you choose the right one for your needs.
Sound

As we're talking about speakers, more likely than not, you're going to play music on them, right? If so, you should definitely consider how a chosen smart speaker sounds. Generally, smaller, lower-priced Echo speakers tend to have passable audio quality. But as you scale up in size and price, the sound quality increases as well. Also, keep in mind that you can get an inexpensive Echo Dot, for example, and hook it up to a better speaker via a 3.5mm audio output.
Style
Your smart speaker should blend into your home décor, so you need to take into account the design and the size of a chosen speaker. Luckily, Amazon offers its smart speaker in different colors, in both fabric and plastic cover options to match your furniture. Also, the company produces both full-size powerful speakers and compact, plug-in options that require no cable connection and can be installed in bathrooms and other spaces where you don't want to mess up with wires.
Compatibility
While size, style, sound quality, and price are basic considerations, you'll also need to weigh a few other abilities to understand which Echo speaker will cater to your needs. The key feature is the compatibility with other gadgets you already own. That is to say, if you're planning to hook a speaker up to other hi-fi equipment in your home, you should check whether it'll play nice with your existing smart devices. Check the connectivity specs to make sure the synchronization will be flawless.
Extras

Finally, review some bonus features that can make operation even more enjoyable and easier. For example, large families may want to have a speaker with multi-user support that is able to recognize different people. After all, you won't want your smart speaker to tell your partner's calendar information instead of yours.
Some Echo speakers come with different slots enabling you to connect third-party devices like motion sensors, night lights, and others. They can come in handy for those who want to get as functional devices as possible.
Did you know?
How It All Began
The first Amazon smart speaker, the Echo, hit the market in March 2014. It was originally designed only as an Alexa smart speaker, but after its release, the chief developer, Dave Isbitski, received requests from many manufacturers to discuss connecting their smart devices to the Echo. Their smart home devices had a common problem - they required an extra app and this actually discouraged many customers from buying them. That's why the Amazon Echo has been upgraded and grew into a controlling hub of a smart home. An interesting fact is that the voice of Alexa assistant was inspired by the television series Star Trek (The Original Series and The Next Generation).
How Do They Work?
The key to the operation of Echo smart speakers is their voice recognition software. Once turned on, the Echo speakers listen to all speech, waiting for a "wake word" to spring into action. By default, they await for the word "Alexa", though it can be changed to your preference. Once an Echo speaker hears that word, it activates and begins to record your speech. Then, the recorded speech file is sent over the Internet to Amazon's AVS (Alexa Voice Service). The AVS, in its turn, deciphers your speech and what you are asking for and then sends a response back to your smart speaker. All that happens in a matter of seconds.
The voice recognition system uses smart algorithms and becomes more familiar with your individual speech patterns and specific use of words. In other words, it learns to understand you and, eventually, provides a better service. You can also provide feedback on the accuracy of Echo responses.
In general, when users buy a new Echo smart speaker or any other Alexa smart product, they are asked to perform a "voice training" where they need to read 25 key commands to a new device.
Safety Concerns
One of the major problems why many people refuse to buy smart speakers is concerns about their data security. People are afraid of voice hacking that may involve the mimicking and recording of their voice and then hijacking their accounts. Yet, the voice recognition system has been developed massively over recent years and now it can detect whether your speech has been previously recorded or not.
The technology for Echo devices is evolving at a rapid pace and now most of their speakers are built with multiple layers of privacy protection. For example, they have a microphone off button that electronically disconnects all the microphones if needed. Echo speakers also give you an opportunity to control all your voice recordings, namely, view, hear, or delete them at any time.