The most popular songs from your favorite genres may constantly accompany you on your way. So, if you want to feel free and listen
to music, we have a great offer for you. The best wireless headphones are represented in this review, so that you can choose the most appropriate one.asdasd
...
Read more
...Read less
X
This site is a free online resource that strives to offer helpful content and comparison features to its visitors. Please be advised that the operator of this site accepts advertising compensation from certain companies that appear on the site, and such compensation impacts the location and order in which the companies (and/or their products) are presented, and in some cases may also impact the scoring that is assigned to them. The scoring that appears on this site is determined by the site operator in its sole discretion, and should NOT be relied upon for accuracy purposes. In fact, Company/product listings on this page DO NOT imply endorsement by the site operator. Except as expressly set forth in our Terms of Use, all representations and warranties regarding the information presented on this page are disclaimed. The information which appears on this site is subject to change at any time. More info
Sony XB950B1
Design
The Sony MDR-XB950B1 are premium-class wireless headphones that stand for outstanding bass. They are well built, have ample padding, and feature a metal and plastic frame which reinforces their overall design. While most people find these headphones comfortable to wear, some people say that their oversized earcups have just too much padding which results in feeling fatigued after wearing them for some time. This also means they aren't the best pair for exercise unless you do not mind them slip and sway on your head. Having said that, those people that seek a perfect ear-to-ear fit to enjoy music to the full without any outside noises leaking in, and those that do not need headphone for sports use, will surely find them a decent pair to consider.   
The remarkable advantage of the Sony MDR-XB950B1 wireless headphones over other full-sized models is their portability, which is quite rare for headphones with such design. These headphones can lay almost flat allowing you to compactly transport or store them without having to worry that they might get damaged. 
Speaking of materials, the Sony MDR-XB950B1 is made of durable and premium quality plastic with a metal frame. By appearance, the headphones do not look much different from other headphones released by Sony. They have a black matte body with sleek oversized round earcups. On the left cup of the headphones, there are control buttons for power and bass; the button for playback and call management control, along with the controls for volume and a pinhole microphone for hands-free phone calls handling, is placed on the right earcup. 
Sound Qualities
As for headphones performance, the Sony XB950B1 have a controllable bass boost feature which allows you to enhance the original bass sounding and offer you the option to activate virtual surround sound effect provided that you use a special headphones app, in which you will also be able to adjust the bass levels, see the battery life status, and fine-tune other music parameters to your liking. As we've already mentioned, Sony wasn't jiving about tailoring these headphones towards bass fans. The headphones produce intense bass with palpable thumbing sounds even when the "bass boost" feature is turned off. What's missing, though, is a mid-range, leading to the complete blur off all vocals, mids, and highs and making this headset suitable for listening only to drumming and bass-intense tracks. The Sony XB950B1 do not use active noise isolation technology, however, thanks to their padded design, they are more than capable of blocking ambient sounds providing very decent passive noise cancellation.
All things considered, the Sony XB950B1 are the type of headphones that will mostly appeal to those consumers who need a powerful headset producing deep and intense bass for heavy music. Though there are two apps allowing for fine-tuning bass levels, you're very unlikely to get away from that power of bass-boosting, which is why it's essential that you know right from the start whether such powerful performance is exactly what you've been looking for. In case you have, the Sony XB950B1 won't leave you indifferent!
Battery Life
The battery life of the Sony XB950B1 is long enough to use them wirelessly for the biggest part of a day. When fully charged, the headphones will provide you with up to 20 hours of continuous music playback, which is one of the longest time compared to the rivals. Speaking of the downsides, one of the biggest of them (aside from the overly huge bass) would be the lack of any power saving features that would prolong their operating time. On the other hand, the possibility to continue using the headphones in a wired mode when the battery goes flat compensates this minor shortcoming, giving you the advantage to use these headphones anyplace and anytime.
Additional Info
Last updated price

$

199.95

Stock
In stock
ASIN

B01N5UVZBP
---
What customers say about this product
Connects easily to any bluetooth enabled device I've used so far including ipad, desktop computer and mobile phones.
Very comfortable, ears don't get hot, very light weight, and long battery life.
They charge quickly and the battery life is impressive as well!!! Very happy customer!
Sony XB950B1
BÖHM B-66
Type
The BÖHM B-66 wireless headphones belong to the full-sized, closed-back type. These headphones use the Bluetooth 4.0 wireless connection standard which makes it possible to connect these cordless headphones to many kinds of your digital equipment like computers, laptops, MP3 players, or any kind of mobile devices, be it smartphones or tablets. You will be able to escape the noise of the world around you not only at home, but on the streets too.
Sound Quality
These wonderful wireless headphones by BÖHM provide you excellent sound owing to their wide frequency range, which is from 20 Hz to 20 kHz, and to their high 100 dB sensitivity. Additionally, to the mentioned above, these cordless headphones also make good use of an active noise cancellation system. This means you will be able to enjoy your favorite music or audio book without any noise getting in your way.
Design Options
The BÖHM B-66 cordless headphones' frame is performed in aluminium with details made of zink alloy. Both the headband and the ear cups are covered with very soft protein leather, thanks to which your ears and head will not get any fatigue from the prolonged using of these wireless headphones. Also, we want to bring to your attention the fact that the manufacturer offers this model in two color solutions, silver and brown.
Battery Life
The battery of these cordless headphones is charged using the USB port. Thanks to this solution you will be able to charge them from any kind of equipment with the same ports, be it a laptop or a personal computer. When you actively listen to music these cordless headphones will live for about 16 hours. And even more for continuous talking - up to 18 hours! This length of time is more than enough to use them during a day with only break for a sleep. At the same time, mere 3 hours are enough to fully charge the headphones.
Last updated price

$

85.90

Stock
May be out of stock
ASIN

B01251KZUQ
---
VIDEO
Böhm B66 Wireless Headphones - Review
What customers say about this product
Luckily my head is an average size so I don't feel like I have to stretch them at all.
Good sound, bluetooth wireless works very well at long distance.
I was pleasantly surprised by the sound quality and the battery life. I've been happy with my purchase.
BÖHM B-66
TaoTronics TT-BH07 US
In-Ear Design for a Snug Fit
When choosing wireless headphones, you should consider a couple of things - the quality of audio and the quality of the build. With the TaoTronics TT-BH07, you'll get both for an affordable price. These headphones have an in-ear design and are supplied with several plugs of smaller and larger sizes to fit in different ear vessels. Thanks to that, you will not need to worry that they might fall off your ears if you go running, for example. They will fit tightly in your ears even if you'll waggle your head a lot. The TaoTronics TT-BH07 are incredibly lightweight, have a simplistic design and it seems like they've been made specifically for exercise. In addition to several plugs of different sizes, the TaoTronics TT-BH07 are supplied with two sets of ear rests, a short USB charger cable, and a soft case. Not surprisingly, they are one of the best-selling wireless headphones today.
The Headphones Specs
These headphones look very simple yet pretty elegant. They have no extra frills that may impede their use and it seems they were designed specifically for people engaged in sports. The additional magnetized strip on the back of the earplugs keeps them securely in place when you don't use them and wear around your neck. The built-in controls are conveniently arranged and easy to use. Basically, these headphones include everything needed for their comfortable use. The only thing that isn't as good about these in-ear headphones is the included case which seems fragile and not soft enough to protect the headphones from falls and impacts.
When it comes to the sound quality, the TaoTronics TT-BH07 do not fall behind other models of the same price range. They deliver very good sound with a decent bass response. Thanks to the CVC noise cancellation technology, the headphones effectively filter the outside noise allowing you to enjoy the music to the full, while the supported aptX codec gives them a CD-like sounding. Furthermore, the manufacturer of the TaoTronics TT-BH07 fitted it with an improved ceramic antenna so that you could play music at a distance of 20-30 feet away from a connected device without a signal drop.

Battery Life
The headphones come with a micro USB cable for charging and take around 60 minutes to fully recharge. The battery life of the headphone provides up to 5 hours of playback before the battery drains out completely. Even though this isn't the longest playback time, most people find it more than sufficient for a day-to-day use.
Additional Info
Last updated price

$

0.00

Stock
May be out of stock
ASIN

B06ZYX6Y1T
---
TaoTronics TT-BH07 US
Sennheiser RS 120 II
Type
It's convenient to work on many devices, such as PC, Hi-Fi audio and TV, using wireless headphones. You may listen to whatever you like and at any loudness level. This device is open-back, so you are not isolated from sounds in the surrounding world. It will give you a chance, e.g. to work on your computer and hear what's going on at this moment. The customers who prefer full-size layout will be glad to get these headphones. In fact, the range of 300 feet allows you to walk away from your computer and keep on listening to what you want. This model of the headphones is meant for home and office.
Sound Quality
The sound quality is pretty decent, especially when you take a low price into consideration. With radio frequency transmission technique and sensitivity of 106dB, this device provides you with the great sound, no matter what you're watching and listening to on your PC. Besides, the frequency range of 22 Hz-19.5 kHz gives you the opportunity to hear the sounds at the top level of quality.
Design Options
Many customers find it more convenient when ear cushions in the headphones are made of velour. It is considered to be more soft to the touch. And a lot of people would agree that this is an important factor, if using headphones for a long time. Your ears get the comfortable feeling. And what's more - the plastic is extra sturdy, so you may count on the great reliability. Besides, it's convenient to let the headphones rest on the charging dock when you completed your work on the computer. The whole view is very neat and handy. And as soon as you finished watching the movie, the headphones are designed so that to shut off automatically in three minutes.
Battery Life
The dock station is used for recharging these headphones. And the battery life for this device is up to 20 hours. So this period of time is enough to work on your computer for the whole day, without having to recharge it. Many would agree that it is extremely convenient to turn on the music in the morning and listen to it till the very evening. Walk about your house, do what you have planned, listen to what you like - the battery life is enough for the whole day.
Additional Info
Last updated price

$

0.00

Stock
In stock
ASIN

B0001FTVEK
---
VIDEO
Sennheiser RS 120 II Wireless Headphones Review
What customers say about this product
The headphones are light weight.
With respect to audio reproduction this unit does have an impressive range of frequencies.
Good battery life. I can wear this all-day streaming stuff without ever having to recharge it.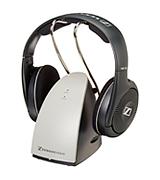 Sennheiser RS 120 II
AYL 4009152
Type
This cutting-edge model of AYL wireless headphones is extremely compact. Being an in-ear headphones, AYL V4.1 Wireless Sport Stereo In-Ear Headset is just perfect for taking with you when you go jogging or just for workouts. These wireless headphones connect to any brand-new digital device like smartphones, laptops, and tablets via the Bluetooth 4.1 technology. Effective and comfortable. What else to wish for?
Sound Quality
The top-notch sound quality of these AYL wireless headphones is provided by EDR APT-X audio decode technology. There is not much that can challenge them when it comes to stereo sound in the in-ear/earbuds headphones. And as we speak about in-ear, here is also CVC 6.0 Digital noise reduction technology that intellectually filters the outside noise, making the sound inside the buds perfectly clear and providing ideal comfort whether you talk or listen to music.
Design Options
AYL V4.1 Wireless Sport Stereo In-Ear Headset is a really comfortable device. Its design solution includes a 22.05" cord between the earbuds made in such a way that you can place it behind your neck. Thus, the headphones' cord will not be in your way when you run in the morning, for example. Also, these wireless headphones work perfectly well at the distance of 32 feet from the sound source and feature a built-in mic, so you will be able to answer a call without interrupting a workout session. The headphones are made of plastic and have rubber earcups. The latter are waterproof, meaning they will not let your sweat inside. All in all, this is an over-the-top solution for sports.
Battery Life
7 hours of continuous talking or listening to music may seem a bit short, but if you think about it, you'll probably agree with us that it's more than enough. 7 hours is more than a couple of workout sessions or a pretty long ride somewhere. And when you do not use them, these wireless headphones will keep the charge for up to 175 hours. A decent result for such a lightweight, compact, and affordable model, right? It's a good enough option for the money it costs, we dare say.
Last updated price

$

0.00

Stock
May be out of stock
ASIN

B014EGE9G6
---
VIDEO
QY8 V4.1 Bluetooth Headphones Review
What customers say about this product
Range is about 7 meters, but that's fine because the phone can stay in my pocket or on the table/desk.
Battery life: As advertised. I've plugged them in after the first audible warning and been back in business within a few hours.
Deep rich sound with no distortion (great bass). Dependable Bluetooth connectivity (reliable connection). Proper Fit / Sweat resistant
They are easy to charge, comfy to wear and easy to pair.and the range is good. The controls are conveniently placed and easy to use.
AYL 4009152
What Are Wireless Headphones?
In our digital world, music is an integral part of the person's life. Various gadgets and mobile devices are widespread. Nowadays, no one is surprised to see the person who listens to music with the best wireless headphones. The cutting-edge technologies have introduced wireless headphones with the top sound quality. And the perfect sound has proved to be not inferior to the wired ones. No wires are required to let you listen to your favorite tracks or watch movies. The built-in microphone and Bluetooth technology also give you an opportunity to answer the phone calls. Also, wireless headphones are much more convenient than MP3 players during some physical activities.
If you prefer using other headphone types, for example, gaming headsets, hands-free sets, wireless or cabled earbuds, we recommend checking out our reviews, in which we examined the best gaming headsets, Bluetooth headsets, earphones and earbuds.
What Features to Compare
In our review, we introduce the best wireless headphones. We characterize the top wireless headphones according to their main features. Exactly these options are going to help you choose the right device. The first thing to pay attention to is the Type. The best wireless headphones can be full-size (mainly appropriate for the home usage) or compact vacuum (meant for the active leisure). The open-back, full-size wireless headphones are perfectly suitable for amateurs who are sensitive to the slightest sound waves. But note, that the sound from these headphones can be heard by others. The closed-back, full-size type provides you with the ideal sound when you listen to hard music. In this case, the bass effects are impressive.
The next thing to note is wireless technology. It basically tells you where you'll be able to use these headphones. For example, the radio frequency systems are great for usage at home. The systems come in a set of headphones and a docking station. You can connect the headphones either to your Hi-Fi Audio or the TV-set. Bluetooth-compatible devices make it possible to go further from the house and listen to the music outdoors.
The Sound Quality of headphones is the most important criterion to consider while choosing the device. Surely, the best way to check the sound is through testing different models, but you can also rely on the following aspects:
frequency range (the person perceives the sounds in the frequency 15-20 Hz and up to 18-22 kHz; the ideal headphones should include the mentioned range from 15 Hz up to 22 kHz);

the sensitivity defines the top loudness level (the maximum threshold of hearing is 130 dB; it is not recommended to listen to music at the maximum volume, so as not to damage your hearing);

the noise damping (if there's a good noise damping, the side tones won't be audible).
When you've decided on the sound, it's essential to consider Design Options. Pay attention to the material the headphones and wireless earphones are made from. Poorly made headphones won't serve you long. But worse than that, they won't fit you well and hence, won't be convenient in use.
Battery Life is especially important when talking about the wireless headphones. The battery life determines how long you can listen to music. The charge indicator will tell you exactly when it's time to recharge the battery.
FAQ:
Q: What is noise cancellation technology?
A: Noise cancellation or noise cancellation technology is a method for reducing the ambient sound through the use of active control. Thanks to this particular technology, now it's become possible to listen to music, manage phone calls, etc in crowded places without raising the volume level. Noise-cancelling headphones can also serve as a sleeping aid for people sensitive to all outside noises and for those who suffer from insomnia.
Q: What is the difference between active noise cancellation and passive noise isolation?
A: Active noise cancellation technology is specially designed to reduce the low-frequency sound waves by creating anti-noise to cancel ambient noise leaking in the headset, whereas passive noise isolation is present in all headphones and achieved by rubber tips or padding of the earcaps.
Q: What is an operating range?
A: When it comes to any wireless headphones, what matters is the operating range. The operating range is a maximum possible distance from a connected device within which the headphones will operate.
Q: Do headphones made from different materials sound different?
A: Of course, the material is an important part of the sound quality of headphones. Naturally, headphones made of plastic contain cheaper components, and, as a result, produce thinner sound close to artificial. Headphones containing metal bits are not only more durable than plastic models. The sound they produce is also much crispier and less distorted. Wooden headphones, in turn, have their own advantages. Compared to the other two, they produce very natural, warm and rich sound with harmonious vibrations. However, not all people can afford to buy them, as most of wooden headphones are just too expensive.
Q: What are the benefits of wireless headphones?
A: The biggest benefit to using wireless headphones is the convenience they provide. You have no disturbing wires that may get in the way nor do you need to keep a grip on your smartphone or mp3 player, doing which is neither convenient nor always possible. Wireless headphones can operate within a big range from a connected device giving you more flexibility and freedom of movement.
Q: What are the disadvantages of wireless headphones?
A: Wireless headphones are more expensive than wired models. Also, they are dependent on a charging source. Be ready to recharge them every now and then or keep a few spare rechargeable batteries at hand. However, the biggest issue associated with wireless headphones is that they do not support all media devices.