The most popular songs from your favorite genres may constantly accompany you on your way. So, if you want to feel free and listen
to music, we have a great offer for you. The best wireless headphones are represented in this review, so that you can choose the most appropriate one.asdasd
...
Read more
...Read less
What is are Wireless Headphones
In our digital world, music is an integral part of the person's life. Various gadgets and mobile devices are widespread. Nowadays, no one is surprised to see the person who listens to music with the best wireless headphones. The cutting-edge technologies have introduced wireless headphones with the top sound quality. And the perfect sound has proved to be not inferior to the wired ones. No wires are required to let you listen to your favorite tracks or watch movies. The built-in microphone and Bluetooth technology also give you an opportunity to answer the phone calls.
If you prefer using other headphone types, for example, gaming headsets, hands-free sets, wireless or cabled earbuds, we recommend checking out our reviews, in which we examined the best gaming headsets, Bluetooth headsets, earphones and earbuds.
What Features to Compare
In our review, we introduce the best wireless headphones. We characterize the top wireless headphones according to their main features. Exactly these options are going to help you choose the right device. The first thing to pay attention to is the Type. The best wireless headphones can be full-size (mainly appropriate for the home usage) or compact vacuum (meant for the active leisure). The open-back, full-size wireless headphones are perfectly suitable for amateurs who are sensitive to the slightest sound waves. But note, that the sound from these headphones can be heard by others. The closed-back, full-size type provides you with the ideal sound when you listen to hard music. In this case, the bass effects are impressive.
The next thing to note is wireless technology. It basically tells you where you'll be able to use these headphones. For example, the radio frequency systems are great for usage at home. The systems come in a set of headphones and a docking station. You can connect the headphones either to your Hi-Fi Audio or the TV-set. Bluetooth-compatible devices make it possible to go further from the house and listen to the music outdoors.
The Sound Quality of headphones is the most important criterion to consider while choosing the device. Surely, the best way to check the sound is through testing different models, but you can also rely on the following aspects:
frequency range (the person perceives the sounds in the frequency 15-20 Hz and up to 18-22 kHz; the ideal headphones should include the mentioned range from 15 Hz up to 22 kHz);

the sensitivity defines the top loudness level (the maximum threshold of hearing is 130 dB; it is not recommended to listen to music at the maximum volume, so as not to damage your hearing);

the noise damping (if there's a good noise damping, the side tones won't be audible).
When you've decided on the sound, it's essential to consider Design Options. Pay attention to the material the headphones and wireless earphones are made from. Poorly made headphones won't serve you long. But worse than that, they won't fit you well and hence, won't be convenient in use.
Battery Life is especially important when talking about the wireless headphones. The battery life determines how long you can listen to music. The charge indicator will tell you exactly when it's time to recharge the battery.
...
Read more
...Read less
Beats Solo3 Wireless On-Ear Headphones
The New Generation
As the very name 'Beats Solo 3' says, it's the third generation of the company's best-selling Solo model. As for upgrades, they aren't as many aside from its improved design. The Beats wireless headphones have become more streamlined and let's admit they look great. The sound quality is quite on par with the preceding Solo 2 model. However, there are some innovations as well. For example, now the Solo 3 headphones are fitted with the W1 microchip. Hence, now it's easy to pair these headphones with Apple gadgets; just enable Bluetooth and your device will immediately find the Beats Solo 3. Afterwards, connect the headphones and enjoy a high-quality sound. However, the W1 microchip adds to audio playback quality on Apple devices only.
The Solo 3 boast an unparalleled build quality and stunning ergonomics. Designers have done a great job to ensure that wearing these wireless headphones feels comfortable to anyone. The soft earcups are made of artificial leather, while the rubber coating keeps the gadget fixed on your head really well. Actually, these wireless headphones are a fairly functional headset which is extremely easy to control and configure. All the control buttons are on the right earcup, so you can tackle them with one hand. If you don't wish to miss any important phone calls, use the Beats headset to answer them. Moreover, you can easily activate Siri to find the track you wish, for example. The Beats Solo 3 model has one more peculiar feature: you can connect them to an audio playback device with the help of a cable. And you will still be able to take calls!
No Battery Life Limitations
Any wireless connection drains the battery a lot faster than a wired one. However, some wireless headphones boast a really stunning battery life and the Beats Solo 3 is one of them. This gadget delivers a battery life of up to 40 hours, which is enough for quite a long trip to another part of the world. Even if you forget to recharge the Beats Solo 3, a 5-minute charging is enough for these wireless headphones to work for around 3 hours. The gadget is very convenient and easy to carry and store thanks to the folding design. The carrying case (included) will let you keep the wireless headphones well protected. Put the case in your bag or even in a pocket of your coat and have the headset always at hand. If you wish to use a really ergonomic yet convenient gadget, the Beats Solo 3 wireless headphones are the best choice!
Tip
The Beats Solo 3 wireless headphones support Bluetooth Class 1 that boasts the effective range of up to 328 feet. In other words, you can listen to music wearing the Solo 3 300 feet away from the audio playback device. Sounds incredible! Leave your cell phone in a locker room and enjoy music during your workout. If you are a video gaming aficionado, you will surely appreciate the possibility to use these wireless headphones with a gaming console (such as PS4, for example). This way, you will be able to get fully involved into a gameplay without making noise.
Additional Info
---
Beats Solo3 Wireless On-Ear Headphones
BÖHM B-66
Type
BÖHM B-66 wireless headphones belong to the full-sized, closed-back type. These headphones use the Bluetooth 4.0 wireless connection standard which makes it possible to connect these cordless headphones to many kinds of your digital equipment like computers, laptops, MP3 players, or any kind of mobile devices, be it smartphones or tablets. You will be able to escape the noise of the world around you not only at home, but on the streets too.
Sound Quality
These wonderful wireless headphones by BÖHM provide you excellent sound owing to their wide frequency range, which is from 20 Hz to 20 kHz, and to their high 100 dB sensitivity. Additionally, to the mentioned above, these cordless headphones also make good use of an active noise cancellation system. This means you will be able to enjoy your favorite music or audio book without any noise getting in your way.
Design Options
BÖHM B-66 cordless headphones' frame is performed in aluminium with details made of zink alloy. Both the headband and the ear cups are covered with very soft protein leather, thanks to which your ears and head will not get any fatigue from the prolonged using of these wireless headphones. Also we want to bring to your attention the fact that the manufacturer offers this model in two color solutions, one is silver and the other one is brown.
Battery Life
The battery of these cordless headphones is charged using the USB port. Thanks to this solution you will be able to charge them from any kind of equipment with the same ports, be it a laptop or a personal computer. When you actively listen to music these cordless headphones will live for about 16 hours. And even more for continuous talking - up to 18 hours! This length of time is more than enough to use them during a day with only break for a sleep. At the same time, mere 3 hours are enough to fully charge the headphones.
Additional Info
---
VIDEO
Böhm B66 Wireless Headphones - Review
BÖHM B-66
TaoTronics Bluetooth Headphones
Created for Sports
No matter if you are a fitness trainer or an active person going to a gym, you need full concentration on a workout and listening to music is the best way to keep your mind on exercises. Music can literally help millions of people reach their goals! If you are one of them, you should certainly check out these TaoTronics wireless headphones. This model belongs to in-ear headphones that are compact and effectively remove outside noises, providing a clear sound. These TaoTronics wireless headphones have special rubber hooks that provide a snug fit and prevent them from dropping off your ears during workouts. Since people have ears of different sizes, this model from TaoTronics comes with three different hook and tip sizes so that you can find the fitting ones. This model is far more than just a wireless gadget, it's a functional headset that has a built-in mic, allowing you to make calls. Thus, you can discuss some important issues or just chat to your friends while jogging in the park or exercising on a treadmill, for example. The intuitive in-line controls have several buttons and a LED indicator that tells you whether the wireless headphones are connected to a device, etc. The USB port will help you charge the battery from any computer or a similar device.
Always at Hand
How do most people carry their wireless headphones? They use special cases that provide quite a good protection but have a drawback: one should remove the headphones from it, then untangle and put them on. Sounds rather inconvenient? That's right. To make it all a lot simpler, these TaoTronics wireless headphones have built-in magnets, so you can attach earbuds to each other and wear the gadget like a necklace. Time to listen to music? Just put the earbuds in your ears! This design feature makes these wireless headphones really convenient to use and saves your time.
Piece of Advice
Designing a compact gadget, engineers need to sacrifice something. And most often it's a battery. These TaoTronics wireless headphones have a relatively small battery that lasts for just 6 hours. It's quite enough for your daily jogging workout, though. Besides, you can always have a power bank at hand in order to charge the wireless headphones.
Additional Info
---
TaoTronics Bluetooth Headphones
Sennheiser RS120
Type
It's convenient to work on many devices, such as PC, Hi-Fi audio and TV, using wireless headphones. You may listen to whatever you like and at any loudness level. This device is open-back, so you are not isolated from sounds in the surrounding world. It will give you a chance, e.g. to work on your computer and hear what's going on at this moment. The customers who prefer full-size layout will be glad to get these headphones. In fact, the range of 300 feet allows you to walk away from your computer and keep on listening to what you want. This model of the headphones is meant for home and office.
Sound Quality
The sound quality is pretty decent, especially when you take a low price into consideration. With radio frequency transmission technique and sensitivity of 106dB, this device provides you with the great sound, no matter what you're watching and listening to on your PC. Besides, the frequency range of 22 Hz-19.5 kHz gives you the opportunity to hear the sounds at the top level of quality.
Design Options
Many customers find it more convenient when ear cushions in the headphones are made of velour. It is considered to be more soft to the touch. And a lot of people would agree that this is an important factor, if using headphones for a long time. Your ears get the comfortable feeling. And what's more - the plastic is extra sturdy, so you may count on the great reliability. Besides, it's convenient to let the headphones rest on the charging dock when you completed your work on the computer. The whole view is very neat and handy. And as soon as you finished watching the movie, the headphones are designed so that to shut off automatically in three minutes.
Battery Life
The dock station is used for recharging these headphones. And the battery life for this device is up to 20 hours. So this period of time is enough to work on your computer for the whole day, without having to recharge it. Many would agree that it is extremely convenient to turn on the music in the morning and listen to it till the very evening. Walk about your house, do what you have planned, listen to what you like - the battery life is enough for the whole day.
Additional Info
---
VIDEO
Sennheiser RS 120 II Wireless Headphones Review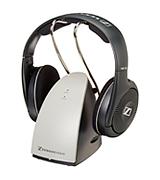 Sennheiser RS120
AYL 4009152
Type
This cutting-edge model of AYL wireless headphones is extremely compact. Being an in-ear headphones, AYL V4.1 Wireless Sport Stereo In-Ear Headset is just perfect for taking with you when you go jogging or just for workouts. These wireless headphones connect to any brand-new digital device like smartphones, laptops, and tablets via the Bluetooth 4.1 technology. Effective and comfortable. What else to wish for?
Sound Quality
The top-notch sound quality of these AYL wireless headphones is provided by EDR APT-X audio decode technology. There is not much that can challenge them when it comes to stereo sound in the in-ear/earbuds headphones. And as we speak about in-ear, here is also CVC 6.0 Digital noise reduction technology that intellectually filters the outside noise, making the sound inside the buds perfectly clear and providing ideal comfort whether you talk or listen to music.
Design Options
AYL V4.1 Wireless Sport Stereo In-Ear Headset is a really comfortable device. Its design solution includes a 22.05" cord between the earbuds made in such a way that you can place it behind your neck. Thus, the headphones' cord will not be in your way when you run in the morning, for example. Also, these wireless headphones work perfectly well at the distance of 32 feet from the sound source and feature a built-in mic, so you will be able to answer a call without interrupting a workout session. The headphones are made of plastic and have rubber earcups. The latter are waterproof, meaning they will not let your sweat inside. All in all, this is an over-the-top solution for sports.
Battery Life
7 hours of continuous talking or listening to music may seem a bit short, but if you think about it, you'll probably agree with us that it's more than enough. 7 hours is more than a couple of workout sessions or a pretty long ride somewhere. And when you do not use them, these wireless headphones will keep the charge for up to 175 hours. A decent result for such a lightweight, compact, and affordable model, right? It's a good enough option for the money it costs, we dare say.
---
VIDEO
QY8 V4.1 Bluetooth Headphones Review
AYL 4009152