Are you eager to listen to your favorite music in the best quality possible? It doesn't matter whether you're an expert in sound
equipment or an amateur who just wants to bring something new into their collection of audio devices. We have selected five best models of turntables available on the market; we hope this review will help you find what you need and you will soon become a happy owner of a new music player.
...
Read more
...Read less
X
This site is a free online resource that strives to offer helpful content and comparison features to its visitors. Please be advised that the operator of this site accepts advertising compensation from certain companies that appear on the site, and such compensation impacts the location and order in which the companies (and/or their products) are presented, and in some cases may also impact the scoring that is assigned to them. The scoring that appears on this site is determined by the site operator in its sole discretion, and should NOT be relied upon for accuracy purposes. In fact, Company/product listings on this page DO NOT imply endorsement by the site operator. Except as expressly set forth in our Terms of Use, all representations and warranties regarding the information presented on this page are disclaimed. The information which appears on this site is subject to change at any time. More info
Audio-Technica AT-LP60BK
Fresh Look at Old Technologies
If you like the clear sound of vinyl records combined with modern technologies you will definitely like the Audio-Technica LP60. Made in hi-tech style, it will become a perfect addition to a modern blue-ray, DVD player, and other multimedia devices. Though the body is made of plastic it is still very appealing. With two wires with RCA connectors acting as stereo output, this turntable is ready to make your sound system something entirely different. As this type of connection is present on all modern models of loudspeakers, receivers, and various sound systems, the LP60 will fit any of them. A built-in preamplifier is an extra advantage as you won't need to connect the external one. Note that the small phono/line switch is on the back of the player, therefore it is important to place it right, depending on the type of the system connector you use.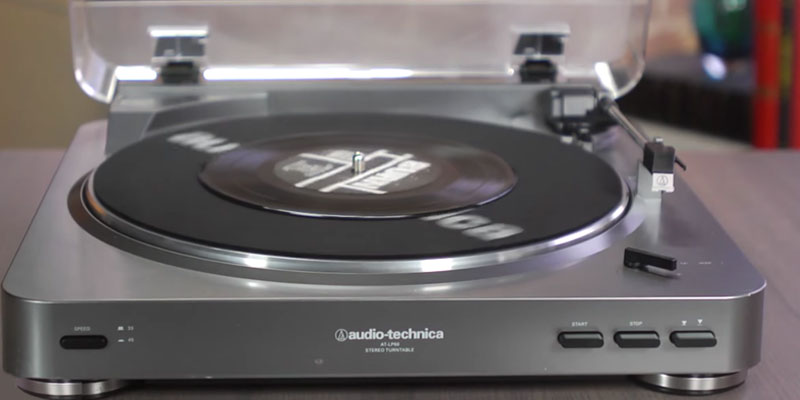 It Couldn't Be Easier
Completely automatic control is another advantage of this turntable. All you need to do to turn the device on is press the start button. The drive will be put into action and will start to rotate a record; the tone arm will be placed on it automatically at the same time and the playback will start. When you need to stop the playback, replace the record, or turn it over, just press the stop button. The best thing is that the operation process is completely time-saving since no extra actions are required. And if you want to pause the song you just need to press the lift button. Frankly speaking, if you adjust your device in advance, the operation of the Audio-Technica  AT-LP60BK will be reduced to a manipulation of only three buttons; even a child will be able to use it.
Advice on Operation
Despite an easy operation assembly, it is essential to remember about the set-up control. You can play 7" and 12" records at 33 ⅓ or 45 rotations per minute. For more accurate signal transmission and to protect vinyl and player from damage, it is crucial to set the switches in the right position. There are only two of them so there won't be confusion.
Key Part
The integral dual-magnet is a photo cartridge with a removable stylus that provides an undoubted quality of a sound signal. In case you need to replace it you should go after the ATN3600L model.
Additional Info
Last updated price

$

196.00

Stock
In stock
ASIN

B008872SIO
---
What customers say about this product
I have conected this turntable to an older Sony stereo receiver. Set up was quite easy, instructions concise, and I was immediatley impressed with the quality of the sould output.
I think this AT-LP60 hits all the bases. Wife presses one button after she puts on the record, and the turntable does the rest. I paired it with powered speakers, and it sounds pretty nice to both of us.
Listening through my near-field monitors, keyboard amps and a variety of headphones, I was a tad disappointed when comparing against the CD recording of the same material.
The weight on this thing just lets you know it's built well. Sound is fantastic through my sound bar.
Audio-Technica AT-LP60BK
Victrola VTA-200B MH
It's Time for Nostalgia
If you're nostalgic and feeling like listening to some old records the Victrola VTA-200B is the right choice for you. This wooden turntable can create an antique atmosphere by its appearance only. It is available in two colors: mahogany and graphite. It works on a belt drive motor and allows you to play 7", 10", and 12" records at 33⅓, 45, and 78 RPM speed rate, therefore, you will take pleasure in listening to your favorite records. There is an additional adapter for 45RPM records included in the set and also a built-in amplifier and two 6W loudspeakers. Despite their inimitable appearance, the speakers are not included for looks, they will fill your room with quite a loud sound.
Enjoy Your Time
Victrola is not just a turntable but a full-scale music player, as it plays vinyl records as well as somewhat more up-to-date music formats. If you have audiocassettes in your collection there is a built-in player for them at the side of the body. It is also not a problem to play a CD on this turntable as there is a LED display on the monitor panel where you can see the number of the song being played. For those who like to listen to the radio, the stylish design of the radio wave scale and controllers will be a pleasant addition. And if your guests want to share their music through a mobile phone or you want to connect yours, a special audio-in connector with a 3.5mm jack will help you with that. There is also a headphone jack next to it so you can listen to music in private.  
Many More Options
It is built-in Bluetooth that makes the Victrola VTA-200B noticeable among its competitors. You can use this option to connect your mobile phone and listen to your playlist anytime you want. The range of wireless connection is 33 feet so you don't need to stand nearby all the time.
An Eye for Details
Every detail of the Victrola VTA-200B 6-in-1 sends you back in time when similar players were at the height of their fame. And the etching of the model name on the inner side makes it even more aesthetic.
Last updated price

$

82.62

Stock
In stock
ASIN

B00NQL8Z16
---
What customers say about this product
This record player has many options to listen to music. I highly recommend this product.
Mom loves it! For once, she knows how to operate a piece of technology better than I do. That should say how easy this is to operate!
My gf loves it! I was surprised how smooth the sound was. Can't go wrong with thus
I do not have enough room for a large stereo system but missed playing my LPs. This is the perfect size. It is well made and solid. I was worried about the sound but I think the sound is great. Very satisfied!
Victrola VTA-200B MH
ION Audio Max LP
Simple and Elegant
The simplicity of the iON MAX LP is its advantage. A round ended wooden body will fit any interior. A transparent cover not only supports playing when it's closed thus protecting it but also allows you to observe the process. Due to its semi-automatic start, it is completely user-friendly. All you need to do is place the vinyl on the platter and place the tonearm with a needle by hand. One of the distinguishing marks of this model is a small auto stop switch; when the playing is over the tonearm is lifted up above the platter with a record. There is also a cueing lever for moving the tonearm up and down; this lever can be used to stop or start playing. And the last but not least is a small volume adjuster to control the volume of stereo loudspeakers.
Connect, Convert, Listen
This turntable works with 7", 10", and 12" records at 33-⅓, 45, and 78 RPM speed. You can also digitize your vinyl records with this device. Moreover, there is a USB port on the back panel so you can always connect Max LP to your PC or laptop. In addition, it is supplied with a special software, namely EZ Vinyl/Tape Converter, and even with a cable for connection. One of the useful features of this software is an opportunity to separate files automatically according to the order of songs on the vinyl record. And, finally, you can always connect any other audio device (like a cassette player, for example) to the AUX-in located on the back panel and convert with its help.  
Make It Louder
Despite the fact that the MAX LP is more for a novice user it is supported with a built-in preamplifier and 2" stereo speakers on each side. If their power isn't enough you can always connect it to your sound system. One of the best solutions will be a receiver as with its help you will be able to control the sounding of all your devices.  
Enjoy Your Music in Private
You can listen to music through your headphones and enjoy it in private without disturbing your family or roommates since this turntable has headphones output for private listening.
Additional Info
Last updated price

$

83.78

Stock
In stock
ASIN

B00COC61LO
---
What customers say about this product
The turntable is stylish and easy to set up. Even it's a all in one model, its sound is great at all speed. So happy to get it at this price.
The tone arm is made of what seems like simple plastic, but it's pretty solidly put together so I'm ok with that.
I am really surprised by the tone that comes out of these tiny speakers... Loud enough for my office.... Even on really cheap records, the sound is amazing. I cant get over the range and the lack of hiss or pop noises.
ION Audio Max LP
Jensen JTA-222
More Than It Seems
Please don't underestimate the Jensen JTA-222 player for its simple appearance as it has quite impressive features despite it. Firstly, its body is made of wood and looks just like all those years ago when every audiophile had a turntable. Secondly, being a space saving device it has a built-in preamplifier and two loudspeakers, their power is enough to fill your room with excellent sound quality. And for those who want it louder, you can always connect it to your sound system through a special port on the back panel. And finally, the cover is designed very providently. Side slots on a dust cover offer the opportunity to keep the turntable closed even when listening 12" records. it also works with 7" and 10" models thus on the JTA-222 you can playback your whole collection. 
Minimum Time - Maximum Pleasure
Being semi-automatic, the Jensen JTA-222 is easy to use. Switch it on with the dial-type sound regulator and then set another regulator on "phono". The next step is to choose the correct speed (33-⅓, 45, or 78 rotations per minute), to place a record onto the platter, and set the tonearm in the right position manually. Playback will be started automatically. If you want it to be stopped automatically when the record ends just switch the auto stop function on.
More Radio Functions
This turntable isn't limited to vinyl records, it also has a radio that turns on with a functional switcher. In addition to the AM/FM radio receiver, there is an FM-stereo indicator that is very useful. When this mode is on, a small red LED will light up. And to tune the desirable wave you just need to use a big convenient dial controller.
Versatile Connection Opportunities
It isn't necessary to use jacks for external loudspeakers on the back panel to improve the sound of the Jensen JTA-222. If you have special audio cables and an extra RCA adaptor you will be able to connect the turntable to other sound devices via a headphone output. And if you need more options you will always find eligible equipment in our reviews.
Additional Info
Last updated price

$

53.41

Stock
In stock
ASIN

B00IGDHTXY
---
What customers say about this product
The sound is very good for its size. The only drawback: no handle for carry it. But the weight is under 4 lbs, so it is very portable.
Great portable system. Speakers are built in. Sound strength is great
Its a great device with internal speakers as well as speaker outputs to hook up external speakers. Now the kids are playing our old records!
Sounds good, no notice in speed change because of belt drive
Jensen JTA-222
Crosley CR704C-PA
The Purchase You Won't Regret
It is the design that you notice first when you choose a vinyl player. TheCrosley CR704C is an etalon of modern players for its presentable appearance. The combination of wood and plywood not only guarantees the durability of the turntable but also creates an antique atmosphere around it. At the same time, the size remains space saving, amounting to 17" x 12.5" x 10". There are two built-in speakers 5W each, hence the Crosley CR704C is an independent multimedia player. As for the records sizes, this turntable goes with 7", 10" and even 12" types of vinyl. And when it comes to speed, here you get 33 ⅓, 45 and 78 RPM. You can listen to any of your favorite records.
And There Is More
Being a 5-in-1 multimedia player, the Crosley CR704C will allow you to listen not only to vinyl records but also to your favored cassette recordings. And for those who enjoys the digital sound, there is a built-in CD-player that complements the whole appearance perfectly as it replicates the style of the body. Up to 20 tracks can be played with it; repeat one and repeat all functions are implemented, too. And if you want to alter your pastime you can always listen to your favorite radio stations in the AM/FM range.  
Keep Up With the Times
The manufacturers supplied this turntable with an audio interface to connect your external mobile devices. So even when you don't keep your records, cassettes, or CDs handy, you can still listen to your favorite songs from your mobile phone or MP3 player. Just make sure that the line-in switch is on.
Two Button Positions
The Cassette Eject / F.F. button next to the cassette mechanism has two options. When pressed half-way in, the fast forward is on. To stop the fast forwarding and get back to playing, press the button again. If you press it completely, you'll be able to get the cassette out, replace it or turn it over.
Additional Info
Last updated price

$

169.99

Stock
In stock
ASIN

B001W6WN3S
---
What customers say about this product
Has a wonderful sound, is not huge like most entertainment centers and a great nostalgic look to it. We love it!!
Gave this as a gift. Looks great , needs better speakers (they are small and not enough power). Nice light on front of system.
Only one small problem is having difficulty seeing the writing above each button to describe its function. I will mark with labels. Would be helpful if the buttons had visible code/symbol marked on them
Crosley CR704C-PA
What is a Turntable
Clear sound has always been crucial for all judges of good music. For this reason, turntables are returning to the stage of popular audio players. While one chooses this device for its more natural and analog sounding, the others enjoy the process of a record playing. After all, it is impossible to mistake anything for the record rotation sound and specific creaking between songs. Moreover, it is the quality of the sound that makes this type of music players worth production even despite its high costs. In view of this, many current record companies release their albums on vinyl. In this review, five best models are represented in order to simplify the selection process so you could become one of the happiest owners of a record player.
For those who want to improve the sounding of their TV-sets with the help of a portable audio system, we advise paying attention to soundbars. And if you are a big fan of music and listen to it everywhere, you might find a perfect mp3 player in our selection.
What Features to Compare
Design
The design is always essential when choosing a record player since music players are appreciated not only for their functions but also for being a part of the interior. Undoubtedly, wooden turntables are more appealing compared to their alternative, however, as a rule, they are more expensive. Turntables are the part of a sound system and if you want to save your money on buying additional equipment there are options with built-in speakers and sound amplifier. The cover, on the other hand, is one of the most important parts since it protects your device from dust when it isn't used. The size is also essential as it will be a pity to purchase a record player and find out that there isn't enough space for it. And don't forget to choose the drive type. Many audiophiles prefer a belt drive motor because it absorbs engine vibration and provides smoother sounding. On the opposite, most DJs will select direct drive motor as it holds the replay speed perfectly and allows scratching.
Record Playing
The operating convenience will depend on the features of a record playing and its operating capabilities. First of all, you will need to choose between automatic and semi-automatic principle of operation. On an automatic device, the tonearm will be placed on a record and the playback will start automatically. This type of turntable is great for a novice user. With the semi-automatic device, you will have to place the tonearm on a record manually. Next, a record format will be another good criterion for selection as you can select a turntable based on your collection of records. And finally, the clearness of vinyl sounding will depend on the quality of the stylus (or needle). With frequent use, these parts may wear off but you can always purchase replacements, just check which type is used.
Functions, Control, Connectivity
Modern vinyl players are not limited to just vinyl records. Radio, cassette, CD player and many more can be very useful additions. As far as the convenience of use goes, it won't be a waste to check player control, key parts, and formalities.
Since vinyl players are often a part of the whole sound system, you should also check connection possibilities. The audio output allows you to connect external audio devices to intensify the sound. And if you are interested in digitizing your records, look for the models with a USB port to connect your PC directly.
FAQ:
Q: Which is better, a direct drive or a belt drive?
A: Although both these systems are adequate there is a difference between them. While a direct drive motor is attached to the platter without a belt thereby providing a better torque which will be an advantage for DJs, a belt drive motor is connected to the platter with a rubber belt, therefore absorbing any vibration. Compared to the belt drive the direct one is noisier since it contacts the platter. However, after some time the belt will need a replacement, although this process is neither difficult nor expensive.
Q: What is the difference between manual and automatic operation?
A: Well, they differ mostly in a number of manipulations with a turntable. Working with manual devices you have to move a tonearm over the record by hand, while in automatic ones it moves on its own when switched on. Manual turntables have fewer parts thus providing smoother playing and causing less vibration. At the same time, a novice user or a DJ is more likely to choose automatic devices as they require much fewer movements and turn on with a single button.
Q: What is a phono pre-amp? Do I need one?
A: The main purpose of a phono preamplifier is to enhance the volume of your turntable since the signal passed by the stylus is not very loud. In other words, turntables broadcast phono output signals that need to be transformed to a line level signal (AUX signal) to work with headphones or speakers. There are built-in pre-amps in some turntables. But don't worry if there isn't any since you can purchase them easily, even those of the higher quality are fairly affordable.
Q: Can I add parts?
A: Not everyone knows that this option is available and that you, in fact, can upgrade some parts of your device. You can usually add/change slipmats, a cartridge, a belt (if you own a belt drive turntable), and a tonearm. If you are ready to invest money into your equipment in the future and make the sounding better you should consider a turntable that supports upgrading.
Q: What else can I do to improve my record-listening experience?
A: First of all, you should keep your equipment in a good condition. Even if there is a built-in dust cover on your turntable don't forget to clean it and your records regularly. You can always purchase specialized tools and cleaning solutions in a shop or online. And remember to replace the removable parts when they wear out.
Q: How often do you replace parts in your turntable?
 A: It depends. If you use your device carefully and tend to it regularly it will be in a long service unless you want to upgrade it. In that case, you will need to purchase the required components which are generally available in any specialized store.
Sources:
1. How to Choose a Turntable, wikiHow.
2. Dave Bar Turntable buying guide How to choose the right vinyl record player, Crutchfield. December 7, 2016.
3. A Beginner's Guide to Buying Your First Turntable, The Art of Manliness. November 9, 2012.
4. Steve Guttenberg How to buy a turntable, CNET. September 22, 2012.
5. Andy Betts 6 Things You Must Know When Buying a Vinyl Turntable, MakeUseOf. November 11, 2015.
6. Denis Gallagher Vinyl revival, Choice. August 27, 2015.
7. Paul Scarpelli Turntable Buying Guideline, Audioholics. February 25, 2016.
8. Chris Woodford Record players and phonographs, ExplainThatStuff. July 30, 2016.