Kitchen Appliances
Kenwood KM262 vs KitchenAid KSM95TB
Product Comparison: Kenwood KM262 vs KitchenAid KSM95TB
About the Product
Do pretty much anything, from fluffy sponge mixes and rich ragouts, to creamy carbonara sauces – ready to pour over the fresh pappardelle pasta you made with it earlier.
The tilt-head feature and generous 4-1/2-quart capacity make the KitchenAid Stand Mixer the ultimate in user-friendly design. Features 10 speeds and KitchenAid's unique planetary mixing action, driven by a powerful 300-watt motor. Rugged all-metal construction ensures long life and quiet operation, and rubber feet anchor it securely while in use.
Number of Beaters Included
Kenwood KM262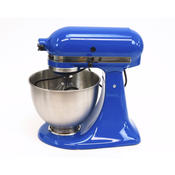 KitchenAid KSM95TB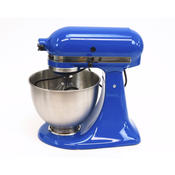 What customers say about "Key Specs"
KitchenAid KSM95TB
It came with three attachments, a dough hook, a whisk, and a flat beater. We've used it for making a lot of desserts, and different doughs. It's very solidly built and I haven't had any issues with it so far.
We love the color and the power this mixer brings. Cleans up easy.
LOVE this mixer !!!! Mine is 300 watts . very powerful , can't go wrong . It is sturdy and built to last
t's powerful enough for the home cook, quiet, and so much easier to use than a hand mixer
Worked well for icing and cookie dough, but not powerful enough (or a large enough bowl) for making bread.
Motor is not sturdy enough for high speed.
Color
Stainless steel/White
Twilight blue
Material
Stainless steel/Plastic
Stainless steel
What customers say about "Size & Weight"
KitchenAid KSM95TB
Its weight is one of the many advantages of the machine, when mixing heavier items such as bread and cookie doughs
The perfect size for small family and baking for two.
It is a good size,solid, and does what she wants it to do.
It weights a ton.
What customers say about "Control"
KitchenAid KSM95TB
The variety of speeds is very useful as is the ability to raise the head with simple flip of a lever
While adding ingredients during mixing, it throws flour and liquids all over the kitchen...and that's at low speeds!!
The setting levels are hard to change
Bowl Material
Stainless Steel
Stainless Steel
Accessories
Spatula, Beating Whisk, Dough Hook
Beating Whisk, Dough Hook
Features
Variable Speeds, Cord Storage
67 point planetary mixing action, shock-resistant, nonslip base, dishwasher-safe parts, power hub is designed to use the motor's power to operate over 15 optional attachments from food grinders to pasta makers and more,
Kenwood KM262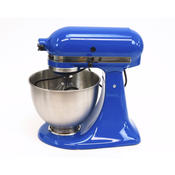 KitchenAid KSM95TB
What customers say about "Details"
KitchenAid KSM95TB
The 4.5-quart polished stainless steel bowl with ergonomic handle is big enough to handle large batches of heavy mixtures
Durable and does it's job. I love how there are a ton of attachments that you can convert your mixer into. I have a use for this every week with pretty much every recipe I have.
All the attachments work perfectly.
It has great power and lots of attachments available.
Only downside is you have to hand wash the bowl and beater s.
Works great, but like many other complaints about the item - it was loud and noisy right out of the box
Warranty / Certifications
Kenwood KM262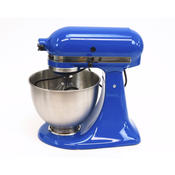 KitchenAid KSM95TB