As a matter of fact, the simplest exercise equipment is often the best for you! So, keep it simple and find out the benefits of using
resistance bands for your comprehensive, full-body workout. Take your training up a notch with one of 5 best resistance bands from our review!
...
Read more
...Read less
X
This site is a free online resource that strives to offer helpful content and comparison features to its visitors. Please be advised that the operator of this site accepts advertising compensation from certain companies that appear on the site, and such compensation impacts the location and order in which the companies (and/or their products) are presented, and in some cases may also impact the scoring that is assigned to them. The scoring that appears on this site is determined by the site operator in its sole discretion, and should NOT be relied upon for accuracy purposes. In fact, Company/product listings on this page DO NOT imply endorsement by the site operator. Except as expressly set forth in our Terms of Use, all representations and warranties regarding the information presented on this page are disclaimed. The information which appears on this site is subject to change at any time. More info
URBNFit 5-Band Set
Resistance Levels From 10 to 125 Pounds
What separates URBNFit fitness bands from most resistance bands is that the company behind them caters to beginners and experienced athletes alike. You can purchase them separately or alone. The blue bands go from 60 to 175 lbs, enough resistance to challenge even the biggest, strongest athletes. Then, you can choose between green (50-125 lbs), purple (35-85 lbs), black (25-65 lbs), and red (10-35 lbs) or order them all together. You'll be able to add, subtract, and switch resistance band levels, going from barely noticeable to the band alone providing enough challenge.
These fitness bands are made from high-grade latex rubber, so you can tie around them shins, knees, thighs, and arms and go as hard as you can without worrying about ripping these bands apart. The bands do not start deforming and do not lose their elasticity with time.
What you can say about the product from a negative perspective does not even pertain to the bands but to the mesh pouch that comes with these bands. Though pretty comfortable, the mesh pouch is quite flimsy, so we would recommend replacing it with time.
Besides that, URBNFit resistance bands are no joke. They'll be able to accommodate both newbies who are only starting their fitness journey and pro athletes who find even weighted pull-ups too easy.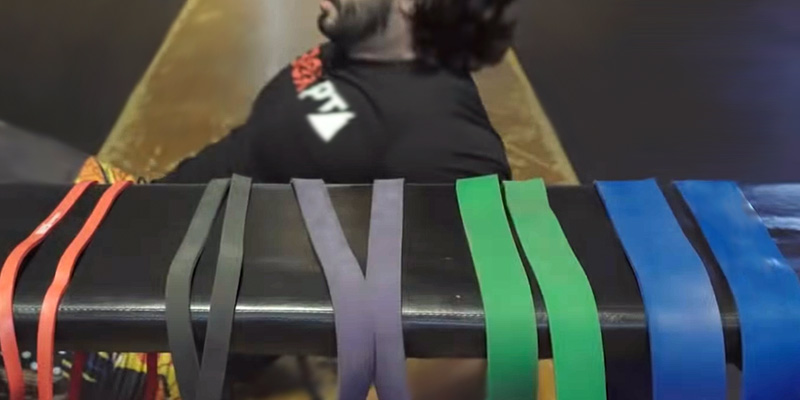 Additional Info
Last updated price

$

59.97

Stock
In stock
ASIN

B0749FK1FS
---
URBNFit 5-Band Set
Draper's Strength 4-Band Set
The Challenge You Need
Draper's Strength Heavy-Duty Stretch Bands were an easy choice to make. First, these bands are 41-inch long, so you can stretch them from the ground to far overhead without tearing the bands, making assisted pull-ups that much more comfortable and accessible. That being said, the bands are made from high-quality latex, so you can generally stretch them as hard you as can, there's very little chance you'll be able to damage these durable fitness bands.
Some find them relatively slick/slippery though, so make sure to exercise caution, with less swinging and swaying when that's not necessary to the exercise. You'll usually know when that's necessary, especially thanks to the workout e-guide that comes with the bands and contains abundant useful information, with different exercises, tips, and more.
Even with everything above, what really sells these bands is the variety. The green bands go from 50 to 120 pounds, while the least resistant red band is available ranging from 5 to 35 pounds, so you can recommend these fitness bands to people with varying strength, skill levels, etc. Plus, you can combine multiple bands and achieve the same effect you would with one more resistant band. Aside from fitness, these bands also aid recovery from torn MCL and ACL, knee replacement, patella, and meniscus.
Last updated price

$

32.97

Stock
In stock
ASIN

B07JPH9RVK
---
Draper's Strength 4-Band Set
Fit Simplify 5-Band Set
Turning Newbies Into Pros
Fit Simplify 5-Band Set simplifies fitness, so the company's name is apt enough. The bands are pretty short, so you can easily stuff multiple bands inside the supplied carry bag and bring them with you to the park. They're comfortable, pretty soft, and easy on the skin.
These bands were not designed to aid experts. Even the black band only adds/subtracts 25-30 pounds, while the green one ranges from 2 to 4 pounds. Having said that, even experienced athletes can combine the black (again, 25-30 pounds), red (20-25 pounds), and yellow (10-12 pounds) bands and have enough resistance to make strength training that much more challenging.
Though these exercises bands are pretty cheap, there's not much that indicates that aside from this slight but noticeable rubber scent but even that normally goes away within 2-3 days. Besides, you can make an argument that the instructional booklet, the eBook, and online workout videos more than offset the scent issue and make so much sense considering the set's newbie disposition.
In short, from fitness and body shaping to injury rehabilitation, weight loss, and physical therapy, there's not much that Fit Simplify 5-Band Set will not be able to assist you with.
Additional Info
Last updated price

$

10.95

Stock
May be out of stock
ASIN

B01AVDVHTI
---
Fit Simplify 5-Band Set
WODFitters Single Band
One Reliable Band
WODFitters are not about variety. Sure, the company makes different bands, not unlike most business-oriented firms producing and selling exercise equipment. But they do not package them and, from where we're standing, that's fine since you can always order multiple bands separately, besides, this purple band is the most versatile one anyway. With resistance ranging from 40 to 80 pounds, this is easily the best, most flexible band to enable assisted pull-ups, make deadlifts practically impossible, add resistance to lunges and squats (various glutes exercises) without using weights, and more.
At first glance (and second too), the band's nothing to sneeze at, made from the highest quality eco-friendly latex to prevent breaking on excess stress and easily deforming. When you examine the band though, you might find small defects here and there but they're usually pretty negligible, from shoddy logo paintwork to slight grating. The inexperienced customers will also find the link to the instructions that come with the package quite invaluable since these instructions contain various creative ways you can utilize the band.
In closing, WODFitters Assistance Band will guarantee improvement. With this band, results will come and gains will follow them.
Additional Info
Last updated price

$

21.24

Stock
In stock
ASIN

B00IQM3W9U
---
WODFitters Single Band
Te-Rich 3-Band Set
Cotton Beats Latex
Te-Rich 3-Band Set packs different bands. Before anything else, these bands are made from high-quality elastic cotton, not latex. Surface-level, that's the only difference but it is a huge one. Thanks to the cotton fabric composition, there's no rolling, pinching, and sliding. The touch blend and fitted grips eliminate the snapping issue and let you exercise without rolling the bands up from time to time.
Aside from the non-slip properties, these fitness bands are more lightweight than latex bands and occupy almost no space, so you can always take them with you on any trip. The mesh pouch that's supplied with these bands will be able to aid that task.
Of course, the downside and also the trade-off is that cotton is much more demanding maintenance-wise than latex, so you'll have to clean these bands sometimes to make sure they look presentable enough.
The bands' resistance is not specified, so all we can tell you is the pink one is the lightest one, designed to facilitate rehab, prehab, and aid beginners. The medium-resistance green band is more about adding resistance to the warm-up routine, while the heaviest, purple band is something that even advanced users will find heavy enough.
To sum up, also dubbed butt/booty bands, these loop bands from Te-Rich 3-Band Set is something we'd recommend ladies with varying skill levels and different fitness aspirations.
Last updated price

$

9.22

Stock
In stock
ASIN

B07XZ2J46D
---
Te-Rich 3-Band Set
What Is a Resistance Band?
A resistance band is a piece of exercise equipment made of elastic material that is used for various types of strength training and rehabilitation. The soft and flat resistance bands are intended for physical therapy, yoga, and pilates, whilst thick bands are designed for home fitness to add extra resistance to a regular workout routine. The heavy-resistance bands are used to isolate or recruit targeted muscle groups during basic exercises (pull-ups, push-ups, squats, etc.). Adding weight resistance, these bands make these exercises even more challenging.
Apart from that, you can use these resistance bands for physical therapy and recovery as well as for increasing your body's flexibility. Provided you execute the exercises right, these things can also lead to improved posture and mobility.
A jump rope is a highly effective way to warm up muscles before your resistance training. If you need to target specific muscle groups, then these ankle/wrist weights, barbells, or dumbbells can be a good addition to your training routine.