Oster

FPSTHM2578

Hand Mixer with Clean Start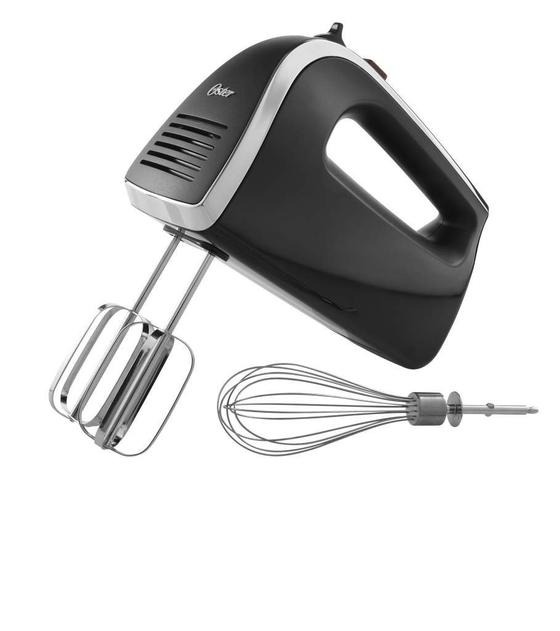 General Specifications
Discover new ways to make precious family memories for your loved ones by carrying on the tradition of special baking moments and joyous celebrations. Oster helps you prepare treasured family recipes for all to enjoy. Nothing shows fondness and devotion to sweet moments more than delicious treats baked with love and care.
Key Specs
Number Of Beaters Included
What customers say about "Key Specs"
The speed starts slow no matter which of the 6 speeds you chose, so as not to splash contents out of the bowl, etc, and it's light to maneuver.
It is powerful and the speeds are actually gradual increases in speed, as well as a turbo button for that extra boost.
I like that it has the extra low speed so it doesn't throw everything all over the place and it has higher settings too
I have had this for less than a year, and the beaters are broken.
I have so much trouble installing the beaters into the mixer.
The info says it has a slow speed, but they do not tell the true meaning of slow. It starts out slow then goes to a higher speed. It is so difficult for me to send things back, I just kept it anyway.
Size & Weight
What customers say about "Size & Weight"
I love that it has some weight to it and power when you need it.
I liked that it had some weight to it.
The size, weight, ergonomics, and everything else are great
The slightly heavier weight of this mixer gives the impression of a durable machine.
Not as light weight as my old one but still very manageable to use.
I'm not sure what material the beaters are made of but one of the beaters is beginning to rust after only a few uses.
Features
Retractable cord, QuickBurst button
What customers say about "Features"
The whisk is comes with works very well too, and I find myself using it more often than my hand whisk.
The whisk attachment works very well for whipping egg whites or making whipped cream.
The beaters are sturdy and wash up easily in the dishwasher.
The retractable cord is good for storage.
The whisk attachment is flimsy and too small to be of much use.
It doesn't have the dough hooks
Wish it came with a bread dough hook,
Power
What customers say about "Power"
The cord disappears in the body, so you don't have it hanging out
The retractable cord works great as long as you feed it in slowly.
Retractable cord is a joy that helps to keep the kitchen neat, and it works well.
The retractable cord doesn't always retract all the way. You kind of have to coax it along by feeding the cord back into the machine
The "retractable cord" does not retract fully, so I wrap it around the mixer when putting it away.
Warranty / Certifications
People who viewed this item also viewed
Oster FPSTHM2578 Hand Mixer with Clean Start