Kitchen Appliances
Hamilton Beach 37530A vs Oster CKSTSTMD5-W-015
Product Comparison: Hamilton Beach 37530A vs Oster CKSTSTMD5-W-015
X
This site is a free online resource that strives to offer helpful content and comparison features to its visitors. Please be advised that the operator of this site accepts advertising compensation from certain companies that appear on the site, and such compensation impacts the location and order in which the companies (and/or their products) are presented, and in some cases may also impact the scoring that is assigned to them. The scoring that appears on this site is determined by the site operator in its sole discretion, and should NOT be relied upon for accuracy purposes. In fact, Company/product listings on this page DO NOT imply endorsement by the site operator. Except as expressly set forth in our Terms of Use, all representations and warranties regarding the information presented on this page are disclaimed. The information which appears on this site is subject to change at any time. More info
About the Product
Make mealtime more exciting and your plate more nutritionally balanced with colorful, vitamin-packed foods. It's easy with the Hamilton BeachDigital Steamer. Add your choice of vegetables, seafood, or chicken breasts and you're minutes away from serving a satisfying steamed meal the whole family will enjoy.
Create healthy meals using steam cook method for low-fat food preparation. This double-tiered 5-quart manual control steamer is designed with 2 steaming bowls so you can prepare a complete meal quickly and easily. Enjoy a healthier lifestyle and feel good about the food you prepare. With the Oster® brand, you can cook with passion and serve with pleasure.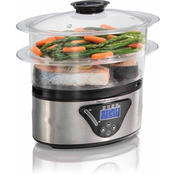 Hamilton Beach 37530A
Oster CKSTSTMD5-W-015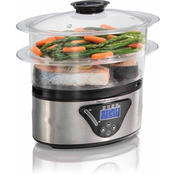 Hamilton Beach 37530A
Oster CKSTSTMD5-W-015
What customers say about "Key Specs"
Hamilton Beach 37530A Digital Food Steamer
The trays are removable so that you can stand ears of corn upright to cook.
reat value for the price. Very effective steamer. Nice, large capacity.
The Hamilton Beach Steamer is built solid, super easy to use, has a good sized capacity
The best quality is the steam produced is strong and vegetables cook faster and are more flavorful.
It works fast at steaming and love that I can steam separate items at same time with the multi teared feature.
Water leaks out of the water container and am concerned that it might cause a short circuit.
Oster CKSTSTMD5-W-015 5-Quart Food Steamer
The dual level steamer permits steaming two things at once or double the capacity for one item.
The product is easy to use, put water in the bottom and set the time.
This steamer is very useful when you want to put together a quick meal.
It has sufficient capacity for cooking enough vegetables for a few guests as well.
The tubs are very flimsy. And you can only use it once let it cool before you can use it again.
Color
Stainless steel/Black
White
Material
Stainless steel/Plastic
Plastic
What customers say about "Size & Weight"
Hamilton Beach 37530A Digital Food Steamer
Love it! Love the size and it does a great job!
I like the stainless steel doesn't look cheap.Nice size for me and my family
Lightweight and very portable, the unit is constructed of a serviceable stainless steel basewith sturdy plastic stackable inserts which can accommodate a surprising amount of food.All components are very easy to clean and the entire appliance takes up a minimum of space when stored.
Clear plastic is not dish washer safe
Apparently the manufacturer tightened the base too tight and the PLASTIC base is cracked.
Oster CKSTSTMD5-W-015 5-Quart Food Steamer
The size is perfect and the double baskets work well.
I find it's the perfect size for veggies, sweet potatoes etc.
It's a good size and works very well, super easy to use and clean.
It's a great size for one person meal! It come with a booklet with recipes!
This steamer works great but is too small to hold an artichoke or enough of the veggies my wife and I would eat in a single meal.
What customers say about "Control"
Hamilton Beach 37530A Digital Food Steamer
I love that you can make steamed rice without having to watch it, I conveniently put the rice in the steamer listen for the timer and its done.
Digital timer is awesome! It even alerts you if water is getting low.
It "beeps" when plugged it and turned on and it "beeps" when turned off and unplugged.There is even a 'delay start timer"...steam whenever you want to
I liked the timer and it beeped when it was low on water. all in all very pleased.
Only thing I do not like about this steamer is the timer does not go pass an hour.
Oster CKSTSTMD5-W-015 5-Quart Food Steamer
This steamer works very well. Especially for the low price. You can use either one or two tiers.
It works amazing and makes the healthiest meals in moments time.
Works pretty good for being the price it is. Gets the job done and quickly.
Very easy to used & the instruction was correct, i used it almost everyday to steam salmon & vegies & it has work perfectly.
Great product, works really well, I have used both single and stacked - great results both ways.
What customers say about "Functions"
Hamilton Beach 37530A Digital Food Steamer
The timer and automatic "keep warm" (fantastic feature I'll never burn the rice again) make it a breeze.
At the end of the steam cycle, the unit began timing for the one-hour keep warm setting, which it does automatically.
I absolutely love the delay function, just set the cooking time and then press the delay button. You can set it for a minimum of 30 minutes up to 24 hours maximum
The only problem is that the alarm for water is not strong
Oster CKSTSTMD5-W-015 5-Quart Food Steamer
The timer settings are small, hidden, and confusing.
I got this for cooking baby food. It has timer, just put water and food inside.
Simple to use and gets the job done. Timer makes it easy to not over steam veggies.
It works great with the timer. Just seem not able to get the plastic clean to clear.
The steamer has no setting for control of steam: all or nothing.
Accessories
Rice bowl
Nesting steam bowls for compact storage
Extras
Switches to warm when food is ready, cooks eggs from soft-cooked to hard-boiled, nested storage - fits neatly in cabinet, Cooks eggs upright from soft to hard-cooked, Nested storage design fits neatly in your kitchen cabinet, Steams chicken breasts and hot dogs, 24-hour delay timer, Water level indicator
Boil dry protection shuts off with timer or when water is gone, Boil dry protection, Nesting Steam Bowls for compact storage, 60-minute timer
What customers say about "Features"
Hamilton Beach 37530A Digital Food Steamer
The unit has a light indicator that lets you know how much water is in it.
It comes with a egg holder so the eggs will stay on end to cook them.
The unit came with a booklet that has a timing chart for all different kinds of food. This steams more than just vegetables.
This steamer comes with a lower tier (marked 1) bowl and an upper tier (marked 2) steaming bowl and a small black dish for cooking rice or small meals.
The drip tray has handles with a drawer you can place more water in without getting burnt.
Oster CKSTSTMD5-W-015 5-Quart Food Steamer
The plastic containers are dishwasher safe. I run water over the bottom and let it dry completely before using again.
It washes well on the top rack of the dishwasher. I've steamed fish and vegetables and both turned out well.
I am afraid the plastic dishes are going to crack, they are kind of flimsy. They clean up well in the dishwasher.
It's super easy to clean by hand and the clear plastic containers, lid and ring are all dishwasher safe. I use it to cook my fish, scallops, chicken, steak and pork.
The plastic is durable, and cleans up nicely in the dishwasher.
Warranty / Certifications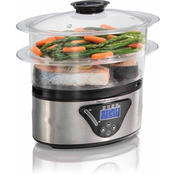 Hamilton Beach 37530A
Oster CKSTSTMD5-W-015