Kitchen Appliances
Hamilton Beach 37530A vs Oster CKSTSTMD5-W-015
Product Comparison: Hamilton Beach 37530A vs Oster CKSTSTMD5-W-015
About the Product
Make mealtime more exciting and your plate more nutritionally balanced with colorful, vitamin-packed foods. It's easy with the Hamilton BeachDigital Steamer. Add your choice of vegetables, seafood, or chicken breasts and you're minutes away from serving a satisfying steamed meal the whole family will enjoy. With a Food Steamer in your kitchen, you can take advantage of the bounty of healthy, in-season produce at your local farmer's market or grocery store. If you're lucky enough to have your own garden, you can reap the rewards and the satisfaction of steaming your own freshly picked vegetables.
Create healthy meals using steam cook method for low-fat food preparation. This double-tiered 5-quart manual control steamer is designed with 2 steaming bowls so you can prepare a complete meal quickly and easily. Enjoy a healthier lifestyle and feel good about the food you prepare. With the Oster® brand, you can cook with passion and serve with pleasure.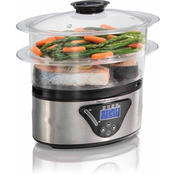 Hamilton Beach 37530A
Oster CKSTSTMD5-W-015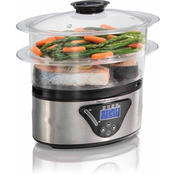 Hamilton Beach 37530A
Oster CKSTSTMD5-W-015
What customers say about "Key Specs"
Hamilton Beach 37530A Digital Food Steamer
The trays are removable so that you can stand ears of corn upright to cook.
reat value for the price. Very effective steamer. Nice, large capacity.
The Hamilton Beach Steamer is built solid, super easy to use, has a good sized capacity
The best quality is the steam produced is strong and vegetables cook faster and are more flavorful.
It works fast at steaming and love that I can steam separate items at same time with the multi teared feature.
Water leaks out of the water container and am concerned that it might cause a short circuit.
Color
Stainless steel/Black
White
Material
Stainless steel/Plastic
Plastic
What customers say about "Size & Weight"
Hamilton Beach 37530A Digital Food Steamer
Love it! Love the size and it does a great job!
I like the stainless steel doesn't look cheap.Nice size for me and my family
Lightweight and very portable, the unit is constructed of a serviceable stainless steel basewith sturdy plastic stackable inserts which can accommodate a surprising amount of food.All components are very easy to clean and the entire appliance takes up a minimum of space when stored.
Clear plastic is not dish washer safe
Apparently the manufacturer tightened the base too tight and the PLASTIC base is cracked.
What customers say about "Control"
Hamilton Beach 37530A Digital Food Steamer
I love that you can make steamed rice without having to watch it, I conveniently put the rice in the steamer listen for the timer and its done.
Digital timer is awesome! It even alerts you if water is getting low.
It "beeps" when plugged it and turned on and it "beeps" when turned off and unplugged.There is even a 'delay start timer"...steam whenever you want to
I liked the timer and it beeped when it was low on water. all in all very pleased.
Only thing I do not like about this steamer is the timer does not go pass an hour.
What customers say about "Functions"
Hamilton Beach 37530A Digital Food Steamer
The timer and automatic "keep warm" (fantastic feature I'll never burn the rice again) make it a breeze.
At the end of the steam cycle, the unit began timing for the one-hour keep warm setting, which it does automatically.
I absolutely love the delay function, just set the cooking time and then press the delay button. You can set it for a minimum of 30 minutes up to 24 hours maximum
The only problem is that the alarm for water is not strong
Accessories
Rice bowl
Nesting steam bowls for compact storage
Extras
Switches to warm when food is ready, cooks eggs from soft-cooked to hard-boiled, nested storage - fits neatly in cabinet, Cooks eggs upright from soft to hard-cooked, Nested storage design fits neatly in your kitchen cabinet, Steams chicken breasts and hot dogs, 24-hour delay timer, Water level indicator
Boil dry protection shuts off with timer or when water is gone, Boil dry protection, Nesting Steam Bowls for compact storage, 60-minute timer
What customers say about "Features"
Hamilton Beach 37530A Digital Food Steamer
The unit has a light indicator that lets you know how much water is in it.
It comes with a egg holder so the eggs will stay on end to cook them.
The unit came with a booklet that has a timing chart for all different kinds of food. This steams more than just vegetables.
This steamer comes with a lower tier (marked 1) bowl and an upper tier (marked 2) steaming bowl and a small black dish for cooking rice or small meals.
The drip tray has handles with a drawer you can place more water in without getting burnt.
Warranty / Certifications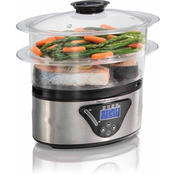 Hamilton Beach 37530A
Oster CKSTSTMD5-W-015