Desktops & Monitors
Audio-Technica ATR2500-USB vs Blue Yeti
Product Comparison: Audio-Technica ATR2500-USB vs Blue Yeti
About the Product
Ideal for podcasting, home studio recording, field recording, and voiceover use, the ATR2500-USB plugs right into your computer's USB port, and functions seamlessly with your favorite recording software. This large-diaphragm side-address condenser offers a USB output for recording to your computer, a quality analog-to-digital converter for excellent fidelity, and a headphone output with level control for monitoring.
Create unparalleled recordings directly in your computer with Blue Microphone's Yeti USB Microphone. The Yeti uses Blue Microphone's proprietary tri-capsule technology to produce pristine, studio-quality recordings. It features four different pattern settings so you can record vocals, instrumental music, podcasts, or interviews in ways that would normally require multiple microphones. With simple controls for headphone volume, pattern selection, instant mute, and microphone gain, you'll be creating exceptional recordings right out of the box.
What customers say about "Size & Weight"
Audio-Technica ATR2500-USB Cardioid Condenser USB Microphone
It feels like a real high quality mic.
Great mic for the size it is as can travel with it anywhere.
It folds up to be pretty portable for a piece of equipment its size.
Perfect size and audio recording for the extremely cheap price.
This also has a nice heavy feel, makes you feel like you paid for something of quality...because you did!
Blue Yeti USB Condenser Microphone
The size is good and the handle and comfort to play is good.
Very nice-looking, substantial in weight. Versatile with configurations.
Easy to setup and create clear and crisp audio! Fairly large for the size.
Although fairly large in size, the quality of the product is evident. Large selection of settings.
It is very sturdy and has some weight to it. It looks and feels professional!
Recording Patterns
Cardioid
Cardioid, Stereo, Bidirectional, Omnidirectional
Recording Sample Rates
16 bit/44.1/48 kHz
16bit / 48kHz
System Requirements
Windows, Mac OS X
Windows, Mac OS X
Extras
Side-address condenser microphone with USB output, Built-in headphone jack, Adjust headphone volume, Low-mass diaphragm, Low self-noise, Tripod desk stand with folding legs, Lifetime Limited End-user Warranty
Hassle-Free Setup, Polar Patterns: cardioid, bidirectional, omnidirectional, stereo, Max SPL: 120dB (THD: 0.5% 1kHz)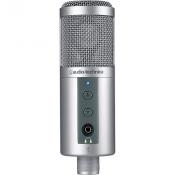 Audio-Technica ATR2500-USB
Blue Yeti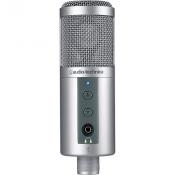 Audio-Technica ATR2500-USB
Blue Yeti
What customers say about "Features"
Audio-Technica ATR2500-USB Cardioid Condenser USB Microphone
The recording quality is amazing. And the cardioid pattern is amazing.
Super easy hook up, no software to download, and I'm leaving it on all day as my speech recognition learns my voice pattern.
Great range of frequency response.
This product produces a very decent sound quality across a good frequency range.
Frequency response is excellent, distortion remarkably low.
Blue Yeti USB Condenser Microphone
Simple to use and records great sound. I use it to record podcasts and the multiple recording patterns are a godsend. I love this mic.
There are manual switches for both gain and recording patterns - stereo, omni, cardioid, and bi-directional.
I bought this to use in a school music classroom to record rehearsals. I have used it for choir and band and the recording quality is great. I have also used it to record solo piano and vocal music.
It's a very sensitive microphone, it picks up a lot of low and mid frequencies.
Great all around sound quality for a USB mic. great low end response as well as speaking voice. I was very happy with the quality of the recordings it produced.
Amount of background noise and static detracts from what should be professional quality.
Minimalist mic. This mic is for solo use. No real adjusting.
Warranty / Certifications