A webcam is a device that is able to erase borders and shorten the distance between extended families via Internet. Now not only
can you communicate with the people from abroad, but actually see them in front of you on the screen. Isn't it a great invention for those users who due to certain circumstances have to spend some time apart? In our web camera review we've made a selection of the best cameras available in the market to help you find a perfect fit for your needs and budget.
...
Read more
...Read less
Microsoft LifeCam HD-3000
Image Quality
Microsoft LifeCam HD-3000 is a budget-priced webcam that's gonna meet the basic needs of most consumers. It's not an ideal cam, but definitely not a bad option for a regular home use. With Microsoft HD-3000, you'll be able to chat with your friends and relatives at 720p and at 30 frames per seconds. The quality of an image, of course, isn't comparable to the one made with Full HD cam, but also not awful. It might look a little bit overexposed in the areas where white light is more concentrated, however to a certain degree, it's also got its own advantages. The skin is gonna look much smoother, softer, without visible defects and that's all without using any editing tools. Microsoft LifeCam HD-3000 uses a plastic lens, that's known for transmitting less light when compared to glass optics, but as we've said before - for the money it costs, it may become an ideal option for home use, provided that your room is well-lit.
Functional Capabilities
This webcam will let you record widescreen 16:9 video clips and share them on the Internet with friends via messengers and social websites. Due to TrueColor technology, both, images and videos come out quite bright, colorful, with the right color balance and in a good color temperature. The built-in microphone ensures that the audio is crystal-clear and free of unwanted background noises. You wouldn't need to speak loudly to be sure that you're heard. Noise cancellation works great so you can stay away from your microphone and still use it well.
Construction and Attach-Ability
The construction of the cam is made of quality black plastic and seated on a rubber stand. The attach-ability of a thing is rather versatile. You can either clip it on the PC monitor or use right on the table, whatever is preferred. The cam, unfortunately, tilts neither up nor down, which means that you'd have to move the computer itself to achieve the desired viewing angle and get in the sight. Rather than that, it's an easy-to-use webcam that doesn't require a lot of fuss around. Simply plug it in via a USB port and get started.
Additional Info
---
VIDEO
Microsoft Lifecam HD-3000
What customers say about this product
Does what it says. Easy set up, many different controls with the installed program! Easy to use! Moves left and right on it's base, also the base is adjustable to either sit on it's own, or hook up to your laptop!!
720p HD resolution at 60Hz refresh rate. Very affordable quality video capture for the price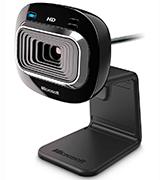 Microsoft LifeCam HD-3000
Logitech BCC950
Image Quality
Logitech Conference Cam is an all-in-one solution from a world leading brand that ensures top-notch razor-sharpness of the image and professional quality HD video clips. If you're looking for a device to use on various occasions, including business presentations and conferences, you should definitely consider buying Logitech BCC950, a professional, high-quality webcam with crystal audio clarity. It's quite expensive, but it's not a case of paying for the brand name. Logitech webcams are well recognized in the world for their durable lifetime, extreme quality and broad range of functions. The cam uses an expensive Carl Zeiss optics lens so it lets more light to get in and produce both, video and pictures of higher quality.
Functional Capabilities
Among the functions that Logitech conference cam includes are Autofocus, Auto light correction, Zoom in and Out and Remote control to maintain the cam and pan from the distance. This is super convenient when holding a meeting with a 78-degree field of view provided. You will also give justice to its super clean speakerphone that reduces background noise big time and ensures excellent audibility in a distance within 8 feet from the cam base.
Construction and Attach-Ability
The name of the cam totally speaks out its purpose - the whole construction with the included pan base are made to provide the optimal viewing angle so that whoever is there in the conference group are well seen in the meeting. The rotatable 180-degree pan swivels right and left and gives you plenty of freedom to the objects and things that you'd like to capture on a screen. It's also very friendly in use. To get it to work, you wouldn't need to install any drivers or software. Installation takes just a few seconds and requires simple connection of a device to PC or Mac via a USB port.
Additional Info
---
VIDEO
AV Tutorial: Logitech BCC950 Conference Cam
What customers say about this product
The video quality for an up-close shot is pretty good.
Pan, and tilt are motorized, as opposed to the poorer performing digital PTZ on competing webcams
Logitech BCC950
Logitech C920
Image Quality
Logitech HD Pro Webcam can become the best bang for your buck. It's a reasonably priced cam with Full HD resolution that is able to take up to 30 frames per a second and come out with impressive quality pictures. The cam features a glass lens for efficient light transmission and autofocus to make your shots clearer and less distorted even if you move. However, if you decide to use this cam for playing online games, you will need to switch to 720p, otherwise, the video quality may get lost. Full HD 1920 x 1080 is available for video chatting on popular messengers and social websites. For other purposes, 720p is recommended (if the quality matters, sure).
Functional Capabilities
For whatever reason you want to buy a webcam, Logitech C920 will suit you best. Even if you plan to broadcast cooking shows right at home, rely on the cam and do the work. The face tracking function will always keep you in the sight no matter how far your stovetop is gonna be placed from the cam, so you can fry eggs, make pizza or whatever you want and make sure that autofocus will not lose a track of you. Logitech C920 is an ideal option for those who are involved in any type of activity. Dance, sing, rap and do whatever you want in front of the cam and be sure that your movements are gonna be captured in the best possible way. Isn't it a great deal for the price it is sold?
Construction and Attach-Ability
Logitech C920 has got two microphones for recording stereo-like videos in full sound, a Carl Zeiss quality glass lens for taking precise and crisp images and a long cord for using the cam freely around. The stand sits on rubber tips that prevent slipping and ensure firm fixation of the cam on any surface, be it a table, a monitor or a tripod. The minor inconvenience that you may face when using this cam is that it doesn't turn left or right unless you mount it on a tripod. The construction is made in a way to swivel only up and down, which is not that bad to be honest, considering that you can always either turn a monitor itself or use a full-length tripod.
Additional Info
---
VIDEO
Logitech C920 HD Pro Webcam Review
What customers say about this product
Resolution and wide area is great for webcam usage!
This camera/mic is AWESOME! I love how incredibly easy set up is. After it's installed, the software is user friendly. The quality for the price is amazing!
Logitech C920
Genius WideCam F100
Image Quality
Genius made a worldwide name by manufacturing various PC accessories. This Genius WideCam F100 Full HD Conference Webcam provides a clear image in Full HD with its 120° ultra-wide lens. The 12-megapixel camera supports 1920 х 1080p video recording up to 30 fps and making interpolation photos. Please note, that while streaming, the contrast may change due to lighting. However, it's fully compensated by manual focus adjustment.
Functional Capabilities
WideCam F100 can record Full HD video, take photos, and capture the sound with its high-sensitive stereo microphone. A silver ring around the lens is used for the focus adjustment. Moreover, you can additionally rotate the camera around at 360° and bend it down or up to find the best angle. To start using the camera, just plug-in USB 2.0 cable into your PC or notebook and let your system automatically detect the webcam. However, you can install additional Genius software from supplied CD to get access to more functions such as making video captions, photo editing or uploading video directly to social media.
Construction and Attach-Ability
As its name suggests, WideCam F100 Full HD Conference Webcam was designed for offices and conference halls, but don't worry - you can also mount it on the monitor of your home PC or notebook with the foldable clip. Rotatable camera head spins around 360°, so you can put it anywhere. The USB 2.0 cable is 4.9 ft. long, that is more than enough to reach the PC tower from the monitor. Furthermore, Genius WideCam F100 comes in a package with additional 4.9 ft. cable, that will come in handy for use on large conference tables. The last but not the least, an aesthetically looking body is made of black plastic with metal elements and rough finish, hence, this webcam will surely fit any office style.
---
VIDEO
Genius Webcam unboxing f100 wide angle 1080p
What customers say about this product
Really gives the WHOLE room, we can fit all our staff in the web cam view. Not the greatest resolution as our graphic designer noted, but everyone else thought it looked fine.
The wide angle is a nice feature, everyone can be in frame.
Genius WideCam F100
TeckNet C016
Image Quality
It's hard to beat the price of TeckNet 720p webcam. It's an affordable option for most average American families with decent quality of images and videos. It doesn't support Full HD, but at 720p resolution, your videos are gonna be smooth and undistorted. The only thing you'd need to do before shooting a video is to manually set the focus so that faces and objects are well visualized and not blurred. You wouldn't expect that a cam at such a low price tag comes with a quality 5-layer glass lens and not a crappy plastic optics. This improves the overall quality of videos and pictures by times. Besides, with 6 LEDs on bot sides, it's gonna be way easier to vary color balance and achieve the desired color temperature. Thus, if you look for a budget and yet, good quality webcam, you can easily opt for TeckNet C016.
Functional Capabilities
TeckNet webcam is cheap, but not limited in functions. It provides a great lot of functional capabilities to improve the quality of videos and eliminate background noise. It doesn't have an autofocus, true, but it's got a face tracking function which means that it's gonna focus on the eyes rather than movements. Isn't it what you'd like to have? It might lack some advanced functions that more expensive webcams offer, but it's definitely got all that's required to take a decent video - auto exposure, digital zoom, snapshot button, face tracking and manual focus.
Construction and Attach-Ability
This is a small clip-on webcam with versatile attach-abilities. You can either attach it to the screen or use right on the table. The stand of the cam quickly transforms from a flat to a clip-on position so you can ensure the optimal viewing angle for any purpose stress-free. TeckNet webcam features a built-in microphone that removes all unwanted noises and notably improves the speech quality. It is also very simple to install. And though, the instructions on the box say that this cam is Windows-compatible only, through our testing it's shown to work well with Mac too.
---
VIDEO
TeckNet HD720P Webcam - Review & Test
What customers say about this product
This is high definition and high quality and high resolution webcam with built in speaker that works well with windows 8.
The 6 LED lights can be adjusted for extra lighting if you need it or you can keep them off.
TeckNet C016
What is a Webcam
Would you ever believe that it would be possible to communicate with your friends, relatives or colleagues from abroad in a real time mode and see them just as if they were right in front of you? With the invention of a webcam, it's become a reality. Most applications today (both, computer and mobile) offer their users an opportunity to video call the contacts from their list and shorten the distance between each other by times in a single click. All you need to have is a device to install a webcam (in case with smartphones, installation is not required) and a decent camera. In our review of the best webcams, we'll show how various models differ and how to make the right choice.
When talking via a webcam, sometimes you may want to keep your conversations private. This is where using Headphones is a must. Consider 5 bluetooth headsets we've handpicked for you in our other review.
What Features to Compare
The Image Quality of a webcam is the foremost thing to consider when looking for a unit to attach to a PC. Primarily it's determined by a few technical parameters - a resolution matrix and a frame rate. Let's take a closer look at each of them and define their importance in terms of the quality.
Matrix Resolution stands for picture clarity and its sharpness. When they talk about resolution, what they really mean is a number of horizontal and vertical pixels on a display. The more pixels are there in the image, the sharper it is gonna be. This is where you may want to turn your eye to a cam with at least 3 mPixels so the image on a screen looks pretty clear and visually defined. Today, most popular webcams offer 1280 x 720 resolution. It's not an ideal picture, but quite satisfactory when viewed as a thumbnail. The perfect picture quality is guaranteed with 1920 x 1080 (Full HD) resolution. Those consumers who look for true quality and outstanding picture sharpness should not compromise and go for Full HD, no doubts.

The only thing you need to be aware of is that without having a proper high-speed Internet the pictures of the kind may frizz and get distorted.
Frame rate determines the smoothness of the pictures and is expressed in FPS (abbreviated from Frames Per Second). The higher the frame rate is, the smoother the picture is gonna be. What values should you look for? Well, the optimal rate is measured at minimum 30 FPS so you can start from there.
Photo Quality (measured with megapixels) will tell you how good or bad your pictures are gonna be. In the end, the camera is oftentimes used for taking shots, not only videos, and this parameter shouldn't be overlooked just as well.
The Lens Quality also matters. Quite often, instead of expensive lenses, they use a plastic optic, that not only cuts the price of the model down but also worsens the picture quality by times. Plastic lenses don't transmit as much light as glass lenses do, and often turn dark in a course of time. If you look for a long-lived webcam, you should definitely check out what type of lens they use in a cam and preferably, go for a glass option. Yes, it would cost you a little bit more, but it's also gonna last considerably longer.
When you've decided on resolution, frame rate and lens quality, make sure to check what else is there that a webcam offers. Functional Capabilities will introduce you to the type of connection as well as the whole functional of a cam, including all its nifty features and functions like Editor, Face detection, Light correction and more. The scope of functional capabilities varies in different models, so you should not overlook this aspect and go for a cam with the best available opportunities.
The last but not the least criterion that you should pay attention to is Construction and Attach-Ability of a chosen cam. Quite often it is the construction that becomes crucial and decision-making factor for most consumers. Not everyone buys a cam for home use only. If you plan to use it for making online presentations or video courses to broadcast on the Internet, it's got to provide you with flexibility options and the optimal angle for video capture.