Have you ever noticed how curious children are about new things that surround them? If you have, you also should have noticed their
interest in modern technologies. That's why we offer you to have a look at several models of tablets invented specially for kids.
...
Read more
...Read less
What is a Tablet For Kids
Children discover the world through numerous ways. They watch cartoons, listen to their parents, touch furniture or taste their toys. At first, their interest in new things is unconscious, but later kids become more and more aware of what they are doing. That's why it is so important to pay attention to children's early development, and IT sphere - to be specific, tablets for kids, - is one of the things which you may need. Tablets can develop child's communicative and educational skills with the help of games, special programs, and a function of video communication, for example, with their grandparents.
However, kids tablets should be different from the ones adults are used to. As children can easily damage things, even if they don't want to, their tablets should be of higher durability and be resistant to possible strokes and moisture. Moreover, kids should also be protected in case of undesirable information from the Internet.
We can also help you choose the optimal tablet for entertainment and business needs. Instead of going through a thousand tablets presented on the market, visit our review on the best tablets and pick the one among the most popular models and brands.
...
Read more
...Read less
What Features to Compare
Display
The display should be of high quality not only because children are fond of bright pictures, but also to provide necessary safety for kids' eyes. Thus, the tablet screen must be bright and have a glare filter to be able to provide a proper image which doesn't become dim when you look at it from an angle. The resolution should be good enough to produce pictures without visible pixels. And, of course, sensor response should be quick and accurate otherwise, your child will refuse to play with the tablet.
Efficiency
Children grow fast and their interests change, so you will need to upload new and more difficult games. Thus, the device must be effective enough to run a game with high system requirements. Tablet's efficiency is determined by several factors.
A processor makes a great part of kids tablet's efficiency. To run games which are interesting and useful for your child, it must be powerful and able to respond to every child's movement. Weak processors will spoil games - the speed will slow down, the figures will jam, the game will malfunction, and child's mood will be brought down.
RAM, or Random Access Memory, should be no less than 1 GB. As this characteristic is responsible for tablet's ability to run several applications at once, its capacity is important for a proper work of all opened apps. If RAM is less than 1 GB, applications can suddenly stop working and close.
Graphic processor is one more significant feature which will help your child enjoy playing the tablet. Its main function is to run graphics of high quality and make games with high system requirements work properly.
Design and features
Design of a tablet is of vital importance as children perceive the world mostly with the help of visual senses. Thus, if a tablet has an unusual form, if its case is bright and pleasant to touch, there are more chances that your child will like the gadget. Except for a nice look, your child's tablet should possess some features to protect it and provide it with longer durability. Taking into account children's peculiarities such as an inability to control their feelings well and, as a result, possible strokes and falls of a tablet, your device should be at least shock-proof. Moreover, the materials which it is made of must be nontoxic as the gadget will be in child's hands most of the time. And, of course, don't forget to pay attention to parent control function which will help you be aware of what your child is doing with a tablet and prevent him from coming across undesirable content.
...
Read more
...Read less
Fire Kids Edition 7-inch
Display
Fire Kids Edition Tablet has a 7-inch IPS display. These characteristics are responsible for colors of the display - they provide high color rendering which is close to a natural palette. Moreover, the picture doesn't worsen when you look at the screen at an angle. 1024x600 resolution is good enough to exclude possible fuzziness. Additionally, a polarizing filter makes colors brighter and adds contrast to an image.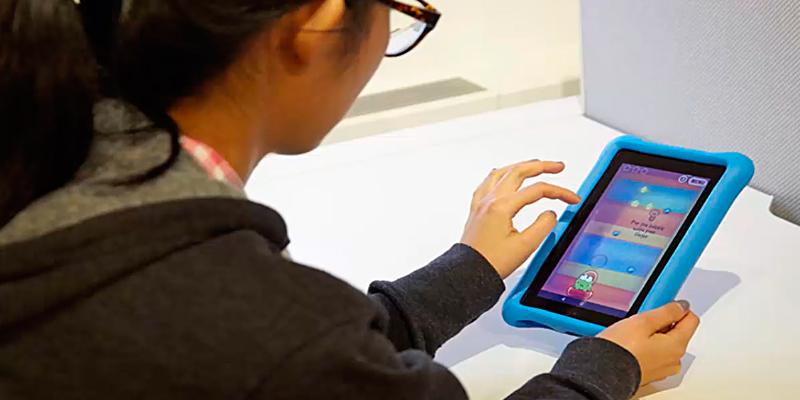 Efficiency
The tablet is equipped with a quad-core 1.3 GHz processing unit and 1 GB of RAM which gives the gadget a possibility to run not only simple games and educational programs but also applications with high system requirements. The manufacturer has provided 8 or 16 GB of internal storage and foreseen an ability to use 128 GB additionally with the help of microSD card. Possessing such characteristics, Fire Kids Edition Tablet will be interesting for both small kids and those who are older.
Design and features
The given model has an attractive design and a special protective case which is available in three colors - blue, green and pink - which makes it possible to choose that very tablet which a child likes best. The possibility to create several personal profiles will be useful if you have, for example, 2 children - both of them will have their own special space to play and learn. FreeTime application will be helpful if you want to find colorful cartoons, gripping games or educational programs. To protect your kid from visiting undesired content on the web, there's a parent control function so you can customize the gaming place for your kid to fit his/her needs.
---
VIDEO
Amazon Fire Tablet Kids Edition: Unboxing & Setup
Fire Kids Edition 7-inch
nabi 2S Play&Learn
Display
The display is developed in accordance with demanding conditions of the modern world and up-to-date children's needs. It shows detailed and clear pictures thanks to IPS matrix which also provides deep and bright colors, and doesn't spoil the image at an angle. Having a 7-inch diagonal, the display also possesses 1280x800 resolution which makes all pictures realistic and watching films or cartoons brings only pleasure.
Efficiency
2S Play&Learn Kids Tablet works with the help of modern NVIDIA® Tegra® processing unit consisting of four cores 1.3 GHz each. One of the cores has energy-saving function which lets the gadget work longer provided that it doesn't carry out difficult operations. This powerful processor is ideal not only for children's needs - even an adult can use this tablet downloading "heavy"programs. 1 GB of RAM is enough to cope with almost any program you'd like to download, and internal storage will keep all your games, books, pictures and videos. Even if you lack this space, you'll be able to extend it with a microSD card.
Design and features
This model of kids tablet is protected with a shock-proof red case. However, if you or your child doesn't like red, you can buy a case of a different color. The back side of the device is equipped with a puzzle which your child will assemble eagerly. The front camera makes photos with 720p resolution, and available social network makes it possible to exchange these pictures with friends or relatives. You are able to keep an eye on your children with the help of a parent control function. Additionally, you can assist in your child's development using a special shop with numerous educational and entertaining applications.
---
VIDEO
Nabi 2 Kids Tablet - REVIEWED
nabi 2S Play&Learn
Dragon Touch Y88X Plus
Display
Just like other tablets for kids, display of Dragon Touch Y88X Plus Kids Tablet is created in accordance with all major requirements for a kids gadget. Convenient screen size with 1024x600 resolution, bright colors, clear image, the stability of picture even if an angle is changed - all these peculiarities are integral elements of this model. Moreover, an IPS screen helps children play, watch cartoons and do developing tasks more and never have eye strain.
Efficiency
Quad-core processor 1.2 GHz along with 1 GB of random access memory gives a possibility to meet all child's needs. The powerful processor uses all its resources to run any program, game or cartoon downloaded from the Internet. Additional storage assists in keeping all necessary stuff for child's entertainment and development. Cooperating together, these characteristics create a perfect gadget to make your child's spare time more exciting.
Design and features
The tablet has a special shock-proof case which can be found in blue or red color. It protects the device in case of strokes or falls. Dragon Touch Y88X Plus Kids Tablet gives children a chance to feel special as it provides a function of creating personal profiles. Android operating system gives an access to numerous useful and funny applications. However, it is Kidoz which makes this model special and different from other tablets. This application lets you choose a special safety mode which a child can surf the Internet freely and not come across any adult, unwanted content.
---
VIDEO
Dragon Touch M7 Kids Tablet review
Dragon Touch Y88X Plus
iRULU BabyPad Y1
Display
iRULU BabyPad Android Tablet has an incredibly pleasant display for children's eyes. 7-inch diagonal makes the size of a picture convenient for kids. 1024x600 resolution is perfect for reproducing a clear and realistic image. What else you should know about this model is that it has an ability to detect 5 finger touches at once. This function is very useful while playing, learning games or drawing. Moreover, sensibility of this screen is much higher and your child won't feel any inconveniences while using his tablet.
Efficiency
A powerful processor of this gadget is created by the Intel company and consists of four cores 1.5 GHz each. The efficiency is also increased by 1 GB of RAM. Working together, these characteristics maintain quick start and smooth operation of every application. 8 GB of internal memory, which can be extended with the help of microSD card, will become a perfect place for storing all the games, cartoons, and programs your child loves playing or watching.
Design and features
What we like about this iRULU BabyPad tablet for kids is its protective silicon case, made of non-toxic material. This means that it won't break down on tiles in case your little one ever accidentally drops it, and it won't pose a health risk to children. You can pick the case from three available color options - blue, pink and yellow, to please your child and highlight his or her personality. Like most modern tablets, iRULU has a parental control function for customization of the apps. Now, you can choose only those games and videos that you'd like your little one to access. This is super convenient!
---
VIDEO
iRULU BabyPad Y1 7 inch Quad Core Kids Tablet
iRULU BabyPad Y1
LeapFrog LeapPad3
Display
In comparison to the other tablets that we've analyzed before, this one possesses a smaller screen size with a 5-inch diagonal, which isn't exactly a shortcoming considering small hands of children. Of course, if your kid is already 6-7 years old, he or she would definitely prefer having a bigger one to see a higher image detail. But most small kids would be absolutely delighted with this model of tablet. The resolution is not the highest though, it's only 480x272, but for most small kids who only play games, this is more than enough. The table is compatible with a stylus as well, so you can let your child draw and pick the apps with a comfy pen in hands.
Efficiency
Quad-core 1 GHz processor is powerful enough to make LeapFrog Tablet work properly and without glitches. These characteristics along with a lithium ion battery are also responsible for more than 6 hours of continuous operation of the gadget. If you want to provide your child with educational programs, colorful books, fascinating cartoons or learning games, you are free to use 4 GB of internal storage capacity.
Design and features
One thing that definitely puts this tablet aside from the others reviewed here is its colorful, froggy-style design which is very much alike to a toy appearance. So, if you've got kids who are 3-4 years old but crave for parent's gadgets, give them this tablet and worry not. It's shock-proof and it's wrapped in a protection cover so as not to break on the first drop. The tablet comes with an extensive library that includes over 1000 games and apps to suit children of a different age. You can customize it for several kids as well, for it allows to set 4 different profiles. On the contrary to other tablets, this one isn't driven on any particular operating system which even more makes it similar to a toy, but it's got a safe browser with no access to dangerous content.
---
VIDEO
Review: LeapPad3 by LeapFrog
LeapFrog LeapPad3