A tablet is a small computer. Lighter and more portable than a laptop yet almost as high performing. Quite a few tasks can be performed
with a tablet today. And if you decided you need one, we are here to help you choose the best. So, tablet computers. Here we go!
...
Read more
...Read less
X
This site is a free online resource that strives to offer helpful content and comparison features to its visitors. Please be advised that the operator of this site accepts advertising compensation from certain companies that appear on the site, and such compensation impacts the location and order in which the companies (and/or their products) are presented, and in some cases may also impact the scoring that is assigned to them. The scoring that appears on this site is determined by the site operator in its sole discretion, and should NOT be relied upon for accuracy purposes. In fact, Company/product listings on this page DO NOT imply endorsement by the site operator. Except as expressly set forth in our Terms of Use, all representations and warranties regarding the information presented on this page are disclaimed. The information which appears on this site is subject to change at any time. More info
Samsung Galaxy Tab S3
It May Surprise You
The Tab S3 is a flagship model from Samsung. With details in mind, the manufacturer has provided this device with quite good features. For starters, we would like to draw your attention to the design of this model. Being made of glass and metal materials, the frame not only has a premium look but also feels quite nice to the touch. Also, it is available in two colors (black and gray), so you can select the best one that will fit your style.
The Galaxy Tab S3 is a bit heavier than the previous model from Samsung, this difference is insensible though. There are a 3.5mm headset jack and USB Type-C port at the bottom of the tablet. Plus, with four speakers located on each corner, you get clear surround sound when playing a game, listening to music, or watching a movie. As for the screen, it is 9.7 inches Super AMOLED with 2048x1536 pixels resolution. With such features, an image is bright and colorful. The black color is deep as befits Super AMOLED. Moreover, when you need to type something fast, you can plug a keyboard into a special port on one side of your tablet. Plus, it never needs setting up and charging anymore, which is quite impressive. There is also a volume key and a memory card slot next to the power key. And if you wish to increase the amount of storage space, Galaxy Tab S3 supports microSD cards up to 256 GB.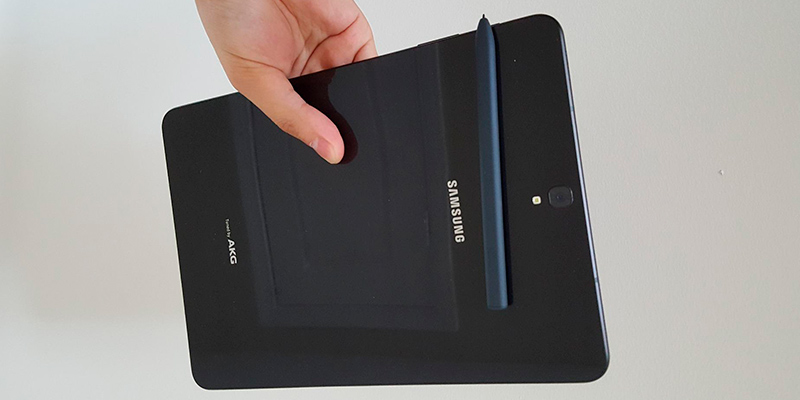 Including the Latest Modifications
Not only has the manufacturer supplied this tablet with the latest operating system - Android 7.0 Nougat, they have also completed it with high-capacity specifications. With time-proved Snapdragon 820 CPU and 4 GB RAM, you can play the most modern and demanding video games. Such combination has increased Tab S3 performance and graphics by 18% and 300% respectively.

An Important Element
This tablet is not only for entertainment, it is primarily for work. The Tab S3 is supplied with a special S Pen that has become thicker and more comfortable to hold. The tip, on the other hand, is thinner (only 0.7 mm) and allows for clearer and more natural handwriting. You will know the maximal use of this tool after installing special apps such as Samsung Notes or Soundcamp that will help you to jot down important reminders or create a tune easily.
Long Hours on End
With such high productivity, you might ask: "How long will this device operate off-line?" Well, the good news is that with 6000 mAh lithium ion battery and energy-saving display, you can watch video, surf the internet, and use other apps for 12 hours. However, take note that the battery discharges a bit faster when you are playing games.
Additional Info
Last updated price

$

209.95

Stock
In stock
ASIN

B01MTGLBP5
---
What customers say about this product
I have had the previous galaxy s tablets but they don't compare to this 1. Love the resolution and screen size. Much easier to updat forms than the 8"
The screen display is much brighter outdoors and quite usable.
The display is almost life like. Videos play in 4K, pictures jump out in your face and with the added memory this has compared to the S2, it never has a lag even playing HQ content
You can tailor the sound somewhat, using the Bass/Treble and Instrumental/Vocal controls in the Sound settings, although that was also available on the S2. Basically, two more speakers seems to work better for me.
Samsung Galaxy Tab S3
Apple iPad (MPGT2LL/A)
Get the Most of This Tablet
It was Apple who has launched first tablets and made them very popular. Improving their models with years, they now offer you iPad of the 7th generation. It has the same design as iPad Air 2 and a lot of useful key features that make it easy to use. Among them are an aluminum unibody, powerful speakers at the bottom side, a microphone, screen lock, headphone jack, and multipurpose lightning connector that you can use for charging the battery and syncing your iPad with other devices. Moreover, due to the Retina 9.7 inches display with 2048x1536 pixels resolution, the quality of an image is quite impressive.
The main distinction from the previous model is with the CPU. The iPad MP2F2LL/A works on Apple A9 with 64-bit architecture. You will notice that pre-optimized apps in combination with a powerful processor offer you simpler use and fast work of all applications. With all these options, you can easily make and show presentations, play games, watch Full HD videos in private or with your friends, or in other words get the most of it. 

Find the Best App for You
This model is supplied with iOS 10 that allows you to download and install the newest apps, games and other content. Being one of the best operational systems, iOS is the combination of simple and easy to use interface with leading technologies of data protection. Moreover, you are not limited to already installed apps since AppStore offers you more than a million of useful apps so that you could find the best one for your business or entertainment. 
It's All on Your Finger Tip
Do you like iPad Air 2 Touch ID function? If yes, we are happy to say that this model also has it. It is practically the best way to secure your system since it will respond only to your fingerprint. However, you can use this option not only to unlock your tablet but also to buy stuff through Apple Pay. Most will agree that this option is quite helpful and can certainly save you time. 
Share Your Best News with Your Folks
Would you like to capture on video the best moments of your life? Well, with iPad cameras you can make HD and Full HD videos and shoot detailed images without any problems. And with such modern tools as Wi-Fi, Bluetooth 4.2, and LTE, you can share them with your friends and family at the touch of a few buttons.
Additional Info
Last updated price

$

0.00

Stock
May be out of stock
ASIN

B01LTIORCI
---
What customers say about this product
Great size for taking to the genealogy room at the library not to mention on travels!
The resolution of the screen, the general performance and the functionality are perfect, love it!
Customers have come to love the iPad because it is so good at doing the few things that people want: reading, watching, browsing-- media consumption. It has a long battery life and a gorgeous screen.
The processor that drives this iPad is an A9 chip, and this is faster than the A8x that comes in the iPad Air 2. It has a 64-bit architecture, which is nerd-speak for "future proof". Watching movies, reading books, viewing webpages will feel like a breeze.
Apple iPad (MPGT2LL/A)
Amazon Fire HD 8 (7th Gen 2017)
A Compact Game Pad
The Fire HD 8 of the 7th generation is a gadget that combines reasonable price and high quality that can be seen in details. Being made of plastic, its body is quite strong and designed for daily use. Moreover, this tablet has passed tumbler tests perfectly and was ranked as a highly durable device. You will notice that all buttons are conveniently located at the top, and there is a slot for microSD on the side that allows you to expand storage space up to 256 GB. Therefore, you get much space to keep all photos, videos, and books with you. Plus, due to 8" IPS display with 1280x800 pixels resolution, you can enjoy bright and clear pictures when watching a movie or playing a game. The battery will power your Fire HD 8 for 12 hours of mixed use and 1.3 GHz quad-core processor allows for faster performance. Undoubtedly, with this gadget, you can get the maximum from an entertaining activity. Plus, two built-in speakers that are located on the left side focus the sound onto you when you turn the tablet horizontally. And last but not least, with space saving design it won't be a problem to find enough room for the Fire HD in your small bag.

A Built-In Inteligent Assisant
With the Fire HD 8, you get full access to the Internet content from Amazon, Alexa will provide you with a quick and coherent operation. With this smart system, there won't be any problems to purchase stuff through the Internet, set up an alarm clock, and even switch on the light before you get out of bed or dim it sitting on your couch when you want to watch a movie with your family. That is all possible since Alexa works with such services as SmartThings, Insteon, Nest, ecobee, Wink, and many more. Now you can simply use your Fire HD 8 not only for work and entertainment but also to control your smart house. All you need is press a few buttons.

Get More Options
The operating system of this tablet is not just easy to use, it offers you vast content. Thanks to the quick access to all apps that are on your desktop screen, you can switch between books/audiobooks, music, games, and video withing a few seconds. Moreover, you can test the Prime content for the first 30 days free of charge. It includes millions of songs and videos, books, magazines, comics and much more. And if you like it, you can easily subscribe to this content.

Your Kid Won't Get Bored
With this tablet, you child won't just play games since with the Amazon Free Time service they will have full access to extended developmental and educational content. Plus, you can always check what your kid has been doing with Free Time Parental Control.
Last updated price

$

39.99

Stock
In stock
ASIN

B01J94SWWU
---
What customers say about this product
HD 8 has larger screen size, obviously. With the one inch difference videos look way more immersive especially with the higher resolution the tablet provides compared to the HD7
This display is the same resolution as the HD6, but spread over a larger screen, so not quite as sharp, though only marginally noticeable.
It is a super fast tablet that for about a month that I've had it so far it is still working amazingly great.
The Battery life on the tablet is very good. Mine came pre-charged with 80% battery, and has still not gone past 50% through moderate use. Very good! I will post an update on the battery life, should anything change.
Amazon Fire HD 8 (7th Gen 2017)
ASUS Zenpad 3S 10 (Z500M)
Up to All Standards
The ASUS Zenpad 3S 10 is a functional and elegant tablet with high performance. Being made of premium aluminum, its body is not just durable, it is very lightweight (only 0.95 pounds). Moreover, it is 5.8 mm thin with diamond-cut edges and low-gloss back panel. So when you hold the Zenpad 3S, you have no doubts that it is a high-class gadget. As for the display, with Asus 3S you get 9.7-inch 2K IPS display with the Visual Master Technology, 2048 x 1536 pixels resolution, and wide viewing angle (178°). Also, with the thinnest bezel that is just 0.21", the display has 78% screen-to-body ratio. Because of all these technological solutions, the Zenpad 3S has practically similar dimensions as most of its competitors with smaller displays. Frankly speaking, this device will be equally suitable for both business and entertainment. And finally, this tablet is equipped with a fast and accurate fingerprint sensor. Most will appreciate such a useful extra that enables you to unlock your device in a fraction of a second with a single touch of the home button.

Excellent Performance
ASUSZenPad 3S 10 is more than just a beautiful appearance. This tablet has quite productive and premium hardware. With a super fast hexacore processor, 4GB RAM, and IMG GX6250 graphics, this tablet will easily handle even the latest games and the most demanding apps—they will launch almost at a fraction of a second. Furthermore, with the updated ZenUI interface and special Game Genie panel not only will you speed up your game, after optimizing system settings you will also have the opportunity to share your performance through YouTube Gaming.
Impressing Sound
The manufacturer paid extra attention to the sound system of the Zenpad 3S 10. They have equipped this model with two front stereo speakers that support Asus SonicMaster 3.0. This technology is a combination of hardware and software tools for sound improving and its main purpose is to make the sound louder. Plus, with DTS Headphone:X technology, you can enjoy clear surround sound even through your headphones.
Just Like Real Life
Asus VisualMaster technology includes a set of hardware and software tools that make the image on an IPS display more detailed and result in a quite realistic viewing experience. Moreover, Asus True2Life optimizes contrast and sharpness efficiently thus increasing the range of shade. Undoubtedly, this tablet is worth your attention since with such a perfect picture you are certain to enjoy a game or a movie.
Last updated price

$

0.00

Stock
May be out of stock
ASIN

B01MATMXZV
---
What customers say about this product
This is one of the biggest reasons why I purchased this device over similarly priced competitors. This is one of the best screens I've ever seen in this size range.
The screen resolution is fabulous. I do online workouts with the ZenPad and I can see the crisp visuals from halfway across a small room.
Asus has included a physical home button on this tablet that doubles as a fingerprint reader. All-in-all, the fingerprint reader functions well and is fast.
This tablet has the ability to use android apps and great processor with 6 cores wow & great for gaming on the go.
ASUS Zenpad 3S 10 (Z500M)
Samsung Galaxy Tab A (SM-T580)
New and More Powerful
We want to bring to your attention one of the best multimedia devices – the Samsung Galaxy Tab A. This is a superior gadget that every member of your family will appreciate. Firstly, it has a beautiful 10.1" high-resolution display that will surprise you with crisp and realistic images. You will also notice that despite its diagonal this tablet is quite space saving and is only 10"x6.11"x0.32". It has become a bit heavier (1.16 pounds) contrasted to its competitors, yet you won't spot this difference at all since it is very convenient to hold.
The hardware of the Samsung Tab A is also of high quality. The model is equipped with an 8-megapixel main and 2-megapixel front cameras that will help you capture the best moments of your life. Another useful feature that we can't leave without attention is a built-in flash. Now you will be able to snap a photo at night or in the failing light. As for the controllers, you will find the volume key and block button on the right side of the tablet above the SIM and microSD card slots. With the latter, you can expand the memory of your Tab A from 16GB to up to 200GB. That means you get a lot of space to store your photos, books, and multimedia.
Competitive Performance
You will notice that the hardware of this model was improved notably. It has a powerful Exynos 7870 Octa-core processor with eight 1.6GHz kernels, Mali-T830 MP2 graphic processor, 2GB RAM, and 16Gb ROM. In case the memory space is not enough for you, it can be easily increased via microSD as mentioned above. With Samsung Galaxy Tab A you get fast control and responsive performance over the most modern games. Plus, you will enjoy bright and colorful picture on its big display.
An Extended Battery Capacity
If you're concerned about the battery life considering such a high performance and large display, rest assured—the manufacturer has improved the battery too. It is 7300mAh now and can work for 13 hours while you are watching videos, surfing the internet, or playing games. And that is not all. You can listen to your favorite music for 187 hours without charging your tablet. Indeed, with this option, the Galaxy Tab A has merited its name of a self-inclusive device.

Simple Connection
With Android 6.0 OS, built-in Wi-Fi and Bluetooth modules, 3.5mm audio and microUSB jacks, this tablet can be connected with other devices easily. Moreover, it has Quick Connect function that allows for transferring the image on the screen of your Samsung Smart TV. And when you need to transfer your contacts and multimedia files to your smartphone, just use Smart Switch function. In case you want your kids to use their time profitably, you can install many educational apps, and the parental control function will let you mute undesirable content.
Additional Info
Last updated price

$

227.00

Stock
In stock
ASIN

B01LOVZCE2
---
What customers say about this product
I'm impressed how fast the processor is on this tablet compared to my old tablet. I've had this tablet for almost 2 months, use it everyday, and have not encountered any problems with it.
One of the things the make me very happy is the long battery life.
This tablet is a very good deal and works well. only thing I could say bad is it only has 16GB of storage but that's probably why such a good deal but u can always add a Mini SD in these to add more. I put a 32GB one in it.
The display is vibrant and crisp at 1920x1220.
Samsung Galaxy Tab A (SM-T580)
What is a Tablet
Tablets today are almost PCs when you look at the features. Short of playing some games or working in specialized apps with really hardcore system requirements, everything you can do on a PC you can also do on an up-to-date tablet. And tablets are so much more mobile and portable, even compared to a laptop. Internet surfing, working with office documents, social networking, audio- and video-calls, making high-quality photos and videos, etc. — all this and much more in a device the size of a book (and thinner than that). No surprise that more and more users prefer tablets with every passing day. Here in this review, we would like to offer you some tips on how to choose the best tablet for you, and the description of 5 best tablet computers in our opinion to narrow down the list of options a bit.
If you are looking for a tablet specifically for drawing, we suggest you visit our drawing tablets review. And in case you are an avid supporter of particular operating systems, we have reviews on Windows tablets and Android tablets.
What Features to Compare
Performance
The brain of any computer-like device is its processor. It is responsible for data processing, apps launch speed, video and games playback, etc. How fast the processor works largely depends on the number of cores it has. We recommend you to look at quad-core 1.5GHz processors and more if you wish to have a cutting-edge high-performing device. Then there is also RAM, an extremely important parameter as well. With the world constantly requiring multitasking, the RAM can be considered enough often starts at 2GB. With this, your tablet will be able to process massive loads of data and work several apps at a time. As for the storage, it depends on what you are buying a tablet for. If you would like to store your data inside permanently, it will be better to look for greater storage space and/or the option to either expand the internal storage or use memory cards.
Display
Today you can encounter 7" to 12.2" tablets most often, though there are 5" and 20" ones too. The plus of the 7"–8" tablets is that they are lighter, more compact, and, therefore, more portable. Good enough for Internet surfing, playing, taking a device with you wherever you go. At the same time, it is probably more convenient to work with documents, read for a prolonged time, and use multi-window mode with a tablet of 10" or bigger. And then there is also the panel type. Panels affect viewing angles, clarity of picture, and response time. At the top of the list is the IPS panel type, but TN and TFT are still very popular, too. And, finally, you will need to look at the resolution. For a realistic and highly detailed picture, to start from the Full HD 1920x1080 pixels is a perfect choice.
Interfaces and Extra
There is hardly any user who'd buy a tablet without an option to connect either earphones or speakers, so there is that, the standard 3.5mm input is apparently a must. Also, it would be convenient to have a microUSB port to both charge your tablet and connect it to the PC. If you are going to use the device with an external monitor or TV, you will need an MHL, miniHDMI, or Mini DisplayPort. Wi-Fi is also fiercely important, the latest version being the 802.11ac. Bluetooth can be a really nice extra. We think you will be also happy to have a tablet that adjusts the brightness according to the lighting around, rotates the displayed image when you rotate the device, and recognizes when something other than a finger or stylus is closing up (like going to sleep mode or shutting up when you close the cover). There are tablets that can be used as a metal detector if you are interested. A good camera will allow making high-quality photos and video, and if you have a front one it means you can video call your friends and relatives. Built-in speakers let you listen to anything without earphones, and a microphone is necessary for calls.
Other Features
There are three most used operating systems for tablets and they differ quite a bit. So, what do you get?
Android — a vast selection of apps and games, easy to use and quick to get used to.
iOS from Apple — stability, high level of personal data security and protection against viruses.
OS Windows — well-known, full Office support, interface and services we are all accustomed to.
Lastly, if you are clumsy or have kids or pets at home, surely you'd want a device that is not so easy to break. The choice between metal and plastic is a no-brainer in this situation. Plastic is often cheaper, though. And it would be awesome to have a tablet that works for 10 hours on a single charge, right?
That's it, roughly. We hope it helped. Now let's proceed to some really remarkable representatives.