Smart displays match assistant speakers with ordinary tablets, creating the most versatile and sophisticated smart assistant yet.
The best smart displays will even let you watch movies on an excellent screen without compromising voice controls.
...
Read more
...Read less
X
This site is a free online resource that strives to offer helpful content and comparison features to its visitors. Please be advised that the operator of this site accepts advertising compensation from certain companies that appear on the site, and such compensation impacts the location and order in which the companies (and/or their products) are presented, and in some cases may also impact the scoring that is assigned to them. The scoring that appears on this site is determined by the site operator in its sole discretion, and should NOT be relied upon for accuracy purposes. In fact, Company/product listings on this page DO NOT imply endorsement by the site operator. Except as expressly set forth in our Terms of Use, all representations and warranties regarding the information presented on this page are disclaimed. The information which appears on this site is subject to change at any time. More info
ECHO Show Premium
Complete Design Overhaul
The Echo Show Premium is everything that its predecessors were but improved across the board. The biggest improvements pertain to the screen and speakers though. Starting with the latter, this device comes armed with two 2.2-inch neodymium drivers that are outputting 10 watts per channel and utilize passive bass radiators. While smart displays' speakers usually are, best-case scenario, satisfying or sufficient, these are quite tremendous. The bass frequencies that these speakers produce have a noticeable bump. The vocal masking that low-end sounds are normally working with is reduced. Besides that, the speakers are excellent are separating instruments, making the music feel more layered and impactful. They can also create a somewhat honest space perception, almost matching mid-range headphones on this front. Last but not least, the speakers support Dolby processing, making the audio more immersive so that the movies almost sound like they do at cinemas.
With the display, one would argue that the biggest improvement is the size, stretching the screen 10 inches. Needless to say, the 1280 x 800p resolution that smart displays are usually working with looks less cluttered on screens around and above 10 inches than on ~8-inch screens. From following recipes to reading text responses and watching movies, the screen makes everything more comfortable.
Of course, you cannot discuss the display without discussing the almost complete design overhaul that this device has received, making the original look clunky and even downright ugly. The bezels have been minimized, the speaker grille has been separated from the screen, and the edges have been rounded, making the model quite an elegant gadget.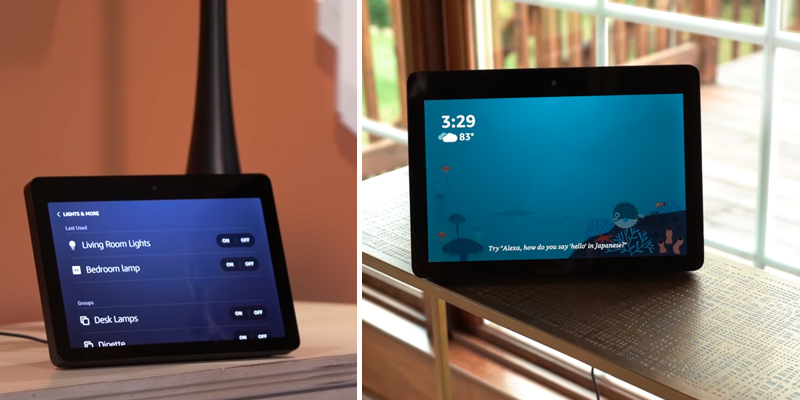 Browse the Web
Of course, some things have not changed. Using the integrated microphones and the updated but not especially different 5-megapixel camera, this device enables both voice and video calling. While Alexa can call American phone numbers, receiving phone calls is not an option yet. You can ask the voice assistant to see song lyrics and album art via Amazon Music. Not unlike most smart speakers and smart displays, this device can also recognize voice commands regarding the weather forecast, calendars, to-do lists, favorite playlists, and more. Plus, using this model, you can browse the web now, with the Silk browser easily loading most web pages. That being said, the Echo Show is still not great with social media platforms, including YouTube.
Long story short, the Echo Show Premium is almost unrecognizable from the original. The sound can fill up sizable rooms, the screen is bright and crisp, the web browser is robust and intuitive, and the gadget looks much more attractive than before.
Last updated price

$

156.80

Stock
In stock
ASIN

B077SXWSRP
---
ECHO Show Premium
Facebook Portal Plus
The Largest Screen
Separating Facebook Portal Plus from the Facebook family can be difficult at times but we would recommend even the company's biggest critics to think about it. Sure you still need a Facebook account to use this smart display, a decision that has earned this line some just criticism but, assuming you can look past it, this is quite an awesome device.
First things first, both black and white version look handsome, with the attached kickstand containing the power cord that you can plug into walls using a dedicated power adapter. Owing to this attached kickstand, the display looks clean, sleek, and streamlined.
The 15.6-inch screen is huge, so you can watch movies without feeling like you cannot tell small details apart. What's more, this device comes equipped with a 12-megapixel camera that stretches its field of view 140 degrees, meaning that this is easily the best smart display for corporate calls/conference rooms. The Smart Camera feature that this device's adopting automatically pans and zooms when necessary, keeping up with the action and adjusting the camera so that everyone's in view. Likewise, Smart Sound can enhance individual voices and reduce background noise.
While the camera sits at the top, on the bottom part, you will find two 2-inch tweeters with a 4-inch rear woofer behind them. This is not necessarily the most impressive audio setup but, for the most part, the setup suffices. While the tweeters will not quite be able to produce room-filling sound, the sub will be able to produce a bass response with a decent impact and excellent extension.
Story Time
The people behind Portal plus are touting the Story Time feature but, from where we're standing, it is a little gimmicky. Maybe some kids will appreciate the music, animation, and AR effects that the feature adds as you're talking with kids, finding the experience more immersive, maybe they won't. We're also not necessarily crazy about the integrated browser. Sure, with its help, you can create YouTube links that summon the desktop YouTube page but, needless to say, this will feel like jumping through a series of elaborate hoops to do something that should be easy and straightforward. Also, the browser does not add email and calendar connectivity and cannot receive texts (even the ones sent via Whatsapp or Messenger).
On the upside, despite the company's invasive reputation, we like the privacy features on this device that let you disable both the camera and the mic with but a single touch or block the lens using the supplied camera cover.
Bottom line, while the firmware is not very intuitive, the hardware and the smart features make Facebook Portal Plus an interesting proposition that will prove invaluable for corporate use and frequent personal use.
Additional Info
Last updated price

$

224.00

Stock
In stock
ASIN

B07HG2LSM9
---
Facebook Portal Plus
ECHO Show 8
Splitting the Difference
The Echo Show 8 hits that sweet spot between the cheapest smart displays that are not cutting it when it matters most and more expensive models that cost around or even above 200 bucks, more than most customers are comfortable with. While the Premium model sits at the top, with its sizable screen, loud speakers, and an equally loud price, the alarm clock-like Echo Show 5 costs much less and easily fits nightstands but cannot quite do everything that people occasionally want from smart displays. The Show 8 has been introduced to split the difference, with its 8-inch screen and the same bass port as well as dual two-inch speakers that the Premium model's offering but at a price that's not quite as steep as the company's flagship smart device.
To start with, this device will not struggle playing videos from various sources, including Hulu. Video calling devices with the Alexa app will not be an issue and playing music from Spotify, Pandora, Amazon Music, Apple Music, and others will not be something you will find challenging. Appearance-wise, the model shares its wedge-shaped profile with the Echo Show line, looking less clunky than the fifth version but not quite as elegant as the tenth iteration. While the screen is not necessarily high-res, its output is bright and easy to see from across the room. Plus, there are sensors on the front that will be automatically adjusting the brightness based on ambient light, which's great, even though the Nest Hub from Google can also tune the colors based on ambient lighting but Google's device is also more expensive and less compact than this one, so there are always trade-offs.
Far-Field Microphones
Not unlike the Echo Show 5, this model features two far-field microphones picking up voice commands and one 1-megapixel camera enabling video calls. More often than not, the display is pretty good at recognizing voice commands. The camera's not great, we'll give you that, but occasional video calls do not require much more than what this camera is offering. Unlike Facebook Portal, this one does not incorporate fancy automatic tracking and framing software, so you'll have to make sure you're standing in the frame.
Borrowing the speakers from its more expensive relative, the Echo Show 8 easily fills up medium-sized rooms with rich sound. Some might find the bass a little boomy but you can always tweak that.
Without covering obligatory features, the Echo Show 8 offers you the best bang for your buck, checking off the important boxes without carrying the flagship model's price burden.
Last updated price

$

109.99

Stock
In stock
ASIN

B07PF1Y28C
---
ECHO Show 8
Facebook Portal Smart
Automatic Framing
Facebook Portal Smart shares both the good and the bad with its more expensive relative except that this one is working with a 10-inch screen and without the attached kickstand. Apart from that, the differences between the two models are minute.
Both models rely upon an identical camera and microphone systems: a 4-mic array that offers 360-degree beamforming as well as the 12-megapixel camera with its wide (~140 degrees) FoV and <8x digital zoom. In other words, this device sees and hears you anywhere around the room.
While the model's camera is technically immobile, the company's fancy tracking software identifies human shapes and reframes the view automatically. What we're saying is that the camera basically follows you as you're pacing around, moving and zooming its lens. This is an immeasurable improvement that the Amazon's Echo Show line could benefit wonders from. With automatic framing, you can participate in video calls without worrying that you might be standing in the wrong spot, moving freely and knowing that the person you're calling will have no problem hearing and seeing you.
Bright and Sharp Video Calls
The audio and video quality is nothing like the trainwreck that is Facebook messenger calls and is even more overall impressive than FaceTime and Zoom. The image always looks sharp and bright, keeping the frame rate high and picking up voices without anyone raising theirs. Facebook claims that this device creates virtual microphones for everyone on the call, using the beamforming tech to enhance the voices. But, even though we have no complaints on this front, video calls are still video calls, so they don't sound quite as natural as the folk behind this product are arguing.
The Story Time software is what divides the customers on this one. Some like the AR storytime mode, featuring children's stories and letting you read along with following animations, music, and sound effects. Some parents are saying that the augmented reality animations and the entire mode is a revelation, some are arguing that the mode is pointless.
There's nothing divisive about the improved privacy features though, with the mute button atop the display letting you disable both the camera and the mic, and the integrated plastic shutter enabling you to cover the camera whenever you want. Sure, this is still Facebook we're talking about, so the fact that they're saying all the right things about privacy might not be enough to convince skeptics. Nevertheless, we believe that even people who dislike Facebook but make video calls on a frequent basis will find that Facebook Portal Smart might prove worth their while.
Additional Info
Last updated price

$

129.99

Stock
In stock
ASIN

B07XPDYRRJ
---
Facebook Portal Smart
ECHO Show 5
Voice-Controlled Smart Alarm Clock
While this is the first time we're reviewing the Echo Show 5, we've talked quite a bit about this device before. As you would imagine, the model shares a few similarities with the Show 8 and even the Show 10, though the second gadget is more advanced and sophisticated across the board, which is understandable considering that the gadget also costs almost 4 times as much as the Show 5.
When you're paying less than 70 bucks, expecting high-end tech is seldom wise. While the more expensive Echo Show iterations are basically tablets with voice assistants, this one comes from a different angle. Much to most people's surprise, voice-controlled smart alarm clocks are a real thing and the Echo Show 5 is Amazon's latest entry into this space, hanging with the still available Echo Spot. Of course, given that this device will cost more than 60 bucks, this is as much a smart display as it is a smart alarm clock.
Aside from a few exceptions, the model can do almost everything that its less affordable Echo Show relatives can do. Sure, the 5.5-inch screen with its 960 x 480p native resolution will not make watching movies an especially enjoyable experience and the single 4-watt speaker will not be able to compete with twin 10-watt speakers that the full-size Echo Show models are using, but these full-size models do not fit nightstands as well as this smart alarm clock. Also, borrowing from the same playbook, the screen here automatically adjusts its brightness, not shining like a lamp at night when you're trying to fall asleep but also not making the on-screen content look washed-out when it is bright and sunny inside and outside. Again, the speaker will not be able to bump tunes at a house party but you should be fine casually to music and podcasts without feeling like the audio is passable at best.
Ambient Sunrise Lighting
The Echo Show 5 picks up voice commands with 2 microphones, not the 4 that its full-size peers are using. But, even while playing music, the Alexa module usually hears and recognizes commands without you shouting them. Will the 1-megapixel camera let you make awesome selfies? A rhetorical question, just like the one that switches 'making selfies' with 'delivering advanced HDR features'. But, when an occasional video chat is all you need, the camera is adequate enough.
We can spend days discussing everything that this smart alarm clock, not excluding the ~80,000 commands that Alexa can recognize. But, before wrapping this up, the one we would be remiss to overlook is the ambient sunrise lighting feature that gradually brightens the screen before the alarm goes off. So, between the accessible price and great execution, we cannot think of a better device to put on a nightstand.
Last updated price

$

79.99

Stock
In stock
ASIN

B07HZLHPKP
---
ECHO Show 5
What Are Smart Displays?
Smart displays embody the 'smart home' concept. These touchscreen, voice-activated displays can show visual data and perform every function that screenless smart assistants can perform. In a nutshell, they're tablets combined with smart speakers, making these displays the most versatile smart gadgets out there. Following the common playbook deployed across every device with a voice assistant module, these quick-witted displays can pick up and recognize almost countless (~80,000 with Alexa, a little less with Google Assistant), voice commands.
Even though the prices vary somewhere between 70 and 250 bucks, the displays that we're reviewing here come equipped with above-average screens, respectable speakers, and adequate microphones that can pick up the command while blasting music at maximum volume. Sifting through photos, accessing weather forecasts, managing to-do lists, calendars, and playlists, opening and following recipes, controlling different home automation solutions, smart displays can do it all. They also include multiple privacy features that can convince even more cautious users that there's nothing to worry about here (at least not much more than there's with smartphones).
What Features to Compare
Displays
Smart displays are at least 50% displays, meaning that the screen matters quite a lot. Nevertheless, the people behind these gadgets rarely specify the matrix and/or the panel that they're using, the native refresh rate, and everything else that we know about screens. More often than not, they tell you nothing but the screen's size and its native resolution, so this is the information that we're using as the initial springboard. Most models measure somewhere around 10 inches, not unlike traditional tablets. Looking at the native resolution, you're seldom working with Full HD (1920 x 1080p), so that's where the similarities with traditional tablets temporarily conclude. No, the more expensive smart displays are stretching a little above HD (~1280 x 800p), while the more affordable models do not go above ~960 x 480p.
Voice Assistant
The part that makes them smart, these displays sometimes adopt third-party modules but 9/10 are employing Amazon Alexa or Google Assistant. As always, the second option usually sounds less stiff, forced, or awkward but Amazon's smart assistant works with more home automation devices, which means that people with multiple smart solutions benefit from Alexa more.
Camera
Because they're always tablets, at least to some extent, smart displays come equipped with cameras. These cameras will not let you make stunning selfies but, generally speaking, they're more than adequate when it comes to video calling, while the more expensive models might even let you stream and/or record decent vlogs.
Audio
This is where the difference between more and less expensive models is usually pronounced the most. The displays that cost above 150 bucks usually double as decent or even above-average assistant speakers, surrounding you with an immersive, impactful, and detailed audio. Plus, these models can usually fill pretty large rooms, whereas more affordable smart displays will struggle to do so.
Interfaces and Privacy Features
Displays with voice assistants are seldom brimming with interfaces. Generally speaking, you're offered nothing but Bluetooth and/or Wi-Fi modules. That said, there are also models that come featuring 3.5-mm jacks, so you can connect headphones and listen to music through them. Privacy features normally include some physical covers that let you hide the camera and different mute buttons and streaming indicators that ensure you're not sharing any information you don't feel like sharing.
Smart Displays versus Smart Speakers
Even though smart displays are late to the party while smart speakers have already spent quite some time making rounds and entertaining guests, we would not recommend betting against the new guy. Some people would even argue that speakers do not stand the tiniest chance since smart screens also come with speakers anyway, but we would not recommend dismissing either contestant. So, which one should you buy? Well, that depends.
Style Against Substance
With smart devices, appearance matters quite a lot. Will the device work with the current decorative scheme or will the addition become a glaring distraction that ruins the whole place's vibe? More often than not, smart speakers are more compact than smart displays. They mask the speakers with fabric, giving them an elegant, almost chic look, minimizing or even removing physical buttons and making these devices look as clean as possible.
Because most smart screens have not even released second-generation versions yet, they have not been streamlined quite as much as assistant speakers. Now, we're not saying that they're unattractive. Quite the opposite, most displays look stylish and tasteful, but not always quite as polished as speakers. Besides a few exceptions, they're basically tablets with integrated smart assistants. There are even orthodox tablets that double as smart displays, not unlike Lenovo's Google Assistant- and Alexa-enabled models and Amazon Fire. While smart speakers are usually more discrete, so you can hide or tuck them away somewhere, smart displays have to be more pronounced because, even with voice assistant modules, they still normally entail some physical interaction (at the very least, you'll be looking at the screen sometimes).

Functionality Differences
Smart speakers and equally quick-on-the-uptake displays perform almost the same tasks, with one crucial difference being that displays can display (shocking, right?) information visually, making them much more versatile. Needless to say, following the recipe on the screen is seldom as difficult as following even the most thorough step-by-step guidelines pronounced by the speakers. Plus, unlike with normal tablets, you can command the display to move to the next step without touching the screen with sticky fingers. Can you make video calls using assistant speakers? No, sorry, as capable as we're certain you are, this is where we're drawing the line. You cannot watch YouTube or movies on smart speakers but equally brainy displays have no issues covering this part.
Budget
Since smart displays can do everything that smart speakers can do, why would one even go with the second option? The reason is quite simple, actually - speakers are less expensive, 'tis a tale as old as time. There are pretty good speakers with voice-controlled assistants that cost as little as 50 bucks, whereas bright-as-a-button displays that can match these speakers' sound usually cost around 150. That being said, the prices are becoming more and more comparable, so while the two can still trade blows with matching results, we'd bet that the screen-endowed turtle will win this race.