Climb away excess fat and build a sexy body with a stair climber. This "all-in-one" machine can help you blast calories, tone your
lower and upper body, strengthen your core, and build up your stamina. Get ready to climb!
...
Read more
...Read less
X
This site is a free online resource that strives to offer helpful content and comparison features to its visitors. Please be advised that the operator of this site accepts advertising compensation from certain companies that appear on the site, and such compensation impacts the location and order in which the companies (and/or their products) are presented, and in some cases may also impact the scoring that is assigned to them. The scoring that appears on this site is determined by the site operator in its sole discretion, and should NOT be relied upon for accuracy purposes. In fact, Company/product listings on this page DO NOT imply endorsement by the site operator. Except as expressly set forth in our Terms of Use, all representations and warranties regarding the information presented on this page are disclaimed. The information which appears on this site is subject to change at any time. More info
Bowflex Max Trainer Series
Keeps You Motivated
The Bowflex M3 is a low-impact machine that is best suited for intermediate and advanced athletes who would like to improve their performance within the shortest time possible. Featuring eight resistance levels it allows users to adjust the difficulty of their workouts so that they can gradually build up their stamina and get in better shape.
Aside from eight resistance levels, the Bowflex M3 offers two workout programs - Manual and Max Interval. The former allows you to set activity level targets keeping you motivated and enabling you to achieve your goals faster, while the latter is best used for interval training allowing you to experience the cardio benefits of the exercise in as little as 14 minutes, which is quite impressive. The display fitted on the machine will let you keep track of how many calories you've burned per minute and your overall burn rate. What is more, it can store not one but two user profiles so you can use this climber together with your other partner. 
Other useful additions to the machine that will add comfort to your workouts include a special holder for sports water bottles and a reading rack for tablets, smartphones, magazines, and books. So, if you're used to listening to music or reading books while exercising, with this machine you will be able to do it. 
To cut to the chase, the Bowflex M3 is a superior alternative to ellipticals and treadmills. It is designed for comfort and performance boost and can help you achieve your fitness goals faster and more effectively.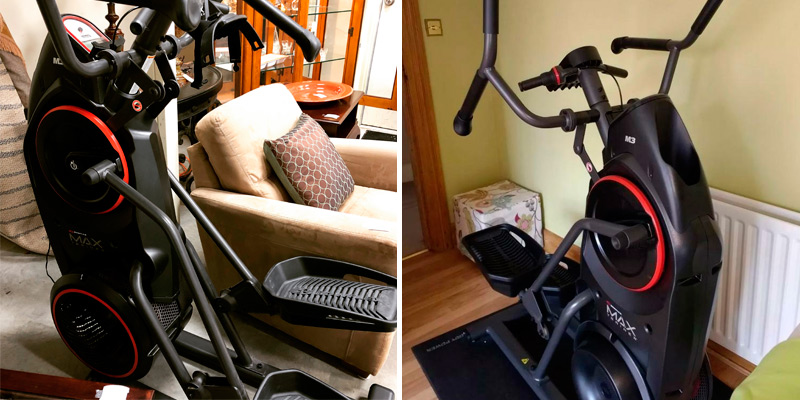 Additional Info
Last updated price

$

999.00

Stock
In stock
ASIN

B085N9LTWF
---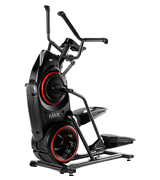 Bowflex Max Trainer Series
Maxi Climber Vertical Climber
Professional Gym Equipment
When it comes to premium fitness equipment, Maxi Climber is the top manufacturer of stair-climbing machines. And this vertical climber is great proof. Not only will it help you strengthen both your upper and lower body muscles, it will also improve your cardiovascular health, increase endurance, and help burn lots of calories. Though this might sound a bit puffed-up, it's true - on average people climbing hills can burn about 500 calories per hour, compared to 250 calories that can be burned on a treadmill.
Turning to the design of the machine, not dissimilar to most other models this climber is equipped with a digital display that shows the number of calories you've burned per hour and how many steps you've walked. The timer automatically starts and stops with you.
The maximum resistance of the machine is 240 lbs. This isn't the highest number we've seen, of course, but it will be able to accommodate pretty much everybody as long as their weight fits in this range. Incorporating two handles, it allows you to maintain correct posture during exercises as well as hit biceps, triceps, core, and leg muscles at the same time. As a nice touch, the machine comes almost fully assembled and requires no additional tools for installation so you will be able to put it together without breaking a sweat. Another great point is that when fully assembled, the climber takes up very little space and when not in use, its frame can be easily folded up for neat storage, which makes it a good option for users who do not have a lot of free space.
All things considered, the Maxi Climber is a great machine that is highly comfortable and adaptable. It's extremely popular even in professional gyms, so if you'd like to take your home workout to a whole new level and burn as many calories as possible, this is a really good choice.
Additional Info
Last updated price

$

209.00

Stock
In stock
ASIN

B00K6ZURAW
---
Maxi Climber Vertical Climber
Sunny Health & Fitness Twister Stepper with Handle Bar
Great Alternative for Beginners
It's not a secret that many novice athletes experience trouble maintaining their balance when they step on a climbing routine. Alas, not everybody can stay stable when shifting the weight from one foot to the other. However, this issue can be rectified if you get yourself a supportive twister stepper, like the one produced by the Sunny Health & Fitness company.
As the name suggests, it's not a high-impact, fully-fledged stair climbing machine. It is a simple stepper designed for beginner athletes first and foremost. But despite its basic design, this stepper doesn't lack in performance and will let you achieve great results.
So, what about its comfort? The stepper comes with a handlebar that will allow you to maintain your balance as you work out and make sure you can't fall off the machine. The handle is adjustable and can be customized to provide an optimal fit. Speaking of the footplates, they are rather large and sturdy so that people with different foot sizes and shapes can feel comfortable on the machine. The pedals have a textured non-slip surface to ensure the safety of your workouts and can slightly twist sideways, enabling you to hit your thighs and buttocks. As a result, the climber will let you target all groups of muscles.
In all, the Sunny Health & Fitness stepper is a good low-impact model for beginners. It'll let you tone both your core and lower body while performing fun stepping actions to workout deep muscles without putting extreme pressure on your bones and joints. It's ergonomic, well-built, and gentle enough to get yourself accustomed to a stepping routine without breaking a sweat.

Additional Info
Last updated price

$

85.51

Stock
In stock
ASIN

B001IDZHF6
---
Sunny Health & Fitness Twister Stepper with Handle Bar
CITYBIRDS Full Body
Heavy-Duty Machine
The CITYBIRDS Vertical Climber is a heavy-duty machine that has an upgraded 2020 design. Compared to the previous model, it now has an increased bearing capacity up to 300 lbs and can accommodate pretty much any height from 3.9" up to 19.7", which makes it suitable for all types of athletes.
When it comes to the operating principle, it is not much different than that of most other full-body stair climbers though. The machine is featured with a pulley system that lifts one pedal when you step on the other one. The handles can be adjusted too, enabling you to change the level of climbing intensity throughout your workout. You can also change their angle if you want to target different muscle groups. The best part is that you don't even need to stop in the middle of your training session in order to do so: they can be adjusted as you climb.
For additional stability when you're exercising your lower body this vertical climber comes with two fixed handles. Designed like the upper ones, they have isometric non-stick grips so that you can exercise with more comfort.
Being extra-durable and easy to use, it's a great portable machine that will suit athletes of
any height and weight. Owing to its extended bearing capacity, it'll be especially beneficial for those individuals who have bulkier frames and want to quickly lose some body fat and tone muscles.
Last updated price

$

0.00

Stock
May be out of stock
ASIN

B088B85992
---
CITYBIRDS Full Body
Doufit ST-01 Foldable Workout
Vary Your Workouts!
Doufit offers a decent workout step machine for home use that lets you vary your fitness routine by switching between two workout methods. Not only is it equipped with an adjustable handlebar, but also you can attach resistance bands to it, thus bringing a variety to your exercises and working out your whole body. To let you check your results, the Doufit ST-01 machine has a screen where you can track calories burned, time, step frequency and the number of steps walked.
It's worth pointing out that the Doufit ST-01 is equipped not with a typical resistance system but with a hydraulic one, therefore it brings a more lifelike climbing motion while letting you maintain the most natural posture. That makes it a good choice for those customers who have weak, thin legs. That said, users who pursue a high intensity will find it a less suitable option since the resistance here cannot be increased/decreased.
Overall the whole machine feels quite stable and doesn't seem to wobble or slide when in use. It has a sturdy design and feels pretty robust. At the same time, it is not too big and owing to its collapsible frame it folds down to ultra-compact size for neat storage. Finally, it includes detachable resistance bands giving you the option to vary your workouts.
Last updated price

$

0.00

Stock
May be out of stock
ASIN

B07TJT669M
---
Doufit ST-01 Foldable Workout
What Is a Stair Climber?
Although most people rush for a treadmill or elliptical as soon as they arrive at the gym, a stair climber actually offers a much better cardio workout. A stair climber is an effective fitness machine that allows you to imitate the movement of climbing and, therefore, can bring numerous health benefits. Exercising on it, you will burn more calories compared to other aerobic trainers, strengthen and tone your muscles, boost your endurance, and improve your cardiovascular health.
Yet, not all stair climbers are made the same. Whereas steppers or simple stair climbing machines allow you to tone only your lower half, vertical climbers give you an intense workout from head to toe - they can help you exercise your biceps, triceps, abs, and leg muscles. And if you think that a stair climber can eventually make your legs bigger and bulkier, you can rest assured knowing that any stair climber actually only sculpts and tones. So if you want to achieve lean legs, a sexy six-pack, and strong arms, start climbing. For this review, we have selected only the best stair climbers of different designs that should fit beginners and seasoned exercisers alike.

You might also be interested in such fitness equipment as treadmills, elliptical machines, and balance bikes.
What Features to Compare
Type
When choosing a stair climber, one of the first things to pay attention to is its type. There are two main types of stair climber you can choose from - stair climbers and
stepmills
. Though both machines allow the user to imitate walking up the steps and perform a calorie-burning workout, they are not identical. Below are the key differences between them:
A stair climber consists of resistance cylinders and two pedals that move up and down independently. Also, it is featured with handles helping you to tone your arm muscles and maintain your balance. When exercising on this type of machine, one of your feet will always be going up while the one down.
As for stepmills, they are a bit different. They come fitted with a motor and resemble a mini staircase. The main perk of this machine is that in addition to selecting a resistance level it also allows you to select the speed, which makes them much more effective when it comes to cardio exercises. Naturally, they are bulkier than stair climbers and usually more expensive too.
Features
Stair climbers typically have several levels of resistance to suit various fitness needs. The resistance can be customized either automatically or with a turn of a knob. If you want to track your progress while exercising, then it is best to choose a model with a digital display - it will show you the exact amount of calories burned, time elapsed, and many other useful workout data.
Conveniences
If you are limited in space, we recommend looking towards compact machines that can be easily folded and stored away under the bed when necessary. Another thing worth checking when choosing a climber is handles - they should be comfortable enough to ensure a good grip so you can maintain correct posture during exercises. And if you need a versatile machine that will be suitable for family workouts, choose a completely adjustable climber - this type will fit people of all sizes.
Don't want to spend much time on the assembly? Consider stair climber machines that are supplied already pre-assembled or those that are offered with expert assembly.
FAQ:
Q: Can I lose weight on a climbing machine?
A: Of course, you can. A stair-climbing machine is designed primarily for aerobic exercises. It's ideal for those who want to perform a killer calorie-burning workout.
Q: Which exercise machine is better for working out my butt: elliptical trainer or stair climber?
A: Actually, both these machines can help you achieve a toned butt. And it depends on the person which one to choose. Those who want a low-impact workout should opt for the elliptical. However, if you enjoy a challenge and want to get a tight butt faster, use a stair-climbing machine.
Q: What are the effects of a stair climber?
A: Various studies show that stair climbing is twice as effective as brisk walking, meaning climbing machines help you develop your cardiovascular fitness. The stair climber aids in calorie blasting, it's much more effective than treadmills as it can help you burn about 500 calories during an hour. Moreover, stair climbers can strenghten and tone your buttocks, hips, calves, thighs, biceps, triceps, and even abs.
Q: Can a climber give my chest a workout too?
A: Not so much. Speaking about upper body, it mostly targets your back, bicep, triceps, and shoulders.
Q: How noisy are stair climbers? 
A: They are silent enough to use even when people in your house are sleeping. If the machine starts to make noise, just treat it with a silicone lubricant.
Q: How much exercise can I get in my arms? 
A: You can always adjust your body position to work your arms and abs. For this, move your chest closer to the handle bars. You can also reverse your grip to target your biceps (the normal overhand grip will work your triceps more). And you will be able to exercise your underarms if you rotate your hands.