Have you ever practiced some sports? You most likely have! Any kind of physical activity requires water. So, no matter if you go
to the gym, ride a bicycle, or jog in the local park - you need to drink a lot. That's why we have picked 5 of the best sports water bottles for you!
...
Read more
...Read less
X
This site is a free online resource that strives to offer helpful content and comparison features to its visitors. Please be advised that the operator of this site accepts advertising compensation from certain companies that appear on the site, and such compensation impacts the location and order in which the companies (and/or their products) are presented, and in some cases may also impact the scoring that is assigned to them. The scoring that appears on this site is determined by the site operator in its sole discretion, and should NOT be relied upon for accuracy purposes. In fact, Company/product listings on this page DO NOT imply endorsement by the site operator. Except as expressly set forth in our Terms of Use, all representations and warranties regarding the information presented on this page are disclaimed. The information which appears on this site is subject to change at any time. More info
Hydro Flask Vacuum Insulated
Type
Hydro Flask sports water bottle is a superb choice for people who like walking tours. It's an insulated water bottle, which means it can maintain the temperature of a drink. If you go on a walking tour in winter or autumn, fill the sports bottle with hot tea and warm yourself up when you feel cold. Equally, you can refresh yourself with a cool beverage on a hot summer day. Hydro Flask keeps drinks hot for up to 6 hours, whereas cold beverages remain cold for nearly 24 hours. Actually, this excellent water bottle can be used every day: fill it with up to 20 oz. of your favorite beverage and drive to work! If you purchase this bottle, you will surely take it with you anywhere you go.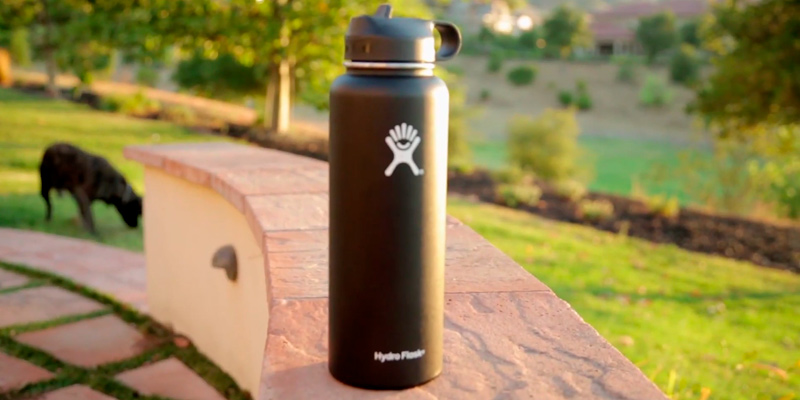 Capacity and Material
This excellent water bottle is available in a variety of sizes and volumes, so you can choose the one you need. As for the capacity, there are the following models: 12 oz, 16 oz, and 20 oz. The weight of each model is almost the same (if empty, of course). Hydro Flask is made of high-quality 18/8 stainless steel. The bottle has a dual wall insulation so the bottle keeps temperature pretty well. The sides of the sports bottle are covered with a powder coat finish, which is scratch and shock-resistant, so even if you accidentally drop the bottle, it won't break. Moreover, the sports bottle doesn't fog!
Convenience
The lid of this Hydro Flask insulated water bottle is made of BPA-free plastic; it's fully leak-proof, so you can carry the bottle in your backpack and be sure your other belongings won't get wet. Also, the lid has a special wide straw to drink through. It allows you to hydrate without fear of scorching your tongue or lips with a hot beverage. Since the bottle is made of stainless steel, no off-odors will penetrate into your drink. Hydro Flask is available in over a dozen colors, so you can pick your favorite one.
Last updated price

$

0.00

Stock
In stock
ASIN

B01GW2GH4M
---
VIDEO
Hydro Flask Product Review
Hydro Flask Vacuum Insulated
Under Armour Sideline
Type and Capacity
There are plenty of sports water bottles on the market that are catered towards athletes who require hydration while training or on the go. However, many of these water bottles have a very limited capacity, with even more having insufficient insulation for keeping their water or beverages cool. While some of these may work just for a couple of hours at most, that doesn't do much good for those who take their training seriously, working for hours on end. For these types of people, usually serious amateur athletes or those aspiring to become professionals, you need something that can last you a full day of training.
The Under Armour Sideline Water Jug is just the thing for these types of people. This sports water bottle has a surprisingly large capacity of 64 ounces, giving serious athletes or those on the go a high enough capacity of water or their favorite beverage to last most of the day. Such a large capacity means you no longer have to worry about conserving your water while training, letting you hydrate yourself properly instead of being too careful about how much you drink so that you won't run out of water early. This is doubly important because dehydration is a serious problem with those who train hard, with many athletes often not hydrating enough.
Convenience
Not only does this water jug have a high enough capacity to ensure that you are properly hydrated, it contains plenty of insulation for keeping your drinks cold. The Under Armor Sideline Jug will keep you cool for 12 hours thanks to its heavy insulating material. No longer will you have to worry about drinking hot water on a blazing hot day after training for hours. You can take this bottle with you even for long daytime training and trips, with the large capacity enough to last you throughout the day. The screw cap with a wide neck allows you to comfortably fill the bottle, and is even wide enough to easily let ice pass through, ensuring that your drinks stay cold.
The whole design of the bottle is quite well-thought-out, showing immense attention to detail that is simply missing from many other similar products. It just contains a folding handle with integrated hooks for hanging on fences, which allows you to set the bottle somewhere nearby your training site where you can have easy access to it. Should you prefer to set it on the ground, the flat bottom with a wide base will ensure it stays upright, and should it tip over, the tight fit of the cap will keep all of the liquid inside without any leaking out. Overall, this high-quality and high-capacity sports water bottle is just what any serious athlete needs to stay hydrated and refreshed.
Additional Info
Last updated price

$

49.99

Stock
In stock
ASIN

B00KBHO0V2
---
Under Armour Sideline
Nalgene Tritan
Type
Nalgene is a typical sports water bottle designed to be used while traveling and during intensive workouts. This bottle isn't a thermos, yet it can be filled both with cold and hot water (the temperature range is -40°...212°F). Nalgene has the experience of over 50 years in making such sports products, so you can be sure about quality. What's more, Nalgene is a reusable water bottle, which means it can be recycled. Be nature-aware and never throw plastic bottles away!
Capacity and Material
Nalgene sports water bottle is offered in several models that have a different capacity: 20 oz, 32 oz, and 1 quart. Moreover, you can buy a kit comprising several bottles, so that you can fill them with different beverages. All Nalgene reusable water bottles are made of BPA-free co-polyester, so the bottle is safe for a human body. Tritan plastic water bottle is rather durable, though, of course, you should still be careful with it. It's made of a chemical compound, so it catches on fire pretty quickly.
Convenience
Tritan plastic water bottle is very convenient to use. First of all, this item is dishwasher-safe, though you should place it on the upper rack. The width of the sports bottle is around 3.5'', so it perfectly fits into a side pocket of nearly any tourist backpack. If you like camping, you know how difficult it is and how important hydrating is. If you need to make a beverage by mixing several ingredients, there are measuring markers on the bottle. You can make an energy drink or a cocktail, for example. The bottleneck is 0.75'' wide, so you can comfortably drink from this bottle. This big water bottle is resistant to impact, so if you happen to drop it - don't worry! Finally, you can choose one of many available colors!
Last updated price

$

0.00

Stock
In stock
ASIN

B001NCDE8O
---
VIDEO
Nalgene 32 oz Wide Mouth Tritan Water Bottle Review by MUDD CREEK
What customers say about this product
Nalgene, a material inert enough for research lab use, good enough for me
I bought this because it can hold 1L and it's dishwasher safe. It fits nicely in the top rack of my dishwasher, and isn't too tall. I like that it has a wide opening to ensure that it really does get clean. T
Nalgene Tritan
Contigo Ashland
Type and Capacity
A sports water bottle should have some prerequisites that are met before someone should consider buying one. It should have a sufficient capacity for their needs, it should be lightweight and small enough to easily carry with you for whatever training or traveling you are doing, and it should easily keep the liquid inside of it without spilling out or letting outside stuff in. Anything that doesn't meet these prerequisites simply isn't good enough to be labeled a sports water bottle, as it simply won't stand up to the rigors of use while training or even traveling.
The Contigo Ashland Water Bottle easily meets these prerequisites, and much more. This model is a stylish sports bottle made of high-quality and environmentally-friendly materials, with a design that makes it ideal for sports, outdoor activities and cycling. The lightweight design with a small form factor with a curved shape makes it easy to hold in your hand while on the go, and it also easily fits in most cup holders. Also, thanks to the clip-on handle, it is easily fixed to a backpack. This sports water bottle comes in multiple capacities, including 24 oz, 32 oz, and 48 oz, giving you plenty of choice to choose the right size for your needs.
Convenience
The design characteristics highlighted above fortunately don't come with any compromises in regard to the effectiveness and use of this sports water bottle. The bottle is equipped with a unique retractable straw for fast drinking on the go. While not in use, just press the AUTOSPOUT button lock and not a single drop will pour out of the container, even if you throw it upside down in a bag. The airtight fixture of the spout opening will ensure that all liquid stays inside, while also keeping out anything, especially harmful elements such as bacteria. The BPA free material of the casing is strong enough to ensure any normal wear and tear that the bottle may be subjected to, without introducing any harmful elements into your water or beverage.
Not only does this sports water bottle work well for its intended purpose, it looks great as well. The contoured design makes it convenient to use with just one hand while also giving it a pleasant form, and with a pleasant color to it as well. Speaking of which, this bottle is available in an assortment of different colors, so you can choose the one that looks best to you, or which goes well with your training outfit. In short, this highly functional water bottle both works and looks great, and will keep you refreshed with your favorite drink during a hard training session.
Additional Info
Last updated price

$

11.70

Stock
May be out of stock
ASIN

B07P7RGQ6B
---
Contigo Ashland
CamelBak Podium Big Chill
Type
CamelBak bicycle water bottle is certainly one of the best sports bottles for people who adore cycling. Due to a special design, this item is compatible with most bottle racks on bicycles from different manufacturers. In terms of design, it's an insulated water bottle: it can keep the temperature for about 2 hours. According to our tests, this bicycle water bottle keeps drinks cool at least twice as long as an ordinary plastic bottle. Also, this bicycle water bottle doesn't have a conventional mouthpiece, it has a self-sealing Jet Valve™.
Capacity and Material
This bicycle water bottle has the capacity of 25 oz. As for the material, CamelBak is made of TruTaste™ polypropylene and boasts a dual-walled design. Of course, it keeps the temperature of your drink but the insulation of this bottle is less 'efficient' as the one on stainless steel bottles. No need to say, this water bottle contains no BPA. In general, this bottle is enough for a usual cycling tour.
Convenience
If you like riding a bicycle you know how inconvenient and sometimes even dangerous opening a lid right on the go is. That's why you surely need to use this water bottle since it has no lid at all. Instead, CamelBak has a self-sealing Jet Valve™. To drink without getting off your bike, just take a bottle and drink through the valve. It's really simple! Also, there will be no splatters and spills, the valve works only if you put it in your mouth. This bicycle water bottle is offered in several colors, so you can pick the one matching your bike's livery. Finally, CamelBak is dishwasher-safe!
Last updated price

$

0.00

Stock
May be out of stock
ASIN

B01787QTE8
---
VIDEO
Review Camelbak Podium Chill Water Bottle
What customers say about this product
Have not had problems with fungus in the bite valve, despite using sugar materials in the drinks.
It has made it through the dishwasher without any issues and is also very easy to clean by hand.
CamelBak Podium Big Chill
What Is a Sports Water Bottle?
Water is important to the human body. To prevent dehydration and stay healthy, we need to drink adequate amounts of water every day. The problem with that is that we don't always have water around and many people either have to ignore the thirst or drink something else. Not any longer. With a sports water bottle handy, you will have access to water source anytime and anywhere. Water bottles are available in various sizes, plus you can get one with insulated walls depending on your needs. The choice is endless. For this article, we've picked five of the best-selling sports water bottles currently available on Amazon, as well as the tips on how to choose the right one and what features to look for before making a purchase.

And if you are a true sports enthusiast, you may also be interested in our sports glasses review.

What Features to Compare
For sportsmen, staying hydrated is important; however, it is not always as easy as it may sound. When you cover long distances and run in hot weather, having no water bottle around will inevitably lead to dehydration, which is why you need to get one of the sports water bottles we've selected for you. Before you do that, though, we offer you to look through the features that are important to consider when it comes to this stuff.

Type and Design

All sports water bottles can roughly be divided into two types. They are:

for water and other drinks
insulated bottles
Depending on how long you plan to drink from your sports water bottle, you may opt for an insulated bottle. These will keep your water cool or hot for several hours so you can enjoy your hike or run and stay hydrated. Naturally, some materials work better than the others, but in general, most of them will keep water cold for at least 2-3 hours, which is quite long. In case you don't need insulation, there are plenty of simple plastic bottles to choose from as well.

Capacity and Material
Next, decide on how much water you want to carry with you. This will likely depend on a few things: your physical activity and the time you usually spend doing it. Think about how many times you usually stop during your activity to have a drink and consider the common recommendations in regard to the amount of water we need to drink during a certain period of time of being involved in this or that activity. As for materials, most sports water bottles are produced from high-quality BPA-free plastic; however, there are also those made of stainless or some other materials. All of them have their own advantages, but if you want a sports water bottle that will last you a long while, opt for stainless steel.

Convenience
Finally, you should make sure that a sports water bottle you want to buy is ergonomically built and convenient to use. Take a look at its spout. It should not be too narrow or too wide, and you should be able to drink out of it easily without spills. Most water bottles come with lids that need to be twisted so that you can drink water straight out of them. It's fine, but we prefer models featuring a push-button mechanism. The advantage of these models is that they automatically open and close allowing you to drink in an instant. And of course, you should check out the lid: it must be leak-proof and fit securely on the mouth of the water bottle.