Incorporating images into your project is a great way to express ideas and to make your product even more appealing. We have reviewed
the five best stock photo websites offering images, vectors, footage and even audio for both editorial and commercial use.
...
Read more
...Read less
X
This site is a free online resource that strives to offer helpful content and comparison features to its visitors. Please be advised that the operator of this site accepts advertising compensation from certain companies that appear on the site, and such compensation impacts the location and order in which the companies (and/or their products) are presented, and in some cases may also impact the scoring that is assigned to them. The scoring that appears on this site is determined by the site operator in its sole discretion, and should NOT be relied upon for accuracy purposes. In fact, Company/product listings on this page DO NOT imply endorsement by the site operator. Except as expressly set forth in our Terms of Use, all representations and warranties regarding the information presented on this page are disclaimed. The information which appears on this site is subject to change at any time. More info
Adobe Stock Images
Find the Best Option for You
Founded in 1982, Adobe is one of the most famous and admired computer software companies in the world today. They strive to bring creativity and inspiration in their every project and do their best to create unique products and services. Adobe Stock photos are bright, unique, and inspiring and their choice is so vast that you can easily find exactly what you are looking for.
So how it all works? To provide consumers with as many assets as they need at the most compatible price, the website offers various subscription plans and credit packs.
Annual commitment. You can go for an annual subscription allowing you to get 10, 40, 350, or even 750 standard assets per month depending on your needs. Subscription plans for 10 and 40 assets are a great option if you need a few dozens of images, templates, and 3D assets each month. Besides, a month's free trial is offered with both packages. Plans for 350 and 750 images are perfect for those who need hundreds of standard assets monthly. There is no free trial provided; however, the bigger package you buy, the less you pay for each item. Whichever plan you choose, additional standard assets are available at a discounted price that depends on the package.
Monthly plans. Designed to bring you more flexibility, month-to-month subscription plans can be canceled anytime and require no annual commitment. You can get 3, 40, 350, or 750 standard assets per month and have a discounted price for additional photos if you need them. Just like with annual plans, the fewer images you purchase, the more you pay for a single item. However, for 3 and 40 stock photos plans, you will get a rollover with a plan renewal.
Credit Packs. In case you need videos or other premium content for your project, you can get one of the credit packs and download any content from the website. There are 5 different options available, allowing you to buy from 1 (5-credit pack) up to 30 (150-credit pack) premium images and from 2 (16-credit pack) up to 18 (150-credit pack) HD videos. In addition to premium assets, you can get standard images/3D/templates that cost 1 credit each. You can use all the credits during one year after purchase.
From Small Teams to Large Companies
With your business needs in mind, Adobe Stock also offers plans designed for teams and companies.
Team plans created for small and midsize businesses provide an easy access to standard assets (10, 40, or 350 per month) and pooled licenses for easy collaboration. With Adobe stock photos, templates, and 3D assets available inside your Creative Cloud apps. Every member of your team will get powerful search capabilities allowing them to work much faster and more effectively.
Adobe Stock for enterprises is a unique option for midsize and large organizations. It will give you an access to millions of high-quality stock photos, 3D, templates, graphics, and videos. You can find the asset you need in your Adobe Creative Cloud apps quickly, experiment with stock images before you buy them. Also, you can license, replace, and edit the chosen asset in less than one minute. Available for Microsoft PowerPoint, Adobe Stock will bring your presentations to a whole new level.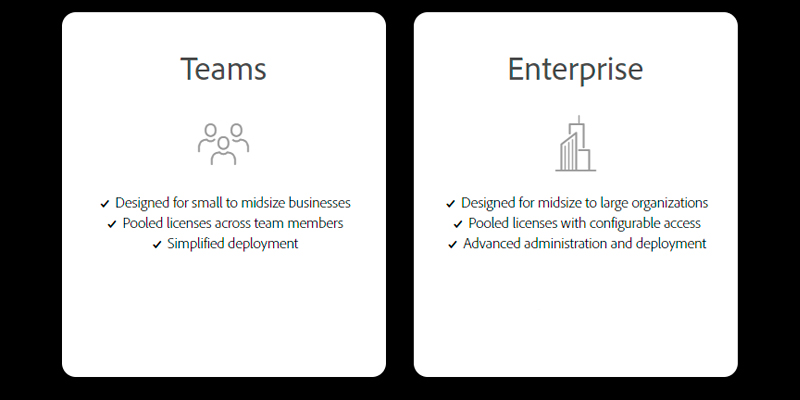 Why Choose Adobe Stock
Unique and diverse images, 3D, templates, and videos are reasonably priced and easy to work with. That's what Adobe Stock offers to its users. Freelancers, small businesses, and large companies can find the most convenient subscription plan for their needs. With new assets added on a daily basis by contributors all over the world, you will always have a great choice of content including newsworthy Editorial images and videos. Handy filters make it easier for you to find inspiring stock photos that will give your project the final touch. Using Adobe Creative Cloud apps, you will be able to preview, edit, and license your chosen assets before you buy them. The Adobe Stock photos platform will help you save your time and money on finding the stock content that inspires.
---
Adobe Stock Images
Shutterstock High-quality Stock Photos
Pictures, Footage, and Music
Created by Shutterstock, a world-renowned technology company, this stock photo website gives you the largest choice of royalty-free content including 175 million images, videos, and music tracks. The website is easy to navigate; to find the content you need, just select one of the options on the menu. For example, you can go to
Stock photos page and find the image you need in one of the categories (Food, Business, Travel, and many other popular photo searches) or featured photo collections (Take Me to Work, Elements of Style, Minimalist, and others). Or, you can follow one of the Popular Editorial Searches links.
Stock vectors page. Here you will find popular vector searches (Infographics, Patterns, Backgrounds, Icons, Banners, and much more) and fascinating vector collections (Winter Patterns, Seasonal Watercolors, Pop Art and Comics, and more).
Editorial stock images page that gives you an access to 35 million of news, sports, and entertainment images. Shutterstock Premier offers the freshest content and live event coverage with more than 10,000 images added daily.
In addition to stunning photos, editable vectors, standard icons, and beautiful illustrations, you will find professional footage (HD and 4K clips are available). The choice is huge (almost 9 million videos), and you'll definitely find the video that will make your project shine.
Finally, there is a wide selection of audio tracks; you can pick a genre and tempo to find the music that will bring your creative project to perfection.

Designed for Your Needs
Let's look at the Shutterstock pricing system.
On Demand. It makes no sense to pay more if you just need a few images. You can choose Shutterstock Standard License/Enhanced License pack of 2, 5, or 25 stock pictures.
Subscriptions

. On the other hand, if you need stock pictures on a regular basis, you can try their annual or month-to-month subscription for 10, 50, 350, or 750 images monthly. The website also offers an annual team subscription (2, 3, or 4 or more users) for 750 images per month. Please, note that all subscriptions come with Standard Licence and unused images won't roll over to the next month.



Corporate Accounts.

Giving you more flexibility in customizing the number of users, this option also allows you to choose between Standard and Enhanced Licenses. Just contact Shutterstock experts and they will find the plan to fit your needs. This option is recommended for companies looking for a customized plan with extended licensing and multi-user account access.



As you can see, it is easy to find the option that suits you best. Moreover, you can purchase several plans at the same time and choose the desired one before downloading the image.
Choose, Customize, Create
Designed to help you create professional-looking posts in a matter of minutes, Shutterstock Editor is an excellent addition to this stock photo site. It will help you choose the inspiring image that suits your project best and make editing and customizing the selected picture/template easy. You will be impressed by how little time and effort it will take you to create ads, presentation slides, and social media posts.
---
Shutterstock High-quality Stock Photos
123RF Stock Photos
Inspiring and Innovative
One of the largest digital stock agencies in the world, 123RF offers royalty-free stock photography, footage, and audio to make your projects look and sound as good as possible. Images, vectors, video, and audio files are organized to make your search fast and easy. For example, if you are looking for antique, grunge, romantic, or other images, just go to the stock photography page and browse the appropriate category. On the stock vectors page, you will find animal, fantasy, or ribbon graphics and illustrations - anything you need, it's so simple! HD stock footage and audio content are also featured and categorized so that you can quickly find the video or music/sound effects you need. If you are looking for superior quality images, you will find them in the EVO collection of incredibly inspiring stock content.
Keeping abreast of the times, the company provides innovative services and products to optimize your creative process. The 123RF Stock Photos add-on that only takes a few easy steps to install enables selecting images from the website collection without leaving Adobe Photoshop. Also, it will help you enhance your Google documents and forms without opening a new tab.

Option That Works Best for You
123RF service offers various reasonably-priced plans. To choose the one that suits you best, you need to decide on how many photos and other stock content you need at the moment/on a monthly basis.
Download Pack is the perfect option if you want to make a one-time purchase. You can get 5 or 25 images (including standard/editorial images and vectors) that you can download anytime within a year after the purchase.
An annual or monthly Subscription Plan

was designed for those who need an access to stock content on a regular basis or during one month. You can choose a plan for 150 images a month (please note that in this case, you will only be able to download 5 images daily), 200, and 780 images a month (no daily download limit). Having chosen an annual plan, you will buy standard/editorial images and vectors at a significantly discounted price.



On Demand

pack is ideal if you are looking for more diverse content: in addition to standard and editorial images and vectors, you will get an access to EVO (superior quality images), TIFF, footage, and audio files. You can purchase a pack of 40, 90, 200, 400, or even 600 credits that will be valid within a year after the purchase.



Benefits of Corporate+
Corporate+ program was created to make your team work easier and more effective. Offering solutions tailored to your business needs and budget, the 123RF platform provides excellent service along with additional features you can discuss with their account manager. You will be able to give access to some users only or share ideas with all your team members at once. There are no hidden fees; moreover, there are special corporate rates allowing you to get an access to the stock content at a discounted price. Just leave a message and they will contact you to give you any additional information you are interested in.
---
123RF Stock Photos
depositphotos Stock Photos
Get Photos, Take Photos
Depositphotos is a stock images website providing high-quality digital content. It is also a platform where contributors all over the world can sell photos. In both cases, utilizing the platform is a great way to make your business more successful. To get access to a wide collection of stock images wherever you are, just install the Depositphotos app on your smartphone. It is very easy to contribute pictures thanks to the Clashot mobile application that you can download for free. Both apps are available in the App Store and Google Play.
On the website, you will also find free photos, vectors, footage, and editorial content. The collection is updated every week, however, if you are looking for a wider choice of quality stock content, you can choose one of the plans and get full access to the website library. Usually, it is pretty hard to find cheap stock photos if you only need a few images per month. However, Depositphotos offers a Flexible Plan allowing you to get quality content at a very compatible price. We have listed the benefits of this plan and other purchasing options in the section below.
Plans and Benefits
Let's have a look at Depositphotos stock images plans.
A monthly or annual subscription allows you to download photos and vectors of any size without any daily download limit. You can subscribe for 75, 150, and 750 stock photos depending on how many images you need per month. Please note that this plan comes with a Standard license. In other words, your purchased images can be used for print and digital use, for merchandising and advertising (printing rights up to 500,000 copies). Plus, you get life-long rights for using the content.
The Depositphotos Flexible Plan is a unique option that gives you more freedom compared to any other subscription plan. Not only your unused downloads will transfer to the next month. You will be able to buy additional content (if you need more than 10 images monthly) at a very attractive price! You can subscribe for one month or for a full year (with an annual subscription, you will get a 20% discount). Like the previous option, you'll get the Standard license for the content.
On Demand

. You can get a pack of 10, 25, or 100 Standard-licensed images or that of 1, 5, 25 Extended-licensed photos and vectors.



As for the footage, you can get a plan for 1, 5, or 25 videos; the price depends on the quality (SD, HD, and Ultra HD).
Get Rewarded
In addition to all the benefits you can get on buying images and contributing to the website, you can make money by bringing new customers to the website. For example, you can participate in a referral program and earn commissions and rewards if your family, friends, and clients refer to the website via a custom link provided by the service. The commissions will be deposited into your account each time your referral makes a Pay-by-Credit purchase (within one year of their registration). You can also become a Depositphotos affiliate and earn up to 90% of the purchase made by a new customer. Additionally, you can sign up for the API programme and integrate a library of quality visual content into your website. This will help you get a powerful search engine, sell images to your customers, and make money by referring buyers to Depositphotos website.
---
depositphotos Stock Photos
Alamy Stock Photos
Diverse and Unuque
Alamy boasts the largest, most diverse and unique collection of stock photos in the world including more than 1,000,000 images created by more than 600 agencies and over 60,000 individual contributors from 173 countries. So if you are looking for stock photos and footage for commercial or editorial use, you will find quality and up-to-date content here (the images are added daily). In this large selection of stock content, it takes almost no time to find the picture, vector, or video. You can specify location and viewpoint, the number and age of people in the photo, image orientation, style, and size, and even the date it was taken and a contributor's name. In addition, you can select the license type (rights-managed or royalty-free). For rights-managed licenses, you should define what for and for how long you are going to use the image. A royalty-free license is a more flexible option allowing you to use stock images for multiple projects for as long as you need.
To help you with any question that might arise, Alamy provides excellent customer service. You can contact them by phone, email, or live chat - experts are always ready to help.
Providing high-quality stock content to its users, Alamy stock photography platform encourages photographers all over the world by paying them the higher percentage of each sale in the industry.

Individual Approach
Alamy stock photos website is different from its competitors in many ways. First of all, you do not have to register and there are no credits or subscriptions. Just browse stock images collection (you will find some tips and tricks on the search page) and choose the image you like. Next, the price of an image will be calculated automatically depending on its license type - rights-managed (RM) or royalty-free (RF). For royalty-free images, it is defined by the file size, while for rights-managed images it depends on how long and what for you are going to use the image. You can use the online calculator available to calculate the price or go with one of the price packages based on popular licenses that you will find on the image comp. If you need help in choosing the right package or have any other questions, you can call or chat Alamy customer service. For corporate clients, discounted rates are offered.
Finally, when it comes to buying footage, you just need to choose one of the packages available, for there is only one license type. However, if you have some special requirements, the package can be tailored to your very needs.
Buy as a Print
Alamy stock photos collection amazes and inspires. In partnership with Art.com, they have created a unique service allowing you to have one of these fantastic photos printed, framed, and sent to you. Just browse 'Images for print' category, buy a personal use license and click the 'order print' button. Select a frame to your liking on the Alamy prints site and complete your purchase. Within 12 days, it will be delivered right to your doors.
---
Alamy Stock Photos
Infographics
---
What Is Stock Photography?
Stock photos, vectors, audio, and footage is the way you can communicate with people. If you have chosen the right material and added images to it, your ideas will be easier to understand. Whether you use photographies for commercial (advertisements and product packaging) or for editorial purposes (news and blog articles), they will make your products and projects much more successful. Just make sure you purchase the right license. Stock images websites usually provide detailed information about the license package for the content and its price may vary depending on what you are going to use it for. Today, there is a wide choice of stock images sites on the web; we have selected the five best platforms providing the highest-quality stock images and nice subscription plans.
You may also be interested in our photo editing software review. If you are going to create a site for your business, you will find a website builder to make your project successful here.