Should you need a website for a small business, online store, your own blog or portfolio, a website builder will let you realize
your project and make it success. Don't wait for the better days to come. You can afford to launch your website today!
...
Read more
...Read less
X
This site is a free online resource that strives to offer helpful content and comparison features to its visitors. Please be advised that the operator of this site accepts advertising compensation from certain companies that appear on the site, and such compensation impacts the location and order in which the companies (and/or their products) are presented, and in some cases may also impact the scoring that is assigned to them. The scoring that appears on this site is determined by the site operator in its sole discretion, and should NOT be relied upon for accuracy purposes. In fact, Company/product listings on this page DO NOT imply endorsement by the site operator. Except as expressly set forth in our Terms of Use, all representations and warranties regarding the information presented on this page are disclaimed. The information which appears on this site is subject to change at any time. More info
Wix Website Creator
For All Industries
Wix is one of the most popular services today that allows you to build a website within less than a day. Without paying hundreds of dollars to professional developers, you can launch your site, customize and improve it later on, choosing from over 500 ready-made template design solutions, all being sorted by categories and specified. Among the templates, there are those that come totally blank which you can use to create your own unique layouts. Nothing is impossible with Wix. That now it has over 93 million users worldwide doesn't come as a surprise. 
With Focus on Design
What Wix is definitely good at are design graphics and customization options. At any particular moment, even after your site release, in a couple years of its successful running, you will be able to change its content arrangement, font type and style, and color scheme. This is handy, as you never know how far your business might go and what you're likely to need in the future. The Wix Gallery Pro is one more useful addition to the builder that can expand your design options big time. This free and user-friendly app allows creating many different photo and video collages, posting and sharing your pics, logos, etc. on social media, applying parallax effect and much more without requiring any designer's background from you.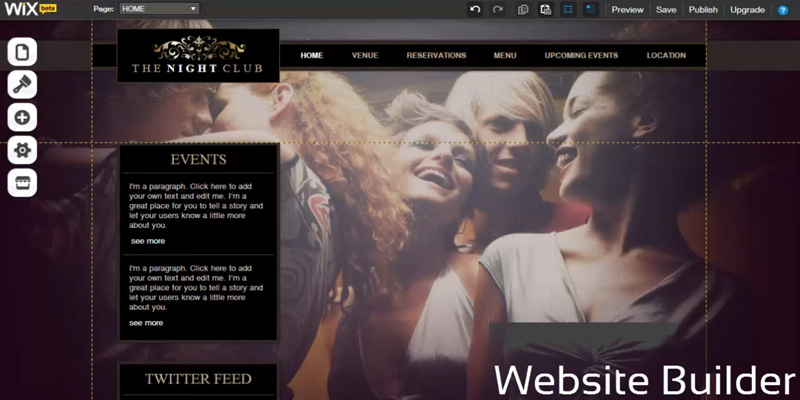 SEO-Friendly or Not
The first question to be asked when choosing among a range of available website constructors is whether it is seo-friendly or not. Today's Google requirements are pretty high and therefore, it's important that it ranks your page good. In this respect, Wix is no inferior to any of the existing platforms with big names and has actually graded many of them. For Google all websites are websites regardless the programming language. Another question which you should also ask is how easy it is to use seo tools. You don't want to hire someone else to do this job for you, so the ideal scenario is that you yourself can be a manager of your website. With Wix, this is real. All seo tools are straightforward and easy-to-use due to the tool tips that clearly explain what's what and what you need to use it for. Besides the standard set of tools, it's possible to improve marketing options by uploading more apps from AppMarket. There you can find additional tools for monitoring your website statistics, email notifications, conversions, popularity on social networks, as well as for capturing contact information of users, etc. The options are really numerous.
The Plans Available
Connect Domain - one domain name, premium support, 500 MB of disk storage (doesn't allow to delete ads from the site though);
Combo - 2 GB of disk storage, a free domain name, a voucher for AdWords;
Unlimited - 10 GB of disk storage space;
eCommerce - 20 GB of disk storage, add to cart, online shopping plans;
VIP - all the same as of the eCommerce plan, plus mail listing up to 10 emails a month and expert website audit 
---
Wix Website Creator
Weebly Website Builder
Start Your Website, Shop or Blog - Templates to All Tastes
Weebly website builder service will suit all users regardless the purpose they need their websites for. Due to a great variety of ready-made templates and the option to customize any of them, anyone with no programming skills at all will be able to establish a unique online presence. Among 18 templates you will find one for any type of project, be it your first website, a big Internet shopping platform or a personal blog.
User-friendly and Customizable
Once you start to work on your website, you will be amazed at how many tools the platform provides. Actually, with the number of tools available, you will be able to change the look of an original template completely by rearranging widgets, adding a parallax effect to the chosen pages, customizing headers and page layouts. The Weebly creator allows using a video for a website background too, with which you can add more appeal to your site. For those making an online shopping platform, Weebly offers customizable showrooms, detailed inventory descriptions, merchants, user's profiles, email notifications, etc. All these and more options are all available from a mobile phone.
Some Extra Features
Besides standard apps, Weebly provides its own application shop. It doesn't offer an abundance of apps, but you will surely find several to your liking. Here, you will get an online chat, software for customers' requests processing, discounts, audio player and many others. Adding any of the listed apps can enhance your website attractiveness, making it more popular with Internet users. The other thing that speaks in favor of using Weebly is that all its templates are responsive and can be accessed from digital gadgets. No need to work on it later!
Marketing Features
The marketing features provided by Weebly include social media, Google Analytics, and many others. You will be able to monitor your website statistics, see how many users visit your landing page daily, weekly, monthly, etc., check conversion rates, traffic and cost-per-click. 
---
Weebly Website Builder
GoDaddy Website Builder
Is It Right for You?
With many years of experience of providing reliable services to customers from all parts of the world while managing over 60 millions of domain names, GoDaddy can rightfully be called one of the strongest registrars to start your website with. Having gained a reputation of one of the strongest and most trustworthy companies providing ready-made website building solutions, GoDaddy now has over 13 millions of users. Today you can join their number by acquiring this intuitive and well-supported tool and create a website of your own. Will it be right for you? Let's see together.
Let's clarify from the beginning that GoDaddy website builder isn't free. However, the company offers its customers a 1-month free trial so that they can assess its features and decide for themselves whether or not they want to pay for it. The advantage of GoDaddy website builder that many other web design companies can't beat is that it's got an extremely user-friendly and straightforward interface, making it easy even for novice users with no skills or expertise to build a professional-looking website from scratch within a couple of days. It provides over 300 ready-to-use design templates, all sorted by categories across a wide range of industries, and easy-to-use drag and drop tools to rearrange design items on the page. It also offers round-the-close customer service support, including email, phone, and live chat. And unlike many other services claiming to have 24/7 support, with GoDaddy, you can be sure that if you ever address their team for support, you'll get it within minutes, quite literally. One more useful feature that you get with GoDaddy services is the option to create multiple website backup versions. Not all website builders offer you that, and yet, this feature may come in very handy.

What about Cons?
As much as we like GoDaddy website builder, there are certain things that could be improved. For starters, it's not friendly to online businesses as it doesn't have any eCommerce tools. Thus, if you've been looking for a website builder to open an online store, we would recommend you to check out a different service. It also doesn't allow changing themes without losing the content, and this problem, in our opinion, is the biggest of its drawbacks. Having said that, if most of the content on your website is static and you don't think you will need to change the layout of your website very often, this should not become the issue for you. When we mentioned that GoDaddy is a great website builder for novices, we should also have mentioned that it's very basic overall, which isn't exactly a bad thing. However, if you wanted some sophisticated design you might eventually catch yourself lacking ideas as to what theme to choose because, despite a broad variety of templates available, they all look pretty much the same. One more shortcoming of GoDaddy builder that we can think of is that it lacks password protection. However, seeing that most people don't even use it, this might not be a great deal for you, too.
The Plans to Choose From
GoDaddy website builder provides three plans to customers to choose from: Personal, Business, and Business Pro, all within the price range similar to other builders with the same features and functionality. Personal Plan offers pretty limited capabilities but it also has the lowest price. It's best suitable for small websites and personal blogs. With it, you get 1 GB of disc space, 150 GB of bandwidth, and somewhere about 50 design themes to choose from. Business Plan offers you more disk space and bandwidth while also providing you with over 300 mobile compatible themes. Business Pro includes all of the capabilities of the Personal and Business plans, provides users with extended bandwidth and disc space and offers SEO tools and One Click Social Media Manager.
All things considered, if you need a simple and intuitive tool to create a website, the GoDaddy website builder can become your best choice. It has no learning curve and it doesn't require any prior coding experience. All you need to do is personalize your page layout by dragging and dropping the elements on the page. Due to the fact that it doesn't offer any eCommerce tools, all three plans that are offered to customers are quite cheap, and all users who've already started with GoDaddy say they are quite happy with it.

---
GoDaddy Website Builder
Web.com Website Builder
For Small Businesses
The strong suit of Web.com website builder solution is that it offers customers two options to choose from - to build their websites themselves or to ask the company to do that for them. And based on the reviews of many users, we'd actually recommend you to opt for the latter option. Why? Put it simply, this website builder (as compared to many other modern website constructors) isn't the most straightforward and will require more effort and time to figure how it works. We don't want to say that it's over complicated, but there are certain things that may complicate its use, and if you're a novice user with no prior experience of building websites, you may find it quite time-taking. For more experienced users who've already used some other services in the past, Web.com "Do It Yourself" solution might work just okay, however. The biggest issue of Web.com is that it doesn't offer a free trial to customers. You will need to sign up, pay for your account, and only then you will be able to get access to its interface. Therefore, as we've said, we'd recommend this solution to users who don't plan to build a website themselves and would rather pay a small amount of money to have it done by someone qualified. Ready websites, however, aren't demanding and very easy to maintain overall. There's a great number of tools designed to help make the site attractive for SEO and for customers as well. If we compare Web.com with such a popular and big website constructor as GoDaddy, we'll see that the latter won't be as good for businesses as the former one, as GoDaddy doesn't have any eCommerce tools whereas Web.com provides plenty. Leads Stream, SEO tools, and Facebook Boost are just a few to name. This way, despite some imperfections (let's be honest, very few website builders are perfect), we'd definitely recommend Web.com to owners of small businesses who're looking for an affordable and easy-to-maintain solution with a good set of marketing and SEO tools.
Designs for Your Choice
Web.com offers over 2,000 of ready-to-use design templates as well as custom WordPress designs. If you fail to find a suitable theme among the bundle of templates (this really is possible given they differ just slightly from each other), you can ask Web.com specialists to create a custom one crafted specifically for your business needs. Offering complete packages of services, Web.com can make this job for you, allowing you to focus totally on your business. If you can't decide whether to choose a ready template or go custom, think about this. The biggest advantage of all websites that have been specifically tailored to a client's needs is that they are already SEO-friendly and that they require very little effort to get good ranking in Google, etc. Also, they represent businesses better and more precisely and they can give them the identity that will stand them from the crowd. Obviously, custom websites are also better because you can have them the way you want, and with the tools you need. Therefore, if you think that's exactly what you need and you can afford it (it isn't expensive anyway), go this way.
Shared Hosting
If you don't plan to grow your website and you're pretty sure shared web hosting will be enough for the needs of your business, Web.com provides very decent plans to consider. However, if at some point or other you decide to expand your business you may find out that Web.com hosting just won't fit its size. This is where we'd advise you to give good consideration to how big you plan to be in the future right at this point and only then make a decision.
---
Web.com Website Builder
WebStarts Website Builder
Updated Themes
In our opinion, one of the main advantages of WebStarts is that unlike the majority of website builders with quite outdated templates this one provides customers with a good library of refreshed and nice-looking design themes. This advantage, however, is balanced with the lack of opportunity to switch to a different template halfway through the designing process, so you should be quite careful and thoughtful when picking one right from the start. WebStarts is very easy to use. You get a blank canvas and a dashboard with widgets that you can move, drag, and drop on the page. No coding or special skills are required and it's so easy anyone can do it. WebStarts stands out for its great features that include eCommerce tools, Blogging System, guestbooks, forum, Membership options, etc. And even though some of them have room for improvement, overall most of them are simply great.
For Whom is it best?
Basically, WebStarts is good for anyone who needs an inexpensive and easy-to-use Do It Yourself website solution to create a site from scratch. Requiring no coding expertise, it enables users to customize the look of their sites while stuffing them with the right features and functions in a few simple steps. It is also good for owners of e-commerce websites with online stores who want to extend their business further by submitting their sites to the major search engines such as Google, Bing, Yahoo!, etc. Not all website constructors provide users with such features as forums, membership sites, password protection, and that's what stands WebStarts from competition as well, making it an attractive choice for almost anyone.
In Conclusion
All in all, WebStarts is a very nice website builder solution that can provide a user with all the tools and functions needed to go online. In addition to a website builder itself, here you can get a domain name and a bundle of professional e-commerce features to extend your site to the targeted audience and make your site more attractive to search engines. Of all website builders presented on the market today, WebStarts is probably one of the most streamlined solutions with such focus on novice users that enables even inexperienced businesses to create a site in less than a day. To assess the functionality of WebStarts, there's a free trial version to sign up with. This test package includes several pages, 5GB of bandwidth, and 10MB of storage and you can use it as long as it works for you. If you decide to upgrade at some point, you will be able to choose from the three packages - Pro, Pro Plus, and Business, with the latter one providing almost limitless functionality for you to get a professional site. The prices for the packages are all in the line with most website constructors; the customer support is at the top level, too. So if you need a comprehensive and user-friendly solution, WebStarts can be your best choice.

---
WebStarts Website Builder
What Is a Website Builder?
Planning a startup but don't have enough programming background to create a website? This isn't a problem if you use a website builder. Today, due to a great variety of available website creators you can choose the most appropriate service to launch your own website. The advantage of using a ready-to-use software is that you can get the full functionality of advanced web sites, including web design templates, add-ons and plugins, without hiring developers, and at a reasonable price.
To make your website reliable and more authoritative for your customers, it's advised that you also use one of the VPN services that will make your connection secure.
What Features to Compare
Tools and Templates
When choosing a website builder, the first thing you need to consider is how many pre-designed templates it provides. To make your business look serious, it's important that you can choose a template that will convey the brand concept and won't look identical to thousands of other websites online. The best services can offer you the option to customize a ready-to-use template by rearranging its elements and adding a few more things.
Multimedia
You shouldn't underestimate the importance of multimedia, for this is one of the key concepts of a successful website. Consider what this or that package offers, what you get for free and what you need to pay for. It'd be good if the website creator you chose had some kind of a depository, allowed streaming video in HD, Full HD and UHD and starting a blog. 
Marketing Features
What's the use of a website that customers can't find? Make sure that the chosen platform includes marketing features. You won't need to go through a long learning curve, figuring out how AdWords work. The beauty about website creators that support marketing features is that they do this work for you, making and analyzing your website statistics. A lot of startupers today choose SEO-optimized services, escaping the need of paying someone else for this job. You will only need to think of a few main keywords that are closely related to your business, check their relevancy and fill SEO request form.  
Hosting
You may also want to check whether the chosen website builder offers hosting services. Even though you could use a different provider, in most cases, services that give builders also deliver web hosting. Think about how many websites you will need to run. Some providers will let you use their hosting for one or two websites for free, while others may start to charge you when you launch your third project. Learn your options and choose the service with plans for the future.