Your wedding portraits, photos from your honeymoon, your baby's very first newborn pictures... Photo printing service is a place
where your images can come to life. Choose one of the best online services and preserve all your favorite memories for ages.
...
Read more
...Read less
X
This site is a free online resource that strives to offer helpful content and comparison features to its visitors. Please be advised that the operator of this site accepts advertising compensation from certain companies that appear on the site, and such compensation impacts the location and order in which the companies (and/or their products) are presented, and in some cases may also impact the scoring that is assigned to them. The scoring that appears on this site is determined by the site operator in its sole discretion, and should NOT be relied upon for accuracy purposes. In fact, Company/product listings on this page DO NOT imply endorsement by the site operator. Except as expressly set forth in our Terms of Use, all representations and warranties regarding the information presented on this page are disclaimed. The information which appears on this site is subject to change at any time. More info
Shutterfly Photo Printing Service
Superior Quality
Shutterfly is one of the best online photo printing services out there, which offers a wide range of high-quality products at a decent price. Shutterfly's images are recognized for their amazing contrast, detail, and color accuracy. The service offers both standard sizes from 4x6 up to 20x30 and special panoramic sizes (5x15, 8x24, 12x36). Thus, you can make your photos a wall art by turning them into creative collages of unforgettable moments which you have spent with your family and friends. Glossy, matte, pearl, or signature matte prints come out ultimately sharp with colors, tints, shades, and tones all spot-on.
The Shutterfly website has an exhaustive list of different features. When you sign in and register an account, you'll be able to create your online photo album and share your images with friends and family across the net. You can upload pictures from your hard drive as well as from your Instagram, Facebook, SmugMug, Flickr, and Google Photo accounts. The service provides free unlimited secure photo storage for all your photos. You can edit, rotate, crop, change contrast, or add black and white borders to your photos. Plus, you can order photos with backprinting (dates, names and other information) absolutely for free. Save your precious memories with Shutterfly!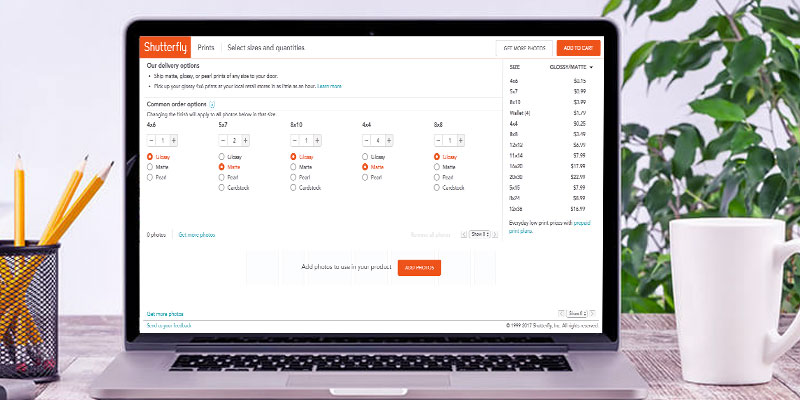 A Plethora of Printing Options
The Shutterfly printing company offers the widest selection of photo gifts! You can create and send your customized invitations, greeting cards, and announcements for any occasion. Also, the site has a special "Wedding section", which can help you plan every step of your wedding. You have a fantastic opportunity to celebrate this special day with personalized invitations, decor, gifts, stationery, photo albums, paper divas, and more.
The Shutterfly photo store provides customers with almost all types of custom gifts. Here you can get an iPhone case, wall decals, blankets, pillows, beer mugs, everyday drinkware, journals, photo books, calendars, stationery, all personalized with your uploaded photos. The gifts like these are a wonderful way to show how much you care for your close people. The service also offers many already-made themed gifts to reflect birthdays, weddings, baby showers, etc. Shutterfly's personalized gifts will definitely add a cozy vibe to any home.
Some Extras
The website is very easy to use. However, if you need something even more flexible, you can download Shutterfly's mobile app. It gives you freedom, allowing you to upload, edit and order prints or gifts on-the-go.
The delivery is always timely and safe; small prints come in flat envelopes, and large ones come in a tube. The great news is that Shutterfly provides free shipping on orders of $39. Also, you can save 40% on photo books, cards, home decor, prints, posters, and personalized gifts if you enter promo codes.
---
Shutterfly Photo Printing Service
Picture Frames Personal frame shop
Turn Your Favorite Memories into Framed Wall Art
Those moments from your once-in-a-life trip, wedding, kid's first birthday - they're priceless. And with Pictureframes.com, you can turn your memories into a framed wall art and complement your home. Your only task will be to upload a photo, choose a suitable paper/canvas type and size, set borders and select the desired frame out of the available options. Pictureframes.com proudly provides customers with the largest selection of in-stock framing options, including personalized frames, metal frames, custom canvas frames, and more. No matter what your interior design is, the service definitely has the perfect product to fit in with your personal style. An array of frames is available in both popular standard sizes and custom sizes (in 1/8" increments) with different finishing options.
Pictureframes.com is a zero-landfill company. It uses only eco-responsible wood materials wherever possible and offers aluminum molding from domestic suppliers. Paper used in its catalog also comes from sustainably managed forests. The enterprise operates in harmony with our planet and makes its products only from the best materials. Beyond picture frames, it offers custom wall decor, fine art giclee printing, and some luxury business services.
Super Savings
This photo printing and framing service provides customers with incredible offers on their products. Just sign up, and you'll receive a discount on your next order (subscribing is free). It's also possible to save up to 70% on frames if you go to the outlet shop. There you'll find a great number of discounted frames, from modern to traditional, custom and ready-made. If you go to "Limited time offers", you can find seasonal sales and web-exclusive sales. Need 5 or more? The service provides you with "Quantity discount" allowing you to save up to 30% on your orders. The higher the volume, the greater the discounts.
Picture Frames shop offers a special program to business people. By joining the affiliate program, they can order printing products for an extra-low price. So, you have a nice opportunity to make your business even more profitable using creative banners, text links, and flashy images.
Premium Support, Ultra-fast Shipping
Pictureframes.com customer service is one of the best in the industry. The company boasts a talented team of specialists who help customers with creating unique gifts by finding appropriate photos for them. They can also help you with decor trends, product recommendations, and photo editing. However, excellent support isn't the only strength of the customer care. The company fulfills orders (including custom) with the fastest turn-around time. Your order will be produced and shipped just in 2-3 business days. Need it for yesterday? You are free to order Express Production and Express Shipping.
---
Picture Frames Personal frame shop
Canvasdiscount High-quality photo printing
Your Photo on Canvas
Canvasdicount is the #1 Best Rated Canvas Shop on ResellerRatings! You will be definitely impressed with the excellent quality of pictures you order. No matter in what photo genre most of your photos are, they all will turn out fantastic. Even if a canvas is large (30x40 or more), the picture doesn't lose quality and looks flawless. Such top-notch quality has been achieved owing to the exclusive HP latex ink the company uses for all its printouts, which matches with the special fabric to increase the sharpness and color intensity of the original photos. You can choose canvases with different edge designs and framework options.
There's also an option to order a photo on forex pane (hard-foam plate). Forex pictures boast the superior sharpness and brilliant colors and they are best suited for walls with a small load-bearing capacity as they are also extra-light. It doesn't matter whether you choose a canvas or forex prints, the turnaround will be prompt. The speed the service fulfills the order is truly amazing - your print will be dispatched within 24 hours after your order. The prints will be delivered in a protective box. When you see a Canvasdicount package in your mail, you'll be definitely excited. Some of your precious memories are waiting inside... just unwrap them and hang on your walls!
Custom Photo Gifts
If you want to give your loved one something special but can't find anything original, Canvasdiscount.com is here to provide you with a unique gift for any occasion. In only a couple of minutes, you can create a romantic or funny keepsake. You can order a personalized phone case, cushion cover, blanket, mousepad, puzzle, or any type of mug. The gifts like these say a thousand words.
Want to surprise your relatives or co-workers? A gift certificate is a way to go. If you're not sure about a person's taste or just don't have photos of him/her, a gift certificate can become a quick and versatile solution. It's suitable for every age group and is very easy to buy. Just select a certificate worth $ 50.00, $ 100.00, $ 150.00, or $ 200.00, place your order, and you will receive the voucher code in your inbox. Print the certificate out and bring some happiness to your beloved people.
Some Extras
You can save $10, $20, $30, and $40 on gift certificates;
110% price guarantee! Canvasdiscount.com offers the best prices in the market, and if you find a lower price online, the service will beat it by 10%.

This is a fast photo printing service that guarantees to send your order within 24 hours.

Canvas prints come stretched on the frame and require no assembly, no extra costs.

Canvasdiscount.com uses HP Latex inks which are water-based, solvent-free, and odorless.
---
Canvasdiscount High-quality photo printing
Parabo Press Photo Printing Service
Unusual Prints
If you've run out gift ideas, more likely than not, Parabo Press will help. The service offers a huge variety of prints, including square prints, 4 x 6 prints, 5 x 7 prints, color engineer prints, black and white engineer prints, panorama prints, newsprints, fine art prints, and even metal prints. You can also order photo grids, photo books (both softcover and hardcover), calendars, and gift cards. Moreover, the service offers different accessories to help you display your prints in a unique way. Parabo Press goes far beyond usual framing - it can help you preserve the integrity of your walls by proposing you small clips for hanging a newsprint, washi tapes for displaying square prints, wood blocks for putting prints on a table, wooden rails for hanging posters on walls, and more.
On Parabo Press, you can always upgrade 4" prints to 5.5" without loss in quality. Both large photos and small prints maintain excellent resolution, clarity, and sharpness. The paper they are printed on is nice, thick, and has a fantastic matte look. All Parabo Press prints boast flawless quality with matching shades, tints, and tones. If you still hesitate, you can order a trial set of 25 square prints for free (you only need to pay for the shipping).
Simple Ordering Process
The Parabo Press photo uploading system is one of the simplest out there. The site has an amazingly simple and straightforward interface, thus, you'll have zero problems finding the information you need to get your order started. At the very first step, you can upload all 25 photos in a batch. Then you can edit them and change layouts. At this step, you also choose a crisp white border or no border at all. Then, you can upgrade your photos and, finally, pay for them. As soon as your prints will make their way to your city, Parabo Press will email you.
Happyness Guarantee
Note that if for any reason you don't like the order, you can get in touch with the Parabo team; they will send you either new printouts or a 100% refund, depending on what you choose. The company does its best to satisfy the needs of their customers and always provides them with some extra offers. For instance, upon registering with the service, you receive a guaranteed 10% off your first order. While if you share a coupon code with your friends, you'll receive $10 credit on top of what you have each time when someone activates the code on the site.
---
Parabo Press Photo Printing Service
SmileBooks Digital Prints at an Amazing Low Price!
The Easiest Photo Book Service
SmileBooks is an industry-leading company that provides customers with high-quality photo products in 25 countries worldwide. The service allows you to create your very own photo books, calendars, greeting cards, posters, canvases, collages, some photo gifts, and prints, of course. The company uses thick, premium-quality paper with a luster finish and even offers a lay-flat binding. You can choose photo books of 8 different sizes from 5.5x5 booklets to 12 x 12 deluxe options. Also, you are free to select the book cover depending on your needs and budget. The cover options include a hard cover, soft cover, faux leather and premium linen in different colors. The choice of page backgrounds is pretty vast as well. You can select family, love, wedding, baby, birthday, animals, holidays, sports, nature, school, and many more patterns.
Creating your own photo book is quite simple with the online SmileBooks editor. You just need to select the number of pages you need and then drop your photos into place. Then you can rotate or resize photos, choose a preferable background, type some text, and choose a cover. Also, you can add frame effects, fade background pictures, add a mask, and more effects. Unlike most other services, the SmileBooks editor supports not only JPG and PNG images but also TIFF and BMP photos. The software is very streamlined and offers you some pre-made layouts, however, if you want, you can watch 45 video tutorials on YouTube or in the Smilebooks forum. If you don't have enough time or inspiration, you can use unique Design Service. For just $1 per page, SmileBooks designers will create a photo book for you. You simply need to upload your photos, choose a layout, and relax. SmileBooks is really one of the easiest photo printing services you can find on the market.
Extra Software
If you want even more flexibility and a larger range of design features, the SmileBooks offers you a downloadable Design Editor. Compared to an online editor that allows you to choose backgrounds only, the Design Software offers you an opportunity to pick styles as well. It contains 57 different themes under 26 categories. Design Software is a powerful editing tool which allows you to edit your photos offline and place them anywhere you want. The software works for Windows, Linux, and Mac. Also, the company offers an app for Android devices and iPhones/iPads. The Design Software app offers 17 styles and 13 additional themes. Tha app enables you to upload photos from Amazon Cloud Drive and apply different effects to your images. As you see, the SmileBooks is one of the best services for creating photo books when it comes to the flexibility of editing options.
Special Offers
The great news is that you can get digital photos printed on high-quality photos (4x6, 5x7, and 8x10 ) starting at $ 0.15. And although you can enjoy top quality products at a very competitive price, the SmileBooks service offers you even more bonuses:
If you're a new Picaboo customer, you can use code "SMILEBOOKS" and get $50 off your first order of photo books, canvas prints, calendars, and more.
Using code "FREESHIPPING", you can get free shipping on your order.
Using code "Smile 50", you'll get 50% discount on $100+ orders.

After you sign up with SmileBooks service, you'll get 30% off on your first order.
Using code "50FREEPRINTS", you can add 50 free 4x6 photo prints to your order.
---
SmileBooks Digital Prints at an Amazing Low Price!
Infographics
---
What Is a Photo Printing Service?
Whether you like to take professional photos with your digital camera or just snap photos on your smartphone with your friends, there will come a time when you might decide to print the best of them. With online digital photo printing services, you can create amazingly crisp, clear and high-quality prints in just a matter of minutes. With the help of a variety of templates and easy-to-use software photo editing services provide, you'll be able to make photo printing even more personalized. Professional photo printing services will definitely take your prints to a whole new level! Some companies let you not only print just everything from standard to large-format photos, but also allow you to create customized invitations, wedding place cards, calendars, greeting cards, photo books, and many other personalized gifts. Sounds tempting? Keep on reading and choose the best service to take your digital photos of your desktop into the real world.
Only with high-quality cameras can you take amazing photos. Luckily, we have also prepared brief reviews on mirrorless cameras, bridge cameras, and cameras for portraits.