Amazon seller tool is the software with an all-in-one management suite that can help you grow your business and rise above competitors.
It can help you track every detail of your account to make your business more profitable and successful. So, invest in one of the most popular Amazon seller software and never get stuck at a wall. Knowing your business has never been so easy!
...
Read more
...Read less
X
This site is a free online resource that strives to offer helpful content and comparison features to its visitors. Please be advised that the operator of this site accepts advertising compensation from certain companies that appear on the site, and such compensation impacts the location and order in which the companies (and/or their products) are presented, and in some cases may also impact the scoring that is assigned to them. The scoring that appears on this site is determined by the site operator in its sole discretion, and should NOT be relied upon for accuracy purposes. In fact, Company/product listings on this page DO NOT imply endorsement by the site operator. Except as expressly set forth in our Terms of Use, all representations and warranties regarding the information presented on this page are disclaimed. The information which appears on this site is subject to change at any time. More info
Sellics The All-in-One Amazon Software Tool
All-in-one Solution
Sellics is a fast growing German company that can help sellers get the most out of Amazon. Unlike the majority of other companies that sell useful tools separately for high monthly fees, Sellics deftly bundles numerous analytics tool in one neat package. It's one of the most complete services that offer effective solutions for increasing traffic, tracking profits, managing reviews, optimizing rankings, monitoring competitors, and more. In a single package, you can get just about everything that you will need to increase your profits. However, take note that Sellics software doesn't offer a-la-carte pricing and you can't choose some specific tools additionally.
Sellics is a global company that supports 8 Amazon marketplaces: the US, the UK, Canada, Germany, Spain, France, Italy, and Mexico. It's a cloud-based service and this means it can be set up in mere minutes and accessed from any gadget all over the world. The interface of the program is user-friendly and intuitive, and you can choose any of the tools through a dashboard. In case you have some questions, Sellics provides customer support service which you can contact by filling in an online form or sending an email. The staff is responsible and you can expect to receive detailed answers to all your questions, though you may wait for a response sometimes even for a couple hours, which is something we wish they'd improve. Unfortunately, no other means of contacting the staff is available.  That being said, given how informative and straightforward the interface of the software is, we doubt you'll need to recourse to the customer support service at all. The Sellics tool is an excellent choice for those who need a full suite of tools with a bunch of extra features such as a Pay-per-click manager and ranking tracker and who want this software to be easy to use and comprehend. 
Major Seller Tools
We would like to focus on the main seller tools Sellics delivers. This all-in-one business solution includes as many as seven features to help you manage and improve your Amazon business.
Profit Dashboar

d

. It tracks your Amazon profit in real time. This feature is extremely useful for tracking your P and L. It also tracks results of price tests, cost trends, sales trends, etc. as well as calculates your real profit.
PPC Manager. It tracks Amazon-sponsored campaign profitability and allows for "hands-off" management. And as you won't need to spend time on monotonous and math-based tasks, you can completely focus on increasing your margins.
Ranking Optimizer. The Amazon product ranking tool enables you to track keywords that might lead your products to higher ranks.
Competitor Monitoring. The spy tool allows you to monitor daily sales volume, prices, and keyword rankings of your competitors. It also provides you with the information on the highest and the lowest prices for similar products. This way, you can define the real sales volume and never run a risk of investing in low-selling products. And the best part is that this tool sends you a "Hijacker alert" if anyone tries to "attach" to your products at cheaper prices.
Product Research. It provides you with data on keyword and competition analysis. You can find out what products are the most profitable on Amazon.
Review Management. When somebody reviews one of your products, you will be notified about that. It also helps you sort the reviews by their impact on the star rating. It's always good to get a quick info on what review rating you've got, for what product, and when. This function can also help you write intelligent review responses with keywords.
Inventory Control. It's good for managing project inventory purchases, sales velocity, etc.
Besides these core features, Sellics offers an extended package for bigger teams - Amazon Vendor Central. This edition delivers advanced user management and is available for the US and Europe Amazon.
Reasonable Pricing
Sellics has flexible monthly pricing ranges that vary between $47-$317 depending on your subscription and annual sales on Amazon. You can choose among a Monthly subscription plan, Biannual plan, or Annual plan. With the Annual plan, you can save $240 a year. The Amazon Vendor Central edition is more pricey and starts at $149 per month. If you want, you can get a 14-day free trial after a quick signup.
---
Sellics The All-in-One Amazon Software Tool
AMZ Tracker Amazon Seller Software
The Pioneer
AMZ Tracker became a real game changer in the Amazon software market in 2015. It was one of the first services that introduced numerous useful features and, thus helped sellers to improve their Amazon rankings and become successful. Since then, AMZ Tracker has been upgraded to keep up with the times, though some users find the dashboard has a somewhat outdated touch to it. Whether it is so or not, it's up to you to decide. In our eyes, the important thing about this trailblazer is that it allows launching profitable products and that's what matters. AMZ Tracker includes a rich bundle of sellers solutions for successful marketing strategies, keyword research, market analysis and then some. It allows tracking data on your products as well as competitors and can store sales tracking data for one month and ranking history for one year. Due to this, you'll have an opportunity to analyze the market in dynamics.
Since AMZ Tracker is a basic platform without extra frills, it's one of the best options for quick researches. AMZ Tracker is a web-based software that is compatible with all Amazon sites. And as a nice bonus, AMZ Tracker members can promote their products on Vipon.com, one of the largest Amazon Deals websites in the world. Millions of people visit it monthly, so you're likely to get your business up in a very short amount of time. 
Useful Features
The service boasts some useful features targeted at Amazon sellers, and we will try to cover some of them and check their usefulness below:
Keyword tracker. It lets you define the best keywords for your products to attract more attention. Depending on a subscription plan, you'll get a specific number of keywords.
Product tracker. You can compare your products with others. You just need to select the products you want to track according to rankings and other aspects to increase margin.
Negative review alerts. When somebody writes a negative review, you'll be immediately notified about that. Thus, you'll be able to respond to this review or resolve any problem as quickly as possible, hence converting an unsatisfied client into a 5-star rating customer.
Product promotion. As we've already mentioned, you can get a wonderful opportunity to promote your products on vipon.com. This website offers discounts for Amazon products.

Email reports. You can receive a daily or weekly email update on the product rankings for chosen keywords.

Sales tracker. This feature allows you to track competitor sales for any selected product.

Super URL. This link can direct social media users towards your products on Amazon.
Four Different Plans to Choose From
AMZ Tracker offers their customers four subscription packages to suit various needs. You can select the Basic plan, Professional plan, God Mode, or Legend. The main difference between them is the number of keywords, products you can track and add as well as the number of negative reviews. The more you pay, the wider the range. The basic plan starts at $50, while the premium package costs as many as $400. For big companies, AMZ Tracker offers corporative packages for $800 and $1600 per month. You can use all AMZ Tracker services for free for 7 days. This time should be enough to figure out how this software works and whether it's flexible enough for you. 
---
AMZ Tracker Amazon Seller Software
HelloProfit Amazon Seller Analytics Software
So Easy to Use and Understand
No matter if you're an Amazon FBM or FBA seller, or just thinking about starting your own Amazon business, HelloProfit is for you. Unlike other Amazon seller managers that are too complicated or bloated, HelloProfit is extremely easy to use. It has a simplified dashboard that shows clear, visually-separated graphs and stats tables so that you can quickly scan through them and understand the weak and strong points of your business at a glance. It displays overall sales, promotions, sales value, and your growth in colorful graphs with no detailed numbers and other tricky information. You can easily compare your profit for today, the last 7 days, the last 14 days, and last 30 days. What's great is that this data updates every 10 minutes, allowing you to view results in dynamics. In case you want to see this data in a row-by-row view, you can export it from HelloProfit to a .csv file.
On the negative, HelloProfit doesn't allow for sending emails. Though you have an opportunity to download the list of all your consumers and contact them by hand, having an option to create some sort of email campaign would be a great help. On the bright side, we like that HelloProfit is a web-based service that has a Chrome extension. This means you can share the access to your account as well as a right to edit data with other people if need be. Overall, HelloProfit's Analytics software is a simple tool which is perfect both for beginners and professional users. It'll save you a lot of time you'd otherwise spend digging, copying, pasting, and analyzing products. Though not very cheap, this program can pay itself off very quickly, bringing you the profits you've been craving for. 
Simple yet Helpful Features
With this bunch of features, you can understand which of your products are delivering profits and at what margins, and which are in trouble. 
HelloProfit delivers you the "health" of your business through the following Amazon FBA and FBM tools:
Product Genie. It's a product research feature that's surprisingly customizable - you can show or hide any column in the table, and then download the results using pre-defined filters.
Keyword Ranking and Best Seller Ranking. You can see rankings both per product and per variation.
Promotion Count. It gives you the information on your promotion and how many of them were claimed.
Promo Rebates. This feature delivers you detailed redemption reporting and cost of your promos.
Gross Sales and Profit. You'll be able to check data (refund rates, refund costs, and more) per each of your products.
OI and Profit Margin. It's also available per every product as well as for your overall account.
Lost Buy Box Notifications. You'll be notified if your products lose the Buy Box (via text message, email or in-app).
About Pricing
The service offers you only one subscription plan that costs $97 per month. For this price, you'll get the entire HelloProfit toolset, free upgrades, and free closed Mastermind group. And for additional $29, you can get one more marketplace. HelloProfit can deliver you stats not only for the US, Canada, and Mexico but also for the UK, Germany, France, Italy, and Spain. If, for any reason, you're not satisfied with HelloProfit, you can simply email customer support and they will stop future payments immediately. As a nice touch, the free trial period lasts for the whole three weeks.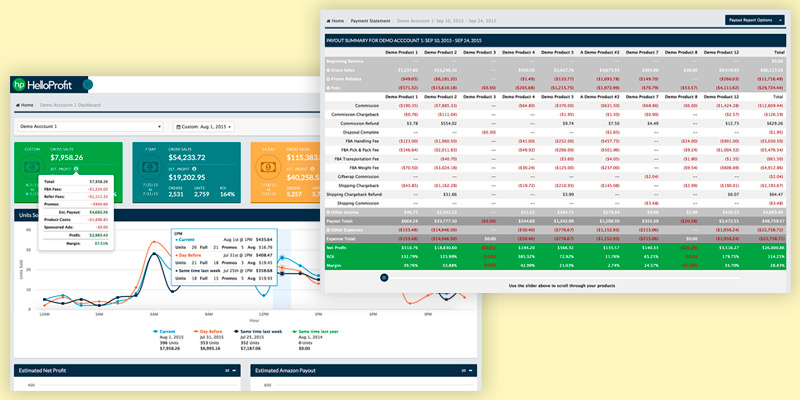 ---
HelloProfit Amazon Seller Analytics Software
OverGrowth Amazon Seller Software
Great For Small Businesses
Despite being a relatively new company in the world of e-commerce, OverGrowth has already become popular with Amazon sellers. It's the software "invented by Amazon sellers, for Amazon sellers". The creators are successful sellers that share their experience and knowledge. Moreover, the company is always open to new opportunities and if you have any good ideas for some novelty, just turn to the OverGrowth support staff. They will convey your suggestions to the desks engineers, and if they bring your fresh ideas to life, you'll get a lifetime discounted access.
OverGrowth seller tools attract users since they are effective and innovative enough to tackle issues of the fast-growing online market. The automated outreach software includes online influencers for product reviewing, hijacker protection, keyword tracking, email autoresponder, and more. Yet, the main selling point is that the OverGrowth software pays particular attention to the feedback. The software can help you get more positive reviews from customers, boost traffic, increase sales, and brand awareness. The more positive feedback on your products, the more potential buyers. So, if you're just starting to promote your small online business, this Amazon seller software might be the best tool for you. It will help you to compete in the huge Amazon market.
What does Overgrowth Actually Do?
Overgrowth offers you the following features to make your job of selling easy and effective:
Email Auto Responder. This function enables you to increase the feedback on your products. You can track open/click rates as well as feedback/order ratio, thus detecting the products that are underperforming.

Product Review Monitoring. You get an opportunity to continuously monitor your account and products for negative reviews. Naturally, the quicker you fix the problem, the less damage the negative feedback does to your revenue. The notifications can be configured as you wish. For example, you can disable them during the nighttime.
Hijacker Monitoring. This feature will protect your profits by alerting you every time you lose your BuyBox. This way, you'll be able to take immediate steps. The Hijacker Monitor can also show you other products competing with your offers.
Keyword Tracker. This is one of the most essential features. For small businesses, Overgrowth allows for tracking 20 keywords for free.
Event Journal. The software lets you 'drop pins' on any date so as to record important events. You can use this journal to keep track of your promotions or discounts so that you can define whether these changes affect your sales or not.
Influencer Outreach. It's the feature that sets OverGrowth apart from other seller tools. It'll help you find various ways of additional influence across the web, including such giants as YouTube and Twitter.
Aside from these useful functions, you'll also get access to Intelligent Email Sequencing, Competitive Analysis, Keyword Research, Listing Optimization, Review Analyzer, and Click Tracking.
You'll Find What you Need
OverGrowth comes up with numerous subscription options to meet the demands of any-sized businesses. You can select any subscription plan from Beginner, Small, Medium, Large, and XL. The Beginner plan costs just $29 per month, while the XL subscription is $499. OverGrowth is confident in their software, thus they offer a free 14-day trial.
---
OverGrowth Amazon Seller Software
Feedbackwhiz Amazon Seller Tools
The Best Software for Feedback Management
As it goes from its name, FeedbackWhiz is the software that focuses on feedback mainly. It's an advanced email autoresponder platform that allows you to write targeted emails to get more positive product reviews. With this software, you'll get a fantastic opportunity to create customizable email templates with emoji's, gifs, links, and more. And the statistics will show you which emails your buyers like most. On the dashboard, you can see every single metric detail including emails sent, email queued, promotional items, tracking numbers, repeat buyers, buyer-opt out, product reviews, and much more. This way, you can promptly figure out what's really working and what the trends are.
The software is incredibly easy to set up with its very clean and nice interface that covers just about everything a seller may need. You'll be able to see all the reviews on one screen. You can view them separately or group them by product. Also, you'll be notified about all negative reviews, and thanks to the automated buyer-review matching tool, you'll get a wonderful opportunity to address them immediately. With FeedbackWhiz, seller possibilities are virtually endless.
If you need help with setup or anything else, you're welcome to contact the FeedbackWhiz friendly team. One of the biggest merits of the company is its customer support that immediately replies to inquiries sent by users. 
Smart Features
Though this software shines in the feedback management, it also has other smart features that might be very helpful for both small and big businesses:
Order Management. All orders, customer data and order info will be shown on the platform screen. Thus, you can quickly find the information you need. The tool will help you track order status, statistics, detect your best-selling products, and identify returns. Plus, you can get the email of unsatisfied customers and immediately connect with them to resolve issues.
Email Automation. This feature will help you create the eye-catching e-mails that your customers actually want to see. You can design special email templates for specific purposes as well as customize them (when, who, and what). Then, you are welcome to view statistics for all your messages and campaigns. This amazing tool will help you build a good relationship with your customers and increase positive feedback.

Product Reviews. No seller software is complete without product reviews. And Feedbackwhiz gives you a chance to view all reviews on your products on one screen. You'll also receive notifications about unfavorable product reviews so that you can swiftly resolve any situation. It's the total solution for maintaining positive product rating.
As for Feedback Tools, they can help you easily create professional and customized emails that can really engage customers 24/7. Additionally, you'll get a chance to target positive feedback as well as get instant alerts for negative reviews. And with one click, you can get negative feedback instantly removed. All this will help you improve your brand reputation and increase sales.

Worth Every Cent
Feedbackwhiz is one of the most affordable seller software on the market. It offers a Starter plan at $14.99 per month only. And this subscription includes unlimited emails. However, if you need something more sophisticated, you can always select plans like Basic, Professional, Premium, and Ultimate. Plus, you can save 20% more instantly if you sign up for a yearly plan. The pricing is definitely on point and you'll get even more for your buck. Another highlight of Feedbackwhiz is its extra-long trial period. You can try any of these plans for 30 days. Enjoy now, pay later!
---
Feedbackwhiz Amazon Seller Tools
Infographics
---
What Is an Amazon Seller Tool?
With almost $178 billion of net sales in 2017, Amazon is the biggest e-commerce company in the world and, of course, exciting online business opportunity. But in this huge marketplace, new sellers might easily get confused. Moreover, even professional sellers are often unable to increase their revenue and attract new customers. For this reason, we recommend you get one of the top Amazon seller tools. This is an all-in-one management suite that can help you get your Amazon business up and running. The special software allows you to not only track every detail of your account and products but also monitor your competitors. The software includes numerous analytics tools that provide you with the data on market research, positive/negative feedback, your profits, and much more. Time is money, and a combo of different seller tools can really save you long hours on research. So, if you want to invest in your growth and save your time, we kindly propose you to look through our top picks. You just can't go wrong with any of them.