When you have absolutely no time to sit down with a book but you crave the taste of a fantasy, audiobook sites come to your rescue.
With an audiobook service subscription, you can save greatly on audiobooks and listen to new books while living your busy life.
...
Read more
...Read less
X
This site is a free online resource that strives to offer helpful content and comparison features to its visitors. Please be advised that the operator of this site accepts advertising compensation from certain companies that appear on the site, and such compensation impacts the location and order in which the companies (and/or their products) are presented, and in some cases may also impact the scoring that is assigned to them. The scoring that appears on this site is determined by the site operator in its sole discretion, and should NOT be relied upon for accuracy purposes. In fact, Company/product listings on this page DO NOT imply endorsement by the site operator. Except as expressly set forth in our Terms of Use, all representations and warranties regarding the information presented on this page are disclaimed. The information which appears on this site is subject to change at any time. More info
Scribd Audiobooks
Unlimited Reading and Listening
Scribd is not the first audiobook service that comes to mind of those seeking one but it is a pretty significant player on the market with a number of highly appreciated features, both for audiobooks and the actual reading. As its primary direction is actually e-books, Scribd offers a plethora of benefits to its subscribers, enough so that by some, it is considered a significant competitor for such major giants as Amazon and Rakuten Kobo.

For quite some time, Scribd was operating on a basis of the so-called credits system where you pay a monthly subscription fee and get a number of "credits" (usually one, sometimes two) which you can then exchange for an item, in our case, an e-book or an audiobook. However, as of February 2018, the service has returned to its original system where, at a certain price, you can rent as many e-books or audiobooks as you wish per month and read or listen to them. Note that it is a renting service, meaning you do not purchase any items but rent them from the service. This means that if you decide to drop your subscription, your access to everything you've rented will be forfeit. Well, with the price at quite low $8.99 per month, it is a huge bargain for anyone who reads fast and has time to listen to more books than one per month.
Limited Unlimited
Since we're talking about the market here and a commercial organization, naturally, there is a limit to the "unlimited"—according to the service's FAQ, if the automated system registers any unusual activity on your account, your access to certain titles can be restricted for a period of time. That is done to protect the service providers from commercial losses: the service providers pay publishers to loan you books at a more than affordable price and if the system decides you are listening to too many titles, more than it is normal for a single person and enough to cause some profit loss for Scribd, you will be presented with a limitation where you can listen to a preview for a book and the book page will show the date when you can access it in full. But fear not, the number of titles you need to go through to get yourself that red card is quite large so for an average book listener, this shouldn't be a problem.
To balance this seemingly unfair limitation, we can say that Scribd audiobook services are one of the most convenient there is. We've already mentioned it does not only offer audiobooks, right? But they do offer more than e-books as well. Scribd was founded initially to share documents and then it evolved but in a nutshell, it's still the same. On Scribd, you can not only satisfy your craving for some Fantasy of Sci-fi, in audio or in e-book format, but you can also find legal documents there, magazines, and you can publish your own content as well. It is a really multifunctional service.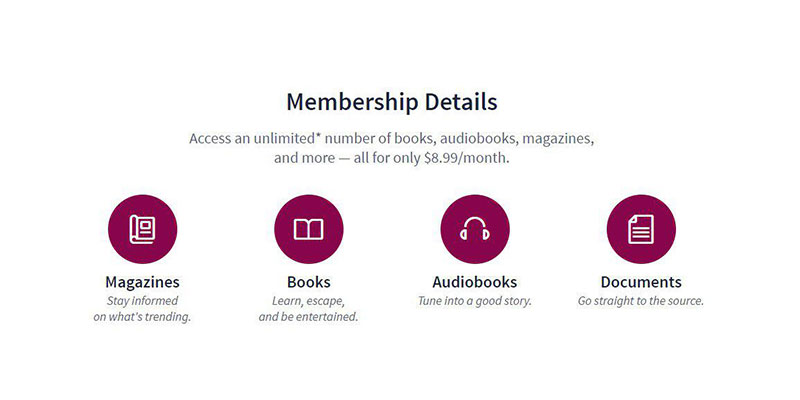 Usability as It Should Be
Finally, there is the service flexibility. Very few audiobook sites can compete with Scribd in this department. On this service, you can not just listen to books and read them, you can create collections, add bookmarks, save titles for later, add notes and highlights, share them. But as we're reviewing the audiobook side here, we'd like to point out customizable jumps as you listen to the book and a selection of speeds that can cater to just about any avid book lover; and, the cherry on the top—a sleep timer for the most passionate. If you love bedtime stories and to fall asleep to a pleasant voice narrating an interesting book, you can set a timer for the app to turn off automatically at some point so that the book does not end without you hearing it as you sleep soundly. Isn't it just the best?
Scribd is more than a place to get audiobooks, it is a service for those who seek a single place to get data of any kind.
---
Scribd Audiobooks
Audiobooks.com Audiobooks
Fixed Price
The Audiobooks.com uses a credits system, which is one of the most popular ones today among book listeners. Credits system means that you pay a monthly fee and for it, you get a credit that you can later exchange for a single audiobook. The system might be not overly convenient when it comes to e-books but for audiobook sites, it is often the most beneficial option (which is probably why it isn't used instead of Kindle Unlimited but is used with Amazon Audible). On Audiobooks.com, the price for a monthly subscription is the same as the Audible, $14.95, and this plan offers you the same credit to get an audiobook you want. The differences between the services are a few, however, and both have their benefits.
Audiobooks.com has a smaller library than Audible, that is true, but it is true for the absolute most of the audiobook services, Amazon is yet to face a true competition in that department. The good side of the Audiobooks.com, then, would be their fixed price for additional credits: if you finish listening to your downloaded book before the month has come to an end, you can simply purchase more credits at the same price. You can't do that on Audible, it offers you several plans to choose from but the number of credits the plan has can't be expanded, you will have to purchase additional audiobooks at their full price, so there's that.
Check Them All Out
When you sign up with Audiobooks.com, you get your first book on the house, at no cost. You will have 30 days to decide if this audiobook service is worth the money, browse over 125,000 titles offered and see if they have all the books you want to listen to in the next months. The browsing is quite easy to get a grasp of, you can choose a genre, a narration length, and whether you need an abridged or an unabridged book. There aren't any extra filters right away but you can set the sorting the way you like, be it by duration, alphabetically, by ratings, etc. Audiobooks.com also offers lists of books made by the staff, which are basically narrowed down and more precise genre-based listings with unique names; these lists are updated frequently and the staff keeps pace with the time (like, they have a NaNoWriMo list where books like Stephen King's A Memoir of the Craft can be found and a list of books that came to cinemas ad TV this year).
Even without registering for the service, you can check out the lists, browse the website, and listen to samples. Most samples are 3-minute long, some are 5 minutes, but there are titles with samples for like half an hour. You can get a pretty good image of the book and the narrator like this and decide if you like them, so it's neat.
The AudioBlog
Audiobook sites rarely have blogs of their own so this feature has been a pleasant surprise for us. The staff of Audiobooks.com writes book recommendations, posts interviews with authors, news on the audiobook market, and even hold giveaways. While there are a lot of bookstagramers and book bloggers/vloggers today, having a blog for audiobooks is a neat perk for a site that sells them. Makes it quite unique.
---
Audiobooks.com Audiobooks
AudiobooksNow Audiobooks
Discounts Grove
AudiobooksNow uses a system of discounts to sell books: at a meager price of $4.99 per month, you will get discounted offers on an unlimited number of audiobooks. The discounts under the subscription plan can reach 30–40% and you will get guaranteed 50% off for the first book each month. If you don't use the 50% discount some month (say, you don't have time to read or you just have a couple unread books on your shelf still), it will roll over to the next one. There is no free trial, not in the way we are used to them, but your first book upon signing up for subscription will be free. Or rather $4.99 (the cost of the subscription) if we are nitpicking.
You can also buy titles from this audiobook service without paying for the Club subscription. This way, you will have discounts on books as well but these discounts will be way smaller than those for Club members.
AudiobooksNow has in their library around 80,000 titles. It is not the largest number on the market, though not the smallest either. You can browse the library before you pay for the subscription to see how many titles from your to-read list are available there. On the average, approximately 75% of the most popular titles are offered by this service.
It's a Bit of a Gamble but You Can Save a Lot in the End
The catch in attractive audiobook sites like AudiobookNow here is this: to get the most of them, you will need to dedicate some time to browse the genres and titles that interest you and see what kinds of discounts are offered on them. Discounts are usually prone to changes, you can buy today with 10% off and tomorrow, you'll check out the same title and it's 25% off; or vice versa—you see a 10% discount and decide to wait a bit but when you return a couple days later there is no discount at all. What we are trying to imply here is that AudiobookNow is a very nice service indeed but it is best suited for those who have both time and desire to dig out the best discounts from the heaps that the audiobook service offers. It is not as easy as it might seem but when you are in luck, you can save a lot of money (and then spend those savings on more audiobooks).

To help you, if only a little, not miss the best prices, this audiobooks service has a section called Specials. That is where the biggest discounts are gathered for the users to check out. There, you will find only a drop in the ocean of discounts but those will be the most beneficial. For all others, you can always browse the lists—they are conveniently arranged by genres and subgenres. There are also lists for award-winning novels, bestsellers, new releases, recommendations, and more.
Simple but Full-featured App
The AudiobooksNow app is available for Android, iOS, and Kindle Fire e-readers. Some users state it to be a little cluttered but it does offer the most important features, like browsing and purchasing books, playback at one of two speeds, the option to jump back to re-listen some part you got distracted at or forward to skip. As it is a store and not a rental service, the books you've purchased will stay with you even if you decide to cancel your subscription. You can listen to your books from the app as well as from your PC or laptop browser. AudiobooksNow is an excellent service for anyone who listens to a lot of books and wants to save money.
---
AudiobooksNow Audiobooks
eBooks (by Rakuten Kobo) Audiobooks
Fast-growing Baby
Rakuten Kobo is a well-known manufacturer of e-readers, one of the major competitors of Amazon's Kindle. But their audiobook service is practically a newborn, launched a little over a year ago, in September 2017. For a service this young, it has quite an extensive library with about 100,000 audiobook titles. Less than Audible, yes, but they are just getting started, we'd say give them some time.
The biggest customer-winning feature of the Kobo Audiobooks is their price, it is one of the cheapest among services that use credits-based subscription. A single credit will cost you $9.99 and you can exchange it for any audiobook regardless of its cost. Also, to compete with Audible, Kobo has the option to purchase additional credits if you have used yours already and the month is still young. To be fair, this particular feature is available with a number of other audiobook sites and when they offer to buy 1 additional credit at a time, Kobo only offers them in bundles of 3 credits, which might be inconvenient for some users. Then again, with Audible, you can't have extra credits at all so...
Besides audiobooks, Kobo offers e-books and digital magazines too, which is a good option to diversify your activities without having to install different apps.
All-in App
The Kobo audiobook service is a result of the partnership between Rakuten Kobo and Walmart and the app it uses is actually called Walmart eBooks. The app is quite intuitive and easy to get used to. You can online listen to audiobooks or you can download them via Wi-Fi for road trips and commute, to save on the use of your data plan. Inside, all the features you might need are included: you can get personal recommendations based on what you've listened to before, browse trending and best-selling books as well as current discounts. And of course, there is a browse by category option. Inside the player, you will have several narration speeds to chose from, a customizable jump length, and a flexible sleep timer that you can set for the app to turn off when the chapter ends, for example, or simply after a certain time. The app will remember where you've stopped and will sync your progress with any of your devices.
These features are not unique to this particular service but they do make the whole experience this much more pleasurable. You can also choose the background color for the app, though. Little as it is, it's a nice feature. There is a night mode as well, to not strain your eyes.
They Think of Their Customers
Exclusively for customers from the United States, the Walmart eBooks app and Rakuten Kobo audiobook service offer a $10 discount on an e-book or audiobook when you sign up with the app. Besides that, Kobo has a very attractive loyalty program called Kobo Super Points. These are bonus points that are allocated to your account every time you make a purchase of either an e-book or an audiobook, every time you pay for your subscription, and every time you purchase instant credits; when there are enough points collected, you can redeem them for audiobooks and e-books.
---
eBooks (by Rakuten Kobo) Audiobooks
Downpour Audiobooks
Small but Refined
Downpour is a subsidiary of Blackstone Audio, one of the oldest and largest publishers of audiobooks, although Downpour offers titles from a number of other publishers as well. The library of this audiobook service includes approximately 70,000 titles. On the first glance, it is not too many—true, if you compare Downpour to a giant like Audible or, for example, Audiobooks.com, they have significantly more titles. However, a cursory search over Downpour showed that this provider does indeed keep an eye on the current state of the market as you can find there around 80% of popular titles. It is more than Audiobooks.com can boast. Just saying.
Downpour uses credits system, same as Audible and Audiobooks.com (and a number of other competitors) but both those audiobook sites have a higher subscription cost: Downpour will cost you $12.99 per month. For this money, you will get one credit. If you wish to purchase more than one audiobook per month, additional credits are available at the same cost—a feature absent from Audible, by the way. Your credits will stay active for 12 months starting the day they were added and the important part is that you can use your credits until they expire even if you have canceled your subscription.
Selection of Audiobooks to Read and Listen
Besides downloadable audiobooks, Downpour also offers physical copies—CDs and Mp3 CDs. If you like to listen to books, say, in your car when you go for road trips, or you are just a little into old style and love CD players, Downpour is one of the few audiobook sites who offer physical copies of audiobooks. But that's not all either. Starting 2014, this service also has a rental service on digital audiobooks, you can save quite some money if you rent instead of buying. Rented titles will be accessible through your account for either 30 or 60 days depending on your choice at the checkout but you can extend that period by 5, 10, or 20 days if you need. Finally, in 2016, Blackstone has launched their printed books publishing service and you can get those books from Downpour as well, in paperback or hardcover.
Do note, though, that out of all the listed options, credits can only be used on digital purchases of audiobooks. All other options, buying and rental both, are paid for separately.
Downpour allows listening to books across as many devices as you own. Your progress will be saved and synced so that you could pick up where you've stopped even if you change your gadget.
User-friendly Website
The Downpour website is exceptionally user-friendly. As you browse the categories, you see large covers, the categories themselves are divided into subcategories, and each book page has not only the regular information like the name, author, narrator, summary, and price but also some info about the author besides their name; most titles feature editorial reviews as well, spoiler-free, and some have reviews from regular readers. It is a nice feature for those who simply browse the digital library in search of what to download or listen online, no particular title in mind. You can leave your reviews on the site as well.
---
Downpour Audiobooks
What Is an Audiobook Site?
"Sorry, I haven't read this book," the person said, "Got no time to read, with work and kids and things. You know how it is."
You've probably heard this one and even said it yourself. Some of those who call themselves true book lovers mock everyone else with "there is no such thing as no time to read" or something along the lines, but reality check will come for everyone sooner or later. Luckily, though, the technology has stood up for book lovers, too. We have E-readers, reading apps for smartphones and tablets, and, for the most old-fashioned, pocket-sized printed books. We can read on the go, take a 10-minute break after a meal to speed-dive into the world of fiction. Well, most of us can, at least. For everyone else, there are audiobooks and, consequently, audiobook sites and stores.
Audiobooks take over the world rapidly, there is very little to not like about them. They are narrated by professional movie, theater, and voiceover actors who are taught to express a wide range of emotions with voice only. They are recorded in professional studios with nothing hindering the sound. Finally, it is even easier to find some time to listen to an audiobook than it is to sit down and read. You can do it during your morning jog, as you stand in a queue for your first cup of coffee, as you do house chores or simply as you walk somewhere. You only need a pair of earbuds, a compatible device, and a good audiobook service with either downloading or streaming the books you've purchased.