Everybody wants their photos to be the epitome of awesomeness; only, perfection is rarely achieved just like that, with raw material.
But add a touch here and there with the right photo editing software and voilà—you've created an image you can happily post online. Let's see what the market has to offer us in this direction.
...
Read more
...Read less
X
This site is a free online resource that strives to offer helpful content and comparison features to its visitors. Please be advised that the operator of this site accepts advertising compensation from certain companies that appear on the site, and such compensation impacts the location and order in which the companies (and/or their products) are presented, and in some cases may also impact the scoring that is assigned to them. The scoring that appears on this site is determined by the site operator in its sole discretion, and should NOT be relied upon for accuracy purposes. In fact, Company/product listings on this page DO NOT imply endorsement by the site operator. Except as expressly set forth in our Terms of Use, all representations and warranties regarding the information presented on this page are disclaimed. The information which appears on this site is subject to change at any time. More info
What Is Photo Editing Software?
There was a time when photo editing was considered a highly superior skill that required some significant training and a drop of a talent. True, professional photographers are still valued as theirs are often works of art instead of just photos. But at the same time, the technology has made a huge leap in the direction of digital amateur photography, to the point where Snapchat and Instagram can somewhat help make photos more appealing. And, along with it, the wide variety of good photo editing software is being created every day.
Most of us know the Adobe company as the designers behind Photoshop, the most popular photo editing software in the world today, although now they have a number of sophisticated media editing software, not just for photos. What else we know is that Photoshop can be quite costly and that hobbyist photographers do not always use all the great selection of tools it offers so they might be reluctant to pay for it. That's why here in this review, we've decided to cover some of the top photo editing software that may offer fewer features at a lower cost but is still considered a nice deal for many beginners and professionals alike. You can post the edited photos on your social network pages, you can create a portfolio to start your career, or you can print them and hang on your walls.
PicMonkey Photo editor. Design maker. Idea realizer.
Run Wild with Your Photos
PicMonkey is a browser-based photo editing software created by enthusiasts for enthusiasts. When it was all only starting in 2012, PicMonkey had a pretty basic set of options for photo editing; today, it is one of the most advanced online tools where you can use layers of effects, add stickers and text, change the image this way and that. It is actually kind of awesome.
PicMonkey offers just about everything, from retouching tools to edit people's photos (everything down to teeth whitening and blemish removal) to overlays and mood-altering effect to apply to your favorite landscape images and photos of nature or your pets' best shots. Altering or adding makeup? Here's your eyeliner, mascara, lip tint, shadows. Visual weight loss options (because we all know that photos add weight!), whisker grow, hair highlights—everything you can imagine is accounted for. Hell, you can even create a Haloween look with gore elements and scary "makeup" then go add a "ghostly" mood or a haunted house aura and scare your family and friends to the moon and back. Themed effects are a blessing here, they make it all so much more fun. And the best thing is? PicMonkey is a free online photo editing software.
All Included
The selection of templates offered by PicMonkey is a great choice when it comes to making designs for social media, beautifying your profile and posts. There are options for Facebook, Instagram, Twitter, Pinterest, YouTube, etc. If you need a business card or an invitation to just about any event, PicMonkey can help with it, too. Announcement pictures, postcards, collages—it is simple and fast to get. You can even select a size to print it right away, then order it with PicMonkey Print Shop, and they will deliver the completed item to your mailbox.
Recent Changes
Up till September 2017, PicMonkey had a policy similar to the majority of Freemium services on the net. That is, you could use a limited number of features for free and obtain access to the whole list by buying one of two paid options: Premium or Supremium. Now, all the features for image beautification are available for free users as well, you can go wild as much as you want. However, to save the edited picture to your computer or post it via share option, you will need a paid account. This controversial change has brought up quite a commotion among the users, of course, but the PicMonkey team has issued their justification for such drastic move on their blog. Whether it will be for better or worse is yet to be seen but for now, you can just go check out the whole scale of offered options to see if you want them all at the tip of your fingers or you can try Premium for free for 7 days to assess the quality of saved pics (we think it's good) and make your decision.
In the meantime, the changes have not yet been applied for any of the two available mobile apps (Android and iPhone). There, you can still use the limited number of features but you can save those pictures freely.
---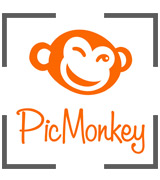 PicMonkey Photo editor. Design maker. Idea realizer.
Macphun Super-charged photo editor
Smart Editor
Luminar by Macphun is considered to be the best photo editing software for Mac by many users, point in case being that Macphun has been holding a leading position for five years in a row. Luminar offers a workspace specifically designed for comfortable and convenient work without sacrificing the speed—you will not notice how much you've accomplished in the time you previously spent on simply getting used to the interface. The main new addition to the latest Luminar upgrade is its Accent filter powered by artificial intelligence that automatically adjusts the settings on your photo to create the perfect look. Now there is no need for complex tweaking of numbers of settings, with Accent alone you can do wonders already. That being said, the pro-level photo editing tools are still available, of course, over 300 of them, all hi-end, including RAW files support.
Another interesting detail about Luminar is that it automatically detects the type of your image to reveal the most appropriate filters first. Really handy. Luminar can replace Apple Aperture or it can work as its plug-in or as an extension to Apple Photos. You can also use it as a plug-in to Adobe's Lightroom and Photoshop apps. Luminar is a professional photo editing software for Mac that works with OS X 10.10.5 and newer.
The Ultimate HDR Solution
Aurora is Macphun's dedicated photo editing software for HDR photography. HDR stands for High Dynamic Range imaging, the type of photo where to achieve top quality image the photo is taken several times with different exposure and then all shots are layered one over the other and mixed automatically. It is a technology that works magic on landscape-in-the-sunlight photos and low-light scenes. At the same time, HDR is not a recommended option for photos where something moves as any difference between the shots makes the resulting image blurry at best and utterly indiscernible at worst.
Aurora HDR was developed by Macphun in collaboration with a famous HDR photographer Trey Ratcliff and it is, for now, the only Macphun photo editing software that works not only with Mac computers but also with Windows ones. The number of tools in the app is really large, from the basics like cropping and histogram to HDR-dedicated Enhancer, advanced tone-mapping, and lens corrector. It is also possible to process several images simultaneously with batch processing.
Creative Kit
The final product offered by Macphun is actually a batch of six different apps focused on certain tasks. You can buy each of those apps individually or choose a batch purchase and save some money. The set includes the following:
Intensify app to adjust the photo with presets and highlight certain details.
Tonality—160 tools for creating different types of black-and-white photos.
Snapheal, the app that will erase unwanted objects and enhance the photo afterward so that it looks natural.
FX Photo Studio is a collection of 200+ filters and effects.
Focus app offers pro lens effects and blur controls.
Noiseless, as the name suggests, removes digital noise from your photos without losing the essential details. Has a proprietary technology for RAW photos adjustment and works with smartphones.
---
Macphun Super-charged photo editor
CyberLink PhotoDirector 9
Best Photo Editing Software 2016
CyberLink's PhotoDirector might be not the most known photo editing software out there but we did find it really useful and, what's also important, entertaining. CyberLink puts great emphasis on it being created with everything to spur creativity in the users and we are inclined to agree. The best thing about PhotoDirector is that it works with video as well as with photos (well, to a certain extent, of course). What caught our attention first is the interesting video-to-photo face swap feature. What it means, in a nutshell, is the following. When you take a family video and want to make a photo from a shot but can't find the moment where everyone looks perfect, you can just take the PhotoDirector software for photo editing and combine faces from different shots into a single image. There, everybody is smiling, no one is blinking or making faces (or, alternatively, everyone does make the most hilarious face ever and you combine them into one shot). It can be handy and extremely fun to play with. And that just one feature. There are more.
It's Like Photoshop but Easier
PhotoDirector by CyberLink offers features for just about any kind of photos that professionals and amateurs alike will appreciate. When you work on pictures of people, there are so-called beautification functions that will enable you to correct skin tone, retouch wrinkles of little pimps, slightly correct face and body shape. Landscape photos will look immensely better after you apply Express Layer Templates to them—the feature that has all the necessary elements already set so you don't need to tweak it much. The number of blending modes is also being increased constantly, the way to make stunning mixes that will look good in your header on Facebook, YouTube channel, or work/travel blog. PhotoDirector offers easy-to-use GIF creation tool and over 40 overlays for you to make magic images to catch the eye of every single person seeing them. It also supports both widespread and quite a number of proprietary RAW formats and works with more than 100 lens profiles. There is not much that a photo editor needs that is not included here.
The Dream of a Traveler Photographer
Three more features we'd like to point you towards. The first one is the magnificent and beautiful Little Planet. It's unbelievable what can be done with a panorama shot, really. With just a few clicks, long 360° scene transforms into a movie-like picture that looks like it was made to portrait a mysterious planet in a bewildering atmosphere. You can choose to center around the ground level or the sky, set the magnification and rotation of the image. It looks absolutely marvelous. The second feature is the Photo With Motion. A great option to liven up your blog posts, it offers you to make a so-called motion still, a photo-from-video where only some part of the image is moving—the water is flowing or cars are moving—whereas all around it everything stays still. Looks fascinating and hard to tear your eyes from. Finally, the CyberLink's professional photo editing software is equipped to work with time-lapse photography, another hip topic in the modern photography circles. What else you need? We didn't cover everything, chances are the feature you're looking for is right there too. If you're not sure, before buying the license, you can just use the 30-day trial. A whole month should be enough to explore.
---
CyberLink PhotoDirector 9
Fotor Revolutionary Photo Editor and Graphic Designer
Quick Tweak
Compared to some other photo editors, Fotor might seem overly simple but that can be a benefit when looked at from a certain angle. Yes, it will hardly replace your full-featured desktop software for photo editing, even if it does have cool features like HDR effects (in paid version). However, there are times when you only need an occasional simple fine-tuning for your images and loading a bulky editor might seem not worth it (for example, launching Photoshop sometimes takes several minutes and the app "weighs" quite some). This is when an easy-to-use browser-based Fotor will come in handy. It has all the most basic functions like crop, rotate, brightness/contrast, curves, resize, etc. and it offers them for free. There is actually a nice range of free features and effects, you can use beautification functions, create frames, add text and stickers. The paid Fotor expands those features to some extent at a considerably low price with a massive discount when you buy an annual subscription. The pictures can be saved to high-definition PDF files (up to 300 dpi) for further printing. No matter how you look, Fotor is one on the best photo editing software when it comes to online options.
Cool Collages
There is a feature in Fotor that is not usually offered by many photo editors. Usually, when you choose to make a collage, you are presented with a variety of standard grids—with squares and circles where you put your photos. Fotor has this, too, but it also has a function called Funky Collage. Here, you are given a wide variety of shapes to choose from, down to hearts, diamonds, irregular patterns and even frames that look like animals. Make your kids fun pictures with their photos shaped like a whale or an elephant, won't you? It's tremendously fun. Or a photo of you and your beloved inside a heart, surrounded by more of the significant photos you have taken? A Tumblr mood board for your favorite book, movie, character, or pair. You can do so much it's hard to choose where to start.
Go Art
Fotor has apps for both iOS and Android with the same features, so you can edit your images on the go. However, that's not all. There is another interesting app created by Fotor developers that we couldn't miss mentioning. It's called GoArt AI Photo Effects (apps for Android and iOS are available). It a really fun app where you can turn your photos into a style of some classical painting. Just about any style, from Impressionism to Dadaism to Pop art to Ukiyoe. Tweak your images to make creative design elements for your social networks or just to present your friends with fun gifts.
---
Fotor Revolutionary Photo Editor and Graphic Designer
PaintShop Pro Photo editing software & bonus collection
Renowned Creator
Corel is another name well-known in the field of graphic design, alongside Adobe. Most people have heard of CorelDRAW at least once, it's a famous software for vector graphics. But this is a review on top photo editing software and we are here to tell you about another Corel product, the new PaintShop Pro 2018 Ultimate. Creators claim it to be an "affordable alternative to Photoshop" and they are more or less truthful in it.
The new thing in PaintShop Pro 2018 is that it has two workspaces for users with different level of skills and experience. For those only beginning their journey into the world of photo editing, it might be more convenient to start with the Essentials workspace (you make the choice upon startup and can switch at any moment). In here, you will find the most basic functions like Crop, Eraser, Drop, Gradient and some more heavily used instruments. You can also add some features here if you need, using the Search button—this might be useful for editors who have some (or even a lot of) experience but need fast work with certain tools and uncluttered window. On the other hand, with Complete workspace, you get the whole range of tools and instruments, large enough to get lost in sometimes. Fortunately, Corel has answered the pleas of its users of previous versions and has made the user interface much simpler to navigate.
Do It Faster
What Corel PaintShop Pro 2018 offers its users is over 100 backgrounds, 75 new patterns/gradients/textures, 30 new brushes, color palettes, and, what we've found even more useful, a scripting engine. What does it mean, in this particular case? The scripting engine in a photo editing software is a feature where, when you need to edit several photos with the same effects (for example, a series of photos in the same color scheme and with similar contents but at different angles), you create a script with the necessary changes and apply it to all the photos. You can create a script for almost every task you do often, or not often but sometimes it's just the best. There is, by the way, a batch processing option as well. With these two possibilities, editing becomes much easier and faster, which can be extremely useful at times.
Buy a Batch
The Ultimate is in fact not a single app but a collection of professional photo editing software, it includes Painter Essentials 5, Perfectly Clear 3 SE, and Corel AfterShot 3, dedicated apps for certain tasks. With the Painter Essentials 5, you can take your photo and turn it into a drawing or a painting; it also offers tools to sketch from scratch and create stunning pictures. Perfectly Clear 3 SE is an intelligent app able to enhance images tremendously with a single click thanks to the collection of presets. Corel AfterShot 3 is an app designed for RAW editing, it makes photos from your camera look professional and it also supports batch processing, you can apply the changes to up to 1000 photos.
---
PaintShop Pro Photo editing software & bonus collection