If you are growing a long beard or just want to maintain a perfect 5 o'clock shadow, a beard trimmer is a must-have thing for you!
Look through our list of the 5 best models and get a perfect beard style.
...
Read more
...Read less
What is a Professional Beard Trimmer?
A beard has been the most on-trend accessory men can maintain for several seasons. For this very reason, a beard trimmer is justly considered as an essential tool for every man. It doesn't matter whether you need to trim your full beard, detail it, or want to get a 3-day stubble look, the right trimming tool will come in handy. But what really differs professional clippers from those used for personal use? They are much more powerful and can be used throughout a whole day. Professional beard and mustache trimmers cut through any hair type easily. Having used a professional trimmer just once, you will see a huge difference. For sure, you'd never want to return to those standard models.
Some people prefer using corded trimmers while others give their preference to rechargeable models. Of course, none of the trimmers that run on batteries can beat corded models in power, yet cordless models are easier to maneuver when trimming in hard-to-reach areas. We recommend you to opt for a model that has an ergonomic design making a tool easy to hold and use. As for the guides, combs, and attachments, you can always purchase them additionally, but, of course, it's a great plus if the set already includes some.
We would also recommend you to look through our review of the best hair clippers that will make you look amazing.

...
Read more
...Read less
Best Professional Beard Trimmers 2017
Wahl 8655-200 Peanut
The Choice of Professionals
The Wahl Professional Peanut is the top rated trimmer used by professional barbers around the globe. The model is corded, small in size, and equipped with a pretty powerful motor. The combination of these features makes the tool comfortable to hold and suitable for use through the whole day without hand fatigue and motor overheating. In addition, the rotary motor creates virtually no sound and guarantees excellent blade speed. The trimmer runs smoothly through any hair type, no matter whether it's wet or dry. What's more, you can use the Wahl professional beard trimmer not only for trimming but for clipping as well. Also, you can experiment with your hair length by choosing from 4 included guide combs (1/8"" 1/4", 3/8", and 1/2"). So, whether you are a professional barber or just a casual user, you should definitely consider this super-powerful trimmer.
Pros:
Powered by a rotary motor, the trimmer cuts through all hair types;
Convenient to use, since it weighs only 4 ounces

and is 4-inch long.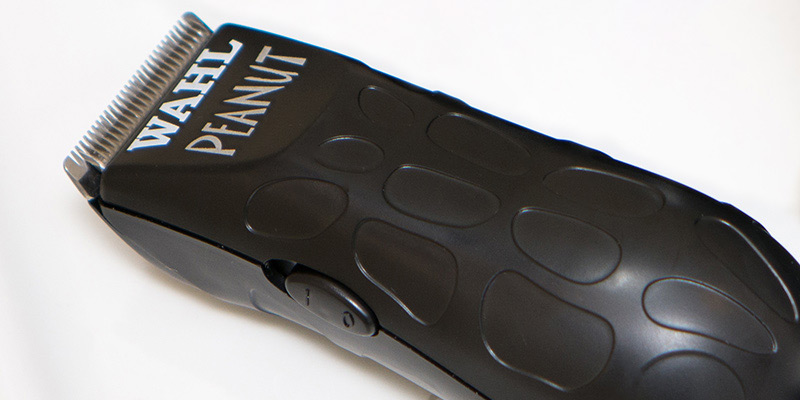 Additional Info
---
Wahl 8655-200 Peanut
Andis GTO 04710
Keep your Beard Looking Great
The Andis professional trimmer offers a number of unique features any user would like to have. The adjustable T-blade is made of highly durable carbon steel. Thus, the blade has a long cutting life and ensures maximally precise trimming. You can use the Andis styling tool for outlining, fading, and cutting hair in the places any other trimmer wouldn't even reach.
People who prefer a clean shave and bald look will also highly appreciate this versatile tool since it can be used for dry shaving too. The trimmer is mains-powered and has a long 8-foot cord allowing you to use the device at a great distance from a power outlet.
Pros:
Designed with a T-blade for precise and close cutting;
Easy-to-hold contoured body and 8-foot power cord.
Andis GTO 04710
Remington MB-200
Great Trimmer at an Affordable Price
The cordless beard trimmer from Remington is one of the simplest devices on the market. You can adjust the cutting length even without changing guide combs. The thing is that the trimmer comes fitted with 1 comb offering 9 different length settings (from 1.5 mm to 18 mm) that can be changed with a zoom wheel. The wheel gets securely locked once you set the desired length. You can be sure that you won't jump to lower or higher setting accidentally during the use.
As for the blades, they are coated with titanium and guarantee smooth trimming without pulling. Moreover, the blades are-self-sharpening and require no lubrication. They can be simply rinsed under running water after each trimming session. The trimmer cannot be used while it's charging, so it is better to juice the tool up in advance. The full charge takes from 14 to 16 hours.
Pros:
Titanium coated self-sharpening blades;
Zoom wheel for choosing the length setting from 1.5 to 18 mm.
Philips Norelco Multigroom 5100 QG3364/49
Create any Style You Want
The Philips Norelco Beard trimmer is the most versatile model on our shortlist as it comes with 7 different attachments for beard trimming/styling/detailing, hair clipping, and removing hair from ears and nose. With 48 length settings, you are free to experiment with your hair length at the comfort of your own home without spending time and money on visits to a barbershop. Featuring self-sharpening blades with rounded tips, the trimmer guarantees delicate grooming without skin irritation. It cuts through dry and thin hair easily, plus owing to a Turbo mode, it also handles thick hair in a breeze. The trimmer requires low maintenance; the waterproof body can be rinsed under running water, while the blades don't require lubrication.
Pros:
Styling versatility – Moustache, beard, nose, and hair;
A 1-hour

charge provides 60 minutes of use.
Conair GMT8RCS
For a Variety of Facial Hair Styles
The full-size beard trimmer from Conair comes fitted with a 5-position adjustable comb and 2 jawline combs to help you achieve a facial hair style you want. You can use it to create a stubble look, sculpt or detail your beard. It is very gentle on hair and leaves no irritation after trimming.
This corded model is equipped with a powerful motor that lets you cut through all hair types and lengths with no lugs in speed and efficiency. Thus, consistent and even results even after each trimming session are guaranteed. The blade of stainless steel requires lubricating, however, this process isn't as complicated as it seems, since the blade can be easily removed. We would like to point out that this professional trimmer is the best option for people looking for a quiet styling tool. Fitted with a 120 V motor, it works almost silently.
Pros:
2 jawline combs for hard-to-maneuver areas;
Quiet operation.