For most men, mornings are associated with shaving. This is where a decent electric razor will be a true savior. The only problem
is which to unit to choose from a variety of available models. To simplify your choice, we have selected 5 of the best electric razors in our electric shaver review!
...
Read more
...Read less
Braun Series 7 (7865cc)
GET THE BENEFIT OF UNRIVALED GERMAN QUALITY
When it comes to Braun products, it is always about functionality and technology being backed up by decades of experience and research in different fields. Producing a whole range of products for healthcare, wellness, beauty and kitchen use, it comes as no surprise Braun has become a trendsetter in the area of grooming and shaving products too. Braun hair clippers, beard trimmers, and electric shavers are recognized as simple yet innovative and user-centered solutions that boast high-end performance, bringing them on top selling positions in the market.
The Series 7 electric shaver is a Braun's flagship that boasts unrivaled German quality making it extremely popular among users. The Braun 7865cc is a cordless rechargeable foil razor for wet and dry shaving that features high build quality and ergonomics. Its body has a medium gray matte finish resistant to fingerprints and features non-slip rubber inserts providing a user with a secure grip for wet shaves. The whole construction is 100% waterproof allowing you to use the razor even in the shower. The controls which include an on/off button and adjustable mode buttons are conveniently located on the front panel and simple to use. Situated on the handle is a handy LCD display that enables you to track the remaining shave time. A metal cutting head is waterproof and durable. It has a high-quality micro foil and sharp blades that have been machined with precision in order to provide consistently smooth and close shaves. A high-capacity Li-ion battery ensures 50 minutes of cordless shaving and gets fully charged within an hour.
Build to last and designed with every user convenience in mind, the Braun 7865cc is deservedly regarded as one of the best foil shavers in its class.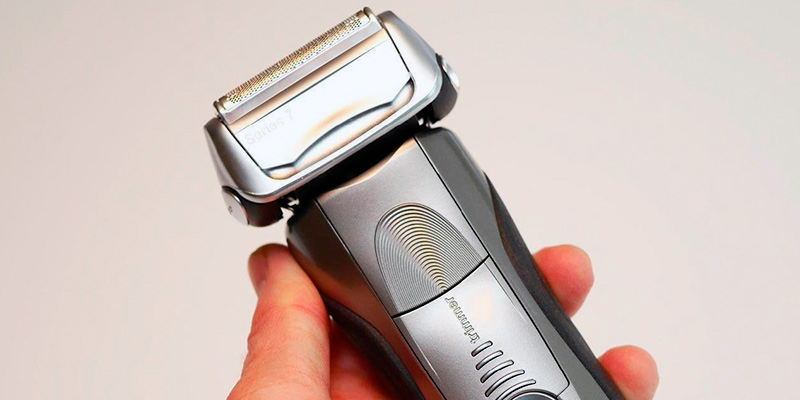 THE SMARTEST SHAVER FOR YOUR BEST SHAVING EXPERIENCE
For many years, the Braun 7865cc electric shaver for men remains the benchmark in terms of high shaving performance and comfort, mostly due to intelligent design and innovative technologies it comes packed with.
The cutting head is equipped with 4 cutting elements, each being meant for lifting and cutting different hair types without causing irritation. All four elements are floating and provide 8D adaptation so that they closely follow the curves of your face and reach all those areas where most other shavers can't get. Furthermore, the razor enables you to choose one of 5 available shaving modes - from Sensitive to Turbo - so you can shave with maximum comfort. One of the greater features of the Braun 7865cc electric shaver is that it boasts the unique Braun sonic and auto sense technology which automatically determines the density of the beard and adjusts the power to handle any stubble with ease. 
The 7865cc is surely one of the smartest Braun shavers which implements leading technologies to deliver exceptional shaving results, maximum closeness, and comfort.  
HYGIENE PRIORITIZED
It's not a secret that to maintain your skin radiant and free from blemishes and shave rash, your electric razor should be kept clean. It's worth saying that regular shaver cleaning and maintenance are essential not only for hygienic shaving and skin health but also for prolonging your razor's service life.
The Braun 7867cc comes complete with a premium Clean and Charge station that can be used not only for charging the razor but also for cleaning it. A cartridge inside the stand contains an alcohol-based solution that will sanitize, clean, and lubricate the shaver head. Maintaining the Braun 7867cc clean is as easy as anything. All you will ever need to do is press a single button and it will clean itself off all dirt and bacteria. 
Additional Info
---
What customers say about this product
This is my first foil razor after 30+ years of rotary razors. It's an adjustment in the way it shaves. I'm happy with it after the first few weeks.
It's made of quality materials that justify the price.
The pivoting head is well done and the pop up trimmer takes care of evening out sideburn area.
This shaver charges quickly and is easy to keep clean with the accompanying cleaning station.
Braun Series 7 (7865cc)
Philips Norelco S5660/84
Bring Your Shaving Routines to a New Level
It's not a secret that there is hardly anything that can compare to a straight razor in terms of shaving cleanness. Yet, straight razor shaving is a pretty time-taking task that also requires a certain skill and training. It is definitely not a choice for quick shaves, and so is not a shaving stick. That's why electric shavers don't lose in popularity and hold their position of the most popular shaving tools with users from all the world. But all electric shavers are different and not all of them will deliver the performance you expect. If you need a reliable and efficient tool to bring your shaving routine to a new much better level, the Philips Norleco 5750 will fit the bill.
What you will get is a cordless electric razor that will take the mess and strain off out of your shaving ritual and a Smart Clean system that will take care of the tool. Like other Philips models, the shaver has an ergonomic design. An oblong handle will fit into your palm snugly and firmly owing to the curves on the sides and non-slip inserts. Hence, whether you go for a dry or wet shave, the tool won't slip out of your hands.
A shaver accommodates cutting heads rotating in 5 directions to raise and capture flat and long hairs in a single pass. Besides, such a flexible head ensures close skin contact and efficient hair removal even in such tricky areas as the neck and jawline.
When it comes to razor maintenance, you'll face no difficulties either. You can easily wash a shaving head under running water or insert it into a cleaning station. Inside the cleaning chamber is a cartridge with a special liquid that will not only clean blades but also lubricate them to preserve sharpness and prolong their service life. Besides, the station also doubles as a charger and will fully charge the battery in an hour.
For All Beard Types
Convenient and easy to use, the Philips Norleco 5750 can easily handle all beard types. Whether you have sparse thin bristles or a thick dense stubble, this shaver can handle that. In a dual-blade system this model is complete with one blade catches and lifts the hair while the second blade precisely cuts it below the skin level. As a result, you will enjoy an exceptionally smooth shave. And since there is no need to make several passes, it won't damage or irritate your skin. Besides that, there is a kind of cavalry for especially thick and stubborn facial hair. It's a Turbo+ mode increasing the motor power by 20% for a fast and clean shave on a thick beard.
Put it in a nutshell, the Norleco 5750 is not the most affordable shaver so far but not the most expensive either. At a fairly reasonable price, this model offers a well-thought combination of technologies and design features to ensure comfortable shaving and clean results along with no-sweat maintenance.
Additional Info
---
Philips Norelco S5660/84
Philips Norelco AT830/46
Excellent for Quick Trims and Extended Grooming Sessions
Philips brand is trusted by men worldwide. Norelco remains one of the most popular electric shavers. The Philips Norelco AT830/41 provides an all-in-one solution to a great variety of shaving needs.
The pivot, flex, and float system of the razor allows the head to be in close contact with your skin without doing numerous back-and-forth motions or turning your face in awkward angles to facilitate the shave. The innovative Lift and cut dual-blades lift the hair up from below the skin, keeping your skin smoother for longer.

You can use the shaver dry or wet with soap, foams, gels, lotions, creams, or plain water. Anyway, this shaver will give you the smoothest and cleanest shave possible.

The Philips Norelco razor will treat your skin with care, even in the most tender areas. The Skin Protection System eliminates skin irritation. The low-friction heads with rounded corners are designed to protect your skin from nicks and cuts as you shave. The shaver has a pop-up trimmer which is perfect for the smallest nooks and crannies of your face. It's very handy to use for shaping mustaches, beards, and sideburns. When the trimmer is not in use, it pops down with a switch underneath.

The Philips Norelco 4500 is a highly functional and versatile shaver that will meet all your expectations and make shaving a breeze. There aren't many extra accessories, and this allows keeping the price for this model down. This shaver is great for quick trims as well as for extended grooming sessions.

With Your Morning Needs in Mind
Shaving is a part of a morning routine for many men and great chances are that almost every morning they struggle a desire to sacrifice shaving time to sleep. And when they realize they can't go out without a morning shave, it often appears that they drastically lack time. In this respect, electric shavers in this concern are a real savior. However, there is a kind of inconvenience about these tools that can spring a surprise on you. If you forget to charge the battery beforehand, in the morning, you might find a "dead" shaver with a flat battery. Most manufacturers offer a quick-charge option that will juice up your battery for a single shave. Philips is not an exception, yet, they go even further. They managed to cut this time almost in half and provide the option of 3-min quick charge. Hence, your shaver will be ready to go while you brush your teeth. That's an especially helpful option for the situations when every second counts.
To round up, the Philips Norelco 4500 is a highly functional and versatile shaver that will meet all your expectations and make morning rituals a breeze. There aren't many extra accessories, and this allows keeping the price for this model down. This shaver is great for quick trims as well as for extended grooming sessions.
Additional Info
---
Philips Norelco AT830/46
Panasonic ES8243A
Sensitive Skin Best Friend
Sensitive facial skin and fast-growing bristle might become a real problem for a man and a challenge for a razor. Since they have to shave more often to maintain a neat look while their skin is more prone to irritations, men with sensitive skin know firsthand how unpleasant and annoying the skin redness, razor bumps, and skin itching may be. For them, choosing an electric razor that will shave clean and safe can turn out a complicated task. Does it sound like you? If so, turn your eyes to a high-quality foil shaver from Panasonic.
Owing to a well-thought design of a shaving head, your skin won't get in direct contact with the blades and will be much less exposed to the risk of damages. A gently curved floating head design will precisely follow your facial contours for maximum grooming comfort. Meanwhile, 4 arc-shaped foils securely cover super sharp blades allowing you to move the blade not only back and forth but also in circular motions similar to those of rotary shavers. Such shaving head design paired with 30-degree honed blades allows cutting the hairs close to the skin. Besides, a high-performance motor yields the speed of 13,000 cpm for a clean and fast shave. In other words, all of this will minimize shaver contact with your skin and, eventually, prevent razor bumps, cuts, and irritation.
It's not a secret that sensitive skin feels better when you shave with gels, foams, and lotions containing moisturizing and soothing ingredients. However, not all electric shavers are suitable for wet shaving. Thanks to its fully waterproof design, the Panasonic can be used for both a dry and wet shave. You can even use it in the shower.
One more feature any user will appreciate about this model is a digital display. Unlike indicator lights found in other razors, an LCD screen will show you when it's time to charge a battery, clean the shaving head or replace blades and foil. Though it seems like nothing special, this smart option is very handy to keep your tool operable and prolong its service life.
Travel-friendly Solution
Whether you plan to spend a holiday on the seashore or head to a business trip for a couple of days, you want to look good during your journeys and be able to follow your habitual hygiene rituals when traveling. The best thing would be to use the same tools you get used to using at home. That's why people prefer devices they can take anywhere. Generally, all electric shavers are portable and travel-friendly. Yet, not all of them are that convenient to travel with.
The Panasonic electric razor was definitely created with a traveler needs in mind. It is distinguished by a compact and slim design, somewhat smaller than other models. An AC charger is also very small and can adapt to any voltage. A protective cap will securely cover the shaving head and there is also a handy travel pouch that will accommodate both the shaver and the charger and will take little space in your travel bag or backpack. If you wear a mustache, a pop-up trimmer will help you neatly shape and detail it wherever you are.
All in all, offering all the benefits of electric razors, the Panasonic Arc4 will deliver a delicate yet smooth shave to a sensitive skin and become a reliable choice for any skin type and almost any beard type, except a really dense stubble where a rotary razor will work better.
Additional Info
---
Panasonic ES8243A
Remington F5-5800
Shaver Type and Usability
This is a foil-head shaver. Remington razor has special F5 Pivot & Flex Foil Interceptor Shaving Technology that provides more efficient shaving. With such technology, you can cope even with the most overgrown beard. For a convenient and comfortable shave, the razor head effortlessly follows the contours of the face.
Additional Options
Remington electric shaver works from battery and mains. A full charge takes 1 hour, allowing you 60 minutes of battery life. If you want quick shave - 5 minutes of charging will be enough. A fast charging option will help you look perfect in any situation. Also, the model has a LED battery indicator for power management. You can be sure, when using this model, your face will be neat and tidy!
Components and Design
Remington shaver has a lightweight body which means you can use it without any inconvenience. Thanks to the comfortable pop-up trimmer you can easily manage your facial hair. In addition, because of ergonomic design, your hands will never get tired. So if you want to look your best, take a closer look at this unit.
---
VIDEO
Review of the Remington Interceptor F5 Shaver
What customers say about this product
I purchased this shaver on a whim - was curious about how well a foil shaver would do, Overall, I really like it!
Its a great size and weight, the flex head is really nice, especially shaving my head. the angles can get tricky, that helps a lot.
The pop-up trimmer is one of the best I've used yet.
The LED light display showing remaining battery power is very slow to creep down. I really likes this feature.
Remington F5-5800
What Is an Electric Razor?
An electric razor is a traditional accessory you'll find in the arsenal of any man. Unlike traditional safety razors, electric razors offer exclusive shaving comfort and quality of shaving. If you've decided to upgrade your old safety razor, you've come to the right page. For this review, we've selected five of the popular electric razors from renown brands so you can choose the best suitable one, depending on your skin peculiarities. We hope this review will make the choice less tricky for you and you'll find out guides helpful.

If you do not know what to give your girl for a present, why not buy her an epilator? All girls go crazy about things like that and if your girl doesn't happen to own one yet, giving her one may be just what she wanted. While if you're looking forward to celebrating something together, a set of fragrant bath bombs may help create a special, truly romantic atmosphere.
What Features to Compare
First of all, you need to decide which Shaver Type you need. Nowadays, there are two types of electric razors: rotary and foil. Rotary shavers work thanks to a rotating circulation of knives, which are located in special shaving heads. This type of electric razor is designed for an uneven, short, thick beard. As for foil shavers - the device shaves bristles with the help of vibrating blades, which are located under the foil head covers. Therefore, your skin is in direct contact with them. As for the safety, it takes a lot of effort to cut yourself with an electric razor. Foil models cope easily with long bristles. In addition, if you have sensitive skin, this model will cause you less discomfort and irritation. When talking about Usability, you need to pay attention to design of the floating heads. If the razor has this design, you can follow facial contours for smoother, more comfortable shave. Moreover, thanks to the floating heads one shave is enough to remove all bristles. Floating heads definitely provide a safer, more comfortable shave.
Also, you should consider the Additional Options each electric razor has. Some shavers for men have a battery indicator or LCD screen. Thanks to this feature, you will know whether you need to recharge the battery before a trip or not. The device can work from both battery or the mains. Also a combination of both options is possible. this feature allows you to use your shave on business trips or journeys. If you use the mains, a voltage function allows you to use different power sources. The difference between accumulator electric shavers is battery life and speed of recharging. The higher these parameters, the better the quality of razor. Some men's shavers allow for both wet and dry shaves. All electric shavers can cope with dry shaving. This method will be comfortable for trips because you have no opportunityto shave properly with foam and warm water. However, a wet method of shaving will be best suited to people with delicate, sensitive skin.
In addition, you need to pay attention to the Components and Design of men's shavers. An ergonomic design will make the shaving process much easier. For example, rubber inserts allow you to comfortably hold the razor, even with wet hands. Additionally, great feature is the additional attachments for various jobs, such as a trimmer. Several electric razors have great functions such as the cleaning mode - you don't need to spend time cleaning your razor.
FAQ:
Q: Electric shavers vs disposable razors: what to choose?
A: Both razor types have their fans and both are still widely used. Yet, there are several indisputable advantages of electric shavers over disposable models:
Though many people think they save money by buying disposable razors, a shaving machine is eventually a much more budget-saving option. With disposable shaving, you will have to replace blades pretty often especially if you have thick and coarse bristle and will have to buy shaving foam, gel or cream on a regular basis. Meanwhile, electric shavers require cutter replacement times less often and are suitable for dry shaving, significantly cutting your expenses on shaving products.
Electric shavers are more comfortable, quick, and convenient. But what's more, they are more gentle on your skin causing less to none damage and irritations. For this reason, shaving machines are highly recommended for people with sensitive skin prone to rash and razor bumps.
Q: What is better, rotary or foil shavers?
A: It's commonly believed that foil electric shavers work better for long hairs and ensure delicate shaving for sensitive skin preventing irritation while the rotary type is optimal for short thick bristle. Some users state that a foil design is closer on cheeks while rotary shavers provide cleaner shaving results on the neck area.
However, today, with manufacturers struggling for top-quality and high-end performance for their products, electric razors come packed with bunches of technologies and smart functions that make both types good enough for any situation. Hence, a lot comes down to personal preferences.
Q: Why does the foil on the shaver wear out fast?
A: If you've noticed that the screens on your foil shaver wear out faster than within a replacement period stated by the manufacturer, there might be several reasons for that:
You're pressing the razor too hard while shaving. It pushes the cutters against the foil wearing out both elements. Reduce the pressure and let the shaving machine do the work for you.
The foil can get damaged as a result of dropping the shaver or banging it into something. When not in use, do not forget to cover the cutting head with a protective cap which usually comes in the package.
If you are shaving longer than 5 minutes, the foil will wear out quicker. Actually, electric razors are initially designed for a quick shave and, as a rule, they really deliver close and clean shave at a single pass.
If you have a heavy beard, the foil will naturally wear out quicker than on a soft beard.
Finally, the lack of cleaning eventually cause foil wearing out since it gets clogged with hair and skin particles. Clean the cutters on a regular basis and they will serve longer.
Q: Is it hard to clean an electric razor?
A: Most electric shavers do not require any specific maintenance and can be cleaned without a hassle. The easiest way is to remove the cutting head and gently tap it to shake away the hair. Some models are designed to be cleaned with running water when the razor is turned off and unplugged, and most come with a special brush to remove hair from nooks and crannies. There are also more sophisticated electric razors which are quickly cleaned inside the storage base.
Q: How often should I change blades and foil on my electric razor?
A: Commonly, the replacement period is specified by the manufacturer in the user's manual. On average, the razor heads and cutters require changing every 12 to 18 month depending on how often you use the shaver and how thick your beard is.
Sources:
1. Ben Slater How to Buy the Best Electric Shaver, Which?
2. Taryn Brooke Everything You Need to Know About Shaving With Electric Razors, CheatSheet. July 03, 2016.
3. How to Shave With an Electric Shaver, wikiHow.
4. Dennis Green Here's why the beard might finally die in 2016, BusinessInsider. January 15, 2016.
5. Facial Hair Trimming: 5 Tips and Tricks for Doing It Well, Birchbox.
6. Matt McMillen What Men Don't Know About Shaving, WebMD. December 17, 2012.
7. Electric razor, Wikipedia. September 6, 2016.