A good seller is always seeking ways to improve their service, and some feedback program is essential. So take a look at our top
5 picks and find the right one for you!
...
Read more
...Read less
Review and Feedback Notifications
Number of Emails Available
X
This site is a free online resource that strives to offer helpful content and comparison features to its visitors. Please be advised that the operator of this site accepts advertising compensation from certain companies that appear on the site, and such compensation impacts the location and order in which the companies (and/or their products) are presented, and in some cases may also impact the scoring that is assigned to them. The scoring that appears on this site is determined by the site operator in its sole discretion, and should NOT be relied upon for accuracy purposes. In fact, Company/product listings on this page DO NOT imply endorsement by the site operator. Except as expressly set forth in our Terms of Use, all representations and warranties regarding the information presented on this page are disclaimed. The information which appears on this site is subject to change at any time. More info
SellerLabs Feedback Genius
Save Your Time
Whether your business is struggling or booming, there's never enough time to take care of all the aspects. So automatization is key, especially when it comes to something as time-consuming as customer relations. The SellerLabs Feedback Genius Automate will help you speed the process of getting feedback from clients and ensure that your communication is both efficient and beneficial to your business.
For example, the program can be scheduled to automatically send out emails to your patrons, asking them to rate some aspects of the service or offering some sort of discount. You won't have to write these yourself as the program has a few templates to choose from. Whether they go out untouched or slightly revised to fit your clientele is completely up to you as there is no limit on editing.
Note, however, that the program does restrict the number of emails you can send. It does go up as you pay for higher tiers, reaching as high as 60,000. But that requires some major expenses, which you might be hesitant to take on right away. We get that completely and recommend trying out the free tier first. It's not going to cost a thing and still offers 100 emails per month, just a little taste of what you can achieve when the program is at full power.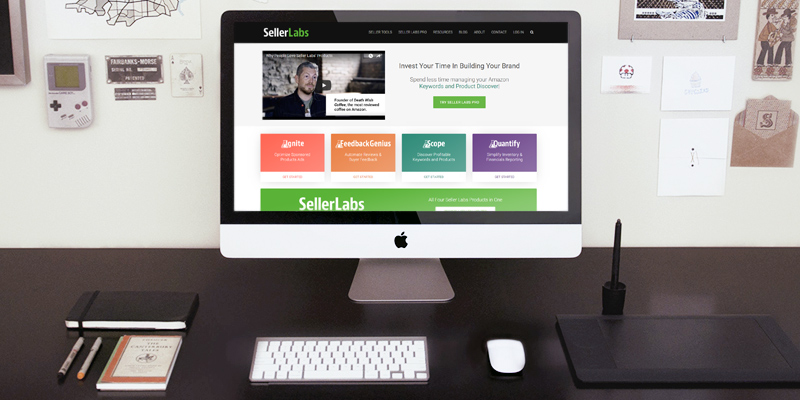 The Road Not Taken
Another cool feature that we definitely recommend taking advantage of is the A/B testing. Using this mode, you can create two similar email templates and send out each version to two separate groups of clients. Then, after the program analyzes the positive and negative feedback percentages, you can determine which works best. This is great for staying in touch with your clientele's needs and wants.
The SellerLabs Feedback Genius works with 8 different Amazon marketplaces, a big plus in our eyes. However, it does require a $10 fee for each additional marketplace, which means you might end up paying $70 more each month if you decide to expand your business worldwide. Still, it's nice to at least have the opportunity for expansion, which the more basic programs simply don't offer.
You also get a feature that can really help you improve your standings with the clients - an instant feedback notification. Should any of the customers leave a review or a comment, you'll get a non-intrusive pop-up that tells you about it. That way you can immediately check it and see if there are any problems. Without this, comments might go unaddressed for days and that'd be a grave mistake.
Worth the Asking Price
Although we're not exactly excited about the high price of the SellerLabs Feedback Genius's services, we can't deny that they are some of the more useful among this program type. We've only had the chance to touch down on the main features but there are plenty more details for you to uncover, including blacklists, filters, and much more. Yes, you'll have to spend a hefty sum to get these features but at least with the SellerLabs Feedback Genius you'll always know that you are indeed getting something vital to your business. It's a high-class Amazon feedback program suitable both for budding and successful enterprises. So save your time and up your customer satisfaction with the SellerLabs Feedback Genius.
---
SellerLabs Feedback Genius
xSellco Feedback Software
Practice What You Preach
We feel like any product that purports to greatly improve your customer service should be offering similarly exemplary customer support as well. After all, you wouldn't go to a dentist with bad teeth and we definitely wouldn't give money to a customer feedback program that doesn't satisfy our needs as a customer. However, the xSellco program managed to please us and pass our strict review with flying colors.
Unlike many of its counterparts, this program offers all possible support options including email, phone, a ticket-based system, and, most importantly, training. Since this may be your first foray into such programs, this can be an absolutely essential feature. After all, you don't want to risk accidentally sending of 5,000 emails made from the same template with a grievous mistake in it. So we do recommend taking a bit of time to get acquainted with the program.
And since we've already breached the subject of templates, yes, you can indeed mass-send emails using one of many premade letters, designed to elicit a positive reaction from the customer. You can also, of course, edit them to add some personal touch to them or make each email a bit more specific for your particular business. If you opt to go for the highest tier, you get as many as 60,000 emails per month, more than enough even for a pretty successful business.
Fits the Standards
Although today we're focusing on a feedback program that offers integration with Amazon, we feel it's important to mention that the xSellco program not only works with all Amazon marketplaces (including all domains) but also integrates with other sales platforms such as eBay and TrustPilot. Unlike some other services, the xSellco doesn't require extra fees to be used on additional marketplaces.
The xSellco Feedback program does offer email scheduling and A/B testing, both pretty useful but not exactly unique. That's something you can find in other similar programs, really. And that's where the xSellco's main weakness lies, in our opinion. Despite being pretty well-rounded and offering useful features, it doesn't have some special feature that truly makes it stand out from the crowd. It's reasonably priced and has great customer support so we can definitely say that it's worth the try. But we still wish that a program that's so convenient to use and offers so many handy features would have some core functionality that would tip the scales in its favor.
Up to the Task
In the end, we have to commend the xSellco Feedback program for excellent customer support, accessible interface, and easy marketplace integration. The reasonable price and broad array of features make it a worthy contender for the title of the best feedback program. However, it's a bit bogged down by the lack of any standout features that you can't get anywhere else. The xSellco does things well but it rarely goes above and beyond. But we do still think that if you want a functional and well-made program - it's certainly worth the asking price. Just make sure you know what you're getting.
---
xSellco Feedback Software
FeedbackFive Software for
Up Your Game
Are you serious about turning from a regular Amazon seller to a serious entrepreneur with an ever-expanding business? Then you should be looking for a program that does more than simply managing your customers' feedback and prompting them to leave reviews. Something like the FeedbackFive program, built to help manage a big business with potential expansion into multiple marketplaces and stores.
For example, the program lets you manage billing and order for multiple stores with up to 5 freely available simultaneous projects and a $10 flat fee for each additional one. This perk comes if you opt for the higher tier, which also leaves the number of email marketing campaigns unlimited. If you're willing to spend money, you could use the FeedbackFive to manage a whole empire of stores though we, of course, recommend starting small first.
Speaking of starting, the program offers a simple and highly useful tutorial when you first launch it and we do recommend taking it. Even if you've used feedback programs before, there's a chance that it lacked many functions that the FeedbackFive makes available. Besides, if you do plan on expanding and managing multiple accounts, take all the help you can get.
Overshadowing Competition
We were also genuinely stunned when we saw the maximum number of emails that the FeedbackFive offers at its highest tier. No other program even comes close to this program's whopping 1,000,000 emails. We do admit that this may be overkill at first but that tier and the high number are specifically aimed at booming businesses that are growing day by day and want to expand their reach on Amazon. It's important to note that such a level also has a pretty steep price but you can customize a few of the functions (namely, curtail the number of emails) and get a big discount, which brings the FeedbackFive down to the price-tier of most other programs but leaves it ahead in terms of functionality.
There were only a couple of things that genuinely soured our impression a bit. First is the very limited number of email templates, which means you'll either have to get some marketing writers to compose your campaigns or flex your own skills. Second is the interface, which isn't outright clunky but still not as eye-pleasing as the ones we've seen from the program's competitors. But, as you can guess, these are pretty minor issues in the grand scheme of things, easily overshadowed by the program's features.
Prepare for Takeoff
So if you've got serious plans for your business and envision some growth in the future, the FeedbackFive is a good pick. It's made to grow along with your business, capping out at an insane million of emails per month, more than enough even if you make it big and become one of the top sellers on Amazon. The program is capable of running marketing campaigns for your and keeping feedback pouring in thanks to efficient customer communication. We do wish that the number of templates was higher and the interface was a bit less clunky but those are minor gripes against a legitimately great product. While it may be overkill for small businesses, it's a treasure for an entrepreneur planning on getting their business off the ground and straight into the top ranks of Amazon.
---
FeedbackFive Software for
ZonMaster The Amazon Seller's Assistant
A No Strings Attached Sample
Want to dip your toes into feedback automation and see if it's something that could benefit your business? We'd say it's absolutely worth it but a trial run never hurts, that's for sure. So go ahead and try out the ZonMaster Amazon Seller's Assistant. Its trial run is one of the best we've seen because it not only starts you off on a high tier with improved functionality but also doesn't require any credit card info. While we're not scared at the idea of inputting the information when prompted, it's nice to see that the program doesn't try to snare you in by trying to immediately charge you after the trial runs out.
So what do you get when you sign up for the ZonMaster Amazon feedback program? Well, if you're ready to spend a reasonable amount, you receive up to 100,000 emails per month, perfect for reaching a wider audience, though small businesses should probably opt for a lower tier. Speaking of which, if you're somewhere in the middle and want more than the minimum but don't feel like going all out, do contact the program's support team as they can help set up a special personalized tier with a set number of emails. That way the feedback program caters to your needs without forcing you to pay more than you should.
You also receive a huge number of email templates, a valuable tool for starting a marketing campaign on Amazon and soliciting some feedback and Amazon reviews from your customers. You never know, a single email might just prompt them to leave a positive review, upping your rank and, potentially, bringing in more business.
High on the List
The ZonMaster program also offers alerts for all feedback types, though you can set it to only warn you if any negative reviews or comments are posted. That way you can keep track of poor feedback and ensure that the customer is satisfied and the problem is resolved. Alternatively, if you suspect that the reviewer is just going around trying to purposefully badmouth your products, you can use the program to confirm your suspicions via an analysis of the customer's feedback history. If the poor reputation does get confirmed, don't hesitate to put that reviewer on the block list, preventing their submissions from harming your content further.
All of these features are obviously great but one aspect where the ZonMaster still has a bit of work to do is stability and performance. We've seen some complaints about the program crashing or glitching out in the middle of sending a batch of emails. However, the Amazon integration is excellent and we personally experienced very few bugs so your mileage may vary. The program is updated regularly anyway so you can always contact support about any issues and resolve them pretty timely.
Chief Among Its Peers
Although there are a few minor flaws that prevent us from calling the ZonMaster feedback program the absolute best, it's certainly worthy of your time and money and still one of the top choices. First off, it's highly customizable, tailored to match your experience and satisfy. Plus, the program has most of the functions offered by competitors but doesn't charge as much to get access to them. If you're working on a budget and feel hesitant to pay for a high-end Amazon feedback program, the ZonMaster is a great middle-ground. It combines affordability with functionality and ends up a solid mid-range pick.
---
ZonMaster The Amazon Seller's Assistant
Feedbackwhiz Feedback Repair Management
Unlimited Feedback Requests
Already got a pretty big Amazon store and want to keep expanding your empire? A regular Amazon feedback program might not be enough to do that considering that they often have some strict confines to work in. However, the FeedbackWhiz management program will help you connect with your customers and improve your reviews.
The standout point here lies in the fact that no matter which pricing plan you choose when using the FeedbackWhiz Amazon feedback program, your number of emails per month will be completely unlimited. That way you can launch huge marketing campaigns or work on several projects that require a feedback program without having to pay overage fees.
You do, however, get a limit on the number of ASINs tracked so if you're selling a lot of different products, it might be worth it to go for a higher pricing plan. However, we have to say that it's actually pretty much your sole incentive to do so as the plans are nearly identical otherwise. That's a double-edged sword though as you can save money on your Amazon feedback program if your business is still small but you'd have to spend quite a bit if you've got a large number of different products in your stock. It would be nice to have some bonuses to go along with the high pricing plans as an incentive. Even some new Amazon integration tools would probably do the trick.
Increased Promotion - Increased Feedback!
We all have received promotional emails before and we can probably agree that most of them seem samey and boring. However, the FeedbackWhiz program will help you spruce up your campaign thanks to its templates. They can include gifs or emojis, creating a more personal and easygoing tone, which makes the campaign more likely to click with your Amazon customers and elicit some positive feedback.
If you're hesitant and can't decide which campaign to launch on a larger scale, go for A/B testing, which is also available here. But its capabilities are increased thanks to the aforementioned unlimited emails. This way you can conduct analysis constantly and create the perfect feedback request via trial and error. Though we do hope it's more success than errors, especially since you have the reliable FeedbackWhiz on your side.
The program also provides you with graphs that depict how much feedback you got in the past week or month and how many emails you've used. It's also a nice way to see how effective your campaign has been. You can literally see the feedback statistics grow as you use FeedbackWhiz program and improve your business's standings with the customers.
Stands Out in the Crowd
Even if the higher tiers might only really be worth it for people operating huge companies, the program is still excellent enough even on the lower pricing plans. We simply can't argue against unlimited emails being a good thing and they're backed up by enough cool features that the FeedbackWhiz Amazon feedback program easily shoots up to the top 5 pieces of software of its kind. Besides, the pricing is actually quite affordable compared to many other programs we've reviewed. So if you want to break free of the email limits imposed by the FeedbackWhiz program's competitors, don't hesitate to give it a try.
---
Feedbackwhiz Feedback Repair Management
What Is Feedback Software?
If you want your Amazon business (or any sales enterprise, for that matter) to become more successful, researching the customers and their preferences is vital. But an independent business owner has enough on their plate without spending hours conducting surveys and rifling through comments to find some useful info. That's exactly where the Amazon feedback program comes into play. These handy programs help you accumulate and browse the accumulated customer responses including surveys, comments, and reviews.
Of course, they also give you a way to quickly get in touch with the clients, offering mass email sending. Plus, many of these integrate with Amazon seamlessly and create new prompts for the customers. These are designed to nudge the buyer towards actually leaving a comment, which can be highly beneficial to a budding business. Afterward, the system also monitors reviews left by customers on Amazon so you can react immediately if someone posts a praising or scathing take on your products.
We do think that simply following the feedback might not be enough to get to the top so don't hesitate to take advantage of some other useful tools like the rank tracking programs and listing services.