For this review, we've selected electric oral care products by the famous and reputable Philips brand. We offer you a look at the
best five models of Philips electric toothbrushes that are capable of keeping your gums healthy and teeth white and shiny, while offering you a great comfort of use.
...
Read more
...Read less
Philips Sonicare DiamondClean (HX9903/01)
Removes More Plaque
The Philips Sonicare DiamondClean is a top-notch product when it comes to removing plaque from your teeth and providing complete care of your oral cavity.
Completed with three cleaning heads, this electric device will make the overall condition of your mouth much better in no time at all. After just two weeks of regular use, you will notice the first improvements.
Your gums will become much healthier with the help of the Premium gum care brush head. Using the Premium white brush head, you can remove all the coffee and tea stains from the surface of your teeth and make them much lighter in just a couple of days. Last but not least, the special cleaning head for plaque removal adjusts to the form of each tooth and provides close contact to the surface. Thus, your teeth enamel will be completely stainless and it won't take you a long time to get there.
The brush is also able to work in four modes and has three intensity levels. The Clean mode is perfect for everyday use, the other ones will be suitable if your mouth needs extra care. It is recommended to combine a specific brush head with a corresponding mode for better results.
You will notice all the advantages of the Philips Sonicare DiamondClean in the shortest period of time. This model might be somewhat pricey, but it is definitely worth its price.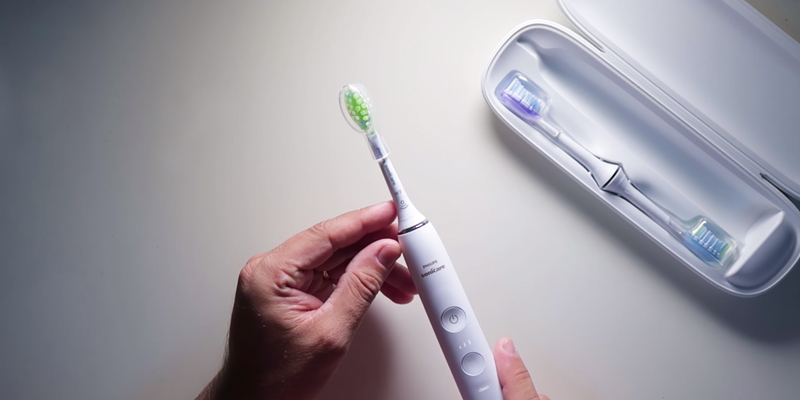 Additional Info
---
Philips Sonicare DiamondClean (HX9903/01)
Philips Sonicare ProtectiveClean 6100 (HX6871/49)
Quick Results
If you need an electric feature-packed toothbrush for efficient teeth whitening, we recommend trying the Philips Sonicare ProtectiveClean 6100. This unit has a significant advantage over the manual toothbrush. To begin with, you will be able to notice that your teeth become lighter in just one week of everyday use. It comes with a W-shaped DiamondClean Brush that effectively removes stains and plaque from your teeth and makes them significantly whiter.
Like many other electric toothbrushes, this model from Phillips is pretty customizable. It has 3 intensity settings and modes for cleaning, whitening, and gum care. You can combine the settings in different ways so that the brush will perfectly meet your needs.
This electric tool is also fitted with pressure control sensors that help protect your teeth and gums. That's why this model will suit users with sensitive teeth.
Next, to always keep your brushing routine efficient, the manufacturer equipped this model with a BrushSync reminder. Thanks to that, you won't forget to replace your brush head when it wears off.
The set of this electric unit includes a travel case. Same as the brush, it comes in 3 color options: white, pink and navy blue. We wish, though, that the case would have a better quality because it doesn't close tightly. That's why this model may not be the best option for traveling. Other than that, we could find no major flaws in this device.
So, if you want an electric toothbrush for quick teeth whitening, the Philips Sonicare ProtectiveClean 6100 should be your top choice. You can customize it the way you want, plus it will serve you for 2 weeks on a single charge.
---
Philips Sonicare ProtectiveClean 6100 (HX6871/49)
Philips Sonicare ProtectiveClean 4100 (HX6817/01)
Gentle Cleaning
The Philips SoniCare ProtectiveClean 4100 is an electric toothbrush that will take care of your teeth and gums gently and effectively. This little device comes with a number of built-in sensors which control the amount of pressure you put while cleaning and inform you in case it is too harsh. Thanks to these sensors, you won't damage your enamel and harm your gums.
Combined with the Easy Start program, which helps you gradually get used to the brush and slowly increase the power, this tool is perfectly suitable for those who have never used electric toothbrushes before. It is easy to use and comes with one cleaning mode, which is just enough for your average day-to-day use.
Though the advantages of this model don't end with that. It is completed with Brush Sync technology that controls the condition of the cleaning head. Since they have a tendency to wear over time, this feature will monitor how long you've been using one and when it is time to change it. Hence, the cleaning process will become even more hygienic, just remember to keep an eye on the light indicator on the handle.
In conclusion, this rechargeable tool from Philips will be a right choice if you need a simple yet effective electric toothbrush for your everyday needs.
Additional Info
---
Philips Sonicare ProtectiveClean 4100 (HX6817/01)
Philips Sonicare ProtectiveClean 5100 (HX6857/11)
Improve Your Gum Health
Looking for a functional device for effective and careful teeth cleaning? If so, then Philips SoniCare ProtectiveClean will fit you to a tee. This model comes with a few convenient features to make your cleaning process quicker and more thorough.
For starters, thanks to the Smartimer feature, you will be informed when you have brushed your teeth for two minutes, which is considered to be the optimal time. Plus, the Quadpacer will monitor if you spend the right amount of time on each part of your mouth. This model comes with three modes (Clean, White and Gum Care) for everyday cleaning, removing stains from enamel, and additional gum treatment.
Combined with the G2 Optimal Gum Care head, this electric device carefully removes the plaque along the gumline, which helps make your gums much healthier. The only real drawback of this model is that the power button is rather sensitive, so you ought to be a bit more careful while cleaning your teeth in order to avoid accidentally pressing that button.
In short, the Philips Sonicare ProtectiveClean 5100 is a rechargeable toothbrush that guarantees effective and complex cleaning of your mouth. Thanks to the ergonomic handle, the cleaning process will become a lot more comfortable and convenient.
Additional Info
---
Philips Sonicare ProtectiveClean 5100 (HX6857/11)
Philips Sonicare Essence (HX5611/01)
The Essential Care
This brush is your top pick if you are in need of an affordable yet simple in use device. The soft grip of this Philips Sonicare Essence Electric Toothbrush allows for a comfortable hold. The smooth bristles of its brush head are arranged in such a way as to contour the natural shape of your teeth while its angled neck provides access to hard-to-reach places and to deliver a thorough brushing experience. Similar to all other electric toothbrush models from the Sonicare series, the Essence supports the patented Sonic Technology with its dynamic action that allows toothpaste particles to reach deep between teeth and spread along the gumline. The Sonic Technology enables the Essence electric toothbrush to remove up to 2 times more plaque than manual toothbrushes.
Providing comprehensive oral care, the Essence has undergone clinical testing and was proven safe and gentle not only to your teeth, but to braces, dental restorations, and even periodontal pockets. In addition to plaque removal, this electric toothbrush model also helps whiten your teeth.
This Philips Sonicare Essence Electric Toothbrush is one of the more budget-friendly models, however, it shares all the most advanced features with the high-end tools. It is the perfect simple option for everyday use.
Additional Info
---
What customers say about this product
This is a great product my whole family uses the Sonic tooth brushes.
The brush head size is perfect for my mouth, and makes it easy to get to my molars.
The timer feature is very nice and lets you know you have done a complete cleaning.
Philips Sonicare Essence (HX5611/01)
What Is an Electric Toothbrush?
An Philips electric toothbrush, as the name states, is a portable device that contains a toothbrush head and a small battery-powered electric drive to move it, which are assembled in a single case. When turned on the drive transfers movement to the head setting it into a sweeping motion that is similar to small strokes, which we perform when cleaning teeth with a toothbrush.
These devices have a lot of advantages over manual brushes. While all the electric toothbrushes share the same principle of operation, they may offer different cleaning modes with different head movement trajectory and amplitude. With their electric motor drives different Philips electric toothbrush models also offer different options as of battery charging, as well as different extra features. These extra features are usually related to the technologies of teeth and gums cleaning and care and means of keeping the toothbrush itself clean and operable.
We would like to recommend you check out our top five picks of Philips electric toothbrushes. Approved by dentists, they are known as reliable and durable devices.

Best Philips Electric Toothbrushes 2017