Today an electric toothbrush has proved to be much more efficient than its manual counterpart. Not only does it combat plaque and
calculus more effectively but it also takes the strain out of toothbrushing. In our review, we represent the five top-selling models from a popular Oral-B brand to keep your teeth white, gums healthy, and smile shiny.
...
Read more
...Read less
Oral-B Pro 7000
Customize Your Brushing Experience With a Professional Brush
Whether you choose your first electric brush or you want to replace your old one with a more sophisticated model, you won't go wrong with the Oral-B Pro 7000. This one-of-a-kind Smart Series toothbrush by Oral-B has all the functions and features for thorough dental care. 
The toothbrush operates with 3D cleaning action, oscillating, rotating, and pulsating to break up the plaque in the most efficient way. It comes complete with three interchangeable toothbrush attachments - a CrossAction head for daily use, a special attachment for sensitive teeth and gum care, and a whitening attachment. With 6 operation modes, you can easily customize your brushing experience to daily cleaning or some specific needs.
Modeled after professional dental cleaning tools, this model offers Bluetooth connectivity with your smartphone via a free Oral-B app where you can receive many useful tips and get a feedback on your brushing habits.  
Pros:
Special tongue cleaning mode for fresher breath;
Three brush heads, each having different intended use   

Additional Info
---
What customers say about this product
Love that there are a variety of settings for the speed of brushing.
I love the feel, the size, the job, the indicators, the battery life, the case, everything about it.
The brush is very powerful, but the built in smart technology is great.
It holds charge so well so you don't have to constantly charge.
The timer and accessories that come with it are amazing.
Oral-B Pro 7000
Oral-B Pro 5000
Floss-like Brushing for Better Results
The Oral-B 5000 Pro is one more model in the range with Bluetooth connectivity that allows a customized brushing experience. Once you download a free Oral-B App, the brush will connect with your phone to provide you with tips and recommendations on your brushing habits.  
Just like other SmartSeries toothbrushes, the Oral-B 5000 operates with 3D oscillating action for 100% efficient plaque removal in several brushing modes to cater to different cleaning needs. For your convenience of use, the brush features an in-handle timer that vibrates every 30 seconds reminding you to move to another quadrant of your mouth and a light pressure sensor that instantly stops rotation of the bristles if you press the brush head too hard. 
What stands the Oral-B 5000 Pro apart from many other models, though, is the Floss-Action brushing head that comes surrounded with MicroPulse bristles for superior interdental cleaning results. These bristles can slip far deeper between the teeth, removing more plaque and dental debris than any manual toothbrush could ever pick up. And even though the package includes only one brushing head, you will still be able to use it with any other Oral-B brush head refills.
Pros:
Floss-like clean for healthier gums;
Special refill head storage to accommodate a variety of brushing heads.
Additional Info
---
What customers say about this product
The rotating disk of bristles are much preferred by me.
It is such a hard place to get at, but the round head is the perfect size.
You can watch the timer on your phone, which helps when you're first getting used to it, and it stores the times you brushed and for how long, and, after setting it up before hand, you can tell it if you flossed and cleaned your tongue.
A full charge from zero is an overnight process and will last me well over a week, perfect for extended business travel.
Oral-B Pro 5000
Oral-B Pro 1000
Bring Your Tooth Brushing Experience to a New Level
If you look for a simple, compact and yet efficient electric toothbrush to enhance your brushing experience or replace your manual toothbrush, the Oral-B 1000 is for you. Even though it operates in a single Daily clean mode, its 3D movement ensures that the bristles can get in all hard-to-reach areas to remove plaque and food debris stuck between the teeth and along the gumline. 
In the package, you will find a rechargeable toothbrush handle with a LED battery charge indicator, a charging station compact enough to fit even small bathroom shelves, and a CrossAction brushing head with angled bristles specifically designed to remove up to 300% more plaque. 

Despite quite a simple design, this brush doesn't lack conveniences of more expensive and elaborate models. With the Oral-B 1000, you will not ever run a risk of overbrushing. Designed with a special pressure sensor, this brush will not only alert you of too intense brushing but will stop the pulsations so that you don't hurt your gums. 
Pros:
Simple yet well-thought design;
One-of-a-kind pressure sensor.

Additional Info
---
What customers say about this product
The head speed seems to be about three times what the old one was. My teeth feel even cleaner now than before, which doesn't seem possible.
Love this toothbrush! It is just the right size and cleanse my teeth perfectly for an all day clean!
The built-in timer is also nice to let you know when you've brushed long enough.
My wife picked this out and loves the longevity of the charge.
Oral-B Pro 1000
Oral-B Vitality Floss Action
Buy One Get Two
Looking for a brush not overpriced but effective for two of you? Look no further! The Oral-B Vitality offers the power and efficiency of premium-class models at a fraction of the cost. The toothbrush is quite small, convenient to hold in hand, and very easy to control with a one-touch on/off button. The rubber inserts on the handle ensure a firm grip even in wet hands. The charger included in the set is not much bigger than the brush itself. It will easily fit a bathroom shelf of any size. 
The oscillating action of the brush is strong yet not overpowering. The MicroPulse bristles that cover the brush head help not only brush but also floss between the teeth, removing much more plaque than you could extract with a regular brush or even a toothpick.  
Fitted with two toothbrush heads, this model is a great choice for a couple. Besides, it is compatible with the majority of Oral-B brush heads; if the included two heads seem not enough, you will always be able to get more, due to your needs.
Pros:
The best quality-to-price ratio;
Two brush heads to meet the basic cleaning needs of a couple.

Additional Info
---
What customers say about this product
I like that they reduced the size of the charger base and now have just a single button to turn it on and off. It's also easier to grip than my previous model.
The speed is very good and it is not at all loud in its rotations.
Works really well. I like the timing feature. My teeth never felt this clean with a manual toothbrush.
Replaced an old rechargeable toothbrush and this one is even better. I like how long the charge lasts and the round brush head is better for brushing.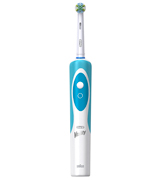 Oral-B Vitality Floss Action
Oral-B Frozen
Ecnourage Your Child to Develop Proper Brushing Habits
It's not a secret, children hate brushing teeth. Boring and unpleasant, brushing takes time and requires following certain techniques. With the Oral-B Frozen Electric Toothbrush, however, you can make this routine less stressful and boring for your kids and help them develop proper brushing habits. 
Specifically designed for kids, the toothbrush features an ergonomic handle and a Sensitive Clean toothbrush head for gentle brushing experience. In addition, it has a built-in timer to count down the dentist-recommended time. The brush is waterproof and compatible with different refill toothbrush heads beside the two that come in the set. 
Make sure to download the Disney Magic Timer App on your phone to make brushing for your kid more entertaining. With the phone in hands changing the images of Disney characters one by one on the screen, your little one will be motivated to brush longer, trying to capture and see them all. In the same app, you will also find a calendar to track your kid's progress. Excellent!
Pros:
Well-thought ergonomic and compact design for kids; 
A special app to turn boring toothbrushing into fun.
---
What customers say about this product
It also seems to me that this one has higher speed or energy than my old one. I highly recommend it.
Perfect size for our 4 yr old. She likes using it.
Plus I know my child brushes his teeth for 2 minutes because of the timer.
The battery lasts a few days and charging it presents no challenge.
Oral-B Frozen
What are Oral-B Electric Toothbrushes?
As its name suggests an electric toothbrush is a power-driven device that consists of a toothbrush head, similar to that of an ordinary manual brush, and a battery-powered electric unit actuating the head. Normally, it is compact, lightweight, and very portable. Performing sweeping stroke-like motions, electric toothbrushes can quickly clean teeth surface from plaque, remove food debris stuck between teeth, and gently massage gums improving blood circulation.
Procter & Gamble is one of the leaders in this industry. It produces a wide range of both sophisticated and more simple electric toothbrushes under the Oral-B brand, which quality and efficiency are widely appreciated by people around the world. The company uses the latest innovations and advanced technologies to produce products that would cater to the needs of a vast majority of users and make a daily dental routine as easy and enjoyable as possible. 
However, according to dentists, brushing teeth alone is not enough to maintain oral health. Brush bristles simply can't get deep enough between teeth and in hard-to-reach areas. That is why you will also need to add a water flosser to your oral care arsenal. 
Best Oral-B Electric Toothbrushes 2017