Everyone wants to be healthy and look good. Of course, your smile is an important part of your appearance. If you want to be healthy
and attractive, you should buy such a device as a water flosser. For this occasion, we have picked the best water flosser devices available today, so you could pick the one that suits your needs and teeth.
...
Read more
...Read less
X
This site is a free online resource that strives to offer helpful content and comparison features to its visitors. Please be advised that the operator of this site accepts advertising compensation from certain companies that appear on the site, and such compensation impacts the location and order in which the companies (and/or their products) are presented, and in some cases may also impact the scoring that is assigned to them. The scoring that appears on this site is determined by the site operator in its sole discretion, and should NOT be relied upon for accuracy purposes. In fact, Company/product listings on this page DO NOT imply endorsement by the site operator. Except as expressly set forth in our Terms of Use, all representations and warranties regarding the information presented on this page are disclaimed. The information which appears on this site is subject to change at any time. More info
Waterpik WP-663
Designed for the Whole Family
The people at Waterpik know a thing or two about how to make a great water flosser and this WP-663 model is not an exception to their list of flagship devices.
The unit is optionally available in 9 different colors so you can definitely find one that suits your bathroom the best. The size, on the other hand, makes this stationary flosser a bit inconvenient to use, especially if the bathrooms in your house are rather small.
Moving on, the advanced pulse technology implemented in this flosser model allows for better gum stimulation. On top of that, the higher number of speeds allows for comfortable flossing for every member of the family.
Ideal for cleaning braces, implants and the spaces in-between, the WP-663 can easily remove plaque and food debris even on the lowest water pressure settings. Alternatively, if those are not enough, you can always crank up the water output level to increase the flossing effectiveness.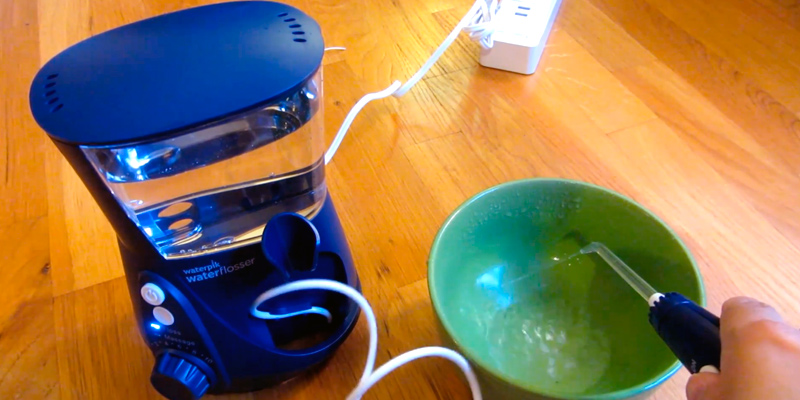 An Essential Home Flosser Model
Since the WP-663 is a stationary model it doesn't have a battery. Fortunately, the kit comes equipped with a high-quality power cord that can be plugged into any conventional power outlet.
To turn the device on, however, you will need to press two buttons one after another. Otherwise, the flosser simply won't run any water through it. The first power trigger is located on the base of the flosser, while the second one sits on the unit's handle.
Furthermore, this model has a 22-oz water tank, which should suffice for up to 3-4 flossing sessions. For added convenience, you can always adjust the water pressure level as well as the timer for quick flossing. The built-in 1-minute timer can be set using a special 30-second pacer, which saves you from manually disabling the device each time.

As for the tips, the kit includes three classic jet tips designed for day-to-day flossing, one orthodontic tip, and one Plaque Seeker tip designed specifically for removing the excessive plaque. In fact, when used alongside regular cleaning methods, flossing enables removing up to 90-95% of the plaque especially when used regularly.
For your convenience, the flosser is equipped with an LED information panel that shows the chosen flossing mode. The LED lights themselves are fairly bright so you won't have any trouble reading the panel. The modes, on the other hand, include regular flossing as well as the Hydro-Pulse massage designed to stimulate your gums and clean them in a gentle way.
Wrapping things up, the Waterpik WP-663 is simply the best oral irrigator for the whole family that you can find on the market today. Versatile and highly powerful, it will turn your flossing routine into a quick and pleasant activity.

Additional Info
Last updated price

$

0.00

Stock
May be out of stock
ASIN

B072JFVXSY
---
Waterpik WP-663
Zerhunt Water Flosser
Adjust How You Want
This cordless water flosser from Zerhunt has all it takes to be a great solution for day-to-day dental and gum care for the whole family and not solely because of the number of tips included.
First of all, this water flosser from Zerhunt features three different speeds that determine the water pressure level. The highest speed option can be rather intense for some users, so we recommend going from the lowest one first to figure out which one of the three works best for you without making your gums or tongue uncomfortable. On top of that, it is preferred to use warm water to avoid possible gum or tooth pain. The reason for that is the combination of high pressure and cold water can lead to minor damage to soft tissues inside of your mouth that may not be painful but can be quite uncomfortable.
The water capacity of 10 oz makes it easy for a family of three to floss their teeth once before needing to refill it. Additionally, a water tank of this volume will be more than enough for one person to floss for two days straight. As for the refilling of the tank, there is a special opening that you can use to pour the water into without detaching the tip of the device itself. Alternatively, you can remove the tip to fill the tank from the top a little bit faster. The tank can be cleaned with relative ease by detaching it from the main unit and washing it with a light, non-toxic cleaning liquid.
Easy to Use, Easy to Wash
Additional flossing modes, on top of the standard change of intensity, include a water pulse mode that can shoot up to 1700 pulses per minute. This feature will be convenient for users that need an extra means of dealing with food debris in the oral cavity. What is more, the pulse mode makes cleaning of the oral cavity a real breeze for people with braces.

The method of powering this flosser includes a built-in lithium battery with 1400 mAh capacity, which should be more than enough to use the tool up to one week straight even if the whole family utilizes it twice a day. As for the protection of the battery and electrical components, the device features an IPX7 waterproof housing that will prevent any spills from getting inside. This also applies to all the connections while the device is not charging.
All in all, this updated water flosser from Zerhunt is one of the best deals you can get at a reasonable price. A great combination of a sizeable water tank, rechargeable battery, and additional tips make it a universal model for the whole family that will definitely find its place in your bathroom.

Additional Info
Last updated price

$

35.95

Stock
In stock
ASIN

B079ZZMTS7
---
Zerhunt Water Flosser
iTeknic Water Flosser
Floss Throughout The Week Without Issues
The iTeknic is a great water flosser that can compete with some premium stationary flosser products when it comes to flossing quality. But what does this particular device have that makes it so different from fully-fledged devices? The answer is simple: unlike other portable dental care tools of previous generations, this oral irrigator from iTeknic features a built-in, rechargeable battery instead of regular AA batteries. Moreover, a special power-saving function allows the device to conserve power when it's not in use. This way, a simple 1400 mAh battery allows for using the tool for 10 days while flossing your teeth regularly. The battery can be easily recharged in just a few hours using the USB cable that comes together with the flosser.
The additional features of this model include five flosser tips, making it a great model for the whole family since they are interchangeable and can be washed with ease. The tip set includes three regular jet ones, a tongue scraper and an orthodontic tip. While the jet tips are meant for everyday use, the tongue scraper and orthodontic tips will come in handy for occasional use or in case you are prescribed to use them by your dentist.
Flosser tips aside, let's take a closer look at other features of the water flosser. Just like any other model, this device can be utilized in three different modes that you can switch with handy buttons on the side of the housing. The combination of multiple intensity modes and a 360-degree rotatable nozzle makes it quite versatile when it comes to actually cleaning the oral cavity.

Effectiveness at Its Best
In case the maximum intensity water flossing is not enough for you, the tool also has a special pulse model that can easily clean food debris from the areas between the teeth. The pulse frequency that can range from 1400 to 1800 times per minute will definitely make a change for the better. This mode also massages your gums and tongue. The only downside of the product is its water tank; you will need to refill the water tank quite often in case you want to use this model as a flosser for the whole family. Even though the 10-oz water tank is not small, the amount of water used for one flossing session is quite large so it is important to keep that in mind.

As for the maintenance, the 1-year warranty that comes together with the product can be extended up to 1 extra year if you register the flosser at the iTeknic official website. This makes this flosser a great investment for your dental care kit.
In the end, the iTeknic water flosser has proven to be one of the most affordable and effective models for the whole family. So, if you are looking for an entry-level model for daily use, make no mistake, this is one of the best bargains on the market.
Additional Info
Last updated price

$

0.00

Stock
May be out of stock
ASIN

B07H26JCSQ
---
iTeknic Water Flosser
MOSPRO [TH-1] Rechargeable IPX7
An Upgraded Classic Model
Trying to find an oral flosser that can boast good capacity and be highly portable at the same time can be a daunting task. Luckily, MOSPRO has something to offer that may be one of the best irrigator models for family use that you can find in the medium price range.
First things first, MOSPRO offers an upgraded professional water flosser that is great for family use. Coming with four color-coded tips, it can help both adults and kids maintain their oral health. It boasts three flossing modes (Normal, Gentle and Pulse), so it easily meets various oral care needs. The soft setting, for example, will likely become a preferred setting of smaller users. It'll gently wash away plaque and bacteria from small mouths, providing healthier gums and brighter teeth. The 7 tips included in the package consist of 3 classic jet tips, a tongue cleaner, a dental plaque tip for general cleaning, as well as orthodontic tip and periodontal tip that works well on cleaning braces.
Moving on, the appliance has a 360-degree rotatable nozzle design that makes it simpler to prevent tooth decay, plaque, calculus, and dental hypersensitivity. In addition to that, the rotatable nozzle is just convenient especially for reaching tricky areas and removing the food and plaque particles between the teeth.
Simple in Use
Another thing that we really liked about the MOSPRO flosser is that it's made with an upgraded removable water tank. That is to say, now it has a full-opening design for easy cleaning and refilling. Moreover, the tank is also detachable, making it very convenient to scrub off limescale and bacteria build-up. You can either unscrew the reservoir from the pump or fill it from the side port, which is impossible for most common oral irrigator devices. Furthermore, the flosser is shipped in a nice little pouch, which makes it easier to transport during your trips. The box also includes a charging cable that can be connected to any modern gadget that features a USB port. Conversely, you can use any USB power adapter that can be plugged into a power socket. A full charge takes four hours and delivers 7-10 days of use, which is quite nice, considering that it will only take a couple of hours to recharge.
Finally, the MOSPRO TH-1 is a perfect irrigator to travel with your family due to its compact size and convenient design. It can help both adults and kids maintain good oral health in any corner of the world thanks to the addition of a rechargeable battery to an already great design.
Last updated price

$

0.00

Stock
In stock
ASIN

B0773CB6FZ
---
MOSPRO [TH-1] Rechargeable IPX7
iTeknic [IK-PCA004] Professional
A Wide Range of Settings
The iTeknic IK-PCA004 professional water flosser is, by all means, a great appliance for taking care of your oral cavity in a convenient and efficient way. However, let's back up this statement with some features first, shall we?
The controls of the appliance are fairly rudimentary yet convenient at the same time. The front panel of the flosser features a dial that you can turn to change the output intensity of the water jet. Right out of the box, the device features 10 preset pressure settings that can deliver water in the range of 30 to 125 psi. Changing the intensity is smooth enough for you to not even notice it, however, we don't recommend cranking the dial all the way from the first to 10th gear to avoid malfunctions.
On top of the dial, the tip holder features a smart power toggle that enables quick pressure adjustment and turning the device on and off on a whim. In addition to high-pressure water output, the flosser is capable of producing a jet pulse that can be tweaked to work in a range of 1250-1700 pulsations per minute.
Dials and buttons aside, let's take a quick glance at what's under the "hood" of the flosser. Equipped with a 20-oz water tank, this model from iTeknic can work for 3 minutes straight before the tank needs to be refilled. For easy refilling, the top lid of the tank can be opened and removed at any given moment, although the mechanism is a bit flimsy
Great for Multiple Users
Despite its stationary design, the overall weight of the flosser with an empty tank is just 1.6 pounds, which makes it easy to carry around whenever needed. For added stability, the bottom side of the device features special suction cups that won't let it tip or rollover during use. Likewise, the tip holder is connected to the flosser via a long water hose, which makes using it easy and connecting it to a power socket a simple task. To be more precise, the overall length of the hose is 3.2 feet which should provide plenty of room for comfortable flossing in front of the mirror.
Similar to the other models included on our list, the iTeknic IK-PCA004 has a 360-degree rotating nozzle, which paired with a wide range of power settings enables an almost effortless flossing experience for every family member. That's why the package includes not 3 or 5 but 7 flosser tips that can accommodate up to 3 people. These include the regular jet tips for daily use, a tongue cleaner, a dental plaque removal tip, as well as orthodontic and periodontal tips (one of each).
All things considered, this flosser from iTeknic has proven to be an excellent model for the whole family. Big, powerful, and simply fun to use, it turns flossing into an almost pleasant activity and if that doesn't make it good we are not sure what does.
Last updated price

$

35.99

Stock
May be out of stock
ASIN

B07H28F2J6
---
iTeknic [IK-PCA004] Professional
Infographics
---
What Is an Oral Irrigator?
Although flossing is a simple and quick way to take care of your oral cavity, picking the right flosser device can be a bit dazzling. The regular flossing routine consists of cleaning out plaque and bacteria between the gumline and teeth under the water pressure. Additionally, the standard flosser appliances (that are also called oral irrigators) can help you clean your mouth of food particles. Some irrigator models can also perform a massage of the gums to improve their condition and increase blood circulation.
The working principle of water flossers, as well as irrigators, is fairly simple: after you fill the tank of the device with water or a special medical liquid (liquid flosser) you direct the water flow into the oral cavity or plaque. This way you can clean even hard-to-reach areas such as spaces between the teeth and behind the gums. The pressure of the water can be adjusted with a tiny pump or a dial, which is embedded in the device.
We also recommend looking up electric toothbrushes. Similar to oral flossers, they are designed to fight bacteria and built-in plaque but in a slightly different way. Using both options is a great way to keep your teeth and your mouth in excellent working health.
What Features to Compare
Types

Firstly, you need to decide how you are going to use the oral irrigator. There are two types of irrigators to choose from: stationary and portable. For home use, we would recommend you go with a stationary one. Though a bit bulkier than portable models, it doesn't take up a lot of space and can be placed on the sink. But if you search for a compact thing to take with you on trips or there's no outlet in your bathroom, a portable irrigator will be a better choice. They are as effective as stationary models but they usually have smaller tanks and their lifetime is a bit shorter.

Cleaning Technology

Next is a cleaning technology which is determined by characteristics of water pressure. Irrigators that work by means of a constant water flow supply are known to be effective yet a bit outdated. They are often replaced by models that perform a pulsating cleaning. Pulsation of a water jet is usually short, almost imperceptible, but effective when it comes to cleaning plaque. The other technology used in the irrigator production is micro-droplet technology. Thanks to this technology, water in the tank is saturated with oxygen and water flow directed in the mouth is more effective at killing pathogenic micro flora.

Construction

By construction, we mean all those little things that directly affect the convenience of use: cleaning velocity modes, tank volume, additional tips, their types, and more. One of the most important things is the possibility to control water jet pressure. Check out the package and see if there are any additional tips come included. Consider tank capacity as well. It will be different in different models and define how long you'll be able to use it. If portability is not important for you, though, you can opt for tank-less water flossers which connect directly to the faucet.

Additional Functions

Many irrigators can offer some additional functions, e.g. rotating tips, timer, directing tip for proper water pressure, the possibility to adjust the water pressure level, the list goes on. These features can make irrigators more effective and useful.