The best thing about cordless water flossers is their portability. This device doesn't take much space on your sink and can be carried
in a luggage bag with little compromise on space. If you take care of your oral cavity and want to get thorough water flossing even on trips, a battery-operated model is the best option for you!
...
Read more
...Read less
Waterpik Cordless Advanced (WP-560)
Tested and Trusted By Time
If you are looking for a high-quality water flosser, the best option to consider would probably be the Waterpik WP-560, a water flosser produced by the company that has actually invented this type of care product. Waterpik still remains the only water flosser brand that has earned the American Dental Association Seal of Acceptance. So, it's surely one of the best products of its kind. 
Despite quite compact dimensions, this cordless water flosser can remove even tiny particles of food from teeth with ease. The unit comes featured with a 7-ounce water tank, and this capacity that seems to be quite enough for one user.
The Waterpik water flosser operates at 3 pressure settings and allows for adjusting the intensity of water jet according to your needs and sensitivity of your gums. By the way, this flosser features a tip that can rotate 360 degrees for reaching the back of your teeth and flossing the mouth more thoroughly.
What we also like is that you won't have difficulty taking it on trips. The flosser is quite small and takes little space in a luggage bag. Moreover, the weight of the flosser is only 0.8 lb. And the final thing that really sold us is quick charging time. It charges twice as fast as many other models with a similar price tag. Ideal for those who often take business trips and want to have a good flosser at hand.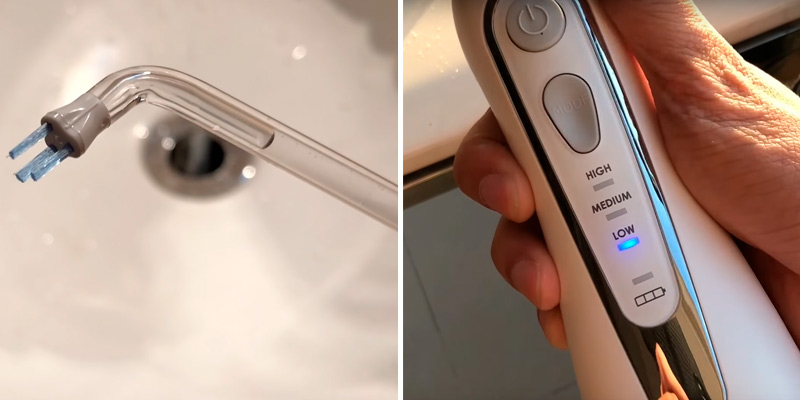 Additional Info
---
What customers say about this product
Well designed. Good pressure. Variety of tips.
Has 3 speed settings and a variety of attachments to effectively clean hard to reach by brushing areas.
The magnetic charger attaches to the front, just below silver rim of the control panel.
This was a perfect choice for a traveling Water Pik. I had no complaints. Of course I had to refill it twice, but that was expected because of the size. It did the job for me. Very satisfied.
I like that it has a battery indicator that lights when it's low.
Waterpik Cordless Advanced (WP-560)
Zerhunt Water Flosser
Extra Capacious
Want something you can use easily multiple times a day without constant refills and hassle of the wires and heavy base? Meet the newest release from Zehrhunt, the upgraded Dental Water Flosser. Now the flosser is featured with an extra-large 10-ounce water tank, which is twice bigger than what most other cordless irrigators offer.
The high-volume reservoir allows you to floss continuously up to 75 seconds on the lowest setting. What is handy, it has a small hole enabling you to quickly refill it throughout a day if need be. It's also detachable and fully-openable for easy cleaning.
However, not only the water tank has been improved. This innovative flosser is fitted with an extra-capacious 1400mA rechargeable Li-ion battery that provides up to 14 days of use, which is probably its biggest edge over the competition. The said battery can be juiced up via a USB plug, power bank, or laptop and the full charge takes about 4 hours.
Speaking of performance, the unit can emit 30-100 psi with 1700 pulses per minute. On the highest setting, the flosser is claimed to clean away 99.99% of stain, and we would definitely agree with that.
Overall, if you need a highly capacious flosser that can hold a charge for days, this one may be an ideal pick. Fewer refills and fewer recharges are guaranteed.
Additional Info
---
Zerhunt Water Flosser
MOSPRO _Portable Oral Irrigator
Upgraded!
MOSPRO offers an upgraded professional water flosser that is great for family use. Coming with four color-coded tips, it can help both adults and kids maintain their oral health. It boasts three flossing modes (Normal, Gentle and Pulse), so it easily meets various oral care needs. The soft setting, for example, will likely become a preferred setting of smaller users. It'll gently wash away plaque and bacteria from small mouths, providing healthier gums and brighter teeth.
The 360-degree rotatable nozzle design makes it easier to reach tricky areas so as to prevent tooth decay, plaque, calculus, and dental hypersensitivity.
Another thing that we really liked about the MOSPRO flosser is that it's made with an upgraded removable water tank. That is to say, now it has a full-opening design for easy cleaning and refilling. Moreover, the tank is also detachable, making it very convenient to scrub off limescale and bacteria build-up. You can either unscrew the reservoir from the pump or fill it from the side port. That's impossible for most other oral irrigators.
The flosser is shipped in a nice little pouch, which makes it easier to transport during your trips. The box also includes a USB charging cable that can be connected to any gadget. A full charge takes four hours and delivers 7-10 days of use.
To wrap things up, the MOSPRO TH-1 is a perfect irrigator to travel with your family. It can help both adults and kids maintain good oral health in any corner of the world.
---
MOSPRO _Portable Oral Irrigator
Panasonic EW-DJ10-A
Compact Flossing Assistant
Made with portability and efficiency in mind, the Panasonic EW-DJ10-A cordless water flosser is one of the lightest and most compact oral irrigators on the market. This water flosser has a smart design and can collapse almost half the original size without compromising its reservoir capacity. Thus, you can easily fit the irrigator into your bag and take it to your office, gym or while traveling on business.
Of course, the EW-DJ10-A cannot compete with corded models in terms of water capacity. However, the 5.5-ounce water reservoir will be more than sufficient for one full-mouth cleaning. It will provide up to 40 seconds of water flossing action.
The flosser operates at 2 pressure modes and can produce whooping 1600 pulses per minute to wash away food debris stuck deeply between teeth. The highest speed is perfect for normal, everyday cleaning, while the low speed is for gentle cleaning on sensitive gums or braces.
This Panasonic oral irrigator is powered by two AA batteries, which is obviously a double-edged sword. You do need to spend some money on replacements, however, you are not tied to power cords and don't have to wait for a flosser to re-charge. All this makes the flosser an ideal travel companion. It offers a convenient way to maintain oral health anytime, anywhere.
Additional Info
---
VIDEO
Practical Test Panasonic Oral Irrigator EW-DJ10
What customers say about this product
I love this thing. 2 settings for speed, and it is extremely portable.
It's very compact. I live in a small apartment with no counter space so any of those products with a reservoir wouldn't have worked for me. This shrinks to a size that fits in my medicine cabinet.
I like the choice of pulse rates.
There's a place to store the tip inside the white plastic top.
I am highly impressed: the first one month of use, "aqua flossing" after each meal and snack, I was able to get an ENTIRE MONTH out of my Panasonic oral irrigator before recharging the batteries.
Panasonic EW-DJ10-A
BESTOPE Portable Cordless
Versatile Flosser that Suits Anyone
Meet the renovated BESTOPE Water Flosser that has now become even larger than before. Designed with a semi-hidden, detachable water tank, it can provide you with uninterrupted dental floss for whole mouth cleaning, while taking minimum space in your bathroom. Also, it has an upgraded open tank design, so it's much easier to clean inside after use.
Yet, what sets this flosser above the competition is obviously the rich set of interchangeable jet tips that can suit just any need. That is to say, the irrigator comes with two high-pressure tips for deep cleaning; a periodontal tip for relieving the symptoms of periodontitis, gingivitis, and teeth shrinking; a tongue cleaner tip for removal of bacteria and keeping your oral cavity fresh; a special dental plaque tip for cleaning implants, dental bridges, and false tooth crowns; and an orthodontic tip for individuals with false teeth, dental braces, or tooth sockets. Each tip can rotate 360° to reach every corner of your mouth.
Boasting the latest pulse technique, the water flosser offers a 30-120psi pressure range and can go from 1400 to 1800 pulses per minute. You can choose between Normal, Soft, and Pulse modes to adjust the unit precisely for your oral care needs. So, no matter whether you have sensitive gums or wearing false teeth, braces, or implants, the BESTOPE Water Flosser will work for you. With variable pulse settings and a wide range of interchangeable nozzles, it can help just anybody prevent dental plaque, bad breath, tooth decay, and yellowing.
Additional Info
---
BESTOPE Portable Cordless
What Is a Water Flosser?
People taking care of the health of their teeth often contemplate an idea of buying a water flosser, a special device designed for cleaning oral cavity and removing particles of food with high pressure of water. Here are the reasons why you shouldn't postpone this decision and go order it already today. Water flossers are irreplaceable for people wearing braces, implants or crowns. Water flossers are also a must for those whose gum sensitivity is very high. Unlike regular toothbrushes, they do not trigger bleeding and ensure that cleaning is done in a gentle way. As you can see, water flossers aren't just a useless novelty. For some people, this is the only way to take care of their oral hygiene. For this review, we've decided to pick cordless flossers. The beauty about cordless water flossers is that they can be taken along on trips. As opposed to corded models, battery-powered flossers do not need to be charged and hence, don't put you at risk of not finding an outlet for it while being abroad. Besides, as a rule, all cordless models are waterproof and totally safe for use in the shower or bath.
Water flossing, however, by no means is a substitute for brushing. Therefore, make sure to include a good toothbrush in your regular dental routine.
Best Cordless Water Flossers 2017