Are you a denture wearer who is experiencing discomfort with your dentures? If so, then you may need to reline your dentures with
a denture reline kit. Read on for our reviews of the top models to find the best denture reline kit for yourself.
...
Read more
...Read less
X
This site is a free online resource that strives to offer helpful content and comparison features to its visitors. Please be advised that the operator of this site accepts advertising compensation from certain companies that appear on the site, and such compensation impacts the location and order in which the companies (and/or their products) are presented, and in some cases may also impact the scoring that is assigned to them. The scoring that appears on this site is determined by the site operator in its sole discretion, and should NOT be relied upon for accuracy purposes. In fact, Company/product listings on this page DO NOT imply endorsement by the site operator. Except as expressly set forth in our Terms of Use, all representations and warranties regarding the information presented on this page are disclaimed. The information which appears on this site is subject to change at any time. More info
DenSureFit Silicone
Easy to Apply
Denture reline kits are generally not easy things to deal with. Many of them come with the separate ingredients for the soft lining, often requiring you to do a precise mix of these chemicals, and as such, will often have the possibility of the mix not being done right, thus ruining everything. With such a risk, on top of the normal care of dentures causing a lot of inconvenience, there is definitely a need for a denture reline kit that is much easier to apply.
The DenSureFit Silicone denture reline kit is an over-the-counter kit that helps solve many of the issues associated with relining dentures. The fixative included in this kit is a high-quality medical silicone that guarantees a tight and secure fit, with the added benefit of not causing any allergic reactions. This substance comes ready-made in syringe-applicators, which will allow you to forget about messy mixes and the need to cool the prosthesis with the substance before use. Simply apply the substance to the top of the dentures, and the substance will self-cure while molding itself to the inside of your mouth. Just keep in mind that this kit will provide temporary relief from discomfort, as the substance will be good for up to 3 months. With all that said, this is an excellent denture reline kit for those who need one that is easy to use.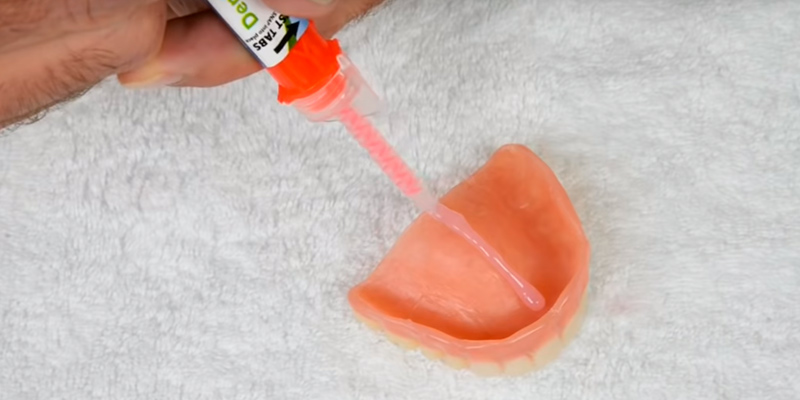 Additional Info
Last updated price

$

49.00

Stock
In stock
ASIN

B0716L1T8S
---
DenSureFit Silicone
ProSoft Denture Reliner 2ps
Best in Comfort
Dentures by their very nature tend to be quite uncomfortable for most people. This tends to be the case regardless of the build of the dentures themselves, or even of the liner. As such, many of those who wear dentures are always on the look-out for relining kits that can offer maximum comfort. Although many relining kits claim that their formula and process is the easiest and most comfortable, few manage to live up to that claim. The ProSoft Denture Reliner 2ps Soft, Flexible Denture Reline Kit, on the other hand, manages to achieve this by using a Zinc-free formula that provides maximum comfort while being allergenic-free. On top of that, with this denture relining kit, there is no bad aftertaste or burning sensation as what often happens with other liners.
The process of mixing and applying the soft lining substance of this kit does tend to be long, and to some users it might be tedious, but the results of the effort are more than worth it, according to many users. WIth the maximum comfort provided by the semi-permanent lining, along with the lack of negative effects such as bad odors or tastes, this denture reline kit is a worthy purchase for anyone who has had problems with discomfort from denture liners.
Additional Info
Last updated price

$

24.95

Stock
In stock
ASIN

B011ES1QXG
---
ProSoft Denture Reliner 2ps
Perma Soft 2c-08
Long Lasting
Most denture relining kits are made for short term relining, with many lasting only a few months. While some people may be fine with this, others often find the process of having to reline their dentures so often to be tedious and time-consuming. Many of these same people would be quite happy with a relining kit that is longer lasting than what is typically offered. The Perma Soft 2c-08 Denture Reliner Kit is the perfect solution for those who want a longer lasting liner. This semi-permanent lining kit uses a Zinc-free lining substance that is soft yet firm, and which will last for up to 2 years with just one application. This is a far cry from the 2 or 3 months that most other soft liners will last.
This long-lasting soft reliner kit includes enough material to work on full dentures, and is both safe and effective to use with partial dentures as well. The kit comes with easy to follow instructions for mixing and applying the liner, making it one of the easier kits to use. Some users have noticed a slight chemical taste once the liner is first applied, but thankfully the taste should dissipate after a short time. If you are looking for an easy-to-use soft relining kit that is both safe and long-lasting, then this denture repair kit should be your best bet.
Additional Info
Last updated price

$

19.95

Stock
In stock
ASIN

B00158J0EI
---
Perma Soft 2c-08
Acryline Geeloa
Convenient Denture Fixing
Fixing denture linings isn't always the easiest task to perform. In fact, some kits can be so complicated that many users would rather not go through the hassle of using them. Thankfully, though, that's not the case with every denture reline kit. As a great example, the Acryline Denture Reliner kit is designed to easily fix dentures on both the upper and lower jaw, removing the hassle that other kits require while also providing a strong liner that won't wear out easily. This makes it possible to forget about painful sensations during the lining process, as well as embarrassment when smiling or talking.
Although this may not be the easiest to use solution out there, it is still extraordinarily easy for a power-based kit. The set includes cups for gentle mixing of the powder and liquid, as well as an ergonomic spoon and two cotton swabs that can be used for applying the lining. Thus, everything you need will be immediately at hand. The kit is fully disposable and its low price means you can just pick up another one once you have used the initial package. Just be warned, though, that long-term use of an application of the lining may result in your dentures being difficult to remove, so you won't want to keep them in for too long. This won't be a problem for the majority of denture users, though, as all that is really necessary is a good denture liner that keeps your dentures secure while being easy to apply, which you definitely get by using this kit.
Last updated price

$

0.00

Stock
In stock
ASIN

B07GQ8RVN1
---
Acryline Geeloa
Perma Soft 5017103251005
Highly Adaptable
With most denture relining kits, it is hard to get the right mix of comfort and effectiveness. There always seems to be some kind of trade-off between the two. What's worse, though, is that what one person might find comfortable, the next person might not, so it is hard to find a kit that can find that right balance of comfort for most people. The Perma Soft 5017103251005 Soft Denture Lining does its best to solve this problem by providing a highly adaptable lining substance, which can be adapted based on the mixture. Included in the kit are easy to follow instructions that give you several variations that can be done with the mixture in order to find the best formula for comfort and effectiveness.
The soft liner of this kit is made from a mixture of the power component of polyethyl methacylate and the liquid component consisting of di-n-butyl phthalate, ethyl acetate and ethyl alcohol. Getting the right mixture of these components should give you the ideal fit and comfort that you are looking for. Many users note that the smell and taste of the liner are quite bad, but that both will disappear after the first week of use. If you are looking for a professional quality denture relining kit that will allow you to adapt it to your preferences, then this is the ideal kit for you.
Additional Info
Last updated price

$

13.99

Stock
In stock
ASIN

B001ECQSGI
---
Perma Soft 5017103251005
What Is a Denture Reline Kit?
Dentures are never a pleasant subject to discuss, and they can be even more unpleasant to need. However, there comes a time in the lives of many people where they are unavoidable. While dentures are never a full replacement for natural teeth, they do help immensely with being able to function better than with no teeth at all. Oftentimes, though, dentures can become uncomfortable, and will often become more so over time. This is often due to the lining of the dentures deteriorating, along with other things such as changes happening in your oral cavity due to the loss of teeth.
The solution to the problem of denture discomfort is most often the use of a denture relining kit. These kits will generally come with all tools and substances necessary to replace the denture lining, which will, in turn, make them more comfortable to use. Most denture relining kits will use a soft relining substance, most often based on silicone, which allows the lining to easily conform to the contours of your gums, thus providing a more natural fit for the dentures. Relining will often last for several months, and some kits may provide enough materials to last for up to several years.
If you have issues with night grinding of your teeth and wish to protect them, then you may be in need of night guards to reduce teeth grinding.