It's not only about style. Our review will tell you more about the most effective and powerful electric brushes available on the
market. Choose one, use it regularly, and your teeth will look clean and white like never before!
...
Read more
...Read less
What is an Electric Toothbrush?
Professional dentists recommend brushing teeth for two minutes, but it's quite easy to lose track of time when cleaning your teeth with a manual toothbrush. A power toothbrush is a way out! Typically, electric toothbrushes are equipped with a two-minute timer that emits a pulse every 30 seconds to let users know when it's time to move to another area. Yet, the power brushes are not only smarter but also much more effective. Some sophisticated electric brushes can remove 10x more plaque than manual toothbrushes. These brushes can naturally whiten your teeth and gently scrub away coffee, tobacco, tea and red wine stains. In our survey, we're going to tell you about the cutest models available on the market, pink electric brushes. The fact that pink is usually available in high-end series only emphasizes that all of the reviewed models are of superior quality.
An oral irrigator is another must-have device in your bathroom. It can help you take care of your gums and oral cavity.

Best Pink Electric Toothbrushes 2017
Philips Sonicare DiamondClean (HX9362/10)
Simply the Best
The powerful Philips Sonicare Diamond toothbrush will definitely become a hit in your household. At max 31,000 strokes per minute, it can help make your gums healthier and your teeth much whiter in just a couple of weeks. The brush offers five cleaning modes great for any tooth and gum sensitivity level. It also features a smart timer and a a quadpacer that beeps every 30 seconds to remind you that you should move to the next quadrant of your mouth. The brush automatically stops after the recommended full two minutes. The kit includes a handle, 3 different heads with travel caps, a glass charger, and a USB charging travel case. The glass is very stylish looking and well made, but the best part is that you can recharge the brush by just putting it in this glass. Summing up our Philips Sonicare DiamondClean pink brush review, we can safely say that it's one of the best toothbrushes available for sale nowadays. 
Pros:

A roomy travel case can accommodate even one more extra brush.
A variety of modes and settings is great for every dental preference.
The set includes an advanced Diamond Clean brush head that can make your teeth as smooth as from a dentist.
Additional Info
---
What customers say about this product
Gives lots of options and variable speeds and motions to keep teeth and gums healthy.
Love the color great product will buy again without question.
Very powerful. Love the timers and different settings.
Battery lasts a long time between charging.
Philips Sonicare DiamondClean (HX9362/10)
AiyaBrush Sonic Electric Toothbrush (ZR501)
So Cost-effective!
Dreaming of professionally cleaned, smooth, and shiny teeth? The Aiyabrush Sonic Toothbrush can help you with that. Operating at 5 different cleaning modes (clean, refresh, white, gum care and sensitive), it's ideal for everyone including those with sensitive teeth. The brush vibrates amazingly fast yet gently and quietly. Like most top-notch models, this one runs for two minutes and after each 30 seconds it makes a brief pause to notify you that it's time to switch to another section of your teeth. The item is equipped with a super-powerful 2000mAh lithium battery that can last about 100 days without any re-charging. 
Pros:

The brush can remove up to 99.99% of plaque.
It boasts IPX68 Waterproof protection.
Cheap refills.
Additional Info
---
What customers say about this product
It has 5 different cleaning programs and every is great.
Everything works well and especially I love the pink color.
After each 30 seconds there is a brief pause to indicate that brushing position should be changed to a different quadrant.
Very powerful and long lasting battery.
AiyaBrush Sonic Electric Toothbrush (ZR501)
Philips Sonicare Series 2 (HX6211/47)
The Best Bang for the Buck
The Philips Sonicare Series 2 is a simple, powerful, and affordable power toothbrush. It doesn't feature all those luxuries like "massaging" or "cleaning" settings but can effectively remove plaque build up even from hard-to-reach areas. Delivering up to 31,000 strokes per minute, it gently cleans your teeth. The brush is absolutely safe for implants, orthodontics, and veneers. To make the transition from old trusty manual toothbrush easier for you, the manufacturer has equipped the product with the EasyStart feature (it gradually increases the power over first 14 uses). This cheap pink electric toothbrush looks much more expensive than its price point and will definitely update your bath a bit.

Pros:
The item features Easy-start program. 

The toothbrush is extremely easy to use. It has one speed only. 
A long handle and a slim, angled brush head allow you to clean back teeth and other hard-to-reach places. 

Additional Info
---
What customers say about this product
Tremendous sonic toothbrush at a great price. Highly recommend.
Works well hold the charge nicely nice compact size fits in hand perfect.
Rudimentary battery level indicator.
The charging station is easy to use with a simple, blinking green LED indicator light.
Philips Sonicare Series 2 (HX6211/47)
Brusheez Prancy the Pony
For Little Brushers
The Prancy the Pony is a cute and fun toothbrush that will surely teach your toddler healthy brushing habits from a very young age. The brush is battery powered, so it's easy to carry when traveling. It runs on two AA batteries and rotates at 4000rpm. Therefore, its spin motion is completely safe and incredibly effective for little mouths. The Prancy the Pony is recommended for 3+ kids ( 2-year-olds can't yet turn it on/off by themselves). The set includes a handy shelf, a Pony toothbrush cover, a reusable cup, two replaceable toothbrush heads, and a two-minute sand timer. Children really like flipping the sand timer and watching how much time is left. 
Pros:
It comes with a rinse cup and a storage base.
The set includes a sand timer that will encourage kids to brush their teeth for the recommended two minutes.
The printed brushing chart will help your kids keep track of their morning and evening brushing. 

Additional Info
---
What customers say about this product
Well executed product idea--a complete toothbrush set that a child can "own" as his or her very own.
Brush head is perfect size for child.
The timer feature is great and the kids like their special cups, too.
I decided on these brushes primarily because the brushes and batteries can be replaced.
Brusheez Prancy the Pony
Techege iBrush with Timer
Smart Ultrasonic Toothbrush
This fancy looking brush was created by professional oral-hygienist Dr. Patty Martin to give you bright smile and healthy gums! Operating at up to 48,000 rpm, it can deep clean and whiten your teeth almost like a dentist. The item has 3 different operating modes (normal, soft, and massage) so that everyone can find soothing speed and vibration for their teeth and gums. The kit includes a base, a water-resistant charging unit, and 3 colored brush heads. The top of a charging dock comes off completely, and you can use it as a cup. Best of all, once the cup has been placed back onto the holder, UV light will turn on automatically to sanitize brush heads.
Pros:
It comes already pre-charged and has an extremely long battery life.
UV light disinfects the brush head by killing 99.9% of germs.
The replacement heads come at a reasonable price. 

---
What customers say about this product
I hadn't used an electric or sonic toothbrush before and it really tickled the first couple of times. It was really easy to put together and set up in my bathroom.
It is extremely light weight and my teeth feel super clean after using it.
My teeth have never felt so clean and the timer makes it more enjoyable to brush my teeth properly as it allows me to focus on my teeth by quadrant.
I tested it and the handle holds the charge for more than four weeks then I stuck it back on the charger just to be safe after that.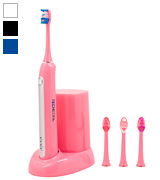 Techege iBrush with Timer