People associate ice cubes with holidays and summer. Having purchased an ice maker, you will always have an opportunity to bring conviviality
to your life. This review will help you make the right choice of an ice maker device.
...
Read more
...Read less
DAILY ICE MAKING CAPACITY
Luma Comfort IM200SS
Type of Ice
Luma Comfort IM200SS clear ice maker is made of stainless steel, thus, its lifespan is very long. The combination of the eye-catching design and a black lid will be a precious gift for the fans of luxurious things. As this ice maker is very compact, you can easily place it on your desk, near a swimming pool or just install it in your mini bar. As the manufacturer has equipped the ice maker with the innovative commercial technology, this very device produces clear ice of a restaurant quality. This technology implies that water runs down the tray turning into hard clear ice cubes. Such cubes melt 5 times slower than cloudy ice. Super!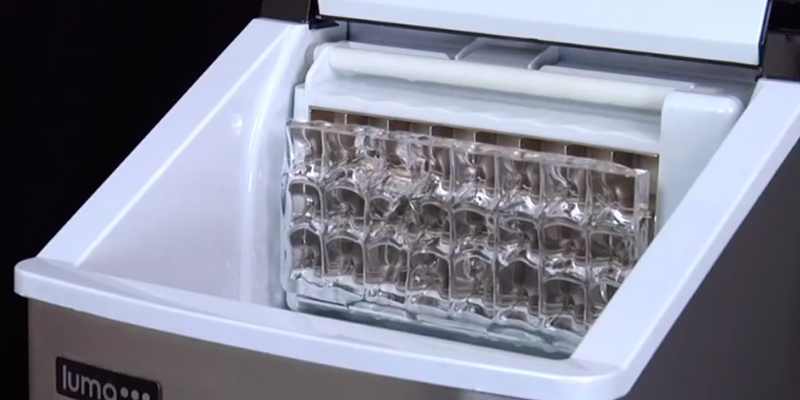 Ice Production
This ice maker produces 28 pounds of ice per day. It is the highest daily ice amount in our review. This ice maker can accumulate and store up to 2.15 pounds of ice in one go. Its operation cycle is 15-30 minutes. Although it is possible to make ice cubes of one size only, the customers will be able to vary the thickness. In order to have a necessary amount of ice, you should pour water into the 1.6-liter water tank, plug this device into 110V outlet and switch it on. After all, some consumers report that this ice maker model is as convenient in use as Samsung ice maker and Kenmore ice maker, but its price is lower.
Conveniences and Alerts
Luma Comfort IM200SS Portable Clear ice maker is a real space-saver due to its compact size. The LED panel is very convenient for choosing the necessary operation mode. It should be noted that recycled water can be used for a new batch of fresh ice. And a comfortable drain will provide fast cleaning after use. As for safety, when the water level is low or the ice bucket is full, the appliance will automatically switch off. Moreover, it will not start its operation cycle until you add some water or take the ice away. It should be also mentioned that the price fits the quality. Such a good motivation to purchase it!
---
VIDEO
Luma Comfort IM200SS Portable Ice Maker Review
What customers say about this product
I'm sure the 28lb claim is easily met as long as you refill the water and empty the ice bin.
It makes clear cubes using tap or bottled spring water. There is about a 8~10 minute startup cycle before the first cubes are dropped and hen they drop at about a 7~8 minute interval.
This little gem is awesome. It is small unit, that doesn't take much counter space.
I don't keep it running all the time because it draws 150-200 watts.
Luma Comfort IM200SS
Ivation IVA-ICEM25WH
Type of Ice
Ivation portable ice maker is very convenient in use due to a wide set of features. Using this kitchen appliance, you can get thimble-shaped cloudy ice cubes of three sizes - small/medium/large. Most consumers prefer large ice cubes because they melt slower than small ones. As this device produces ice in a very short period of time, the final product resembles chewing ice. Thus, it is perfect for chilling your favorite beverages. Due to a combination of an innovative compressor and a stylish design, this kitchen appliance has gained a worldwide popularity.
Ice Production
If you purchase Ivation Portable ice maker, you will surely have 26.5 pounds of ice every day. The device can make a batch of ice in just 6 minutes. All you have to do is pour water into the reservoir and plug the machine into an 110V outlet! But if you want to use this device in an RV or yacht, it will be necessary to buy a special adapter. As the reservoir capacity is 2.8 liters, you will not have to fill it with water very often. To sum up, what can be better than adding chewing ice to your favorite beverages?!
Conveniences and Alerts
This electric ice maker has alerts that make its maintenance very convenient. Whenever it's time to empty the ice bin or add water to the reservoir, the beep alert sounds. Furthermore, if ice cubes do not drop into the ice bucket, customers are also alerted. Then, if you do not take ice out, it will melt back into the water so as to turn into fresh ice during the next ice-making session. The backlit LCD screen shows all the settings that can be selected for ice making. Moreover, a large see-through window allows you to monitor and control the process. When the ice making process is over, you can easily remove ice either with the help of an ice scoop or by dragging out the ice bin.
---
VIDEO
Ivation Portable High Capacity Household Icemaker Review
What customers say about this product
In my case, it is perfect for making ice and then storing the ice in my freezer, because I don't have one of those fancy refrigerators that includes an ice-maker!
I am filling it with filtered water from my Berkey water filter. My ice is clean and no smells or strange tastes. A caveman could use it. If you are on the fence, get this one. You will be happy with it.
You will need 8"-10" of space next to the air outlet on one side and be certain that the air inlet on the other side of the machine is unobstructed so take that into consideration when deciding where to put this machine.
Operationally this is fairly economical since it draws about two hundred Watts (two old style light bulbs.) I do want to set expectations. This will absolutely produce the claimed 26.5 pounds of ice in a twenty-four hour period, but not all at once.
Ivation IVA-ICEM25WH
iGloo ICE102-Red
Type of Ice
iGloo ICE 102-Red Compact ice maker is manufactured in five different designs. Thus, consumers will always be able to choose the ice maker which will fit their taste. Take into account that besides being very stylish, it is also very powerful. We guarantee that you will have enough ice not only for chilling your juice but also for chewing these juicy cubes. Although consumers often compare iGloo ice maker with the Whirlpool ice maker and the Rival ice maker, we can define it as the best compact device for home use.
Ice Production
If you urgently need ice cubes, this device can make a batch of fresh ice in 5 minutes. Another benefit is that the ice maker can produce up to 26 pounds of cloudy ice per day. The operation cycle length can vary from 5 to 13 minutes. Due to such short operation cycle and 2.1-liter water reservoir, this device is often compared with top ice makers. Overall, we find iGloo ICE102-Red ice maker the best middle-class device. Beyond any doubt, this ice maker is a quintessence of high performance and a moderate price.
Conveniences and Alerts
If the water level is extremely low or the ice bucket is full, the device will automatically shut off. Note that this ice maker is fitted with an LED control panel that is very convenient for choosing the necessary operation mode. Moreover, a large see-through window lets the customer monitor the process of ice making. So, we highly recommend you to purchase this simple device in case you want to gladden your family and guests with fresh cool beverages.
---
VIDEO
iGloo ICE102 Red Compact Ice Maker Product Review and Demonstration
What customers say about this product
I have the counter space for it and I'm not sure how it could be made smaller-which would be nice. It is about the size of a bread maker and no more, or less, noisy depending on the brand.
Works well but has very small capacity to hold both ice and water. I usually use it's entire production to fill up one large 28oz. cup.
I recommend POWER OFF when you are not making ICE. It powers up FAST. And makes ice FAST. I like it a lot!
There is a water filter included, as well as a "cube bin full" and a "needs water" alert. When the unit is full, there is another alert, and the unit shuts off. pretty impressive. The mechanism to create the cubes is high-end, and unique.
iGloo ICE102-Red
NewAir AI-100SS
Type of Ice
A stylish design of this ice maker can decorate any kitchen or bar. It should be noted that NewAir AI-100SS ice maker is equipped with 9 metal pegs for producing thimble-shaped cloudy ice cubes of various sizes. Due to its porous structure, such ice can absorb the beverage, retain its taste and aroma. So, your kids will be able to enjoy juicy ice or chilled lemonade! If you prefer hard ice cubes instead of chewing ones, you can pre-stock cubes and put them into a freezer for a few hours. In general, this device will show you that making ice can be a very interesting process!
Ice Production
Due to a 5-liter water tank, you can forget about the ice making as soon as you switch the device on. This little helper can make 9 cubes of fresh ice in 6-15 minutes. Thus, you can chill as many beverages as you want! In general, as this appliance produces 28 pounds of ice per day, this amount will be enough even for a big company. Keep in mind that you should empty the ice bin every time it gets full (2.2 pounds of ice). However, you will surely empty the bin more often during a hot summer day. If you'd like to enjoy chilly, refreshing drinks during summer, it's high time to think of purchasing this ice maker! It will be a great purchase!
Conveniences and Alerts
NewAir AI-100SS possesses all technical characteristics that outline its simple maintenance. The LED panel alerts customers when the ice bin gets full and the water level drops low. Furthermore, you can easily take the necessary amount of ice from the device in a bin with the help of a convenient ice scoop. After that, a special side drain will help you empty the device. By the way, you can also use the recycled water to make a new batch of ice cubes. To sum up, this ice maker can refresh any hot sunny day!
---
VIDEO
NewAir AI-100SS 28-Pound Portable Ice Maker
What customers say about this product
I was able to empty 2 trays into a gallon freezer bag (barely), so I'd say that it holds about 1/2 gallon of ice before it automatically shuts off.
If you power the machine off then it will dump whatever ice is currently being made at the time. If you leave the machine on it will automatically stop making ice when the basket is full.
This product was perfect for camping. Small enough to place in the camper and very fast and efficient at producing ice. No more running to the camp store or closest grocery store for ice.
I love this ice maker, I use it in my camper to keep ice for cocktails and to keep ice in my coolers as my fringe never seems to be big enough, uses very little energy and run it off my solar system for my camper.
NewAir AI-100SS
Avalon Bay AB-ICE26B
Type of Ice
Avalon Bay AB-ICE26S ice maker is an outstanding portable household device. It is very lightweight, thus, you can move it, without making a physical effort at all. Due to its short operation cycle, it successfully produces chewing ice. Furthermore, consumers can choose between making small ice cubes and large ones. If you plan to take this ice maker on a picnic, you can connect this device to an automobile output. All in all, this appliance will do you a great service if you want to have a cool rest!
Ice Production
Avalon Bay AB-ICE26S ice maker can produce up to 26 pounds of thimble-shaped cloudy ice per day (either large or small ice cubes). And this device can store up to 1.5 pounds of ice. As the productivity of this item is very high, you can make a batch of chewing ice in 6-13 minutes. To have a necessary amount of ice, you will need to fill a 1.9-liter water tank with water and plug the device into an outlet. The final stuff will be ideal for beverages chilling. In fact, this machine possesses great functionality, exceptional quality, and a moderate price.
Conveniences and Alerts
This ice maker comes in three sleek colors: silver, red, and black. So, it will add luxury to any kitchen. Regarding convenience, you can easily remove ice cubes from this ice maker machine with a convenient ice scoop. Furthermore, due to a see-through window, you can always control the process of ice making. As for the safety features, this ice maker has got LED indicators that will visually alert you when the ice bin (or water reservoir) gets full. Note that its sound will not break the harmony in your home. Great!
---
VIDEO
The AB-ICE26 Ice Maker Demo ► Avalon Bay
What customers say about this product
I like the icemaker. It makes good ice and quickly. Runs quietly. It just has a small capacity.
The 'cubes' are hollow gumdrops of ice that freeze directly onto water-immersed tines branched from the refrigerant line. It only takes 5-10 minutes to make a single batch of, I believe, 10 ice-gumdrops.
The unit works very well on the boat. The power draw would be too much to run off the batteries but works fine with the motor running.
I've had this for a few weeks now and it works like a champ. My icemaker went out on my Samsung fridg and based on research it wasn't worth repairing so I've used this in it's place and so far it's done a great job. It's compact and will put out as much ice as a family of 4 or 5 needs.
Avalon Bay AB-ICE26B
Infographics
---
What Is an Ice Maker?
If you've ever held any cocktail party or gone through a hot day without a cold drink, you know how important having some ice at hand could be. This is where buying an ice maker can solve several problems in one fell swoop. ice maker is capable of producing ice of different shapes and sizes, suitable for multiple purposes. The variety of ice makers is vast so that everyone can find the best pick for their particular needs. It's even possible to take an ice making machine on a trip (provided it's compact and light). You'd only need to plug it in 110V power socket and nicely chilled beverage is guaranteed. Some portable ice makers require usage of power adapters to connect to 12V. Hopefully, our review helps you find an ice maker with the right specifications to fit your day routine and bring some chillness in hot, exhausting summer days.
Those who can't live without partying may also want to buy outdoor & camping grills, handy outdoor cooking stoves to enjoy barbecue evenings with friends and family. Car cooler bags will come in useful during long trips, maintaining the chillness of your favorite drinks.
What Features to Compare
Type of Ice
You should pay attention to the type of ice that can be made. In general, ice makers can produce cloudy or clear ice.
Regarding cloudy ice, it not only chills beverages but also absorbs them. Thus, you can chew such ice even after you have drunk up your cocktail. As a rule, cloudy ice is thimble-shaped since it is made in portable ice makers with low-temperature metal pegs. During the ice-making process, these pegs are immersed in water. Thus, they accumulate some layers of ice and produce ice cubes which resemble thimbles with rounded ends. It should be noted that the length of such ice cubes is about an inch and a quarter, but you can always adjust their diameter. Large ice cubes are 1" in diameter while medium and small ones are 0.9" and 0.8" respectively. Besides, stationary and embedded ice makers produce crescent-shaped cloudy ice cubes, but you have to connect such devices to a water pipe. Furthermore, if you don't want to chew this cloudy ice, you can make it harder. Just take it out of an ice maker and put into a freezer for some hours.
As for clear ice, it has a solid structure due to a completely opposite freeze technology. In order to get clear ice cubes, you should use flowing water of 27° F - 32° F. Flowing water is deprived of various impurities. As a result, your ice is clear. It should be noted that clear ice melts slower than cloudy ice. That's why it is widely used in restaurants and bars.
Ice Production
Ice production is the second important criterion you should take into consideration. This criterion is defined by a maximum amount of ice made per day, ice storage capacity, and operation cycle. If an ice maker produces about 22 pounds of ice per day, such device is considered to be powerful enough for household use. As for ice storage capacity, it indicates the amount of ice which can be stored without emptying an ice bin. Operation cycle length implies the timespan needed for making a batch of ice.
Conveniences and Alerts
Consider the conveniences and alerts of ice makers that make the maintenance of the device very comfortable. If you wish to make some ice, you will have to plug the device in, select the required setting, and then switch it on. That's all!
For the extra convenience, some ice makers are fitted with additional features. Note that such accessories as an ice bin and an ice scooper can even simplify the process of ice making. As for cleanup, a side drain will help you significantly. By the way, most ice makers recycle water for further ice making. It is also cool if your ice maker has an Auto Shut-Off function because when the ice bin is full the ice maker automatically shuts off and no more ice is made. Besides, some models can also alert you when an ice bin is full with ice. Finally, most of the portable ice makers have a low water alert. To sum up, ice makers are very convenient and simple in maintenance.