If you take care of the health, then the Yogurt Maker can be your best assistant. It is able to provide you with the natural dairy
products every day. So, the health care process may become easier and tastier. This yogurt makers review will help you to choose the best one.
...
Read more
...Read less
Control panel and functions
Cuisinart CYM-100
Capacity
It is easy to make a large amount of yogurt at once, as the capacity of the inner container is 50 ounce. And it is sufficient for making healthy breakfast for your family. This is the perfect solution for people who prefer one large yogurt container instead of the numerous jars. Now you do not have to move all things around and to soil any other appliances. Just press one button - and the machine will do all work for you.
Control Panel and Functions
LCD display makes the whole process of yogurt preparation easier. It is undoubtedly handy to have a deal with this up-to-date device. Because it shows you the necessary options on the display. Furthermore, it has a timer. So, you can always control the process. To be exact, you are able to start up and stop the process, simply pressing one button. The item is not heavy as it is made of BPA-free plastic.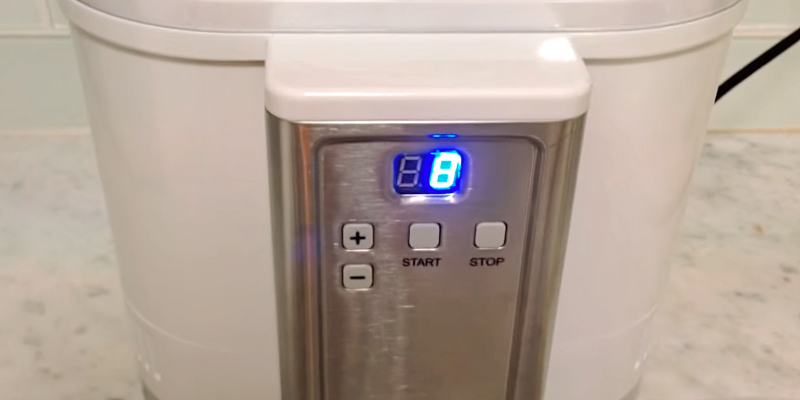 Construction and Design
We highly appreciate the cuisine yogurt maker sleek stainless steel. Moreover, it takes a little space on the countertop. It will look beautifully and fit pretty well for your kitchen, giving the whole kitchen an elegant look. So, with this awesome construction and design, you may rely on the good quality and a great look.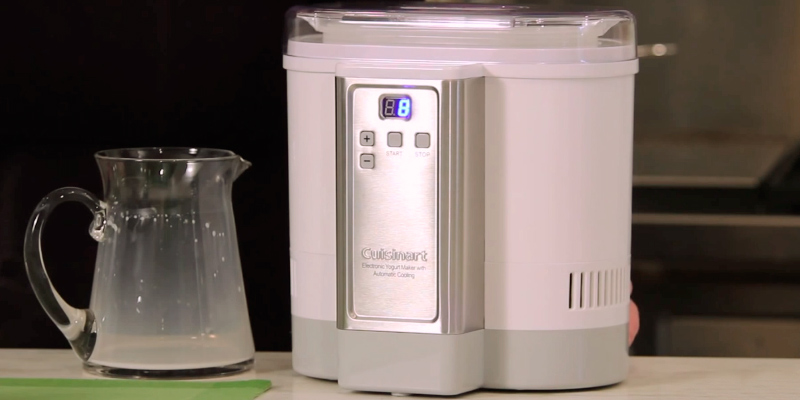 ---
VIDEO
CYM 100 Electronic Yogurt Maker with Electronic Cooling
What customers say about this product
The capacity is fine (just over a liter), and results are, within the bounds of a biological system, pretty consistent.
The deciding factor for me was how it switches to chilling automatically when the timer is done.
I also like that it's a nice sleek size, not bulky.
Wonderful controls for more minute gradations in cooking time and thus texture.
The large capacity container appealed to me because it is PLASTIC (not glass!)
I paid the amount for this (over other machines) due to the refrigeration feature anf it was SOOOOOOOOOOO worth it.
Cuisinart CYM-100
Dash Greek (DGY001BU-SAM)
Capacity
The important thing to take into account is actually its capacity. This yogurt maker is meant to provide you with a fairly decent amount of yogurt - 2 quarts. You do not have to deal with the little jars. This appliance provides you with one container for making home yogurt. It is enough for preparing the nutritious breakfast for the whole family.
Control Panel and Functions
This yogurt maker is extremely effective due to its features. First of all, it has the LCD display with the timer! Secondly, its built-in cooling system enables you to switch to the optimal temperature. One more feature - hiding the cord makes this appliance fit your kitchen properly. And you do not have to search a special milk type as it works with any kind of milk. Moreover, it is extremely convenient to store all items as two containers are included.
Construction and Design
The Dash Greek Yogurt Maker is available in blue, pink, and white. Due to its cylindrical design, it will not take much space in the kitchen. Furthermore, it will fit any taste. The non-toxic plastic material of this specific item makes it much easier to move the Dash Greek yogurt maker around. It does not weigh much in comparison with yogurt makers made of other materials.
---
VIDEO
Making Greek Yogurt with the Dash Greek Yogurt Maker
What customers say about this product
Works great, nothing fancy, perfect if you don't want to make buckets of it, just want to make your own yogurt.
It has 2 containers. One blue one white, strainer, and a lid to close the container. And a lid to close the top of the yogurt maker when yogurt is being made.
After a little fiddling to be sure I turned the maker on, the light comes on and the timer goes down, so you can always knows it's working
Timer functionality saves us every time we make yogurt!
Dash Greek (DGY001BU-SAM)
Euro Cuisine YM80
Capacity
The containers are made of glass. Thus they exclude the possibility of emitting plastic flavor in the yogurt. You will highly appreciate this yogurt maker, as it enables you with a large amount of yogurt! So, you can feed all your guests. It has an evident advantage - you are able to make 7 jars of yogurt with 6 ounces. This also means, that you can give each one the different taste.
Control Panel and Functions
Timer and indicator, included in this yogurt maker model, enable you to create yogurt exactly in the certain time. A lot of jars provide you with the opportunity to vary flavors in each separate jar to your preference. Actually, it is the automatic digital yogurt maker. So you do not have to worry about spoiling or overcooking.
Construction and Design
This stylish white and transparent yogurt maker includes seven glass jars with lids. Transparent lids are made specially to view the cooking process. So this white yogurt maker, available in the plastic and glass, will surely be the great device for making yogurt, enriched with proteins. It has the simple construction, but looks really nice.
---
VIDEO
Euro Cuisine Yogurt Maker Model YM80
What customers say about this product
Making Yogurt is not a fast process - but the rewards are wonderful !
A automatic timer would be nice, but for this price that seems to be asking too much.
It has an on and off switch with numbers totaling 12 hours on the outside which do not light up or tell you how many hours you had it on for.
Comes with a little recipe book and teh 7 6oz glasses with BPA free screw-lids.
I really like the design of this yogurt maker.
Works as expected but it's too bulky. A lot of wasted space.
Euro Cuisine YM80
CUSIBOX Automatic 7 Glass Jars
For Family Use
If you're looking for a yogurt maker for family use, you should seriously consider the CUSIBOX Automatic Yogurt Maker Machine. This yogurt maker comes with as many as 7 separate small cups, meaning you can keep fresh portions of yogurt in your refrigerator and your children will be able to grab one whenever they want.
So, if you have a large family and want to feed your dearest with healthy food, the CUSIBOX machine will suit you to a T. The generous 50-oz capacity and 7 available jars allow you to experiment with recipes as you wish: you can make a classic Greek yogurt and a fancier yogurt with chocolate at a time.
High-quality Construction
Understanding that glass is safer than plastic, the manufacturer has done all the jars from high-quality glass. This way, you can expect a long life and no foul odors in your yogurt. As for the main appliance, its body and components are made from FDA, food-grade materials. You have nothing to worry about.
Take note that all the jars are leak-resistant, so you and your kids can safely take a cup of yogurt to work, school, or college and enjoy a really healthy snack at lunchtime. Homemade yogurt will help you improve the immune system and protect your health.
It's That Easy
The CUSIBOX yogurt maker has only one button and is extremely easy to use. To make a simple yogurt, you just need to:
Make sure that

glass containers are clean and dry. And then add

two teaspoons of natural yogurt to each one. Try to choose a natural yogurt that doesn't contain any additives.
Pour around 40 oz of milk (room temperature, around 68 degrees F) into the jars with yogurt and stir well. To get the best results, choose full cream UHT milk.
Tightly close the lids and place all the jars into the machine.
Turn on the machine using the central button. The inside temperature will be maintained in the range of 104 - 109 degrees F. Depending on the consistency you want, remove the yogurt glasses 4-8 hours after switching on the unit.

So, if you want to treat your nearest and dearest to healthy, homemade yogurt, it's a perfect machine. It's high quality and extremely easy to use.
---
CUSIBOX Automatic 7 Glass Jars
Proctor Silex 86300
High Tech Machine
Proctor Silex is a reliable company that produces high-end kitchen appliances for reasonable costs. All Proctor Silex products pass the rigorous testing to make sure they are ready for the final test – your home. Designed with cutting-edge technologies and premium materials, the Proctor Silex 86300 Yogurt Maker Machine is currently one of the best offers you can find in its price range.
Owing to its stainless steel body, the machine looks nothing like other standard yogurt makers and can seamlessly blend into any kitchen interior. On the top, there is a smart control panel that adds high-tech feel to the machine. The convenient digital controls allow you to turn the unit on/off and set the timer. The timer will count down the hours until your yogurt is ready (time is displayed on a small screen). And once the time's up, an alarm will chirp. With the Proctor Silex 86300, you'll enjoy complete control over what goes in your recipe.
Easy to Maintain
The yogurt prepared in this machine gets very thick and creamy. The appliance even allows you to make your own Greek yogurt using a strainer.
But the best part is that once your yogurt is finished culturing, you can store it in the same container you've prepared it in. The 32-oz container has snap-down clips on the lid, ensuring your food will stay fresh in your fridge. The storage container is BPA-free and dishwasher safe for easy maintenance.
Recipes Included
As a nice bonus, the appliance comes with the recipes included. This way, you'll be able to learn about various yogurt-making techniques right after delivery. The recipe booklet offers everything from common Greek yogurts to non-dairy options. You'll be able to prepare exquisite coffee yogurt, vanilla yogurt, chocolate yogurt, orange yogurt, and other recipes with a variety of add-ons like fruits, nuts, seeds, granolas, and the like.
So, if you'd like to experiment with recipes, the Proctor Silex 86300 Yogurt Maker Machine with adjustable timer is a solid offer. It looks very sophisticated and will match any kitchen decor.
Additional Info
---
Proctor Silex 86300
Infographics
---
What Is a Yougurt Maker?
A yogurt maker is the simple and inexpensive kitchen appliance which makes the cultured milk foods. It is the perfect acquisition for customers who lead a healthy lifestyle and especially for those who have little kids. Yogurt maker consists of the housing with the built-in heating element and the containers for making fermented milk products. The task of the yogurt maker is to warm up the mixture of milk and ferment. The next essential step is to maintain the consistent temperature throughout the whole period of fermentation.
For those who adore milk-based desserts, we'd recommend you to take a look at our comparison of the best ice cream makers. Smoothies are another great and healthy dessert that you can make from milk or any other ingredients; if this is the kind of food you'd like to prepare at home, proceed to read our other review on smoothie makers.
What Features to Compare
Like all the kitchen appliances, yogurt makers have a number of important features you should pay attention to. Now we are going to tell you how to choose a yogurt maker correctly.
In order to eat healthily and nutritiously, it is advised to make yogurt at home. For this purpose, you need the yogurt maker and a small capacity with the transparent lid and thick walls. The high temperature is necessary for ripening of boiled milk with the lactic bacteria. So the construction is heat-resistant and can maintain the optimal temperature conditions. All you need is to add certain ingredients in the right proportions and to turn on the device! After a while, you will have a delicious yogurt.
The Capacity of the yogurt maker, as a rule, is 1 l. The yogurt makers may be of 2 types: some contain one large container, the others - several containers (usually they are 7-8 jars with the capacity of 125-150 ml each). The yogurt maker with jars will be great for a large family. Thus, everyone will be able to eat the portion of the homemade yogurt without pouring it from the large container. These separate jars are considered to be more convenient for storage and usage. Furthermore, you can prepare yogurt with different fillings. Whereas, if you use one large container, you will not have such opportunity.
The Control Panel is an important feature while choosing the yogurt maker. The device can be controlled by the means of the mechanical timer with LCD display. The timer can be of different types - fixed, adjustable and digital. The adjustable and digital are more proper because you have the opportunity to regulate the period of fermentation. The time depends on the yogurt texture. The product usually ferments from 4 to 10 hours. The important thing is that the longer yogurt stays in the warm place, the thicker it will be. What is more, the auto shut-off function is available in some yogurt makers! It prevents from spoiling and overcooking. The yogurt maker includes a special indicator. It can be represented by the red light, the system of voice notice or just a conventional one. Many yogurt makers have several additional options like the section for cord winding. Moreover, some yogurt makers have special jars with the marking system according to the date.
Taking into account the distinctive design of the yogurt makers, you will be able to bring the necessary style into your kitchen. The Construction and Design may vary from one yogurt maker to another. They can be of various colors and made of various materials. You should be very attentive while considering yogurt maker material. If you choose the glass yogurt maker, you will acquire a healthier one for making a good yogurt. And if you select the plastic material, you are going to get a lighter weight, but not a so healthy container. Thus, if you do choose the plastic material, make sure that it is BPA free and non-toxic.