If you take care of the health, then the Yogurt Maker can be your best assistant. It is able to provide you with the natural dairy
products every day. So, the health care process may become easier and tastier. This yogurt makers review will help you to choose the best one.
...
Read more
...Read less
Control panel and functions
X
This site is a free online resource that strives to offer helpful content and comparison features to its visitors. Please be advised that the operator of this site accepts advertising compensation from certain companies that appear on the site, and such compensation impacts the location and order in which the companies (and/or their products) are presented, and in some cases may also impact the scoring that is assigned to them. The scoring that appears on this site is determined by the site operator in its sole discretion, and should NOT be relied upon for accuracy purposes. In fact, Company/product listings on this page DO NOT imply endorsement by the site operator. Except as expressly set forth in our Terms of Use, all representations and warranties regarding the information presented on this page are disclaimed. The information which appears on this site is subject to change at any time. More info
Cuisinart CYM-100
One Large Container
Cuisinart is a prestigious American brand that is driven by design innovation. The company aims to produce functional, top-quality and unique kitchen appliances and this Cuisinart Electronic Yogurt Maker is one of them. So, let's check what so special about it.

For starters, we would like to point out that this premium yogurt machine feels solid and looks expensive. It has a sleek, elegant design that is streamlined enough to fit just any counter. Unlike the majority of yogurt makers that come with transparent lids and numerous jars, this model has one inner container that allows you to make a large amount of yogurt at once. To specify, its capacity makes 50 ounces, which is sufficient for making healthy breakfast for your family.
So, we can conclude that this Cuisinart machine is an ideal solution for people who don't like to hassle with numerous jars. Now you don't have to move all things around and soil any other appliances. Just press one button and the machine will do all the work for you.
What is notable, it perfectly ferments any type of milk including organic pasteurized whole milk, raw unpasteurized milk, and coconut milk. It makes a very velvety and creamy yogurt of thick consistency.
Exclusive Machine
Yet, what really sells this product is the fact that it's currently the only yogurt maker available for sale that chills after fermentation. That is to say, the appliance automatically switches to the cooling mode when the processing cycle is complete. And then, it maintains cool temperature until you turn it off. Depending on your lifestyle, this is a big convenience for busy families that are always on-the-go.
Depending on the consistency and taste you'd like to achieve, you can set the fermentation timer and chill timer for up to 24 hours at 1-hour intervals. Longer cook times mean you'll get more tang and thicker yogurt, while longer chilling time allows you to make thick yogurt even from dairy-free milk.
As for ordinary milk and the most popular Greek yogurt, the fermentation process will take just 6-7 hours. The Cuisinart Electronic Yogurt Maker will make so creamy and rich yogurt that you'll be able to stand a spoon up in it. For sure, it's one of the most functional and sophisticated models you can find on the market.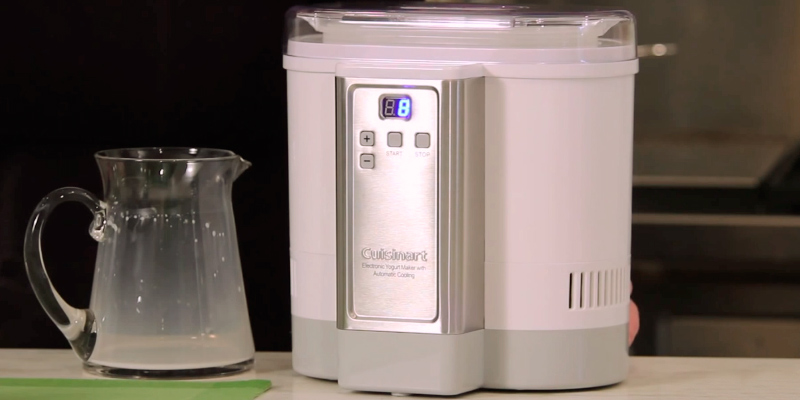 Last updated price

$

0.00

Stock
May be out of stock
ASIN

B00ARSC1MK
---
VIDEO
CYM 100 Electronic Yogurt Maker with Electronic Cooling
What customers say about this product
The capacity is fine (just over a liter), and results are, within the bounds of a biological system, pretty consistent.
The deciding factor for me was how it switches to chilling automatically when the timer is done.
This machine delivers what it promises and is durable.
I also like the countdown display... I see the soothing blue and hear the gentle hum of the fan, and I know my yogurt is on its way!
The large capacity container appealed to me because it is PLASTIC (not glass!)
You can hear a small noise while it is heating or cooling but that cycles on and off as the machine is heating or cooling.
Cuisinart CYM-100
Dash Greek (DGY001BU-SAM)
Cute and Compact
If you're limited in kitchen space and look for a compact device for making tasty yogurt, you certainly need to consider the Dash Greek Yogurt Maker Machine. Weighing just 2 lbs and having a small footprint, it's an ideal product for apartments, small kitchens, or college dorms.

This cute machine is produced from FDA Approved Food-Grade Polypropylene that is completely safe for humans. With that, the machine looks stylish with its matte finish and cute designs. It's available in classic White, as well as bold Blue and Pink. Therefore, it can liven up just any interior and add fun vibes to your kitchen.
The unit makes yogurt in bulk, not in tiny glass cups, and is capable of draining the whey from the homemade yogurt. That is to say, it arrives with a strainer/filter for separating the whey and a separation container that holds the strainer and catches the whey. Also, the set includes an inner lid and a chatty but useful manual with a recipe guide. Moreover, by purchasing this product, you'll also gain access to the rapidly growing database of recipes provided by the manufacturer.
As a nice touch, the BPA-free buckets, lids, strainer basket, and even the power cord neatly fit inside the base, taking up even less space for storage. Also, all the accessories and non-electric parts are very easy to wipe clean with a soft sponge.
So Simple to Use
When it comes to kitchen appliances, one of the most important things to take into account is actually its capacity. This yogurt maker is meant to provide you with a fairly decent amount of yogurt - 2 quarts. And as we've mentioned above, you won't have to deal with individual glass jars that tend to have "hot spots" or unevenly heat. Instead, this appliance provides you with one container which is enough for preparing the nutritious breakfast for the whole family. It heats evenly from all the sides, and, as a result, you get yogurt that is ultimately even in texture.
On average, the preparation time takes about 10 minutes - you'll need to add milk, yogurt starter and optionally some custom ingredients. Then, you can leave it overnight (8-12 hours) and enjoy fresh, homemade Greek yogurt first-thing-in-the-morning.

This yogurt maker is extremely easy to use due to digital controls on the front. It has just an LCD display and four buttons to start up and stop the process. In all, this is a great yogurt maker for those homes where free space is an issue. It's straightforward to use, compact, and cute.
Last updated price

$

79.97

Stock
In stock
ASIN

B00DDXWX0Q
---
VIDEO
Making Greek Yogurt with the Dash Greek Yogurt Maker
What customers say about this product
Love, love, love these large capacity yogurt makers!
The containers and strainer are really well-designed and are compact.
Everything stacks up inside itself for storage
This is the best little yogurt maker ever! Plus it automatically shuts off after the time you select.
This machine is very light so I can store it under the counter when not in use. Also easy to clean
Flexible timer in 30 minute increments
Dash Greek (DGY001BU-SAM)
Euro Cuisine YM80
The Best Seller
If you're looking for a functional yet moderately-priced yogurt making machine, the Euro Cuisine YM80 boasts the best price/quality performance. It's able to bring you all the benefits of yogurt and none of the commercial additives for a fraction of the cost.

First off, we would like to turn your attention to its design. This stylish yogurt maker is well built but lighter than you may expect. It has a white base and transparent lid allowing you to check the process of fermentation at a glance. Overall, the unit has a simple construction but looks really nice.
The Cuisine mini machine comes with seven jars. The containers are made of glass, thus they exclude the possibility of emitting plastic flavor in the yogurt. The jars are heavy duty and have solid plastic lids that provide a very tight seal. No flimsiness there.
Also, the device is quite substantial and reliable. It maintains the proper temperature well and delivers a creamy, satisfying texture of Greek yogurt. Having this useful appliance in your kitchen, you'll be able to make custom flavors, healthy gourmet treats. So, if you'd like to save your money and health on store-bought yogurt but aren't willing to shell out a hundred bucks on a professional machine, you can't go wrong with the Euro Cuisine YM80.
Works with any Kind of Milk
The unit is versatile enough to turn almost any type of milk into a healthy homemade treat. To be more precise, it can be used with pasteurized milk of any fat content, powdered milk, long-life UHT sterilized milk, Soy milk (just sure to use UHT soy milk with fructose, honey, or malt, since any of these ingredients is necessary for fermentation). 
The taste and texture of your yogurt will vary according to the milk and yogurt starter of your choice. But on average, whole milk will take 8 hours, 2% milk needs 10 hours, and skim milk requires up to 12 hours.
For best results, it's recommended to heat the milk up to 180 degrees F and then cool it down prior to pouring down the mixture into the jars.  However, if you use pasteurized milk, this prep step might be omitted. 

In all, the Euro Cuisine YM80 is pretty fantastic for the price. It's a versatile and nutritious kitchen staple that produces seven creamy and thick jars of yogurt. 
Last updated price

$

27.99

Stock
In stock
ASIN

B000EX16RY
---
VIDEO
Euro Cuisine Yogurt Maker Model YM80
What customers say about this product
This is easy and fast to use. I keep it on for 18-24 hours to develop a very distinct tangy flavor.
Lack of a timer or shut off was not a problem for me.
It has an on and off switch with numbers totaling 12 hours on the outside which do not light up or tell you how many hours you had it on for.
The glass jars are easy to clean in the dishwasher, and the 6-oz size makes are good serving. Love it!
Love the taste and quality. The machine is durable too!
It is simple and the jars that it comes with are lovely. Heavy duty and perfect size! A keeper.
Euro Cuisine YM80
CUSIBOX Automatic 7 Glass Jars
High-quality Construction
If you're looking for a yogurt maker for family use, you should seriously consider the CUSIBOX Automatic Yogurt Maker Machine. This yogurt maker comes with as many as seven separate small cups, meaning you can keep fresh portions of yogurt in your refrigerator and your children will be able to grab one whenever they want.
Also, the generous 50-oz capacity and seven available jars will allow you to experiment with recipes as you wish: you can make a classic Greek yogurt and a fancier yogurt with chocolate at a time.

Moving on, we would like to say a few words about the flawless design of this set. Understanding that glass is safer than plastic, the manufacturer has done all the jars from high-quality glass. This way, you can expect a long life and no foul odors in your yogurt. As for the main appliance, its body and components are made from FDA, food-grade materials.
Take note that all the jars are leak-resistant, so you and your kids can safely take a cup of yogurt to work, school, or college and enjoy a really healthy snack at lunchtime.
It's That Easy
What we also liked is the fact that the CUSIBOX yogurt maker is a very intuitive appliance. It has only one button and is extremely easy to use. To make a simple yogurt, you just need to:
Make sure that

glass containers are clean and dry. And then add

two teaspoons of natural yogurt to each one. Try to choose a natural yogurt that doesn't contain any additives.
Pour around 40 oz of milk (room temperature, around 68 degrees F) into the jars with yogurt and stir well. To get the best results, choose full cream UHT milk.
Tightly close the lids and place all the jars into the machine.
Turn on the machine using the central button. The inside temperature will be maintained in the range of 104 - 109 degrees F. Depending on the consistency you want, remove the yogurt glasses 4-8 hours after switching on the unit.

So, if you want to treat your nearest and dearest to healthy, homemade yogurt, it's a perfect machine. It's high quality and extremely easy to use. Even seniors and teenagers will be able to prepare mouthwatering desserts using it. 
Last updated price

$

0.00

Stock
May be out of stock
ASIN

B07PQWBT86
---
CUSIBOX Automatic 7 Glass Jars
MVPower Automatic Digital
Sleek Appliance
If you already have many stainless steel appliances in your kitchen, and look for a decent yogurt maker that won't ruin the integrity of your decor, the Yogurt Maker by MVPower may be your best choice. Made from durable stainless steel, this unit has a beautiful modern appearance that can complement nearly any home.
With its classy yet neutral look, this sleek product will blend seamlessly into your house, no matter whether you have an interior full of natural wood cabinets or a modern kitchen with white, marble countertops. Actually, it's the appliance you'd like to display rather than hide immediately after each use.
Besides aesthetical benefits, this stainless steel yogurt maker boasts some other features you'll like. For one, it's very strong and able to withstand many years of heavy use even without showing signs of wear or damage.
For two, the stainless steel is non-porous, meaning the unit resists lingering germs and bacteria better than plastic models. It's also highly resistant to water damage and rust, which are surely important considerations for the kitchen appliances.
And for three, the brushed stainless steel casing won't show fingerprints and small marks that easily. And even if any marks and smudges do occur, you'll be able to wipe it off using just a clean cloth soaked in warm water.
Speaking about the yogurt cups, they are made from the materials matching the standards of EU ROHS and FDA. That means they are 100% safe and sanitary.
Long-Time Cultivating
When it comes to functionality, the MVPower yogurt machine also shines here. The main perk of the device is an extra-long timer setting allowing you to set the fermentation for up to 48 hours. This way, you'll be able to incubate just any active culture you can think of. So, if you're not a fan of dairy, you can try using your favorite nut milk.
All the settings will be shown on a clear LED display for more precise temperature control. And once your yogurt is made, the unit will give you a loud voice prompt.
With the intelligent controls, an extra-long timer setting, and a sleek stainless steel interior, the MVPower Yogurt Maker is hard to beat. It would be a great addition to any kitchen.

Last updated price

$

39.99

Stock
In stock
ASIN

B07F41XZJ9
---
MVPower Automatic Digital
Infographics
---
What Is a Yougurt Maker?
A yogurt maker is a simple and inexpensive kitchen appliance which makes cultured milk foods. It is the perfect acquisition for people who lead a healthy lifestyle, and especially for those who have little kids, since it allows you to make delicious yogurt that is free from any additives and chemicals at the comfort of your home.
Basically, a yogurt maker consists of a base with a built-in heating element and several containers for fermented milk products. However, you can also find single-jag models. Those won't provide you with any extra containers but will offer a bigger capacity overall. The market has many different models which may vary in size, functions and options, however, they are all similar in one thing: any yogurt maker you take is supposed to ferment milk. After that, it's essential to keep its temperature consistent throughout the whole period of fermentation. If that sounds like a lot of work for you, there are high-end models capable of doing all that for you. The market offers so many models everyone should be able to find what they need. In this article, we've gathered some of the top yogurt makers from different brands, along with the buying tips, and hope it'll help make this choice easier for you.

For those who adore milk-based desserts, we also recommend taking a look at our comparison of the best ice cream makers. Smoothies are another great and healthy dessert that you can make from milk; if you like it more, make sure to check out our smoothie makers reviews too.

What Features to Compare
Like all the kitchen appliances, yogurt makers have a number of important features you should pay attention to. Now we are going to tell you how to choose a yogurt maker correctly.
Capacity

The yogurt makers may be of two types: some contain one large container, while the others - several containers (usually they are 7-8 jars with the capacity of 6-7 ounces each). Basically, yogurt makers with jars will be great for a large family, allowing everyone to have their portion of the homemade yogurt without a need to separate it from the large container. The individual jars are considered to be much more convenient for storage and usage. Furthermore, they enable you to experiment with different fillings.

Take note that some yogurt makers come with special jars that boast the marking system allowing you to record the date of fermentation.

Control Panel

The control panel is another important factor when choosing a yogurt maker. Whereas modern yogurt makers are mostly controlled by buttons or dials and have LCD displays, the timer may vary from model to model. To specify, timers can be fixed, adjustable, or digital.
The adjustable and digital timers make the machine more flexible to use because you get the opportunity to regulate the period of fermentation, depending on your needs and starter.
On average, a Greek yogurt needs from 4 to 10 hours for cultivation. The longer the yogurt is kept warm, the thicker it will be.
Also, some high-end models come with the auto shut-off function. Most users find it very handy since it prevents your homemade yogurt from spoiling and overcooking.
It's a welcome addition when a yogurt maker is fitted with a special indicator - light or voice notification.
Design and Construction

The construction and design may vary from one yogurt maker to another. They can be of various colors and made of various materials.
By choosing the glass yogurt maker, you get a healthier appliance for making a good yogurt. And if you select the plastic material, you are going to get lighter weight. However, make sure that it is BPA free and non-toxic.