If you take care of the health, then the Yogurt Maker can be your best assistant. It is able to provide you with the natural dairy
products every day. So, the health care process may become easier and tastier. This yogurt makers review will help you to choose the best one.
...
Read more
...Read less
Control panel and functions
Cuisinart CYM-100
Capacity
It is easy to make a large amount of yogurt at once, as the capacity of the inner container is 50 ounce. And it is sufficient for making healthy breakfast for your family. This is the perfect solution for people who prefer one large yogurt container instead of the numerous jars. Now you do not have to move all things around and to soil any other appliances. Just press one button - and the machine will do all work for you.
Control Panel and Functions
LCD display makes the whole process of yogurt preparation easier. It is undoubtedly handy to have a deal with this up-to-date device. Because it shows you the necessary options on the display. Furthermore, it has a timer. So, you can always control the process. To be exact, you are able to start up and stop the process, simply pressing one button. The item is not heavy as it is made of BPA-free plastic.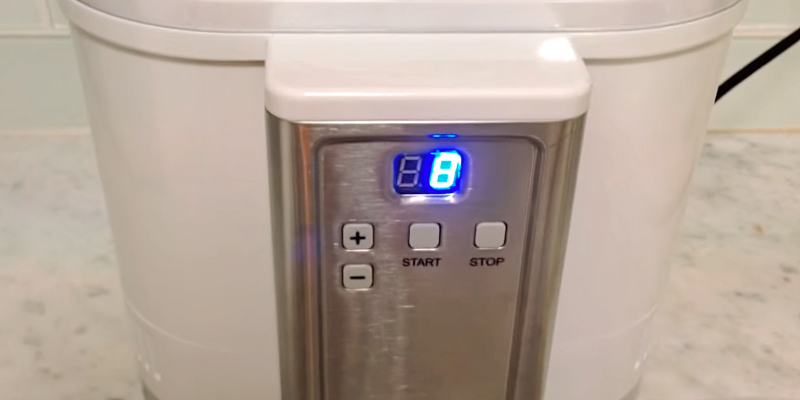 Construction and Design
We highly appreciate the cuisine yogurt maker sleek stainless steel. Moreover, it takes a little space on the countertop. It will look beautifully and fit pretty well for your kitchen, giving the whole kitchen an elegant look. So, with this awesome construction and design, you may rely on the good quality and a great look.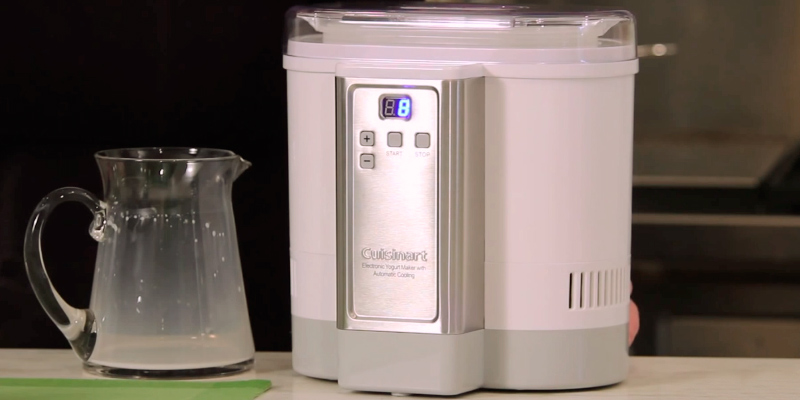 ---
VIDEO
CYM 100 Electronic Yogurt Maker with Electronic Cooling
What customers say about this product
I like that you have one big container and not several little jars.
Thick, creamy yogurt. Works so much better than traditional incubation methods.
The yogurt maker is great. Perfect size and simple to use and clean
Wonderful controls for more minute gradations in cooking time and thus texture.
I appreciate that the cord removes for storage, so it can sit flush against the counter-top back splash.
It did function as expected, and the cool down and hold feature was a bonus.
Cuisinart CYM-100
Salton YM9
How to Make Yogurt?
Yogurt is a dairy product made from bacterial fermentation of milk, usually with adding some other flavors. Special bacteria ferment milk, giving it a specific color, taste, and changing its consistency.
Yogurt is an utterly useful food for a human body. It helps improve digestion and our bodies absorb lactose from yogurt a lot better than from milk. Yogurt is really helpful for people allergic to milk protein.
Now when you know what yogurt is, let's find out how to make it. Certain bacteria cultures are used; most often, they are Streptococcus thermophilus and Lactobacillus bulgaricus. They are added to milk, then you set a certain temperature mode. As usual, yogurt requires a temperature from 107 to 113 degrees F. However, remember that the temperature above 122 degrees F will be too high, bacteria will simply die. The temperature is maintained for 8-12 hours, during which all lactose is fermented and milk turns into yogurt. Then, you will need to cool the yogurt to 40 degrees F, preserving all bacteria and achieving the best consistency. As you can see, it's all really simple - no special skills are required. You can enjoy delicious and healthy treats with your whole family.
Salton YM9 Makes Yogurt Making a Piece of Cake
No doubt, you can make a similar dairy product without a yogurt machine - just use an appropriate dish and ensure the right temperature. Yet, you can cook on open fire instead of using a stove, so we think using modern technologies is a lot better.
Salton YM9 yogurt maker is really simple in use, even a child can tackle it! Just pour all ingredients into a container, plug the appliance in, and push the button. There's a time indication in the upper part of the housing, so you can easily find out how much time is required till your yogurt is ready. However, this appliance has no timer, so you will hear no sound when the process is over. Thus, pay attention to the remaining time!
More Products to Consider
Apart from milk, you need bacteria cultures so make sure to get them in advance. They are supplied in small bags, so you can always open one of them, add to milk, and make your favorite yogurt. 
Additional Info
---
What customers say about this product
It's got a great quart capacity, and will ultimately save you money and allow you to really know what is in the yogurt you are eating.
This is a great yogurt maker and very light weight.
I notice the orange power light every time I'm in the kitchen and retrieve the yogurt in 24-48 hours (I like it fairly thick). Fantastic!
There is a reminder feature at the top but it does nothing more than let you pick which hour you have to unplug it.
The Salton is easy to manage and easy to clean. There is an exterior, electric warming container, an interior plastic tub, an inner cover and an over-cover.
The container is very easy to clean in the dishwasher.
Salton YM9
Euro Cuisine YM80
Capacity
The containers are made of glass. Thus they exclude the possibility of emitting plastic flavor in the yogurt. You will highly appreciate this yogurt maker, as it enables you with a large amount of yogurt! So, you can feed all your guests. It has an evident advantage - you are able to make 7 jars of yogurt with 6 ounces. This also means, that you can give each one the different taste.
Control Panel and Functions
Timer and indicator, included in this yogurt maker model, enable you to create yogurt exactly in the certain time. A lot of jars provide you with the opportunity to vary flavors in each separate jar to your preference. Actually, it is the automatic digital yogurt maker. So you do not have to worry about spoiling or overcooking.
Construction and Design
This stylish white and transparent yogurt maker includes seven glass jars with lids. Transparent lids are made specially to view the cooking process. So this white yogurt maker, available in the plastic and glass, will surely be the great device for making yogurt, enriched with proteins. It has the simple construction, but looks really nice.
---
VIDEO
Euro Cuisine Yogurt Maker Model YM80
What customers say about this product
The jars are very firm even though I accidentally dropped one.
A automatic timer would be nice, but for this price that seems to be asking too much.
It has an on and off switch with numbers totaling 12 hours on the outside which do not light up or tell you how many hours you had it on for.
The jars are glass with screw-on lids and they are dishwasher safe.
It is very compact, yet heavy duty and the glass jars are perfect for various uses besides making yogurt in.
It is simple and the jars that it comes with are lovely. Heavy duty and perfect size! A keeper.
Euro Cuisine YM80
Dash Greek (DGY001BU-SAM)
Capacity
The important thing to take into account is actually its capacity. This yogurt maker is meant to provide you with a fairly decent amount of yogurt - 2 quarts. You do not have to deal with the little jars. This appliance provides you with one container for making home yogurt. It is enough for preparing the nutritious breakfast for the whole family.
Control Panel and Functions
This yogurt maker is extremely effective due to its features. First of all, it has the LCD display with the timer! Secondly, its built-in cooling system enables you to switch to the optimal temperature. One more feature - hiding the cord makes this appliance fit your kitchen properly. And you do not have to search a special milk type as it works with any kind of milk. Moreover, it is extremely convenient to store all items as two containers are included.
Construction and Design
The Dash Greek Yogurt Maker is available in blue, pink, and white. Due to its cylindrical design, it will not take much space in the kitchen. Furthermore, it will fit any taste. The non-toxic plastic material of this specific item makes it much easier to move the Dash Greek yogurt maker around. It does not weigh much in comparison with yogurt makers made of other materials.
---
VIDEO
Making Greek Yogurt with the Dash Greek Yogurt Maker
What customers say about this product
Love, love, love these large capacity yogurt makers!
Easily move interior container to the fridge without jostling.
Already comes with strainer no need to buy one or get unbleached coffee filters/cheese cloth/strainer.
After a little fiddling to be sure I turned the maker on, the light comes on and the timer goes down, so you can always knows it's working
Great color..easy instructions..taste like yogurt..thicknest perfect
Things i loved: the timer, the two tubs, the strainer (instead of having to buy or create one)
Dash Greek (DGY001BU-SAM)
Aroma AYM-606
Single Bowl VS Several Small Cups?
You need to decide what kind of container for a yogurt maker you need. Some models have a single container, whereas others are equipped with several small yogurt cups (usually from 4 to 12). The more cups, the more capacity each of them will have.
The models with one large container are perfect for making traditional yogurt, boiled fermented milk, and so on. Moreover, it's much easier to wash one big container instead of washing lots of small yogurt cups. However, some cups are fully dishwasher-safe so you can put them in a dishwasher and leave all the work to it.
If you need an appliance for your family, you'd better use a yogurt maker with lots of small cups. It's very convenient since you will keep several fresh portions of yogurt in your fridge and your kids will need just to take one.
Thus, if you have a large family and wish to feed your nearest and dearest with healthy food, pay attention to Aroma Housewares AYM-606. The 8 available cups allow you to experiment: you can make a vanilla yogurt, a yogurt with chocolate at a time. Also, the lids are leak-resistant, so we recommend you to take a cup of yogurt when you go to college or work and have a really healthy snack. Remember that healthy lifestyle is impossible without healthy food!
Amazing Recipes to Any Taste
Even those who like a natural flavor-free yogurt are sometimes willing to try a new taste. Let alone kids who usually don't like dairy products and adding some flavor is a way to make them eat such food. Thus, we've selected the most popular recipes for you:
Coffee yogurt
Take 33 ounces of milk, heat it up, then add a yogurt culture, 2 spoons of instant coffee, and a bit of sugar. Mix all the ingredients using any blender start making yogurt.
Vanilla yogurt
Dilute 2 teaspoons of gelatine in a cup of pre-heated milk. Add two spoons of honey, a pinch of vanillin, and 2 cups of milk. Mix the ingredients and add a yogurt culture. Mix it again, pour into the cups and place into the yogurt maker. Your vanilla yogurt will be ready in several hours.
Chocolate yogurt
Melt a half of a chocolate bar or use a chocolate syrup. Then, add some warm milk and yogurt culture. Afterwards, fill each yogurt cup with this substance. You can also use white chocolate - it tastes really unusual!
Orange yogurt
Peel the orange and cut each slice of orange into small cubes and put them into a bowl. Add a spoonful of sugar, a half spoon of water, and heat the bowl on a mild fire. Slowly stir the mix and then fill each cup. Add some more milk and yogurt culture. Finally, turn the yogurt making machine and wait till your food is ready.
We hope you will enjoy these recipes and if you wish to enjoy other flavors, don't hesitate to try some other recipes.
More Products to Consider
If you wish to have a full control over the yogurt making process, use a cooking thermometer.
Additional Info
---
What customers say about this product
Works as advertised. Easy to use. Makes a total of about 4 cups of yogurt per batch
Machine is small and quiet, and the storage containers are just the right size to store and eat from.
The interface couldn't be easier. Power it up, the digital display comes on. Add hours and minutes desired, and press the Start button. The countdown begins, the unit keeping it at the right temperature, then shuts itself off when it's done.
IT SHUTS OFF AUTOMATICALLY SO THRE IS NO NEED TO WORRY.
I will say the build of this yogurt maker is clean and nice. Everything about the machine is well put together and seems durable enough.
On a side note, love that this is completely BPA free and the cups are perfect individual portion sizes. Highly recommend for all yogurt lovers!
Aroma AYM-606
Infographics
---
What Is a Yougurt Maker?
A yogurt maker is the simple and inexpensive kitchen appliance which makes the cultured milk foods. It is the perfect acquisition for customers who lead a healthy lifestyle and especially for those who have little kids. Yogurt maker consists of the housing with the built-in heating element and the containers for making fermented milk products. The task of the yogurt maker is to warm up the mixture of milk and ferment. The next essential step is to maintain the consistent temperature throughout the whole period of fermentation.
For those who adore milk-based desserts, we'd recommend you to take a look at our comparison of the best ice cream makers. Smoothies are another great and healthy dessert that you can make from milk or any other ingredients; if this is the kind of food you'd like to prepare at home, proceed to read our other review on smoothie makers.
What Features to Compare
Like all the kitchen appliances, yogurt makers have a number of important features you should pay attention to. Now we are going to tell you how to choose a yogurt maker correctly.
In order to eat healthily and nutritiously, it is advised to make yogurt at home. For this purpose, you need the yogurt maker and a small capacity with the transparent lid and thick walls. The high temperature is necessary for ripening of boiled milk with the lactic bacteria. So the construction is heat-resistant and can maintain the optimal temperature conditions. All you need is to add certain ingredients in the right proportions and to turn on the device! After a while, you will have a delicious yogurt.
The Capacity of the yogurt maker, as a rule, is 1 l. The yogurt makers may be of 2 types: some contain one large container, the others - several containers (usually they are 7-8 jars with the capacity of 125-150 ml each). The yogurt maker with jars will be great for a large family. Thus, everyone will be able to eat the portion of the homemade yogurt without pouring it from the large container. These separate jars are considered to be more convenient for storage and usage. Furthermore, you can prepare yogurt with different fillings. Whereas, if you use one large container, you will not have such opportunity.
The Control Panel is an important feature while choosing the yogurt maker. The device can be controlled by the means of the mechanical timer with LCD display. The timer can be of different types - fixed, adjustable and digital. The adjustable and digital are more proper because you have the opportunity to regulate the period of fermentation. The time depends on the yogurt texture. The product usually ferments from 4 to 10 hours. The important thing is that the longer yogurt stays in the warm place, the thicker it will be. What is more, the auto shut-off function is available in some yogurt makers! It prevents from spoiling and overcooking. The yogurt maker includes a special indicator. It can be represented by the red light, the system of voice notice or just a conventional one. Many yogurt makers have several additional options like the section for cord winding. Moreover, some yogurt makers have special jars with the marking system according to the date.
Taking into account the distinctive design of the yogurt makers, you will be able to bring the necessary style into your kitchen. The Construction and Design may vary from one yogurt maker to another. They can be of various colors and made of various materials. You should be very attentive while considering yogurt maker material. If you choose the glass yogurt maker, you will acquire a healthier one for making a good yogurt. And if you select the plastic material, you are going to get a lighter weight, but not a so healthy container. Thus, if you do choose the plastic material, make sure that it is BPA free and non-toxic.