Bring your friends or family members together for communication and fun, while enjoying the unmatched dining experience with a fondue
set. Below we've selected the best fondue sets for you to become the host of the best-ever fondue party!
...
Read more
...Read less
X
This site is a free online resource that strives to offer helpful content and comparison features to its visitors. Please be advised that the operator of this site accepts advertising compensation from certain companies that appear on the site, and such compensation impacts the location and order in which the companies (and/or their products) are presented, and in some cases may also impact the scoring that is assigned to them. The scoring that appears on this site is determined by the site operator in its sole discretion, and should NOT be relied upon for accuracy purposes. In fact, Company/product listings on this page DO NOT imply endorsement by the site operator. Except as expressly set forth in our Terms of Use, all representations and warranties regarding the information presented on this page are disclaimed. The information which appears on this site is subject to change at any time. More info
Cuisinart CFO-3SS
Fondue is Easier than Ever
Do you want to become a master of unforgettable fondue? In this matter, it is essential to select an appropriate utensil to make this lip-smacking dish. And if you add a premium quality CFO-3SS from Cuisinart to your kitchenware, be sure, you will be able to show off your culinary talent to all your friends and family members! This superb fondue set will be a real help when you're eager to invite your friends over but have no time for cooking. You need only to add your favorite ingredients to the bowl and connect it to the mains to make the whole variety of dishes from scrumptious appetizers and hors d'oeuvres to fabulous desserts. This electric pot has a 3-Qt capacity that is more than enough to serve a dinner for the whole family or arrange a meat fondue for a small group of guests in the backyard. Besides, for your ultimate convenience, the set includes 8 metallic forks with cool-touch color-coded handles to dip the dainties into a burning hot oil or melted cheese. Meanwhile, a special fork rack on top of the bowl will securely hold the forks keeping them at hand.
What Can be Safer than Steel?
It is worth mentioning that this immaculate fondue set is made of stainless steel known for its durability and ease of cleaning. Cuisinart is famous for its investigations on changing customer's needs. For their products, only the premium-quality materials conforming to all the global quality standards are selected. The manufacturer often participates in consumer electronics shows unveiling innovations and high technologies. Today Cuisinart range of products offers the whole variety of kitchen appliances made of high-quality materials. In this very model, the brushed stainless steel design looks sleek and elegant and will become an excellent addition to any modern kitchen. It is not a mere chance that most families choose this remarkable pot for different types of fondue from spicy hot meat and fish entrees to flavorful sweet chocolate desserts. Coming with a non-stick interior, this Cuisinart fondue bowl will make cleaning a breeze. So, you can share tasty treats, enjoy communication with family or friends and worry not about tiresome hand washing. Eventually, you will only need to disconnect the power cord, put the bowl into the dishwasher and let it do its job. Yes, it is that simple!
Follow Cuisinart news and learn some incredible new fondue recipes on a company page on Facebook.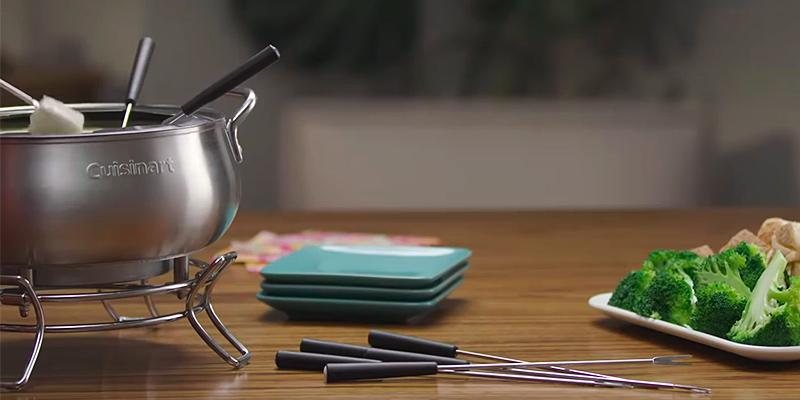 More Products to Consider
To save your time and efforts on making fondue we offer you original Swiss Knight Fondue, a ready cheese and wine blend in a vacuum package.
Additional Info
Last updated price

$

69.95

Stock
In stock
ASIN

B00018RR48
---
VIDEO
Cuisinart Chocolate Raspberry Fondue
What customers say about this product
I was thrilled by how fast it heated all ingredients up right in the pot. Kept the fondue the perfect eating temperature throughout.
The best feature is that is dishwasher safe. I highly recommend this if you want to take your party to the next level!
Beautiful and ample capacity. Also wasn't aware that the electrical power cord is magnetic so will detach easily if cord is pulled. Great safety measure.
I'm very pleased with the weight of it. The attached base is definitely an extra safety factor: Stable and sized for the bowl ... less likely to accidently tip it.
Cuisinart CFO-3SS
Good Cooking Electric Cheese/Chocolate
Pay for One and Get Two!
This eye-catching chocolate fondue set features an extraordinary design, as the body accommodates two aluminium bowls for making delicious chocolate fondue. Moreover, each bowl boasts separate operation, allowing you to use them either independently or simultaneously. The practice of using this fondue set shows that an option with two separate pots is perfect for families with several kids. Little fidgets always want to have an individual dipping pot with a chocolate dainty and this immaculate electric fondue set will let them avoid quarrels at the table. On top of that, a compact and lightweight design makes the unit highly portable. So, you can easily take this fondue set with you when visiting your friends or relatives to treat them with tasty chocolate covered fruit and marshmallows. To make an amazing chocolate dipping in this bowl you will only need white or black chocolate. But this model is not confined to making chocolate fondue. Turn on your creativity and take some unconventional recipe to astonish your beloved one with your culinary ideas or delight your kids with funny and yummy desserts. For your convenience, there is a similar model with a single melting pot.
Unrivaled Set
What do you usually find in a common fondue set? Most often, it is a fondue pot itself along with a set of fondue forks. But the best-ever Good Cooking fondue set breaks the pattern and in addition to a standard bowl and forks, it comes with chocolate molds, a truffle dipper and a set of fruit skewers. It will be an everlasting joy and pleasure to make versatile scrumptious desserts for any occasion from a festive family dinner to a romantic evening with your darling. Try it!
Mygoodcooking
Getting to know this company better you can find a lot of different helpful kitchen gadgets allowing you to cook delicacies. Hence, visit their official web-site to check the wide range of products.
Why Chocolate is Useful?
First of all, chocolate is good for your heart. The risk of heart diseases for the people regularly eating chocolate is 37% lower. Chocolate also masks the hunger. 10 grams of sweet delicacy will make your hunger melt away. Besides, scientists proved that a cup of hot chocolate will soothe a sore throat and suppress a cough. German researchers assume that flavonoids contained in chocolate absorb ultraviolet helping to protect the skin and improve blood flow. Eventually, you will look better and much healthier.
More Products to Consider
We'd like bring to your attention Wilton Fondue Chocolate made from premium ingredients for best-ever melting.
Additional Info
Last updated price

$

0.00

Stock
May be out of stock
ASIN

B017A4ENJM
---
What customers say about this product
FYI the aluminum cup is 1 cup capacity. The package says this but when I ordered it, I didnt notice it.
When I first opened it, I was a little disappointed because it was a lot smaller than I expected but after using it I realized it was the perfect size.
Heats up and melts chocolate fast.
This little pot is amazing! It never overheats (and I accidentally left it on for two hours with chocolate in it because I got distracted by a movie) or burns the chocolate and re-melts super fast even after being unplugged for an hour.
Good Cooking Electric Cheese/Chocolate
Nostalgia FPS200
Power is in Vitamins
This exceptional model has a design that easily resembles an ordinary cooking pot on the stand. But actually, it is an attractive fondue set delivered by Nostalgia. With this ingenious unit, you can make delectable hors d'oeuvres, decadent desserts, and even fast-cooked dressings. Moreover, the pot is made of stainless steel to prevent ingredients from losing their taste and flavor and keep the maximum amount of vitamins. Owing to an exceptional property of steel to preserve the heat, you will not have to repeatedly heat up your dish and won't lose on quality and properties of your dish. And do you know why is it essential to keep maximum vitamins in your meal? The biggest issue is that due to considerable vitamins loss in the process of cooking, our body does not get sufficient essential micronutrients that eventually can cause different disorders and health problems.
Insight to History
Fondue came from Switzerland. And if you dig deep into the history you will find a great deal of different versions of its origin. Swiss people say that fondue appeared in the XIVth century. Once on a cold winter evening, when mellow alpine pastures were covered with snow and the shepherds had to hide in the cave, they created this tasty viand that is so popular today. The shepherds had only some bread, cheese and a bit of wine. After a moment's consideration, the inventive Swiss melted cheese with wine in a ceramic pot and dipped bread morsels on long sticks into this blend. Very soon this simple yet gorgeous dish gained the name of fondue. Since then several centuries have passed but the Swiss still adore this dish and continue eating it. And it is a distinct feeling and the sense of unity occurring during the meal that are essential components of fondue as a national dish. Today, it's spread all over the world and each country added something of its own. Hence, now we have an enormous number of unmatched fondue recipes.
Do You Know?
In the ancient times, eating fondue was almost a ritual. There were strict rules and those who breached them faced rather severe punishment. In some cases, when a man who dropped a piece of bread into melted cheese got 5 drubs, and if the same person dropped another piece of bread the punishment would be 20 drubs.
There is one more tradition about fondue. If a girl or a woman drops a pinto fondue blend she should kiss all men around the table. But when it happens to a man he should bring a bottle of good wine! Following the unspoken rule, the same person who dropped the bread for the second time should arrange the next fondue gathering in his or her house and invite all the present guests.
More Products to Consider
A handy Fondue Spoon is a helpful stainless steel accessory excellent for easy and safe food retrieval from hot melted cheese or boiling oil.
Last updated price

$

29.99

Stock
In stock
ASIN

B005QSI52G
---
What customers say about this product
You can fondue in this for a family of four, but you would not be able to use it for entertaining, which I was hoping to do.
Clean up in between courses was easy and quick. I expected a big ordeal between courses, but it was so fast. The timing is all in the prep before, so if you have everything ready, there isn't too much to do each time.
The base may prove powerful enough to heat oil anyway. If not, I can always heat it up in another SS pot and transfer.
Perfect size for small fondues & I even used it for bean dip. :)
Nostalgia FPS200
VonShef Electric Chocolate Fondue Melting Pot
Now It is Easier to Melt Chocolate!
How did you melt the chocolate before? Did you use a conventional stove or a microwave? Sure, melting chocolate this way, you often come across the problem of chocolate sticking to the walls of a cooking pot that makes cleaning a real hassle. But VonShef with its simple, yet efficient, innovative solution will let you forget about this issue and enjoy perfectly molten chocolate whenever you want. VonShef electric fondue set is fitted with a plastic bowl that prevents chocolate from scorching and maintains the appropriate temperature to keep the melted dainty warm. Actually, this is all you need for the ideal chocolate fondue! It will be a joy to use this small unit as it has a single power control switch ensuring easy and comprehensive operation. Despite its compactness and simplicity, this lovely fondue pot offers the whole bunch of alternatives for exquisite chocolate desserts. Everybody will have fun dipping fruit, marshmallows, cakes, candies, cake pops, mini muffins or donuts into molten chocolate. It is great for warming not only chocolate but also a variety of dipping sauces as well as for making ganache and fancy cake decorations.
VonShef: Always Online
If it's the first time you decided to use VonShef products or you have some questions about kitchenware and kitchen appliances produced by this company, you can ask any question on the company's official Facebook page or check some detailed information and directly contact the manufacturer via the company's website.
Chocolate Adventures
Today, many people connect fondue making with a romantic surprising present for their beloved ones as fondue is not only a Swiss delicacy but also the style of communication and interaction. Strike your partner with an exciting and dainty dessert or entertain your kids with funny yummy sweets. Compact design and modest capacity of this model are perfect for two or three persons. Owing to its small size, VonShef electric fondue pot is an exceptional space-saving solution for any kitchen and can be a great gift idea for Christmas, birthday or wedding anniversary. Besides, this unit comes with a set of plastic fondue forks and fruit skewers. So, you do not have to buy any additional accessories. Just connect your fondue pot to the mains, take your favorite ingredients and start your fascinating chocolate adventure!
More Products to Consider
Many customers recommend getting a Fondue Set Washing Kit for convenient and efficient cleaning of this fondue pot.
Additional Info
Last updated price

$

0.00

Stock
May be out of stock
ASIN

B01H7CBY9E
---
VIDEO
VonShef Electric Chocolate Fondue Melting Pot, Warmer, Chocolatier Review
What customers say about this product
Perfect for couple. Pretty small but nice for a date night dinner at home. No chocolate wasted as it holds just about the perfect amount for 2 deserts.
The size was a little smaller than I thought BUT, I've only had chocolate fondue in restaurants and they use large melting pots. After using, this was perfect for a family of three.
They heat up quickly and are very easy to hand wash.
Great product. I use it for cake pops and strawberries mostly. Takes a while to warm up but keeps a great consistent temperature that never burns the chocolate.
VonShef Electric Chocolate Fondue Melting Pot
Oster FPSTFN7700-022
Secure Power Source
Fondue is a major and almost a single national Swiss dish cooked in a heat-resistant pot fixed over the alcohol burner. But the progress in kitchen industry forges ahead and today most fans of this fabulous dish have got used to electric fondue sets designed for domestic use and powered from the mains. Oster FPSTFN7700-022 is one of the most up-to-date electric models allowing you to forget about such issues as a lack of fuel for the burner. Special attention should be paid to the power cord. This top-rated unit comes with a break-away magnetic cord easily released in case of occasional interference. Such option is of a great use preventing the bowl from tipping over and contributing to the overall safety of the model along with special rubber inserts on the feet for stability on the tabletop. Additionally, the handles are made of cool-touch material protecting you from burns when carrying the pot. These sturdy and durable fondue sets are designed with safety in mind, giving you an opportunity to fully immerse yourself in the enjoyable atmosphere of lively meals with friends and family.
All Fondue Types in One Set
According to the owners who've already tried this robust fondue set, you can use it to make literally all existing types of fondue. It is possible mostly owing to a high-quality stainless steel bowl. This material is known to heat up to extremely high temperatures to melt cheese or boil broth for meat fondue as well as to maintain heat for a long period of time. A high-capacity bowl lined with a non-stick coating is suitable to have fun and enjoy yummy treats with a big family or arrange spectacular parties or gatherings with friends serving mouth-watering appetizers and unforgettable desserts. In this concern, you will certainly appreciate a book with modern recipes of delicious fondues. It will offer you the best combinations of ingredients and help select your perfect fondue recipe among a variety of modern recipes. Oster fondue pot is available with 3-Qt and 3.5-Qt bowls allowing you to choose the one to suit your individual needs. Try this best-ever fondue set once and you won't help using it over and over again to please and amuse your guests with such an exciting and rapidly cooked dish as fondue!
More Products to Consider
This high-capacity fondue pot is great for large gatherings. Hence, you can buy an additional fondue forks set for all the guests to join an enjoyable meal.
Last updated price

$

69.99

Stock
In stock
ASIN

B002FWTPIO
---
VIDEO
Oster Three-Quart Fondue Pot | Review
What customers say about this product
I found the 3 quart fondue pot a very good product. We've had it a couple of weeks, and have used it about 5 times. It is very versatile. We've used it first for cheese ( of course) and it was as good as we'd had in Switzerland!
The bowl is made of non-stick material so it's easy to clean.
I was super impressed by how quickly the chocolate melted.
The product is very easy to use. It sits very sturdy on the table, no worry about it accidently being tipped over.
Oster FPSTFN7700-022
What is a Fondue Set
Most people like hosting guests. But if you do not have time for cooking and guests are already around the corner think of a fondue set. It will surely strike and delight all your friends and family members, while you will undoubtedly enjoy quick preparation and kitchen time. Fondue is a traditional Swiss dish served in a heatproof pot (caquelon) and made from a blend of cheese with wine, nutmeg, and garlic. Modern fondue recipes offer a variety of meat fondues for entrees and sweet chocolate fondues for dessert. Basically, fondue set consists of a melting bowl and a set of forks or skewers for dipping ingredients into fondue. Additionally, it may include fork racks and pans for ingredients.
If you like snacks or fast food, check also one of the sandwich makers or panini presses allowing you to realize your culinary ideas.
What Features to Compare
Fondue Type
If you are a fan of chocolate or cheese fondue, we encourage you to consider fondue sets with ceramic bowls. They maintain a moderate temperature preventing cheese and chocolate overheating and sticking to the bowl. Hence, cleaning will be a breeze. For meat or fish fondues you'd better choose metal bowls that will easily handle high temperatures to heat the oil or broth. Meanwhile, stainless steel bowls are the best option for those who plan to make different types of fondue. They are multipurpose and a non-stick interior will become an additional benefit. Besides, it is worth mentioning that some models for chocolate fondue come with plastic or aluminium pots. Usually, they boast a lightweight compact design and are just great for outdoor events and parties.
Capacity and Power source
Fondue bowl or pot capacity will determine the number of people you'll be able to treat with tasty hors d'oeuvres and desserts. A capacity of 0.3-0.5 Qt is enough for a romantic evening of two while selecting a fondue set to make a dinner for a common family of 4 persons you should regard models with a 1.5-Qt bowl. And high-capacity units with 3-3.5-Qt bowls are just perfect for family gatherings or parties with friends where you can invite up to 8 persons. Modern fondue sets also vary by the heat source that will first melt and then heat your incredible fondue. Today manufacturers offer either electricity or open flame as the heat source. The use of electricity will limit unit's portability to a certain extent but on the other hand, it is safer. Open flame fondue makers offer a number of alternatives and may be maintained by means of a candle or different fuels such as alcohol, gel fuel, butane and other types of liquid fuel. Fuel- and candle-based pots are handy and highly portable. But it is better to use them outdoors to avoid the risk of fire.
Extras
The usability and operational convenience of a unit are determined by additional features it comes with. Thus, adjustable thermostats with preset temperature modes or manual temperature control are essential for the right heating temperature to tailor your fondue to perfection. With users' comfort in mind, most manufacturers provided their fondue sets with forks or skewers for picking different ingredients. Additionally, modern fondue sets are often packed with fork racks, special plates or trays as well as various molds for chocolates, candies and cake decorations.