Dreaming of chilly drinks this summer? Portable ice makers can make ice for beverages super quickly and easily. You just need to
add water, press the button, and in less than 10 minutes fresh ice will be ready. Get one of the best portable ice makers and enjoy "ice on-demand" whenever you need it!
...
Read more
...Read less
Aicok 005C
For Home, Office, and Outdoors
With neat silver design, the Aicok Ice Maker looks cute and goes very well in any kitchen or office. The fully stainless steel body is not only nice-looking but also very durable thanks to its anti-corrosion properties. Every detail of the appliance speaks of the highest quality and you will notice it right away. The main element, ice lattice, is purely nickel-plated which guarantees a long life of the appliance. The high-speed exhaust fan ensures great refrigeration and quick heat dissipation. It's very powerful yet quiet owing to a built-in spoiler.
This mini ice maker isn't difficult to operate at all. You just need to plug it in, fill it with some filtered water, then select the desired size of ice cubes and push the ice button. In 7-13 minutes only, 9 fresh and tasty ice cubes will come out. The machine can generate bullet-round ice cubes of three different sizes - S, M, and L. Compared to square ice cubes, the round cones are much smoother and, thus can't hurt your mouth. Each cube has a hollow in the middle to float on the drink, making it more delicious.
In case you don't use all bullet ice cubes at once, they will slowly melt back into the reservoir, allowing you to make more ice later. Actually, it can constantly make ice if the water is available. The built-in storage bin is able to produce 1.8 lbs of ice at once and over 26 lbs of ice per day. The interior of the bin is well-insulated to keep ice crisp and fresh.
The device has a self-cleaning option, but it's recommended to dismount the unit and clean all of its parts by hands every few weeks or so. However, the best part about the Aicok Ice Maker is that it's very energy efficient, the feature which is not common in portable ice makers. So, the Aicok Ice Maker can help you save money not only on ice bags that you'd otherwise need to buy from local stores but also on your electricity bills.

Intelligent Panel
This ice making machine is fitted with a handy LED control panel display. It has 4 touch buttons allowing you to choose the size of ice cubes, adjust the time, and start ice production. The smart display features an "error" indicator, "ice size" indicator, "time" indicator and "full of ice" indicator so that you can always be aware of what's going on.
Summing up this brief review, we would like to say that the Aicok mini ice maker won't occupy much space and will be extremely useful in any place with an outlet nearby. With this ingenious machine, you can quickly make ice anytime you want. And since it allows to choose between three cube size options, it will cater to all kinds of needs for ice cubes.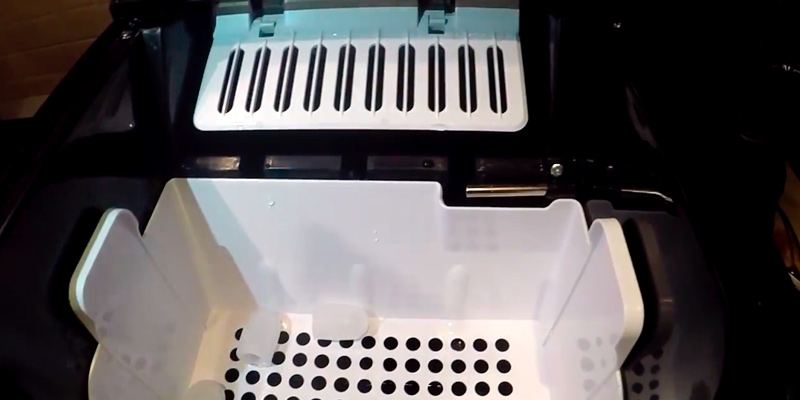 ---
Aicok 005C
iGloo ICEB26RR
Compact Yet Powerful
The Igloo ICEB26RR is a great little appliance to keep your drink nicely refreshing. With 3-quart water tank capacity, it makes 9 cylinder ice cubes in as little as 7 minutes. The machine offers small and large ice cubes that can keep fresh-squeezed lemonade, iced tea, mojitos, and other beverages chilly during hot, summer days.
The unit is ready to use straight out-of-the-box and is quite easy to operate. You simply need to set it on any flat surface, pour some water, and close the lid. The machine is capable of producing 26 pounds of ice per 24 hours, which is enough to keep beverages cool all day long. To haul large amounts of ice, you can remove the ice basket and carry it wherever you need.
The only thing to note is that the ice cubes come out "wet" and tend to freeze together. That said, they break up easily after a few wacks on the ground.
The unit doesn't take up too much table top space and is ideal for use in RV. This is one of the most compact units without compromising ice production. It works great and keeps ice cold for hours.
Stylish Design
While most ice makers are pretty plain and sometimes even ugly, this one looks ultimately stylish. It's available in classy Black, White and Silver designs as well as more vibrant Aqua and Red. It's definitely not an appliance you'd like to hide during parties.
On the top, it has a clear lid allowing you to watch the process of ice making. We would like to point out that the viewing window is a bit larger compared to most other ice makers, meaning you can see every single detail clearly.
Also, there is a stylish control panel on the lid with LED indicator lights that illuminate your choices and let you know when the ice bin is full or the water tank is empty.

All in all, this compact, nice-looking and portable ice maker can help you keep your beverages chilly during the hottest days and parties. It's ideal for RVs, home bars, dorm rooms and offices.
---
iGloo ICEB26RR
hOmeLabs HME010019N
The Best Seller
Summer often means a lot of picnics and party opportunities. And the hOmeLabs Portable Ice Maker Machine is here to provide you with a constant ice supply. It's a sleek and highly-powerful countertop ice making machine that can change your kitchen's functionality. In just 6-8 minutes, it makes the first 9-piece batch of smooth bullet-shaped ice cubes. The basket gets full in less than an hour, which is perfect if you quickly need a large batch of ice. In general, it can produce up to 26 lbs of ice per day and store up to 1.5 lbs of ice at a time. You can choose between small and large-sized cubes. The smaller ice cones can even fit into a plastic water bottle.
The hOmeLabs small ice maker is ready to use right out-of-the-box and is very easy to operate. You just need to set the machine on a flat surface (at least 4 inches from a wall), pour the water in, and keep the lid closed. That's it!
The machine boasts a modern refrigeration technology and quiet compressor cooling, so it works almost silently. It's equipped with a convenient control panel and comes with a BPA-free plastic ice scoop and a removable ice basket. The unit is quite compact which makes it perfect for small kitchens, recreational vehicles, boats, patios and more. However, the feature that discerns this model from many similar ice makers is that it is able to turn itself off automatically once its ice basket is full which contributes to its usability and provides the user with a peace of mind.
The hOmeLabs Portable Ice Maker Machine will come in handy when you are having parties or bar-b-ques and your beverages are being made constantly. The readily-made bullet-shaped cubes will definitely make every drink a pleasure to enjoy!

Useful Tips
Here're some useful tips which can make maintenance of this portable ice machine a bit easier:
The water mark

is not so easy to see. So, it's better to additionally indicate it with a non-toxic market. It's somewhere about 2 inches down from the top of the back wall

.

If it's very stuffy in your house, the hOmelabs machine might need up to 20 minutes to generate the first batch of ice. And the more often you will open the lid to check the process, the longer this will delay the ice. So, try not to open the lid during ice production.

We recommend you to remove ice cubes within a few minutes after they have been made, especially if the ambient temperature is very high. Shake ice a little to drip off excess water so that ice cubes won't stick together.



Additional Info
---
What customers say about this product
The ice it makes is pretty cool shaped. I really like it. It is convenient to be able to make ice on your counter top. It continues to reuse the water from the melted ice to make more ice.
Ideal capacity for individuals or families. Not really enough if you ared hosting a crowd.
It doesn't take up much counter space when I'm using it, and it's small enough to store in the pantry when not in use.
It's a low energy machine meaning it won't hit your utility bill hard at all.
hOmeLabs HME010019N
Hamilton Beach PIM-1-3A
Made by Trusted Brand
Hamilton Beach is a brand to trust when it comes to kitchen appliances, and this portable ice maker lives up to our expectations from the company. It's very stoutly-built and can please you with chilling ice for long years to come.
The ice maker is designed with a high-efficiency compressor that can produce 9 ice cubes every 7 minutes, totaling 26 pounds of ice per day. It's worth emphasizing that the compressor works fairly quiet, so the appliance won't disturb people around while making ice.
Three handy LED indicators on the control panel show the working status of the appliance and provide automatic alerts when the ice basket is full or when you need to add some water. The mentioned control panel also allows you to choose between two different ice cube sizes, small and large.
The unit has a sleek design with a stylish black finish that generally matches well any kitchen decor. The ice maker doesn't take much space on a countertop yet requires at least 8 inches of clearance with walls.
Easy Maintenance
The main perk of the Hamilton Beach PIM-1-3A ice maker is that it's very easy to maintain. It comes with a drain cap at the bottom which ensures efficient drainage of water from the tank. This design solution simplifies maintenance when you are not going to use the device in the nearest future. To drain water from the water reservoir, you need to follow some simple steps:
Unplug the unit and let it warm up to room temperature.
Find a safe place to drain the water. It can be a sink, bucket, or any outdoor area.
Remove the drain cap from the drain and allow all the water to flow out of the water reservoir.

When the water tank is empty, re-attach the drain cap securely into the drain. You're done.

This way, neither mold nor mildew will build up inside, and the unit will stay in top-notch condition waiting for the next party.
All things considered, if you need a high-quality ice maker from a reputable brand, it may be your best choice. It's a pretty basic model with no extra frills, yet you may be sure you're buying a reliable appliance that will serve you for long years to come.
Additional Info
---
Hamilton Beach PIM-1-3A
Frigidaire EFIC117-SS
Budget-friendly Option
The Frigidaire countertop ice making machine is a good pick for those who need a portable and fairly efficient machine without shelling out 1000's bucks for a professional model.
This model can be compared to a large toaster in size. It has a modest footprint, so you can even store it on a kitchen shelf. But although it's so compact, it still can provide you with a decent amount of ice cubes in a relatively short amount of time. It prepares ready-to-serve ice cubes in about 7-8 minutes.
The ice basket capacity makes 1.5 lbs, which is more than enough for families of 2-3 members. And like many other standalone ice machines, this one can generate up to 26 lbs of clear ice per day. It can run non-stop for 24 hours to provide you with a readily available supply of ice. The machine can create large and small-sized ice tubes depending on your needs.
However, if this amount of ice isn't enough for your needs, you may also consider a 48-lbs model or heavy-duty model from the same brand. The latter option is ideal for those who run a restaurant or any other business.
Speaking about this model, the ice bin fills completely in a couple of hours or so, and if you're not around to empty it, the ice will start melting. The melted water falls back into the water reservoir and is made into new ice bullets.
It has a see-through window to let you check the ice level and a "full" sensor" that alerts you to empty the tray so that more ice could be made. You'll also find another useful alert on a digital control panel that says when the water level in the reservoir is low and you need to refill it
.
Stock Up on Some Ice
As we have just mentioned, this is a great portable ice machine which quickly makes a decent amount of ice for 2-3 people. But for a big party? You'll need to wait for about 5 hours before the ice bucket becomes full. Therefore, we suggest that you add water to the reservoir up to the max level before going to bed or leaving a camper. The next morning, you will have a full load of ice. For best results, pour cold water into the unit. With the Frigidaire countertop ice maker, cold drinks and warm smiles are guaranteed!
Additional Info
---
Frigidaire EFIC117-SS
What Is a Portable Ice Maker?
A portable ice maker is a compact device for producing ice. It requires neither water line nor drain line, thus, it's ideal for use in mini kitchens, RVs or boats while traveling, camping, or tailgating. The machine contains a built-in ice generator that swiftly produces ice cubes. No fuss with pre-freezing! You just need to fill the reservoir with water, plug the ice maker into a power outlet, and switch it on. On average, the first batch of ice will be produced within 10 minutes, however, take note that portable ice makers won't be able to keep it frozen for a long time. And if you need to store ice for a long time, you might need a stationary model.
A portable ice maker is small enough to easily fit on a countertop or in a cupboard. It can generate some fresh and tasty ice every now and then. It's a great alternative to buying ice bags and sticking them in a freezer. So, keep on reading our best portable ice maker reviews and choose the one to refresh your beverages. Tasty margarita anyone?
What Features to Compare
Storage Capacity and Ice Production Speed
The first thing to consider is how much ice the selected machine can produce per day. Generally, ice machines can make about 26-28 pounds of ice during 24 hours. A storage capacity determines the max amount of ice the unit can hold at any given time. So, if you often host parties, look for a machine that can offer you 2.5-3 lbs of storage space at least. Another important feature to take into account is the speed of an ice maker. The faster it produces ice, the better. The quickest models can generate a batch of ice in just 5-7 minutes, while the slowest machines may take approximately 13-15 munites. Smaller ice makers tend to produce ice faster. Also, smaller units usually maintain lower temperatures for a longer time compared to larger ones, meaning the ice inside mini machines stays cool for a longer time either.
Dimensions
The dimensions of a unit really matter if you're going to take it with you on trips. The small footprint means that you can easily put it on any counter, including tabletops in RVs. And if the device is also lightweight, you will be able to move it around with less effort. Sizes and designs vary significantly. Some ice makers can be as small as coffee makers, while others can come in bulky dimensions requiring plenty of countertop space. That said, if the weight and the size of the appliance aren't your concerns, remember what we've said earlier - smaller models are usually faster than their larger rivals and they can keep produced ice colder for a longer time.
Design
It's very convenient if a drain plug is placed at the bottom of the unit rather than on its side. A mash filter is used to protect the ice from dirt, residue, or hair. Despite the fact that many portable ice machines come fitted with special purification filters, it's better to filter tap water prior to adding it to an ice maker. As for aesthetic, ice making machines are produced in a vast range of styles and colors so it should be easy to find a model that will blend beautifully both with your kitchen interior and with your other kitchen appliances.
Extras

A bright LED control panel with a touchscreen, handy controls, and sound signals will make the operation of the unit much more convenient. A timer is another useful feature that will allow you to program the machine depending on your needs.
Did you know?
When was the first ice machines invented?
Two centuries ago, ice was a luxury. In hot countries, people had to buy extremely expensive blocks of ice from delivery services. The imported hefty ice blocks were delivered from colder countries or from refrigeration plants. Only in the 19th century, the first ice machine was invented by John Gorrie. It was created in 1842 and patented in 1851 after some upgrading. The machine was able to chill water and produce some ice. However, it was never brought into commercial production.
Alexander Twining, a scientist, has also received a patent for an ice machine and managed to implement it to the first commercial refrigeration system. It happened in 1856, in the US. At the same time, a Scotsman, James Harrison began to study vapor compression. He created his own ice making machine in 1851 and launched it in 1854. The commercial version of his device could produce up to 6,600 lbs of ice per day. It was James Harrison who also invented cooling systems allowing people to transport frozen meat across the world.
What is ice?
Even small children know that ice is just frozen water. The water transforms from a liquid state into a hard solid state when it gets below 32 degrees Fahrenheit. The ice also has some special properties: it expands when water freezes and floats in water. When the pressure increases, the melting point decreases. However, did you know that there are as many as sixteen types of ice? The ice that we have in our freezers is called "Ice 4" type. Actually, different types are distinguished by their density.
Liquid water is denser than ice!

Although ice and water have the same composition, they have different levels of density. The molecules inside water (liquid or solid state) arrange themselves in a completely different way. When in liquid water, they can fill in gaps and stay closer to each other than in the ice. So, the ice is less dense than liquid water and, consequently, it can float on water.
Ice as an evidence that there is life on other planets
Scientists and astronauts have recently found ice in outer space. The ice can serve as evidence that we are not the only population in the universe. The life requires water to live, and ice is just the frozen water!
Dry ice?

Dry ice is very effective at keeping different stuff frozen for a long time. Dry ice is produced from a carbon dioxide. It changes its state from gas to solid at the chilling 109.3 degrees F.
Forms of ice
You can find ice not only in your ice making machine or freezer. Ice is also present in nature in various forms: snow, ice sheets, icebergs, glaciers, freezing rain, icicles, hail, sleet, ice crystals, rime, graupel, and even ice fog.
FAQ:
Q: How to clean a portable ice maker?
A: Mold and slime can easily grow inside your ice making machine if you leave it even slightly wet. So, you should always clean your mini ice maker after each use. Cleaning an ice maker is a simple job. Every device usually comes with its specific cleaning instructions in the manual or you can download them on the official website. However, in general, cleaning recommendations are very similar for all models.
At first, you need to unplug the appliance and remove an ice tray. Wipe interior parts with a towel, making sure you reach all corners and recesses. Repeat these actions with an ice tray. Then, make a cleaning solution (10:1 ratio of water to lemon juice or white vinegar) and run this solution through a few cycles. Toss out the ice with cleaning solution and let the machine dry.
Q: Do portable ice makers require a dedicated water line and a dedicated drain line?
A: No and no. This type of appliance needs neither dedicated water line nor dedicated drain line to work. These are the main differences that set a portable ice maker apart from stationary machines. When you need some ice, you should just plug it in an outlet and fill the container with water. The water from melted ice goes back down into the special basin where it's turned back into ice again. To make sure that your ice is fresh, we advise you to drain water at least once a day.
Q: What type of water should I use?
A: The quality of the ice depends on the type of the water you pour into an ice maker. Needless to say, the water must be potable. It's sensible to avoid hard water, as it might lead to mineral build-up and worsen the quality of ice. Distilled water includes fewer minerals, however, it can also cause some issues, since most portable ice machines use sensors that produce ice according to mineral content. It's better to use filtered and purified water to get fresh and tasty ice. It has an optimal mineral content and can't make sensors inside operate improperly.
Q: Can I use a portable ice machine outdoors?
A: Yes, it's a small and lightweight appliance that can be easily moved from one place to another. It can work wherever you have a power outlet. It's good not only for countertops and tabletops but for RV and boats as well. But keep in mind that a very hot temperature can influence the ice production time.
Q: How long does it take a machine to make ice?
A: It depends on a specific model. On average, a portable ice machine produces ice within 7-15 minutes. Some factors might slow down the production of ice - the type of added water, the age of an ice machine, and the frequency of use.
Q: Can I use a portable ice maker as a freezer?
A: No, it's not an alternative to a freezer. Although it has an insulated exterior, the ice will slowly melt in the tray.
Q: How much electricity does an ice maker consume?
A: The amount of used electricity varies from model to model. Usually, they aren't very energy efficient. You can hardly find an EnergyStar certified appliance. Yet, this doesn't mean that they are very expensive to run either. They use much less electricity than stationary ice machines.