If you've ever found removing the lids from cans and bottles a hard job, you need an electric can opener. Hopefully, our review
of the best 5 electric can openers will help you make the choice and find the right one for your particular needs!
...
Read more
...Read less
West Bend 77203
Functionality
West Bend 77203 is a tall electric can opener, which can simply open extra tall cans. This device can surely speed up your kitchen work thanks to such a useful addition as a knife sharpener. In addition, this model can handle not only preserve cans but also bottles. So you can give a lot of noisy and shindig parties.
Material and Design
West bend electric can opener is made of plastic. But there are some metal attachments which make this device more durable. Thanks to the cabinet-type design, you can store this unit on any tabletop you like. The cabinet-type design looks really great! Moreover, you can select from 2 popular colors: black and metallic.
Extras
This electric bottle opener equipped with a very convenient magnetic holder which automatically turns off after the opening. The important thing - an opener smooths the edges of a can, so you will not cut yourself. In addition, this model includes a possibility to hide the cord for easy storage. The cutting tool is removable for washing.
---
VIDEO
What customers say about this product
works great. the lid magnet holder is RATHER STRONG though so be careful when removing lids from the magnet after the can has been opened.
The unit has a nice weight that sit tight when in operation. Overall, I am happy with my purchase.
There's a manual ceramic knife sharpener (not electric) on the back that sharpens knives very well. I prefer the manual ceramic sharpener than the electric.
The West Bend electric can opener has a powerful motor and opens all cans quickly and efficiently.
West Bend 77203
BLACK+DECKER CO100B
Functionality
Black and Decker electric can opener is a multifunctional device which can cope with preserves, beer bottles and also, can be used like a bag cutter. In addition, you can use this device like a qualitative knife sharpener, which is not dead last thing in the kitchen. Great kitchen device at an affordable price!
Material and Design
The space saver electric can opener has a great and convenient under a cabinet construction. So, it will be suitable for kitchens which are limited in place. You can put Black & Decker CO100B electric bottle opener somewhere under the cupboard. This model is made from plastic, but if use carefully, it will serve for great while.
Extras
Black & Decker CO100B mounted electric can opener shuts off automatically when the process is done. Thanks to the convenient magnetic holder, your preserved foodstuff will be held tightly. In addition, this great automatic can opener has the built-in cord storage, so space will be saved maximally.
---
VIDEO
Black & Decker Spacemaker Can Opener Model CO100B
What customers say about this product
We had several of can openers in the past this is the most powerful one for the price I could find.
Clean looking and has a knife sharpener, bottle opener and a plastic bag opener in addition to the opener which is great.
Excellent product - using it, you can appreciate the sturdy construction.
It doesn't take any power until a can is inserted to open(nice if your worried about power waste from appliances these days)
BLACK+DECKER CO100B
Hamilton Beach 76607
Functionality
Hamilton Beach 76607 electric can opener is designed to open cans only. But it is not a disadvantage if you need just preserved goods opener. This model is specially made to open cans without leaving any sharp lid edges. All you need is just insert a can, push the lever down and wait until the opener finishes opening process. Enjoy your meal!
Material and Design
This smooth edge electric can opener has modern chrome and black design. It will be good-looking at any kitchen. The body is made of plastic with some metal elements, so don't worry about the durability of the device. Due to the reliable desktop construction, you can be sure that your device will be stable in any situation.
Extras
Hamilton Beach 76607 automatic can opener has the streamlined system of cutting. Therefore, it doesn't leave any sharp edges. So, don't worry about your safeness! In addition, you will get stainless steel kitchen scissors, without any additional charges. You can store it in the built-in storage slot, what simplifies the cooking process.
---
VIDEO
Hamilton Beach 76606ZA Smooth Touch Can Opener (Demo & Review)
What customers say about this product
best investment I've ever made in a can opener! It opens cans in lightning speed, and very easy to use.
It is light weight and easy to use. I like that the top of the can and the can it's self have no sharp edges!
The can opener works great love it. Power cord is long enough
It's heavy, which tells me the motor is more powerful, which means there's some oomph behind the cutting wheel.
Hamilton Beach 76607
Bartelli BCO-101R
Functionality
The one touch automatic can opener opens only preserve cans, but makes it very gently without any sharp edges. One more important thing, this model runs on batteries, hence, it doesn't need any wires. With the help of Bartelli BCO-101R, your cans will be opened in any place you wish. Great device at an affordable price!
Material and Design
Bartelli BCO-101R is a popular electric can opener among those who like portable models. It is a compact and lightweight plastic device, therefore, you can easily use it even with little hands. In addition, you can simply take this pink electric can opener outside and use it, for example, on the picnic.
Extras
This semi-automatic can opener is easy to operate (it consists of a blade and a gear). Just put the electric opener on the can and push the button, that's all! This portable electric can opener has a convenient magnetic holder, so a can will be opened gently and evenly. Bartelli BCO-101R is a good friend for long trips! You can put it in any bag or case as well in the kitchen.
---
VIDEO
Bartelli Soft Edge Automatic Electric Can Opener In Use
What customers say about this product
The opener makes its way around the can and the lid is lifted off onto the magnet on the opener. Even better, the rim of the can is completely and safely smooth.
It is so compact & easy to store. I will be purchasing another soon for our second home.
This works great and I enjoy watching it go around the can. Love the soft edge feature.
Worked like a charm and still had battery power left when we finished opening cans.
Bartelli BCO-101R
Cuisinart CCO-50BKN
Functionality
Cuisinart CCO-50BKN is a user-friendly device. It boasts an easy operation that won't puzzle even those users who can't make head or tail of technics. Cuisinart electric can opener is designed for openings of standard-sized cans. It doesn't offer additional features such as knife sharpener or bottle opener. But be sure that it is able to open lots of cans without overheating! In order to open a can, all you have to do is press the lever down. No need to hold a can or lever, the process will stop automatically once the can is opened. And owing to a precision power cut blade, your cans would always have smooth edges and no one might be accidentally cut.
Material and Design
Cuisinart CCO-50BKN Deluxe Electric Can Opener is made of extremely durable and safe materials. The body is made of BPA-free plastic and, thus, poses no health risk to users. Additionally, the housing has some chrome accents that make the can opener sleek and quite eye-catching. This device will surely decorate any kitchen. Moreover, this model is available in white and black colors, hence, you may choose the one that will suit your interior best.
Extras
We assure you that Cuisinart CCO-50BKN is being marketed as a Deluxe Electric Can Opener not for nothing. It offers a fair number of additional features which guarantee extremely handy use. We should first of all point out a magnetic holder - quite essential feature in every electric can opener. This accessory allows for "hands-free" operation as you don't have to hold a can with your hands. Cuisinart CCO-50BKN features a magnetic holder attached to a removable one-touch lever. Thus, you can easily detach it for easy clean-ups. All in all, this model will become an irreplaceable device for everyone.
---
VIDEO
Cuisinart Deluxe Can Opener (CCO-50N) Demo Video
What customers say about this product
Not all canners include a self opening device on the lid so a powered can opener remains relevant to me as a matter of convenience, safety, and hygiene, and this works in a space constrained counter with close access to an AC outlet.
Smooth mechanism and love the magnetic lid holder
It was as described and works well. It is light weight but thats ok, makes it easy to move around.
Great motorized version. Everything works as expected! Holds tall cans. Lid is held on by magnet.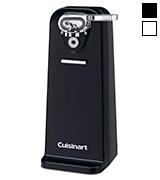 Cuisinart CCO-50BKN
What is an Electric Can Opener
In this review, you will check out 5 best can openers according to our opinion. The electric tin opener can double such additional features as a knife sharpener and a bottle opener. In addition, all processes will be made easily and safely. Why electric tin openers caught the fancy of most customers? Such device is easy to operate, all you need is to set the can into a special attachment, push the button and then, the device will open the can for a few seconds.
Wine aerators will be a great purchase for any connoisseur. They enrich the wine with oxygen and bring out its true taste for you to serve the drink.
When you are cooking complex dishes or baking something kitchen scales will help you keep up the accuracy of a recipe and ensure excellent results.

What Features to Compare
Functionality is the main feature when choosing the best electric tin-opener. There are two types of electric can openers. One is specialized only in opening of preserve tins. Other models can be multifunctional. Thanks to such devices you can easily sharpen a knife, open beer bottles and, of course, cans. Several models can have a slot for scissors.
Second, by no means, major features are Material and Design. Modern electric can be made from metal or plastic. The first option is certainly more durable. Of course, cans will be opened by the stainless steel cutting system. But, as practice shows, plastic housing can be damaged in the process of opening, if not used carefully. One more important thing to know, you should optimize the protection against corrosion. Please, avoid the contact of a cutting mechanism with water. Electric tin openers can be stationary and portable. The great advantage of a portable model - you can take it to any place you wish, but they are not so functional. Also, in our shortlist we consider such designs as cabinet-type and under the cabinet constructions. Of course, under the cabinet save additional place on the countertop.
The last thing to note is Extras. For example, such option as automatic shut-off, after cans opening, will be a good addition to any model. You don't need to turn off the device by hand, what really simplifies the process. Also, such addition as the magnetic can holder allows immediately get products, after opening. Built-in cord storage, gives a small opportunity to save some kitchen place.