If you want to extend the shelf life of food, a vacuum sealer is the appliance you surely need. Thanks to this vacuum sealer, you
wouldn't need to worry about the quality of your food. In this review, you will find the most popular vacuum sealers, purchased worldwide.
...
Read more
...Read less
Weston 65-0201
Orientation
This is a general vacuum sealer that stands out from the rest by its exclusive power and opportunities. If you need to vacuum a great amount of food, you should buy this device. With this device, you won't run a risk of using a spoiled food in your menu. It's just not going to happen with quality and protective bags. And you can actually use it for home and professional use, it's big and powerful enough to cope with any task efficiently and quickly.
Functions
Weston vacuum sealer has two modes: automatic and manual. Stainless-steel and plexiglass construction makes it a reliable and durable option for sealing food at home. When compared to some other models in the review, it is very powerful and quick. It comes packed with an extra-large 15-inch bar for sealing food of various sizes. You will also like the fan-cooled motor aimed to facilitate the process and make it more enjoyable. Thus, if you're looking for a friendly vacuum-sealer to use at home, consider buying Weston device.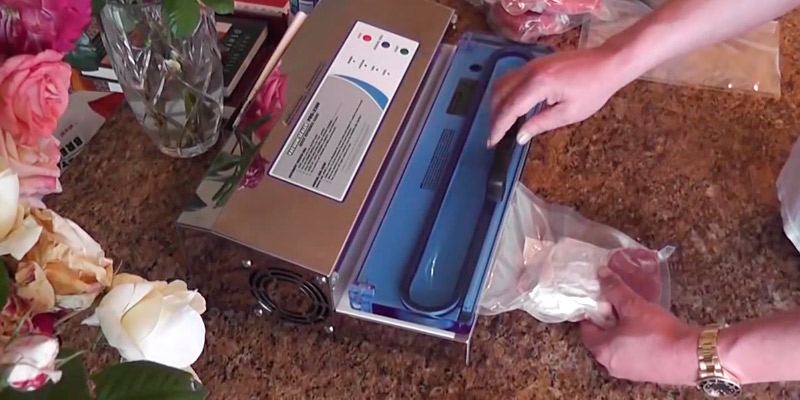 Maintenance
This appliance is compatible with any kind of food film for sealing food up to 15 inches. You will be able to vacuum large pieces of food, even steaks and chicken. There is also a detachable power cord with a convenient cord storage compartment. If you want to feed a whole family or guests with always fresh and healthy food, you can do it with the help of this vacuum sealer.
Additional Info
---
VIDEO
Weston Pro 2300 Vacuum Sealer Review
What customers say about this product
Very well constructed and accepts wider bags.
In short, it rocks, it's faster, more powerful, and will last me for years.
When you get your hands on this machine and start using it, that's just the impression you'll get - quality.
I really like that I can control when the suction gets cut off.
Works with all bags that I have tried. It is fast, quiet(ish) and works beautifully.
Easy to keep clean, if you happen to suck something into the inner sealing area.
Weston 65-0201
Nesco VS02
Orientation
This vacuum sealer is suitable for home use in the kitchen. It is quite big and can seal food of almost any size. Nowadays, such devices are popular for their usefulness. If you have a big family with children, this appliance will be a great choice. In such way, the food will be fresh and healthy. So you can keep your body in a good shape and make life easier.
Functions
Nesco vacuum sealer has a technology of one-touch operation and can turn off automatically. It has a single piston motor and an override seal function for delicate food. It would preserve your food from an excessive pressure. If you are a fan of exquisite and delicate food, then it can become a good option for you.
Maintenance
It uses a food flip and bags, packages are mid-sized. If you are looking to vacuum regular snacks, then you can purchase this device. The size of the bag is 12 inches, so you would be able to vacuum a lot of different meals without worries about dimensions. It is a great appliance to keep a healthy diet and prolong the shelf life of the food by times that will significantly save your family budget.
---
What customers say about this product
Great product seals better than Food Saver product and is more powerful, Great value.
Product is built from heavier weight plastic
A nice touch is the material cutter built in.
We love the way you can control the suction so you don't crush cookies.
It seems to be a good value for price really like you can use any type of ready to seal freezer bags.
Nesco VS02
FoodSaver V3240
Orientation
This is a small vacuum sealer for kitchen use with enough power to cope with daily tasks. It has an easy-to-use and comprehensive control panel. A roll holder and a bag cutter are there to make the process easier and quicker. Hence, if you're looking for a device that won't take much room on your countertop, and yet, demonstrate great performance, you should consider buying this unit.
Functions
This vacuum sealer has a lot of functions. One of the prominent functions it offers, is an option to seal both, moist and dry food. Moreover, you will also estimate an opportunity to use 2 speed settings. Depending on vacuum speed, you'll quickly achieve the desired result. In addition, a special port for marinating food is another advantage of this device, that most customers do like about this sealer.
Maintenance
It uses branded vacuum bags and a food film up to 11 inches, which means you will be able to vacuum all favorite food with ease. With this device you'll get a set of 11"x10' roll, 3 heat-seal bags, 2 Gal heat-seal bags. A Crush Free feature for delicate products provides safety of your food. Undoubtedly, it can be a great choice for you.
Additional Info
---
VIDEO
How to Seal Jars with your Food Saver and the Jar Sealing attachments
What customers say about this product
This unit is so powerful it will crush an empty soda can.
It is light weight and compact so easy to store and get out when needed.
I needed an update so ordered this model. It works great and I liked that it holds the roll and other things in the unit. I have only used the premade bags, but look forward to making the bags to the size I need/
Some of the other features are not worth it (dry vs wet food setting, machine width bar for activating the vacuum/seal). They work but I would rather control those features myself.
This is a quality item that seems well built, hopefully to last.
The unit self seals once you drop the front handle
FoodSaver V3240
FoodSaver V4440 2-in-1
Orientation
This universal vacuum sealer produced by FoodSaver Company is intended to replace both handheld and stationary appliances in this kind. The vacuum sealer is focused on high performance in home cooking. In general, this FoodSaver vacuum sealer can work with various food of different consistency and fragility. Whether you need to preserve some fresh meat or wine, cereals or soup, this handy appliance can easily cope with any of these tasks.
Functions
The appliance has an automatic vacuuming function, so all you need to do is fill the bag (or the roll) with food and place the edge of the bag into a special port, the appliance will pump the air out and seal the bag automatically. In addition, there is a handy Marinate mode that helps you do it within minutes, not hours. If you need to vacuum food in special bags or containers, there is a special, pull-out vacuumer. FoodSaver vacuum sealing systems are designed to work better with FoodSaver rolls and bags, so make sure to have them in your kitchen.
Maintenance
FoodSaver works with several types of consumables. In addition to the branded bags and rolls for vacuuming, you can also preserve food in different solid containers. However, the high preservation quality is guaranteed only if the original packing materials are used. The reason is simple: FoodSaver uses a special 5 layers material to make their bags and rolls, allowing you to store food for much longer than you'd be able to, using conventional consumables.
---
VIDEO
Product Feature: FoodSaver® 2-in-1 Vacuum Sealing System
What customers say about this product
Works great with ziplock type vacuum bags.
Very user friendly and gives you more control over what you are doing.
Seals a bag typically in about 30 seconds
Excellent product. Performed as expected. Durable. Have had no problem so far.
Has the manual suction cup (We have only used this once and it works great, however the specialty bags for these are a little pricey)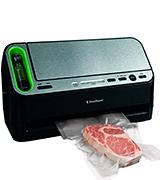 FoodSaver V4440 2-in-1
Crenova VS100
For a Variety of Food and Items
Don't know where to keep perishable foods to avoid airborne microorganisms? Wonder how to save space in your fridge? With this compact vacuum sealer from Crenova, you will solve these two problems at once. The Crenova VS100S Vacuum Sealer will let you preserve food fresh five times longer than in the fridge and keep it tightly sealed from the air. Consequently, instead of throwing food in a bin, you will be able to store it longer in a freezer. The Crenova VS100S Vacuum Sealer is designed to preserve a great variety of foods - meat, fish, fruit, vegetables, snacks, and nuts, and can be used to wrap up other things like letters, newspapers, magazines, toys, to keep them from dust, moist, and decay.
Performance and Functions
The Crenova VS100S Vacuum Sealer features two functions, vacuuming and sealing. Both functions can be used together and separately, and are operated fully automatically; you only need to press one button. To seal moist, crisp fried food and other delicate items, you can use a manual pulse function, which is also included. The Crenova VS100S Vacuum Sealer boasts reliable and efficient performance. It produces 80KPa pressure which allows it to remove air from sealed containers within mere seconds. Yet, the operation of the unit isn't loud, which is quite surprising considering its power. The Crenova VS100S Vacuum Sealer doesn't require a lot of care. Made of stainless steel, it will need only occasional wiping.
Usage
The Crenova VS100S Vacuum Sealer comes with two types of heat-sealed bags, so you can easily try it out as soon as you uncover the package. Put the food you want to seal in a bag, then open the vacuum chamber and place the opening of the bag there so that it doesn't cover the vacuum nozzle. Close it. You should hear the sound informing you that the hooks were locked properly. Choose the function you want and press the button. That's it. 
Additional Info
---
What customers say about this product
Very powerful vacuum that sucks up the air out in a few seconds. In addition, sealing of the bag is also very tight and well done.
It's os compact, light weight and works really well. I'd recommend it to anyone who is looking for a great food sealer.
Very nice product, well made, heavy and durable. Highly recommend......
Works well and easy to control. You need to use your hand to press the cover to make sure it removes the air from the bag.
This machine has a manual option, you can control the vacuum pressure yourself and when you think it's good enough press seal.
This works with most vacuum seal bags
Crenova VS100
Infographics
---
What Is a Vacuum Sealer?
In this review, we consider such a useful thing as a vacuum sealer or food saver. Air conditions are favorable for breeding all kinds of food bacteria and cause rapid food deterioration. Besides, the air negatively affects the quality and taste of the food. Meat, fish, any raw or cooked food spoils quickly, even in the refrigerator. To make the food last longer, you can buy a vacuum sealer. This device removes the oxygen from the food package and in this way considerably prolongs the shelf life. For most meat food the average expiration date varies between 7-14 days while using Food Saver you can extend it up to 40 days. Also, use to find out the weight of the products which you want to seal.
You can also preserve your food by dehydrating it. Dehydration means removing all moisture, thus prolonging the food's shelf life. The good thing is that all the healthy elements stay intact. To know more about this, please read our review on food dehydrators.
What Features to Compare
Choosing a vacuum sealer, you should pay attention to Application Area. A Food Saver can be divided into three categories which define their field of use: kitchen, outdoor and general. We will examine each type separately.
Outdoor - this type of a vacuum sealer is more mobile than others. Not only do outdoor vacuum sealers take very little space, they are also battery-powered and energy-saving. It might be not the best option for a big amount of food, but for small packs, it will do a great job.
Kitchen - this category of vacuum sealers is ideal for sealing products at home. Such device has a moderate capacity, which allows working with different types of packaging material (reusable bags or a food film).
General - these devices demonstrate a lot of power and mostly purchased for vacuuming a big amount of food. This type will be suitable not only for home but also for use in restaurants. On the contrary to smaller devices, these vacuum sealers are capable of processing most existing packaging material, including all sorts of films and bags.
Another important criterion to pay attention to is Functions. Except such main tasks as air evacuation and product procurement, vacuum sealers offer a lot of other functions. An automatic or manual operation will provide additional opportunities for preparing food continually. Wet or dry pumping is used for various types of workpieces. Functionality may differ depending on the type of a vacuum sealer. If your device works with the food film, then you may also find a knife and a bar in a pack. These extra accessories make it easy to measure things and cut the film into the required pieces.
In the part Maintenance, you will see how to use this or that model in particular. Pay attention to consumable material which a vacuum sealer uses. There are two types of packaging material: packaging film and reusable bags. Vacuum sealers are also classified according to their size. Manufacturers work hard to improve the quality of their equipment as well as supply consumers with high-quality bags and films.