If you want to preserve the food for longer, what you need is a vacuum sealer. With the help of this device, it will be easy to seal
food, liquids, snacks and other tiny stuff you need to significantly extend its life. For this review, we've picked the best-selling vacuum sealer models so you can choose the one that fits you perfectly.
...
Read more
...Read less
FoodSaver V4840
Start and Watch
If you fancy the idea of purchasing in bulk during sales and special offers and buying seasonal fruit and vegetables to have them vacuum sealed and stored in your freezer until the next summer, the FoodSaver V4840 is just what you need. The appliance has both dry and moist setting for sealing all kinds of food including delicate ones. If any liquid overflows during the sealing process, it will be caught by the drip tray. When the latter is full, the unit will turn off and the tray full indicator light will appear. Thanks to an ergonomic pull-out drawer, the drip tray can be easily removed, emptied, and washed in warm soapy water or cleaned in your dishwasher. To make vacuum sealing as fast and simple as possible, the appliance has a handy roll storage and a bag cutter. Moreover, with an innovative bag detection fearuгe, you don't even have to press the seal button, just place an open end of the bag into the appliance's vacuum channel and the sealing process will start automatically. Now, you can monitor the process on a vacuum progress display. Note that if you are vacuuming delicate items you can press the seal button to start the sealing process right away in order to prevent the bag contents from crushing.
Versatile Appliance
What's truly great about this vacuum sealer is that, in addition to super fast and easy vacuuming heat-seal bags, it allows sealing containers, zipper bags, and canisters in literally no time. For this very purpose, it is equipped with a handheld retractable sealer - no additional attachments are needed. With this handy extra, preparing foods for storage is a piece of cake. Just place the end of the handheld sealer over the gray valve on a container or zipper bag and start vacuuming by pressing an accessory button. When the process is complete, the motor will shut off automatically. With this appliance, you can even marinate food, and do that with minimum time and effort. You'll find the detailed information on vacuuming and marinating food, as well as maintenance tips, in a user manual. Please, carefully follow the manufacturer's instructions to get the best results each time.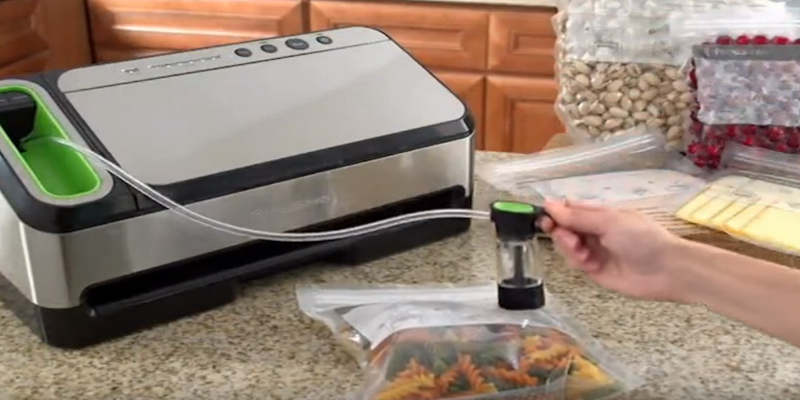 Additional Info
---
VIDEO
What customers say about this product
This model allows me to seal the bags to achieve a tight shrink wrap but without making a mess. The plastic shrinks down close to the surface of the soup but it doesn't make a mess.
The accessory that works with the special Foodsaver ziplock is great. You can vacuum seal food that gets opened regularly. Just use the accessory and place it over the valve on the ziplock to re-vacuum seal it.
The controls are easy to use and very operator friendly.
This model has built in vacuum bag roll storage and cutter.
Roll bag storage in the unit is very handy.
The overall size of the unit is small enough that it doesn't take up much room on the counter.
FoodSaver V4840
Weston 65-0201
Orientation
This is a general vacuum sealer that stands out from the rest by its exclusive power and opportunities. If you need to vacuum a great amount of food, you should buy this device. With this device, you won't run a risk of using a spoiled food in your menu. It's just not going to happen with quality and protective bags. And you can actually use it for home and professional use, it's big and powerful enough to cope with any task efficiently and quickly.
Functions
Weston vacuum sealer has two modes: automatic and manual. Stainless-steel and plexiglass construction makes it a reliable and durable option for sealing food at home. When compared to some other models in the review, it is very powerful and quick. It comes packed with an extra-large 15-inch bar for sealing food of various sizes. You will also like the fan-cooled motor aimed to facilitate the process and make it more enjoyable. Thus, if you're looking for a friendly vacuum-sealer to use at home, consider buying Weston device.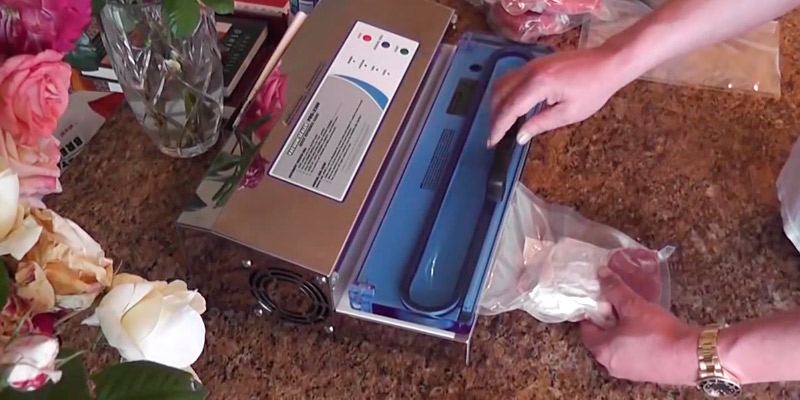 Maintenance
This appliance is compatible with any kind of food film for sealing food up to 15 inches. You will be able to vacuum large pieces of food, even steaks and chicken. There is also a detachable power cord with a convenient cord storage compartment. If you want to feed a whole family or guests with always fresh and healthy food, you can do it with the help of this vacuum sealer.
Additional Info
---
VIDEO
Weston Pro 2300 Vacuum Sealer Review
What customers say about this product
Very well constructed and accepts wider bags.
Just realize this is an overbuilt, commercial unit and it's pretty heavy.
It's heavy, metal, and sturdy. It's very simple to operate and really works well
Manual sealing is an option.
2 years with moderate use. No problems, no bag failures
Use a piece of paper towel inside at the top of the bag to seal juicy or marinated meats.
Weston 65-0201
NutriChef PKVS18SL
A Sleek Addition
The NutriChef PKVS18SL is one of the best selling vacuum sealers on the market and there are a few things that allowed this model to achieve this kind of commercial success. First of all, there's the visual part. With a sleek silver coating, the model will be able to make any kitchen look more modern. It also suits a variety of different styles, from more of an industrial décor to an urban interior design. Regardless of the scenery, if you will, there's a good chance that the unit will be able to mesh with just about any type of countertop surface in your kitchen. The housing is also quite durable, just make sure to occasionally clean its stain-resistant surface and it'd be able to serve you for a rather long time.
Another important aspect of this food vacuum sealer that doesn't have anything to do with performance is its size and weight. With 6.1 x 14.2 x 3 inches in overall dimensions and less than 3 pounds of weight, the appliance won't take away too much room and you'd easily be able to find some space for it on one of the kitchen's countertops. And with that kind of weight, moving it around the kitchen will be as easy as a bee.
Now, as for performance, we would like to start with the fact that the model is really easy to operate. It comes with a control center located on the top panel that features four digital buttons. The buttons are soft to the touch and you'll easily be able to figure out the best way to utilize them regardless of how good you are with these things. Next to the buttons, you will find a set of LED indicator lights that, as you'd imagine, display the status of your food.
Keep Your Wine Fresh
Speaking of those buttons, one of them will provide you with the opportunity to choose between two different sealing modes. Depending on the type of food you would like to seal, one of these modes will offer you the best preservation program. Naturally, the dry mode will be more suitable for solid food items and the moist one will be a better fit for poached, simmered, or steamed food. All in all, taking into account the affordable price tag that it comes with, this vacuum sealer provides a quick, easy, and inexpensive way of preserving your food.
In addition to the sealer itself, you will also receive 5 medium vacuum bags, a wine stopper cork, an air suction hose, and an extra long vacuum bag roll. The bags will allow you to preserve the freshness of your food items as well as their aroma and taste. The wine stopper cork will let you reseal any of the already opened bottles of wine, thus extending the shelf life of this often expensive alcoholic beverage.
Again, the NutriChef PKVS18SL is a great vacuum sealer for a variety of reasons. The price is really attractive and the housing offers the kind of design that will mesh well with just about any kitchen décor. Plus, the control panel is simple enough to allow just about anybody to operate the appliance with ease.
---
NutriChef PKVS18SL
Nesco VS02
Orientation
This vacuum sealer is suitable for home use in the kitchen. It is quite big and can seal food of almost any size. Nowadays, such devices are popular for their usefulness. If you have a big family with children, this appliance will be a great choice. In such way, the food will be fresh and healthy. So you can keep your body in a good shape and make life easier.
Functions
The Nesco vacuum VS02 sealer has a technology of one-touch operation and can turn off automatically. It has a single piston motor and an override seal function for delicate food that will allow it to preserve your food from excessive pressure. If you are a fan of exquisite and delicate food, then it can become a good option for you.
Maintenance
It uses a food flip and bags, packages are mid-sized. If you are looking to vacuum regular snacks, then you can purchase this device. The size of the bag is 12 inches, so you will be able to vacuum a lot of different meals without worrying that it might not fit them.  All in all, the Nesco VS02 sealer is a great appliance to keep a healthy diet and prolong the shelf life of the food for longer that will significantly save your family budget.
---
What customers say about this product
I have to say this machine has extreme powerful suction. Hopefully it lasts for awhile.
Product is built from heavier weight plastic
A nice touch is the material cutter built in.
The pump pulls the vacuum quickly, the seal bar makes a very good wide seal and the timing can be controlled to the fraction of a second for each stage of the process. I do recommend this machine to people that are looking for a vacuum packer unit.
It seems to be a good value for price really like you can use any type of ready to seal freezer bags.
It has the fittings to add a hose attachment, though I haven't used it. Overall, it's an excellent unit.
Nesco VS02
FoodSaver FM2000-FFP
Versatile and Compact
Reducing waste is as important as saving your time and money. This appliance boasts an innovative technology that works to minimize bag material waste up to 40% compared to traditional FoodSaver models. Besides, the unit has a sleek and compact design allowing you to save your working space as well. You can vacuum foods in bags made of the included roll and heat-seal bags, or use other accessories, like zipper bags and canisters - the unit has a special port on its top and comes with an accessory hose. It also has an ergonomic clip port for handheld sealer storage if you decide to buy one additionally.
In spite of its portable size, the appliance has most of the user-friendly features you can find in more expensive models, such as a patented easy-clean drip tray and a seal button to make custom-sized bags from the FoodSaver roll. It creates an extra-wide sealing strip to make sure the package is airtight. Fruit, veggies, poultry, fish, and meat will be well protected to keep fresh and delicious for a long time. In a word, versatile, innovative, and compact, the FoodSaver FM2000-FFP gives you more opportunities to save.
Simple Manual Operation
The appliance has handy controls and intuitive operation making vacuum sealing food an easy task. On its control panel, you can see a 'Seal' button and a 'Vac/Seal' button with indicator lights that will activate during each process. To make a bag from a roll, cut enough material (consider the size of an item the bag will hold plus three inches). Move the latch to its open position and lift the appliance's lid. Place one end of the future bag on the sealing strip, close the lid, and turn the latch to its 'Operate' position and press the 'Seal' button. When the indicator light above it turns off, the process is complete, so you can turn the latch to its open position and remove the bag.
To vacuum seal foods, just place an open end of the bag (please make sure there are minimum three inches of space between the contents and its top) into unit's vacuum channel. After that, close the lid and turn the latch to its 'Operate' position and press a vacuum and seal button. When the process is finished, turn the latch to its 'Open' position, open the lid and remove the sealed bag. Voila, the package is ready for storage in your fridge or freezer.
Additional Info
---
What customers say about this product
I have been using this A LOT since I purchased it, especially to freeze meat after seasoning it. The internal tray is good at collecting liquids that would otherwise drip, but I like the fact that the vacuum is not powerful enough to dry the content.
Compact size makes it easy to slide onto a shelf. There is a port for the sealing containers, but I rarely use it.
One thing that I do like about this specific unit is that it has simplified all of the controls and functions. There are only two buttons on the unit, one to vacuum and seal and one to just seal.
Although they don't have the bag roll holder or the bag cutter it allows you to seal uniquely shaped bags and waste less of the roll.
Nicely designed, as attractive as such a small appliance can be. It looks fine on the counter when it's been left out and is very sleek and shiny black.
I love the handle on the side that you move into place and it holds the system down while it does the vacuuming and sealing job. It is not near as noisy as the others I have had and the seal is great.
FoodSaver FM2000-FFP
Infographics
---
What Is a Vacuum Sealer?
In this review, we consider such a useful thing as a vacuum sealer or food saver. Air conditions are favorable for breeding all kinds of food bacteria and cause rapid food deterioration. Besides, the air negatively affects the quality and taste of the food. Meat, fish, any raw or cooked food spoils quickly, even in the refrigerator. To make the food last longer, you can buy a vacuum sealer. This device removes the oxygen from the food package and in this way considerably prolongs the shelf life. For most meat food the average expiration date varies between 7-14 days while using Food Saver you can extend it up to 40 days. Also, use to find out the weight of the products which you want to seal.
You can also preserve your food by dehydrating it. Dehydration means removing all moisture, thus prolonging the food's shelf life. The good thing is that all the healthy elements stay intact. To know more about this, please read our review on food dehydrators.
What Features to Compare
Application Area

When choosing a vacuum sealer, you should pay attention to its application area. All food savers can be divided into three categories which define what they are best used for: kitchen, outdoor and industrial. Let's take a look at each of them:
Outdoor (portable) - this type of a vacuum sealer is more mobile than others. Not only do outdoor vacuum sealers take very little space, they are also battery-powered and energy-saving. It might be not the best option for a big amount of food, but for small packs, it will do a great job.
Kitchen - this category of vacuum sealers is ideal for sealing products at home. Such a device has a moderate capacity, which allows working with different types of packaging material (reusable bags or a food film).
Industrial - these ones are the most powerful and are used for vacuum sealing a lot of products. Vacuum sealers of this type are usually used by commercial facilities, public catering, shops, and other big establishments. On top of huge capacity, these ones stand out for being able to vacuum seal most any packaging material.
Functions

You should also check out additional functions. Though all vacuum sealers are designed to remove oxygen from the pack, they may differ by design, size, operation, and even pumping mechanism. You can find automatic and manual devices, providing a different set of sealing options. Vacuum sealers can also include a wet/ dry pumping function, broadening the range of items you can vacuum seal. Some things may differ with the type of a device. For instance, if you buy a vacuum sealer that works with food film, most likely your food saver will include a knife and a bar as a nice little addition.
Maintenance

Last but not least, check out what bags and materials a food saver uses. There are two main types: packaging film and reusable bags. Some vacuum sealers use only branded bags, which eliminates the hassle of having to choose the right bags for your device. The good news is, you are not limited and can choose whatever option suits you better.