If you want to preserve the food for longer, what you need is a vacuum sealer. With the help of this device, you'll be able to significantly
extend the shelf life of fruit, vegetables, cheese, herbs and many other things that you need for later. For this review, we've picked the best vacuum sealers so you can choose the one that fits you perfectly.
...
Read more
...Read less
FoodSaver V4440 2-in-1
Gray Goes Great With Black
The FoodSaver V4440 is not the cheapest cat. Yet, the price makes sense. From the model's operation to its construction, everything here makes sense, everything serves its purpose, everything delivers what is required and more. It might not be the machine's biggest selling point but we'll kick things off with its construction.
As you can tell, the unit is mixing gray with black, featuring the stainless steel top that will not fall victim to rust patches and will not start showing corrosion signs. To add more, this part is also scratch- and smudge-resistant, so the machine will maintain its pristine appearance and you won't be allocating too much time towards upkeep and maintenance.
Below the lid, you'll find the progress bar that, surprisingly enough, displays the sealing progress and the controls, represented by six standard push-buttons that are not too sensitive yet responsive enough so that you can press them and the buttons will be registering the command without forcing you to squeeze them all the way down. Using these buttons, you'll be able to choose between automatic vacuuming and sealing and also the marinade mode. These settings/modes are not necessarily impressive but the model's automatic moisture detection tech is. As the name suggests, this technology will be automatically detecting and assessing the moisture levels and switching to the right mode to ensure that the seal is 100% airtight.
Retractable Handheld Sealer
Where the product somewhat drops the ball is the versatility aspect. You see, with this machine, high-quality food preservation is only possible when you are using the company's consumables. Tossing them aside and employing vacuum bags, food films, containers, and canisters from different manufacturers will sometimes mean that the seal will be compromised.
Having said that, FoodSaver consumables are nothing to complain about, so we can forgive this drawback. The retractable handheld sealing tool also makes this drawback easy to forgive, enabling you to work not only with rolls, vacuum bags, and most containers but also with the company's numerous accessories, not excluding wine stoppers, jar sealers, and quick marinators.
The last item on the list is the removable drip tray that will be catching crumbs and collecting excess liquids. The pull-out drawer not only stores this tray nice and neat but also keeps it easily accessible.
All in all, the FoodSaver V4440 makes short work of vacuuming and sealing food, is not demanding maintenance-wise, and allows you to prevent messes.
---
VIDEO
Product Feature: FoodSaver® 2-in-1 Vacuum Sealing System
What customers say about this product
Works great with ziplock type vacuum bags.
the indicator lights are a fantastic feature and will shut off once the bag is sealed.
We love this item. We use this to make our weekly crock pot recipes for the freezer. Works like a champ. Great vacuum power and good seal.
Love it! It is sturdy, seals big amd small items very tightly and is small enough to store easily inthe pantry.
Excellent product. Performed as expected. Durable. Have had no problem so far.
This was such a great purchase. I am able to use this to package meats whilst they marinate, to bottle wines, and to (sort-of) can mason jars.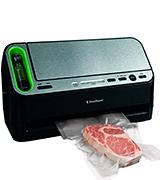 FoodSaver V4440 2-in-1
GERYON E2900-MS
Chrome Accents with Black Sections
Kitchen appliances can look awkward at times. Sure, you do not buy them to look pretty but when you spend ample time designing the kitchen, you're usually looking at appliances that will be able to blend into that design.
On that note, let's look at the GERYON E2900-MS. This machine is modern and elegant before anything else, with chrome accents, smooth curves, polished lines, and streamlined sections.
The unit will be able to disappear into most modern kitchen settings and even enrich some. The clean and concealed yet, at the same time, sleek and nuanced profile will class up middling decorative schemes and seamlessly flow with expensive-looking kitchens stacked with high-end stainless steel appliances.
The unit's aesthetically pleasing profile flows just as seamlessly into its functionality and utility. The soft touchbuttons do not only add to the streamlined form but also make the sealer's settings easily accessible. Having said that, some might find the buttons too sensitive but you'll get used to that anyway. The LED lights will tell you when you've successfully initiated any program, so you'll be able to quickly figure out the machine's multiple modes and settings. These include the obligatory two sealing modes designed to accommodate different food types, dry and moist modes, automatic sealing, canister, and vacuum sealing.
Excellent Compression Rate
More often than not, the countertops are already stacked with various kitchenware utensils and appliances, so you usually want to conserve that precious kitchen space. Since the unit's dimensions are limited to 2.6 x 5.5 x 14.4 inches, you'll be able to do just that.
But as much as the compact and lightweight (~2.5 pounds) construction contributes to the machine's advantages, what really tips the scales is how non-demanding the appliance is maintenance-wise. The separated design lets you remove the lid to easily and safely clean the chamber and the gaskets, so you'll be able to avoid bacteria buildups without investing ample time and effort into upkeep.
We're not necessarily taking the product's excellent performance for granted though. With its compression rate reaching 0.8 bars, the machine easily seals even the softest fruits and vegetables without squishing them. The sealing time alone usually takes around 6-10 seconds, while the vacuuming part adds no more than 5-10 seconds to that timing.
Bottom line, the GERYON E2900-MS looks the part and works the part, enriching most kitchen spaces as well as reducing spoilage and food waste.
---
GERYON E2900-MS
NutriChef PKVS20STS
The Sleekest One
Most vacuum sealers look pretty good, resembling expensive stainless steel appliances even when they're anything but expensive. Even so, the NutriChef PKVS20STS has to be the sleekest vacuuming/sealing unit we've reviewed yet. Its chrome finish, somehow looking both rough and polished at the same time, puts the machine head and shoulders above its premium competition (from the appearance perspective, not quite there performance-wise). From everyday modern kitchens to the most upscale decorative schemes, the unit will be able to blend and, at times, even elevate these settings. Plus, the housing is also stain- and scratch-resistant, which means the machine will not be absorbing spills and will prove easy to upkeep.
Even more impressive is the model's size. Measuring 5.91 x 14.18 x 3 inches, the unit easily lands among the most compact vacuum sealers, occupying almost no space, so you do not have to worry about this appliance imposing on that precious kitchen space you want to conserve.
Setting aside its footprint and construction though, the machine is not that different from most sealers. Also, the instructions are pretty generic, but considering that the model's not exactly brimming with features, this issue is less than negligible.
Resealing Half-Full Wine Bottles
Assessing its features, first, we have the Mode button. When you're sealing crumbly food, we recommend switching to the Gentle mode. With this mode, you'll be vacuuming and sealing fragile food items, from most fruits to different pastries, without smooshing and crumbling them. Besides that, the machine's adopting the same Dry and Moist modes that even the least expensive vacuum sealers these days are not complete without. The Dry mode will fit solid food items, whereas the Moist mode will handle poached, simmered, and steamed food.
While these features/settings are not that impressive, the complementary accessories, to some extent, are. The removable weight scale will streamline the sealing process, the wine stopper will let you reseal half-full wine bottles so that they do not lose their spirit, and the vacuum hose will enable sealing quick and easy vacuuming.
Bottom line, drawing and outputting 110 watts, the NutriChef PKVS20STS is not the fastest gun in the west and not the most versatile appliance too. Still, counting its stylish appearance, solid functionality, and an affordable price, the product is not easy to argue against, especially when countertop space is at a premium.
Additional Info
---
NutriChef PKVS20STS
Mueller Austria MU-VACSEAL
Embedded LEDs Too
The Mueller Austria MU-VACSEAL starts off strong, coming at an affordable price yet looking like something that is anything but affordable. Sure, when you reduce the retail price to ~60 bucks, certain compromises become unavoidable. To name one, the touch buttons are too sensitive, so sensitive that even brushing fingers across them will, at times, activate the settings. To name two, the embedded LED lights next to these buttons become practically invisible under direct sunlight and in ample ambient light, which is unfortunate but, needless to say, not that concerning.
Even counting these though, the case that the product makes is quite compelling. First, the machine is made from tough ABS plastic, adding the stainless steel plate to the mix to make the housing practically immune from stains so that you do not have to worry about any accidental spills ruining the finish. Second, you're offered the same features that the model's more expensive relatives are normally adopting.
This is not the most ergonomically sound machine yet not the bulkiest unit too. Measuring 16.6 x 7.8 x 4.7 inches, most countertops will accommodate its footprint without forcing you to sacrifice more space than you're comfortable with. Besides, capping at 2.2 pounds on the weight scales, the model enables easy relocation.
From Gentle to Airtight
Pivoting towards the model's settings and sealing/vacuuming facilities, you're offered automatic sealing and vacuuming first, nothing to write home about. The Dry and Moist modes are not new to the scene too. We're not complaining though, this is not where you reinvent the wheel, this is where you stick to the tried and tested methods. Using the Dry mode, you'll be sealing solid foods, while the Moist mode will let you preserve poached, simmered, boiled, and steamed food.
Adding more, the machine offers Gentle and Airtight modes. The first mode will enable you to seal fragile products and produce, from cookies, chips, and different snacks to most fruits and veggies, making sure that they're not smooshed and crumbled during sealing. The second mode is something that we would recommend reserving for the most expensive beef cuts, preserving high-grade steak meat.
Apart from everything we have already outlined, the unit is also pretty quiet. Take that and add to the model's already substantial benefits list and the product more than earns its place within this lineup and among the best sealers within its price bracket.
Additional Info
---
Mueller Austria MU-VACSEAL
FoodSaver FM5200
Integrated Cutting and Storing Facilities
The FoodSaver FM5200 bears a close resemblance to typewriters, an odd place to start, to be sure, but the one we're going with nonetheless. See, more often than not, these units are pretty slim, not quite reaching the model's 17.60" x 9.30" x 9.60" overall dimensions. Are we crazy about the increased footprint? Not quite, but, to some degree, we're comparing apples to oranges here.
See, the compact units that we are comparing this machine to are not offering the same functionality nor are they integrating as many tools/accessories. These units are not adopting integrated cutters, allowing you to turn rolls into bags without using any separate instruments. They're seldom contributing roll storage compartments too so that you're able to always have multiple rolls within arm's reach, turning them into vacuum bags without preparing anything beforehand.
When you take these components into account (and we have not even mentioned them all yet), the model's size becomes not only understandable but also even somewhat desirable. Including everything that the unit is offering, from these tools to the rich feature array, the machine might take some time to get used to since you're working with more than the standard 2 food modes, 2 sealing modes, and nothing else. But, again, this is understandable all things considered.
Dual Heat-Sealing Strips
Before shifting gears and addressing its features, the unit also equips the company's signature removable drip tray, collecting crumbs and preventing liquids (from juices and sauces to drinks) from spilling. Now, above the tray, you'll find the easy-view vacuum window that enables you to watch and adjust the sealing progress.
More often than not though, the window serves a decorative purpose because, using dual heat-sealing strips, the machine will be reaching an optimal vacuum level and keeping the seal airtight without any involvement on your part. Even more, featuring the automatic moisture detection facilities that FoodSaver's vacuum sealers are usually adopting nowadays, the unit is able to detect the moisture levels and choose the correct mode according to that.
Aside from that, before concluding the review, we do not want to overlook the LED indicators guiding you through the vacuum sealing process and the quick-marinate mode that, to everyone's surprise, will enable quick and easy marinating.
Long story short, the FoodSaver FM5200 is not compact nor is it cheap but if you're serious about preserving food and minimizing waste, this vacuum sealer is the way to go.
Additional Info
---
FoodSaver FM5200
Infographics
---
What Is a Vacuum Sealer?
In this review, we're comparing five top-selling vacuum sealers popular among consumers. To answer the question of 'what a vacuum sealer is', it's a kitchen appliance used for preserving food. The key selling point of vacuum sealers is that they allow for storing perishable foods such as chicken, meat, cheese, and similar stuff, which we usually buy in bulk, for an extended time. Yet, not only that. A vacuum sealer can also be used outside the kitchen. All those things like documents, medicine, car titles, etc. that tend to degrade over time can be vacuum-sealed to stand to test of time. So, a vacuum sealer can preserve any product you wish, reducing food wastes significantly. If you're still not sure whether you need a vacuum sealer, you may want to learn what else you can use it for besides food storage.
You can also preserve your food by dehydrating it. Dehydration means removing all moisture, thus prolonging the food's shelf life. The good thing is that all the healthy elements stay intact. To know more about this, take a look at our food dehydrators reviews.

What Features to Compare
Application Area

When choosing a vacuum sealer, you should pay attention to its application area. All food savers can be divided into three categories which define what they are best used for: kitchen, outdoor or industrial purposes. Let's take a look at each of them:
Portable - as the name suggests, this vacuum sealer is smaller and more mobile than the other two. As a rule, portable vacuum sealers are also battery-powered so you can use them anywhere. The downside of portable sealers is that they are not big, making them an inappropriate option for sealing lots of food.
Kitchen - vacuum sealers designed for kitchen are best for home use. The distinguishing features of this type include moderate capacity and their ability to seal different types of packaging material.
Industrial - these are the most powerful and are used for vacuum sealing a lot of products. Vacuum sealers of this type are usually used by commercial facilities, public catering, shops, and other big establishments. On top of huge capacity, they stand out for being able to vacuum seal most any packaging material.
Functions

You should also check out additional functions. Though all vacuum sealers are designed to remove oxygen from the pack, they may greatly differ by design, size, operation, and even pumping mechanism. You can find automatic and manual devices, providing a different set of sealing options. Vacuum sealers can also include wet/dry pumping, thus, allowing you to vacuum seal a greater variety of items. These pumping methods will let you work with different foods that vary consistency-wise.

Some things may differ with the type of device. For instance, if you buy a vacuum sealer that works with food film, most likely your food saver will include a knife and a bar in the purchase as a nice little addition. Other than that these machines usually come supplied with different bags and rolls, letting you start using the appliance from the get-go and even sometimes make customised bags from the supplied rolls.

Maintenance

Last but not least, check out what bags and materials the food saver uses. There are two main types: packaging film and reusable bags. Some vacuum sealers use only branded bags, which eliminates the hassle of having to choose the right bags for your device. The good news is, you are not limited and can choose whatever option suits you better. Apart from that, thees machines will usually let you work with different food storage containers too.