Kitchen Appliances
Bamix EO150 vs Breville BSB510XL
Product Comparison: Bamix EO150 vs Breville BSB510XL
About the Product
The Bamix Classic EO150 is the original hand mixer, blender, and food processor engineered and made by the Swiss since 1954. With a quiet, but powerful ac motor, the Bamix is versatile enough to puree soups, turn frozen fruit into sorbet or your favorite smoothie and whip nonfat milk into cream. Most commonly found in the kitchens of gourmet chefs and professionals, it is considered the most elite of food processors because of its versatility and strong starting torque. Related products bamix-mono-hand-blender-silver Bamix Mono M133 Immersion Blender $129.00SELECT OPTIONSBUY NOW560486 Fine Grating Blade #1 for Bamix SliceSy $10.99BUY NOW400ml-mayo-container-bamix-hand-blender_1 400ml Bamix Mayo Beaker $4.99BUY NOW560520 (1) B-Blade for Bamix Immersion Blenders $7.99BUY NOW Previous Next Reviews (0)
Sometimes, making a simple soup can be hard work. Immersion blenders are supposed to make cooking easier, but they can often create problems instead of solving them: creating splatters, suctioning to the bottom of the bowl, and scratching pots. How can you control the power you need to get the texture you want? The Breville Control Grip immersion blender has a redesigned blade system to address these problems: a bell-shaped base and internal ribbing break suction for greater control and efficient blending. This is how the Breville Control Grip stands apart: whatever you need to blend, the Breville Control Grip has got it under control.
Bamix EO150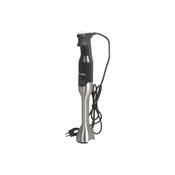 Breville BSB510XL
Bamix EO150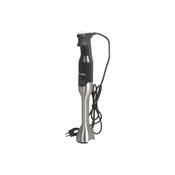 Breville BSB510XL
Bamix EO150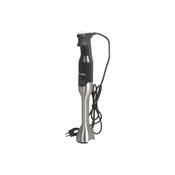 Breville BSB510XL
What customers say about "Key Specs"
Breville BSB510XL Control Grip Immersion Blender
t works perfectly. I have used it to cream soup in the pot, make smoothies with frozen fruit, and to make mayonnaise. It handles all of these with ease and the clean up is super simple.
The variable speed control is a fantastic feature.
Quick to set up...multiple speeds including a very violent high speed - which works great to get the job done.
The best Immersion blender that lasts long and has many settings low to high.
The blender attachment w/blades is off balanced so when used, can be very noisy..
Not as powerful as I hoped it would be. Barely mixed up a soft banana.
Material
Stainless Steel/Plastic
Plastic
Color
White
Stainless Steel/Black
What customers say about "Size & Weight"
Breville BSB510XL Control Grip Immersion Blender
The blender itself is not small, but it fits very comfortably in my hand and is easy to use.
Weight, construction are top notch.
It's compact, well made, and durable. The blender is surpisingly quiet and effective.
To many parts, and too flimsy
Pretty bulky and doesn't fit easily into a normal kitchen drawer.
What customers say about "Control"
Breville BSB510XL Control Grip Immersion Blender
The grip and power button is amazingly comfortable, just about everything for features are user friendly and it runs quiet.
Ergonomic handle and easy to control. Just squeeze the soft rubber grip on the handle and you can control the on/off.
Grip a bit large, but comfortable to hold and operate.
The ergonomics help control the blender even when it is running at full power. Also the design helps keep the blender from sucking onto the bottom of the pot when in use.
The grip is a bit wide, so smaller hands might get a little tired with long use.
Blade Material
Stainless steel
Stainless steel
Blending Pitcher Capacity
Extras
Durable and quiet ac motor lasts longer than a dc motor and is reparable for life, Two-fold insulation, Straight cord, Open head design
Ice crushing stainless steel blades, Storage lid: doubles as a non-slip base, Variable speed control, 8 inch immersion depth
What customers say about "Features"
Breville BSB510XL Control Grip Immersion Blender
All parts that come into contact with food/liquid are BPA-free.
All parts except the motor and the blender cover are dishwasher safe
When I am done with it I put the tools in the dishwasher and it is ready for the next job
Most of the pieces are dishwasher safe. I've had no problem with this at all.
Has one major design flaw. Pitcher design is garbage. Does not pour at all, just makes a huge mess.
However, the food processor blade's design is awful. It is only one blade that lies too close to the bottom.
Also, the cord is nice and heavy-duty, but it is so nice and heavy-duty that it seems like it could pull and topple the blender, which feels a little top-heavy.
Included With Unit
Whisk blade, Mincer blade, Beater blade, Aerating blade, Blending blade, Chopping blade
Mixing beaker, 25-oz chopper
What customers say about "Accessories"
Breville BSB510XL Control Grip Immersion Blender
The whisk attachment works great for beating eggs and making whipped cream.
The whisk and mini food processor attachments make it so versatile I find myself taking this appliance out frequently when cooking. Don't hesitate to purchase.
The chopper attachment and bowl are WAY more useful than I would have ever guessed, and makes awesome sauces.
The chopping bowl is fantastic for making a quick, fresh salsa. Just toss in your tomatoes, half an onion, some jalapeno and seasonings and watch it go. So easy.
Love this thing, but the whisk attachment does not work unless I press down into the bowl.
I do not like the mixing bowl option as much however. It leaks very easily at the top of the lid
Warranty / Certifications