If you want to look attractive, the Flat Iron can make your hairstyle smooth and beautiful. It can do a quick job straightening your
hair. So, in order to make your choice easier, we propose you to look through our Flat Irons review!
...
Read more
...Read less
Furiden Professional Hair Straightener
100% Ceramic Flat Iron
The Furiden Professional Hair Straightener is an amazing device that will suit both professional hairdressers and those who want to rock different hairstyles on a frequent basis. This styler won't leave any girl indifferent. That's for sure.
This device has an attractive design that makes it very convenient in use. The manual heat regulator is situated on the end of the handle and comes with clear temperature marks. You will be able to easily adjust the temperature by turning it. You can see if the device is on by checking a LED indicator that is situated near the temperature control regulator.
The flat iron has a slightly rounded shape, which may take you a bit to get used to. However, it also makes the device universal. You can not only straighten your hair but also curl it. The width of the plates is 1 inch, so they are just perfect for any styling procedure.
The plates are made of ceramic tourmaline, so they will be equally effective on all hair types. They can gently straighten thin damaged hair on low temperatures, preventing damage.
The next handy feature we like is that the iron is fitted with a 360° swivel cord that ensures comfortable use with no pulling and tangling. It is also pretty long - about 97 inches.
Everything You Need For Salon-Like Styling
This professional hair straightener from the Furiden has a pretty decent temperature range. It works between 250°F and 450°F.
The other great thing about this device is that it gets hot in a very short time. So, you can forget about wasting your time and waiting: turn it on and you can start straightening in just 15 seconds!
The set of this flat iron includes everything you need to get a salon quality hairstyle. It comes with 2 hair clips, a salon comb, and a heat resistant glove. The thermal glove is a very reasonable addition since it protects you from burns. Another very important safety feature this device boasts is an auto shut off.
This model can also be a decent travel choice. Not only does it support dual voltage (110-240) but also comes with a travel pouch that will keep the unit safe in your bag. The device itself is not very big and has an ergonomic shape. The dimensions are 11.6 x 1.3 x 1.3 inches and it weighs about 1.6 pounds.
In short, the Furiden Professional Hair Straightener is a professional device for both curling and straightening. It suits all hair types, has convenient controls and is gentle on your hair. Plus, you can take it with you wherever you go.
Additional Info
---
Furiden Professional Hair Straightener
KIPOZI K-137 Rose Pink
User-Friendly Model
The KIPOZI Hair Straightener is a decent flat iron that has a lot of good features to offer. First, we would like to point out the 3D floating plates that will easily glide down the whole length of your hair without pulling it off. They are 1 inch wide, which makes them equally suitable for straightening long locks and ironing every part of your bangs and short baby hairs.
Next, this model of a flat iron is fitted with the LCD display that makes the temperature control very user-friendly. With its help, you can easily select the desired temperature by pushing control buttons. You can select any temperature depending on your hair type. The screen also gives you a warning when the temperature gets very hot, which helps you avoid damaging the hair. It also features a safety shut off after 90 minutes of shut off. The other important moment in terms of safety is a lock that provides easy carrying and storing. You can also find a drawstring velvet storage case for these purposes in a set.
This tool features titanium plates that get hot in a pretty short time (30 seconds). It is fitted with a ceramic heater and uses a far-infrared technology that helps to distribute the heat evenly without creating hot spots. The temperature range is also pretty decent (270-450 degrees), which makes this flat iron suitable for all hair types. The professionals recommend straightening your locks at 270 - 320 degrees if they are thin and fragile, 330 - 380 degrees will be enough for damaged hair, and 390 - 450 degrees are ideal for thick and healthy hair.
Nice Design
We couldn't skip the appealing design if this unit. Apart from being slim and easy to grip, it also has a nice design. The body is made in a nice rose pink color, which makes this tool look very stylish. Because of the thin body, you can use the tool for curling and creating waves. The LCD display that we mentioned before is situated on the upper part of the flat iron which makes selecting the temperature easy. The only flaw of the screen is that you may accidentally press the buttons while straightening your hair and change the settings. Hence, try to hold the handle a bit farther from the screen. 
All in all, if you need to take you frizzy or kinky hair under control, the KIPOZI Pro Flat Iron will fit you. It comes in an appealing pink body. It suits people with all hair types. The model has a long swivel cord, an auto turn-off and a block function, which makes the use safe and practical.
Additional Info
---
KIPOZI K-137 Rose Pink
Remington S5500
Anti-Static Technology
For anyone who has short or shoulder-length hair, the Remington S5500 flat iron is a perfect solution. At a price lower than average, you get a high-quality tool made using ceramics so that the risk of damaging your hair during styling is minimal. The plates are smooth and slightly rounded at the edges which makes it easy to glide them through curly hair. The advantage of ceramics is that it's not only safe to use but also can add a beautiful shine so that your hair looks gorgeous and, more importantly, healthy.

Speaking of performance, the Remington S5500 flat iron doesn't trail behind its more expensive rivals. It heats up in less than half a minute and effectively handles frizz and flyaways. The only downside is that the external part of the housing of the unit heats up too, so you should be careful while using in order to avoid burns.

Remington S5500 is equipped with 1-inch ceramic plates. This width is standard and suitable for almost all hair lengths and types. The only case where it might not work is if the length of your hair is up to the waist or more. If that's the case, we would recommend you to turn towards flat irons with 1.5-2-inch plates. If not, this model will suit you to a tee.

Extra Options
For a flat iron at this price point, the Remington S5500 has a lot of additional features, which include a light indicator, a convenient LCD display and an auto shut-off function. A light indicator along with a beep sound alerts you when the unit is ready to use. An LCD display makes it convenient to control the temperature, and the shut-off function ensures that it automatically switches off if you don't do it manually.

The Remington S5500 is featured with a thermoregulator, reaching the maximum temperature of 410°F, and the operating range varies from 210° to 410°F. This makes it suitable both for domestic and professional use.

To wrap things up, the Remington S5500 is a good option for all those who seek a budget-friendly yet professional quality flat iron. Despite seeming simplicity, this model combines all the necessary features and functions you need for comfortable use. And then it comes with a 2-year manufacturer warranty, something you normally get with expensive models only.

---
VIDEO
Remington S5500 Ceramic Flat Iron Review - Great affordable hair straightener!
Remington S5500
KIPOZI K-139B Professional
The Power of Titanium
At first glance, it becomes clear that the KIPOZI titanium dual-voltage straightening iron is a luxury device. It looks premium and performs even better. This is a professional-level flat iron widely used in beauty salons around the world.
As the manufacturer claims, it heats up very fast and stays consistent throughout the whole styling process. It takes the device only half a minute to get hot, so it's a good straightener for busy days.
Moving on to the plates, we would like to point out that each plate is precision milled, allowing your hair to pass through effortlessly with no snagging. By the way, the 1.75-inch titanium floating plates can also be used to add volume and flips to your hair. Such a size is perfectly suitable for medium and long hair.
It is also worth mentioning that apart from black design, this model is also available in a nice pink color. The manufacturer also adds a storage pouch that protects the body from scratches and allows you to take the iron while traveling.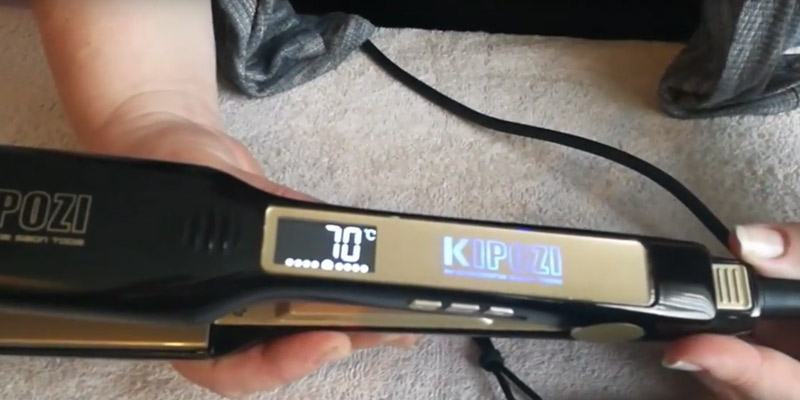 Wide Temperature Range
We also really like that this iron has a pretty wide range of temperature modes. You can select the desired temperature from 170°F to 450°F. That's why this straightener will suit people with different hair textures.
As for the controls, it's pretty easy to adjust the heat using the + or - tactile buttons. You can set whatever temperature you like and the backlit LCD screen will tell you what hair type it suits best. It's also worth mentioning that the iron features the intelligent temperature fall down and auto shut-off function after 60 minutes of non-use. This is a very important function in terms of safety because it lowers the risk of a fire.
This model has one disadvantage, though. Despite the fact that it gets hot pretty quickly, it needs quite a while to cool down. That's why you won't be able to put it in your bag right after straightening. But we hope this con won't make a huge difference for you.
In conclusion, we would like to say that everything about this professional flat iron screams high quality. It's a top-shelf professional straightener that can deliver you amazing styling results all across the globe.

---
What customers say about this product
The titanium plates heat very quick, around 10 to 15 seconds and you can see the temperature on the digital screen.
The storage bag that came with it is made of a good quality material.
The auto shut off is a plus as well.
The heavy duty swivel cord is equivalent to a guitar amp cable.
KIPOZI K-139B Professional
Conair INFINITIPRO
Smooth Hair Without Static
If you cannot tame your curly, thick and coarse hair, there is nothing better than Conair Infiniti Pro flat iron. For starters, the material of the plates features ceramic and tourmaline coating. Thus, this hair straightener has a high-quality working surface. The ceramic material heats up evenly and holds the optimal temperature very well. And tourmaline coating eliminates the static. As a result, you'll have smooth and straight hair for considerably longer.
This is a popular hair styler, widely used in beauty salons. And the reason is the awesome results after each use and the positive feedback of satisfied customers. That is to say, the Conair Infiniti Pro can cope even with unruly hair.
This model has extra long floating plates. The width of the plates makes 2 inches, which makes it a perfect solution for owners of long, coarse and thick hair. Still, it is convenient to straighten any hair type with Conair Infinity, as the plates can easily and smoothly slide along the entire length. The straightener always works in close contact with the hair, thus, straightening your hair much faster. Also, you can optionally choose models with 1 and 1.5-inch plates.
No Overheating
Generally, this tool can heat up to 446°F, but for the gentle straightening, the temperature can be as low as 240°F. And if you have long, coarse and curly hair, we suggest setting a high temperature somewhere about 365°F. The maximum 446°F works perfectly for extremely unruly and frizzy hair.

Like most modern hair straighteners, the Conair flat iron has got the LED indicator lights and an auto shut-off function. Thus, it will never overheat and cause a fire. How does it work? If it is out of use for a long time, the unit just shuts itself off. So, you don't have to worry about safety while you are out. Another great advantage of this flat iron is its heating time. Unbelievable, but it takes only 15 seconds to reach the temperature up to 446°F.
To wrap things up, the Conair Infiniti Pro Tourmaline Ceramic Flat Iron is a decent flat iron that is safe to use on different hair types. Thanks to its extra-wide plates, straightening long thick hair will become a breeze. It will stay smooth, silky and without static.
Additional Info
---
Conair INFINITIPRO
What Is a Flat Iron?
Creating a perfect hairstyle might be tricky, especially if you have frizzy wavy hair. A flat iron is an ideal tool for hair styling. It is perfect for turning frizzy hair into smooth and shiny, plus it also makes it look longer. And, alternatively, this tool is also great if you wish to make curls or create waves for a new look. A flat iron is often called "hair straightener" or "hair styler". And how does it work? This magic tool solders the hair cuticles with the power of heat. Thus, the hair looks shiny and smooth. When purchasing such a styler, it is essential not only to pick to pick a functional option but also the one that won't damage your hair. That's why, in our flat irons review, we dug deep to selected the best models available on the market.
Alternatively, if you want to have beautiful curls, we recommend you to pay attention to curling irons, a tool for creating curls and waves of different shapes and sizes. You also may want to check out our review of the best hair dryers.
What Features to Compare
Plates Material
First of all, we would highly recommend you to pay attention to the plates material while choosing a flat iron. Mainly, the coating material determines the final results. Nowadays, the most popular flat irons are coated with tourmaline or ceramic. The ceramic plates can get hot very quickly and will stay at the desired temperature during the whole use. Tourmaline plates are suitable for straightening thin or weak hair since they are very effective even in low-temperature settings. Both coatings provide even heat distribution along the plates. These materials are gentle and do not cause harm to the hair. Accordingly, the hair becomes shiny, silky and less frizzy. Recently, a lot of manufacturers also started using titanium for their hair care devices. Even though not all hair types go well with the metal plates, this is the safest metal material for hair straightening you can find yet. Titanium flat irons provide you with an amazing heating performance without damaging your hair. But bear in mind, they may also cost you a pretty penny.
Plates Size
The next thing to pay attention to is the plates size. The plates can be narrow (up to 1 inch) and wide (more than 1 inch). Narrow plates are suitable for straightening thin hair or fringe. On the contrary, irons with a wider working area allow you to smooth the thick, broad strand. Thus, they can significantly reduce the time on straightening.
Thermoregulator
To control the temperature, most hair straighteners offer a thermoregulator with a few heating options. There are two main types - mechanical and electronic. As for the mechanical type, you will not be able to set the exact temperature. All you can do is just, for example, to set the temperature "between 300°F and 320°F". On the contrary, the alternative electronic thermoregulator allows users to set the desired temperature and achieve the needed level of heat. In general, the plates can heat up to 240°F - 450°F. If you have thin and weak hair, we suggest choosing the minimum temperature mode. Hence, you will not cause any harm to the hair. Whereas, if you are the owner of healthy, thick and curly hair you can set the maximum heating temperature for the best results.
Extra Options
Once you have decided on the material, the size and the heating options, it is advisable to consider extra options. Different flat irons heat up at a different speed rate. Some tools heat up in 30 seconds, others - in less than 10 secs! The heating time is not a vital feature, but if you often straighten the hair in a hurry, you should definitely take into account "fast" models. Another nice and safety feature is an auto shut-off function. It allows you to prevent overheating of the plates and avoid burns. There are also some other functions such as an LCD display and indicators. Bear in mind, though, flat irons with multiple options are also more expensive.
Did you know?
All the owners of frizzy unruly hair try different ways to keep it a bit under control. With the invention of the straight irons, the life many people became so much easier because now they can rock a smooth silky hairstyle every day. Flat irons can straighten your locks and make them look longer and shinier. However, every rose has a thorn, and such styles are not an exception. Since flat irons use heat to straighten your locks, they can cause a lot of damage to your hairdo. That's why we decided to share a few tips on how to keep your hair strong and healthy even if you straighten it every day.
Purchase a "soothing" shampoo
Even though such a solution won't make your hair perfectly straight, it still can leave some positive impact. It adds moisture to your hair and makes it less unruly, thus prepares it for the straightening. You can also try straightening shampoos. They may have a better effect in smoothing your hair out, but they may not be suitable for all hair types. Plus, no shampoos can compete with results the iron gives you.
Always use a conditioner
We are sure there is no need to tell you about all the advantages of using additional hair care products like conditioner or moisturizer. However, we want to stress how important it is not to skip them in your routine if you straighten or curl your hair. Conditioning your hair will nourish your hair and make it look much stronger and healthier even amid the effect of the heat.
Never iron wet hair
Sometimes in a rush, we can break a few rules, but this one is an exception. Never, and we really mean it, never use a flat iron or a straightening brush on wet or damp hair. It can cause so much damage that you may have to cut your locks. If you are limited in time, use a hair dryer first. Although adding more heat to your hair may not like a very good idea, it is still nearly as dangerous as using an iron directly on a wet hair. Some people, who have very strong locks that are hard to straighten, have to use a hair dryer and a straightener each time they style their hair. There are some models of straighteners that are suitable for wet hair, however, their safety is still pretty questionable.
Always use a heat protector
Before straightening your hair, no matter if you are going straight for the flat iron or use a hair dryer first, apply a heat protector. As the name suggests, this product protects your hair and helps to keep it healthy and shiny.
Invest in a good device
No matter how tempting the desire to purchase the cheapest product may be, we recommend investing in a high-quality hair care device. There are many blow dryers and flat irons that use various technologies to reduce the damage your hair gets. Flat irons are completed with plates made of different materials. so you can choose the safest one. They also come with a wide temperature range that allows selecting the perfect one for your hair type. Plus, you can find pretty decent models at a very affordable price.
Following these steps, you can keep your hair healthy and shiny even if you love styling it with the heat on a frequent basis.
Sources:
1. How to Choose the Best Hair Straightener for Your Hair, Overstock. June 12, 2015.
2. Choosing the Best Hair Straightener for You, Hairfinder.
3. Stella Rose Saint Clair Flatirons: The Perfect Plate For You, Beautylish. September 27, 2012
4. Phillip Picardi The Top 10 Flatiron Mistakes When Straightening Hair, teenVOGUE. August 14, 2016.
5. Julyne Derrick How to Use a Flat Iron, About. June 27, 2016.
6. Augusta Falletta 17 Useful Tricks For Anyone Who Uses A Hair Straightener, BuzzFeed. July 2, 2015.
7.Anna Jimenez Hair Care: How To Straighten Hair Like a Pro, TotalBeauty.
8. Devri Velazquez Are You Using the Best Flat Iron for Your Hair Type? NATURALLYCurly. October 12, 2015.