If you want to look attractive, the Flat Iron can make your hairstyle smooth and beautiful. It can do a quick job straightening your
hair. So, in order to make your choice easier, we propose you to look through our Flat Irons review!
...
Read more
...Read less
CHI Original 1"
Great Tool for Everyday Use
If you don't need a versatile tool with numerous functions (the majority of which you'll never use), we recommend you to consider CHI Pro Ceramic Ionic Tourmaline Flat Iron. Safe and easy to use, this device will suffice for your everyday needs. This professional flat iron operates within 302°F -356°F temperature range that is suitable for both straightening and curling. However, note that the temperature can't be adjusted manually. If you have damaged hair, it's better to look for a device where such option is included. In case this temperature range is suitable for your hair, you'll also be pleased to learn something about the usability of this device. It boasts an 8-foot swivel cord that doesn't restrict your movements, so hair styling will be even more convenient than you can expect.
For Those who Appreciate Time
Modern pace of life doesn't leave us with much time for morning toilet. But what should girls do if perfect looks are at the top of the list? The answer is simple – choose CHI Pro Flat Iron. It takes the device only 6-10 seconds to heat up, so you can start styling procedures soon after you plug the iron in. Remember that with CHI Pro model, you can straighten hair as well as curl it. It's possible owing to the 1-inch plate and rounded edges of the casing. Plus, this flat iron boasts infrared heating option that provides fast hair treatment and substitutes undesired fuzziness with a smooth, sleek, and healthy look.
Don't forget that it's possible to apply flat iron on dry hair only. Choose one of the best hair dryers represented on the market to help you do it in mere seconds.
It's Worth the Price
Although you can notice that the price of CHI Pro Flat Iron is a bit higher than some of its rivals have, it is reasonable, and numerous customers' reviews prove it. Such a good service of this model is achieved by the application of advanced technologies, and ceramic tourmaline plates are one of them. The combination of these materials ensures the beneficial effect on your hair by ionizing and making it look healthy. Additionally, hair locks rest softly, yet tightly between the plates, so you can be sure of perfect straightening or curling results. If simple, convenient, and high-quality flat iron is what you were looking for, don't miss an opportunity to get CHI Pro model and look perfect every day.
Additional Info
---
What customers say about this product
The 1" ceramic plate is nice, because you can use it to make curls or straighten your hair.
It heats up in seconds and it gets HOT.
The iron is a good size, light with a nice long cord- longer than that of my hairdryer which is helpful.
The new swivel cord design avoids any cord frustration, and there is an attached Velcro piece that keeps the cord folded neatly and secure when not in use.
CHI Original 1"
KIPOZI K-139B Professional
The Power of Titanium
At first glance, it becomes clear that the KIPOZI titanium dual-voltage straightening iron is a luxury device. It looks premium and performs even better. This is a professional-level flat iron widely used in beauty salons around the world.
As the manufacturer claims, it heats up very fast and stays consistent throughout the whole styling process. It takes the device only half a minute to get hot, so it's a good straightener for busy days.
Moving on to the plates, we would like to point out that each plate is precision milled, allowing your hair to pass through effortlessly with no snagging. By the way, the 1.75-inch titanium floating plates can also be used to add volume and flips to your hair. Such a size is perfectly suitable for medium and long hair.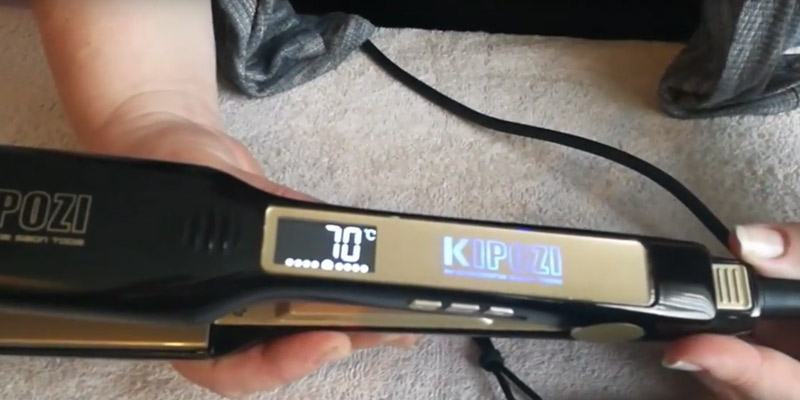 Wide Temperature Range
We also really like that this iron has a pretty wide range of temperature modes. You can select the desired temperature from 170°F to 450°F. That's why this straightener will suit people with different hair textures.
As for the controls, it's pretty easy to adjust the heat using the + or - tactile buttons. You can set whatever temperature you like and the backlit LCD screen will tell you what hair type it suits best. It's also worth mentioning that the iron features the intelligent temperature fall down and auto shut-off function after 60 minutes of non-use. This is a very important function in terms of safety because it lowers the risk of a fire.
This model has one disadvantage, though. Despite the fact that it gets hot pretty quickly, the device needs quite a while to cool down. That's why you won't be able to put it in your bag right after straightening. But we hope this con won't make a huge difference for you.
Great for Traveling
Besides classic black, the iron is available in vibrant purple and pink colors. As a nice touch, the package also includes a velvet pouch for traveling. And thanks to the dual-voltage support, the unit is suitable for worldwide usage. So, it can become a reliable companion for those who travel on a frequent basis and want to have a salon-quality hairstyle anywhere in the world.
In conclusion, everything about this professional flat iron screams high quality. It's a top-shelf professional straightener that can deliver you amazing styling results all across the globe.
---
What customers say about this product
I love that it heats up super fast, it has a wide plate that handles a good amount of hair at once which cuts down my styling time a lot!
I love the size of the titanium straightner. I got my hair done in only a few minutes with this iron.
Has adjustable and lockable temperature settings, but also has automatic ones for specific hair types.
Love the long cord and it cut my time in half.
KIPOZI K-139B Professional
Babyliss Pro Porcelain Ceramic BABP9557
Smooth Hairstyle Every Day
The BaByliss Pro Ceramic hair straightener is made of the best materials to ensure smooth and healthy-looking hairstyle. We assure you that it is impossible to damage a hair structure even if you use this iron daily. The ceramic and tourmaline coating has got the ions to remove the fuzz. In addition, this covering is able to add gloss even to the most lifeless strands. So, if you've got no spare money to spend on the expensive keratin straightening procedures, you can achieve the same results right at home. 
Choose the Best Size
BaByliss allows you to choose the model with 1-inch, 1.5-inch, 2-inch plates. Thus, every girl can choose the best option according to her hair. We suggest purchasing of 1-inch or 1.5-inch model for short or thin fine hair. Why? Because narrow plates will allow you to straighten even the shortest and the most hard-to-reach strands. Whereas, we recommend long haired ladies to give preference to wider 2-inch plates. Furthermore, we would like to call your attention to their shape. It is rounded and, hence, the flat iron can perform different operations. Overall, this device is a perfect for customers who want to smoothen, straighten, wave, curl, flip, spiral or bend their hair.
Thermoregulator and Extra Features
Straightener BaByliss flat iron has a thermoregulator with the maximum heating abilities (up to 450°F). Hence, it can be a great styling device even for professional use. For the extra convenience, it is equipped with manually adjustable temperature range from 235°F to 450°F. Thus, you will be able to select the precise level of heating. This will allow you to adapt to your hair, making it extremely smooth and shiny.
This hair straightener heats up to the highest temperature in just 1 minute. The main body has an "on" indicator light which can alert you when the device is ready to use. As regards to conveniences, its compact design and long power cord make this flat iron very easy in use. Therefore, BaByliss hair straightener will be a classy acquisition for the fancy ladies who want their hair to be healthy and strong. With no shade of a doubt, you'll love this flat iron.

Additional Info
---
VIDEO
Babyliss Pro Ceramic Tools Straightener
What customers say about this product
Gets very hot and works great. By far my favorite flat iron I've ever had.
Has an adjustable heat setting and extra long plates so I'm able to take larger sections when doing my hair.
The cord is a good length, and the size of the iron makes it easy to store or take along.
The cord is longer than most straighteners which is handy for reaching the outlet.
Babyliss Pro Porcelain Ceramic BABP9557
Remington S9520
100% Ceramic Flat Iron
To provide this hair straightener with high quality and prevent your hair from undesirable damage, Remington company has thoroughly worked on the flat iron's plate coating. It's obvious that the smoother the plate's surface is, the better it contacts with hair locks. That's why the manufacturer has chosen pearl ceramics as a base for straightener's plates. The tests have shown that such coating includes 15 times more ceramics than other models, and it gives Remington S9520 a lot of advantages. Pearl ceramic coating provides 8 times smoother glide and makes the straightener 85% more durable (even after 5 years of constant use, this tool won't let you down). Your hair will look not only sleek and shiny but also healthy. The coating won't cause any harm to your hair. So, if you're looking for an effective and durable device to make your hair incredibly straight and beautiful, consider buying Remington's hair straightener, and you'll be definitely pleased with your choice.
Interesting Facts About Hair
You can stretch your hair and make it 0.5 times longer, but it will still return to its normal state.
Hair is as durable as aluminum.
Hair life differs – man's hair is alive for 2 years, while woman's hair may live 4-5 years.
Red hair is the thickest in comparison with hair of other colors.
An average adult loses from 50 to 100 hairs a day.
Women tend to lose hair less often than men as women's hair roots are 2mm deeper in the head.
95% of human body is covered with hair.
An amount of hair is determined genetically. It is believed that blond people have 140,000 hairs, 80,000 is an average number for red-haired people, and the brown-haired have approximately 109,000 hairs on their head.
To make your hair healthier, thicker and shinier, comb it with a soft-bristle brush for 5-10 minutes before going to bed.
Hair grows faster in the morning and afternoon while in the evening and at night it grows slowly or doesn't grow at all.
There is a myth that haircut and shave provoke hair to grow faster and become thicker. However, scientific research has shown that hair structure and ability to grow are determined only by heredity and a hormone level.
Additional Info
---
VIDEO
Remington Pearl Ceramic S-9520
What customers say about this product
I like that I can turn the tempurature up higher then 400 degrees.
When I started using the black with pink pearlized plate flat iron my hair felt softer the heat settings on this were perfect it warmed up fast and cut my styling time down I have thick coarse hair so that is a big plus.
Sometimes my fingers hit the buttons when I'm using it but it beeps so you know if you hit a button and I just change it back and keep going.
Easy to hold and light weight.
Remington S9520
Conair CS33FPR Infiniti Pro
Smooth Hair Without Static
If you cannot tame your curly, thick and coarse hair, there is nothing better than Conair Infiniti Pro flat iron. First of all, the material of the plates features ceramic and tourmaline coating. Thus, this hair straightener has a quality working surface. The ceramic material heats up evenly and holds the optimal temperature very well. And tourmaline coating eliminates the static. As a result, you'll have smooth and straight hair for considerably longer. This is a popular hair styler, widely used in beauty salons. And the reason is the awesome results after each use and the positive feedback of satisfied customers. Do not hesitate! The Conair Infiniti Pro can cope even with unruly hair.
Great for Long Hair Owners
Oh, this model has extra long floating plates. The width of the plates measures 1.5 inches, which makes it a perfect solution for owners of long, coarse and thick hair. Optionally you can choose the width of the plate and go for either a smaller or a bigger unit - 1, 1.5 and 2 inches available. It is convenient to straighten any hair type, as the plates can easily and smoothly slide along the entire length. Conair Infiniti Pro works in a close contact with the hair, thus, straightening your hair much faster.
No Overheating
This model has a thermoregulator that prevents the flat iron from overheating and your hair from damaging. Just imagine, this tool can heat up to 446°F! But, for the gentle straightening, the temperature of 240°F is enough. However, if you have long, coarse and curly hair, we suggest setting a higher temperature somewhere about 365°F. Conair Infiniti flat iron is suitable for professional use. Heating up to 446°F, it works perfectly on extremely unruly and frizzy hair.
Like most modern hair straighteners, Conair flat iron has got the LED indicator lights and an auto shut-off function. Thus, it will never overheat and cause a fire. How does it work? If it is out of use for a long time, the unit just shuts itself off. So, you don't have to worry about safety while you are out. Another great advantage of this flat iron is its heating time. Unbelievable, but it takes only 15 seconds to reach the temperature up to 446°F. All in all, this flat iron will help you save time and achieve the desired silky smoothness in minutes.

Additional Info
---
VIDEO
Conair Infiniti Pro Flat Iron Review
What customers say about this product
The best flat iron I've ever had! Love the 2 inch size, it heats well, and it doesn't burn my hair.
Great straightener! It heats up very fast (almost immediately) and sustains the temperature well.
I like the size of it it works great it's not too thick and it's not too thin the automatic shut off is nice for when I forget to shut it off and I love the temperature control makes it very easy to know what temperature you have it set on.
I like that the end of the cord is able to rotate for easy maneuver.
Conair CS33FPR Infiniti Pro
What Is a Flat Iron?
Creating a perfect hairstyle might be tricky, especially if you have frizzy wavy hair. A flat iron is an ideal tool for hair styling. It is perfect for turning frizzy hair into smooth and shiny, plus it also makes it look longer. And, alternatively, this tool is also great if you wish to make curls or create waves for a new look. A flat iron is often called "hair straightener" or "hair styler". And how does it work? This magic tool solders the hair cuticles with the power of heat. Thus, the hair looks shiny and smooth. When purchasing such a styler, it is essential not only to pick to pick a functional option but also the one that won't damage your hair. That's why, in our flat irons review, we dug deep to selected the best models available on the market.
Alternatively, if you want to have beautiful curls, we recommend you to pay attention to curling irons, a tool for creating curls and waves of different shapes and sizes. You also may want to check out our review of the best hair dryers.
What Features to Compare
Plates Material
First of all, we would highly recommend you to pay attention to the plates material while choosing a flat iron. Mainly, the coating material determines the final results. Nowadays, the most popular flat irons are coated with tourmaline or ceramic. The ceramic plates can get hot very quickly and will stay at the desired temperature during the whole use. Tourmaline plates are suitable for straightening thin or weak hair since they are very effective even in low-temperature settings. Both coatings provide even heat distribution along the plates. These materials are gentle and do not cause harm to the hair. Accordingly, the hair becomes shiny, silky and less frizzy. Recently, a lot of manufacturers also started using titanium for their hair care devices. Even though not all hair types go well with the metal plates, this is the safest metal material for hair straightening you can find yet. Titanium flat irons provide you with an amazing heating performance without damaging your hair. But bear in mind, they may also cost you a pretty penny.
Plates Size
The next thing to pay attention to is the plates size. The plates can be narrow (up to 1 inch) and wide (more than 1 inch). Narrow plates are suitable for straightening thin hair or fringe. On the contrary, irons with a wider working area allow you to smooth the thick, broad strand. Thus, they can significantly reduce the time on straightening.
Thermoregulator
To control the temperature, most hair straighteners offer a thermoregulator with a few heating options. There are two main types - mechanical and electronic. As for the mechanical type, you will not be able to set the exact temperature. All you can do is just, for example, to set the temperature "between 300°F and 320°F". On the contrary, the alternative electronic thermoregulator allows users to set the desired temperature and achieve the needed level of heat. In general, the plates can heat up to 240°F - 450°F. If you have thin and weak hair, we suggest choosing the minimum temperature mode. Hence, you will not cause any harm to the hair. Whereas, if you are the owner of healthy, thick and curly hair you can set the maximum heating temperature for the best results.
Extra Options
Once you have decided on the material, the size and the heating options, it is advisable to consider extra options. Different flat irons heat up at a different speed rate. Some tools heat up in 30 seconds, others - in less than 10 secs! The heating time is not a vital feature, but if you often straighten the hair in a hurry, you should definitely take into account "fast" models. Another nice and safety feature is an auto shut-off function. It allows you to prevent overheating of the plates and avoid burns. There are also some other functions such as an LCD display and indicators. Bear in mind, though, flat irons with multiple options are also more expensive.
Did you know?
All the owners of frizzy unruly hair try different ways to keep it a bit under control. With the invention of the straight irons, the life many people became so much easier because now they can rock a smooth silky hairstyle every day. Flat irons can straighten your locks and make them look longer and shinier. However, every rose has a thorn, and such styles are not an exception. Since flat irons use heat to straighten your locks, they can cause a lot of damage to your hairdo. That's why we decided to share a few tips on how to keep your hair strong and healthy even if you straighten it every day.
Purchase a "soothing" shampoo
Even though such a solution won't make your hair perfectly straight, it still can leave some positive impact. It adds moisture to your hair and makes it less unruly, thus prepares it for the straightening. You can also try straightening shampoos. They may have a better effect in smoothing your hair out, but they may not be suitable for all hair types. Plus, no shampoos can compete with results the iron gives you.
Always use a conditioner
We are sure there is no need to tell you about all the advantages of using additional hair care products like conditioner or moisturizer. However, we want to stress how important it is not to skip them in your routine if you straighten or curl your hair. Conditioning your hair will nourish your hair and make it look much stronger and healthier even amid the effect of the heat.
Never iron wet hair
Sometimes in a rush, we can break a few rules, but this one is an exception. Never, and we really mean it, never use a flat iron or a straightening brush on wet or damp hair. It can cause so much damage that you may have to cut your locks. If you are limited in time, use a hair dryer first. Although adding more heat to your hair may not like a very good idea, it is still nearly as dangerous as using an iron directly on a wet hair. Some people, who have very strong locks that are hard to straighten, have to use a hair dryer and a straightener each time they style their hair. There are some models of straighteners that are suitable for wet hair, however, their safety is still pretty questionable.
Always use a heat protector
Before straightening your hair, no matter if you are going straight for the flat iron or use a hair dryer first, apply a heat protector. As the name suggests, this product protects your hair and helps to keep it healthy and shiny.
Invest in a good device
No matter how tempting the desire to purchase the cheapest product may be, we recommend investing in a high-quality hair care device. There are many blow dryers and flat irons that use various technologies to reduce the damage your hair gets. Flat irons are completed with plates made of different materials. so you can choose the safest one. They also come with a wide temperature range that allows selecting the perfect one for your hair type. Plus, you can find pretty decent models at a very affordable price.
Following these steps, you can keep your hair healthy and shiny even if you love styling it with the heat on a frequent basis.
Sources:
1. How to Choose the Best Hair Straightener for Your Hair, Overstock. June 12, 2015.
2. Choosing the Best Hair Straightener for You, Hairfinder.
3. Stella Rose Saint Clair Flatirons: The Perfect Plate For You, Beautylish. September 27, 2012
4. Phillip Picardi The Top 10 Flatiron Mistakes When Straightening Hair, teenVOGUE. August 14, 2016.
5. Julyne Derrick How to Use a Flat Iron, About. June 27, 2016.
6. Augusta Falletta 17 Useful Tricks For Anyone Who Uses A Hair Straightener, BuzzFeed. July 2, 2015.
7.Anna Jimenez Hair Care: How To Straighten Hair Like a Pro, TotalBeauty.
8. Devri Velazquez Are You Using the Best Flat Iron for Your Hair Type? NATURALLYCurly. October 12, 2015.