If you want to look attractive, the Flat Iron can make your hairstyle smooth and beautiful. It can do a quick job straightening your
hair. So, in order to make your choice easier, we propose you to look through our Flat Irons review!
...
Read more
...Read less
KIPOZI K-139B Professional
The Power of Titanium
At first glance, it becomes clear that the KIPOZI titanium dual-voltage straightening iron is a luxury device. It looks premium and performs even better. This is a professional-level flat iron widely used in beauty salons around the world.
As the manufacturer claims, it heats up very fast and stays consistent throughout the whole styling process. It takes the device only half a minute to get hot, so it's a good straightener for busy days.
Moving on to the plates, we would like to point out that each plate is precision milled, allowing your hair to pass through effortlessly with no snagging. By the way, the 1.75-inch titanium floating plates can also be used to add volume and flips to your hair. Such a size is perfectly suitable for medium and long hair.
It is also worth mentioning that apart from black design, this model is also available in a nice pink color. The manufacturer also adds a storage pouch that protects the body from scratches and allows you to take the iron while traveling.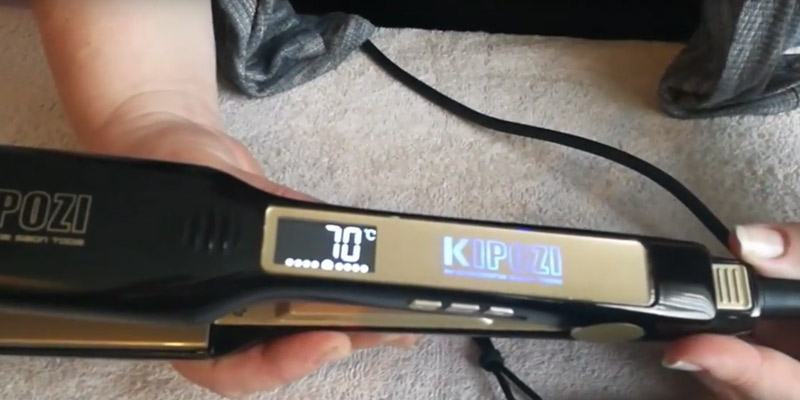 Wide Temperature Range
We also really like that this iron has a pretty wide range of temperature modes. You can select the desired temperature from 170°F to 450°F. That's why this straightener will suit people with different hair textures.
As for the controls, it's pretty easy to adjust the heat using the + or - tactile buttons. You can set whatever temperature you like and the backlit LCD screen will tell you what hair type it suits best. It's also worth mentioning that the iron features the intelligent temperature fall down and auto shut-off function after 60 minutes of non-use. This is a very important function in terms of safety because it lowers the risk of a fire.
This model has one disadvantage, though. Despite the fact that it gets hot pretty quickly, it needs quite a while to cool down. That's why you won't be able to put it in your bag right after straightening. But we hope this con won't make a huge difference for you.
In conclusion, we would like to say that everything about this professional flat iron screams high quality. It's a top-shelf professional straightener that can deliver you amazing styling results all across the globe.

---
What customers say about this product
You don't have to wait more than a minute for it to heat to your setting. It will automatically heat up to the setting your previously had it set at.
The storage bag that came with it is made of a good quality material.
Has adjustable and lockable temperature settings, but also has automatic ones for specific hair types.
The heavy duty swivel cord is equivalent to a guitar amp cable.
KIPOZI K-139B Professional
Mixcolor HB-07
High-Quality Plates
The Mixcolor HB-07 Tourmaline Flat Iron is a runner-up in our list of the best hair straighteners. It has won the hearts of many users thanks to its high-quality design and great performance.
One of the most important things about any flat iron is the material of the plates. And here the plates are made of Ceramic Tourmaline, Nano Silver and Titanium. They also boast 3D Floating technology that will help you smooth your locks without pulling or tangling.
These advanced heating plates have a special coating that is dirt- and dust-proof; it also doesn't absorb the leftovers or your haircare products. Thus, the device will serve you longer. The size of the plates is not too big - they are only 1 inch wide. A little flaw is that they don't open that widely. So, it's better to try straightening small locks at once.
Next, let's look at the temperature settings. This flat iron suits users with any hair type since it works in a range of 265°F - 450°F. It can tackle both thick, unruly hair and carefully straighten damaged or very fine hair. The digital temperature regulator is very convenient.
You can also find an indicator on the upper part of the plate. What we really like is that it shows temperature not only in Fahrenheits but also in Celsius, so this hair styler can become a good gift for your friend from abroad.
Quick Heating
The heating element of the Mixcolor Tourmaline Flat Iron also shows great performance. It is fitted with a number of micro-sensors that ensure even heat distribution within the plates and maintain the same temperature during the styling. The other great thing about this device is that the iron gets hot very quickly. It takes only 15 seconds to heat up to the maximum temperature.
Apart from the iron itself, the set includes a few handy styling additions such as a heat-resistant glove, professional comb, and 2 salon hair clips. There is also a hard storage case included in the box, which makes this hair straightener a good travel companion.
And lastly, we would like to mention that the manufacturer equipped this model with a 9-ft swivel cord that will allow you to move freely while straightening.
To sum up, the Mixcolor Tourmaline Flat Iron will give your hair a shiny and healthy look after each straightening. It is made of high-quality materials, and thanks to the rich set, you will be able to get professional results in the comfort of your own home.
---
Mixcolor HB-07
Remington S9500PP Pearl Pro
The Magic of Pearls
Are you looking for a reasonably-priced device that guarantees perfect straightening results? If so, the Remington Pearl Pro Ceramic Flat Iron is just what you need. This styling tool from a well-known manufacturer will take care of your hair and make it look straight, shiny and sleek.
Starting off with the plates, we would like to emphasize that we particularly liked the materials they are made of. Featuring advanced pearl ceramic technology, they reduce frizz on your hair and carefully straighten it without damage. A lot of users point out that these floating plates glide very easily, without tangling. The size of the plates is 1", so the iron works great for both straightening and making curls.
This device is suitable for users that have normal and thick hair. Its temperature range is 300°F - 450°F . When using the flat iron at the highest temperature, you will be able to make even small tight curls and afros perfectly straight. But for the best results, it is recommended to pass over one section a couple of times.
We also find the controls of this model very convenient. Unlike most other models, this flat iron has the adjustment buttons on the side and not between the plates. They are easy to reach and adjust. You can see the chosen temperature setting on the LCD screen that is situated above the buttons.

Advanced Heating Element
Moving on to the heating element, we have to admit that this hair straightener from Remington is pretty powerful. Even if you set the highest temperature, it will get hot in half a minute. When the desired temperature is reached, you will hear a beeping sound. And thanks to the temperature lock feature, the device will maintain consistent temperature throughout the whole straightening process.
The hair straightener from Remington is also safe to use. It has an auto shut-off feature, so even if you leave it turned on, it will turn off automatically in 1 hour of non-use. Hence, the risk of a fire is minimal.
In the end, we can say that the Remington Pearl Pro Ceramic Flat Iron is a truly great straightener that has the best value for this money. It offers a lot of convenient features that make the use of the device a breeze. On top of that, this flat iron comes at a budget-friendly price and offers you a 3-year limited warranty.
Additional Info
---
What customers say about this product
This Iron heats up quickly and has a wide range of settings.
Light weight yet straightens hair beautifully.
Heats up quick to various temps, styles great and will shut off if forgotten about.
The swivel cord is great it doesnt make it harder to use when i straighten the back of my head.
Remington S9500PP Pearl Pro
KIPOZI K-137 Rose Pink
User-Friendly Model
The KIPOZI Hair Straightener is a decent flat iron that has a lot of good features to offer. First, we would like to point out the 3D floating plates that will easily glide down the whole length of your hair without pulling it off. They are 1 inch wide, which makes them equally suitable for straightening long locks and ironing every part of your bangs and short baby hairs.
Next, this model of a flat iron is fitted with the LCD display that makes the temperature control very user-friendly. With its help, you can easily select the desired temperature by pushing control buttons. You can select any temperature depending on your hair type. The screen also gives you a warning when the temperature gets very hot, which helps you avoid damaging the hair. It also features a safety shut off after 90 minutes of shut off. The other important moment in terms of safety is a lock that provides easy carrying and storing. You can also find a drawstring velvet storage case for these purposes in a set.
This tool features titanium plates that get hot in a pretty short time (30 seconds). It is fitted with a ceramic heater and uses a far-infrared technology that helps to distribute the heat evenly without creating hot spots. The temperature range is also pretty decent (270-450 degrees), which makes this flat iron suitable for all hair types. The professionals recommend straightening your locks at 270 - 320 degrees if they are thin and fragile, 330 - 380 degrees will be enough for damaged hair, and 390 - 450 degrees are ideal for thick and healthy hair.
Nice Design
We couldn't skip the appealing design if this unit. Apart from being slim and easy to grip, it also has a nice design. The body is made in a nice rose pink color, which makes this tool look very stylish. Because of the thin body, you can use the tool for curling and creating waves. The LCD display that we mentioned before is situated on the upper part of the flat iron which makes selecting the temperature easy. The only flaw of the screen is that you may accidentally press the buttons while straightening your hair and change the settings. Hence, try to hold the handle a bit farther from the screen. 
All in all, if you need to take you frizzy or kinky hair under control, the KIPOZI Pro Flat Iron will fit you. It comes in an appealing pink body. It suits people with all hair types. The model has a long swivel cord, an auto turn-off and a block function, which makes the use safe and practical.
Additional Info
---
KIPOZI K-137 Rose Pink
Conair INFINITIPRO
Smooth Hair Without Static
If you cannot tame your curly, thick and coarse hair, there is nothing better than Conair Infiniti Pro flat iron. For starters, the material of the plates features ceramic and tourmaline coating. Thus, this hair straightener has a high-quality working surface. The ceramic material heats up evenly and holds the optimal temperature very well. And tourmaline coating eliminates the static. As a result, you'll have smooth and straight hair for considerably longer.
This is a popular hair styler, widely used in beauty salons. And the reason is the awesome results after each use and the positive feedback of satisfied customers. That is to say, the Conair Infiniti Pro can cope even with unruly hair.
This model has extra long floating plates. The width of the plates makes 2 inches, which makes it a perfect solution for owners of long, coarse and thick hair. Still, it is convenient to straighten any hair type with Conair Infinity, as the plates can easily and smoothly slide along the entire length. The straightener always works in close contact with the hair, thus, straightening your hair much faster. Also, you can optionally choose models with 1 and 1.5-inch plates.
No Overheating
Generally, this tool can heat up to 446°F, but for the gentle straightening, the temperature can be as low as 240°F. And if you have long, coarse and curly hair, we suggest setting a high temperature somewhere about 365°F. The maximum 446°F works perfectly for extremely unruly and frizzy hair.

Like most modern hair straighteners, the Conair flat iron has got the LED indicator lights and an auto shut-off function. Thus, it will never overheat and cause a fire. How does it work? If it is out of use for a long time, the unit just shuts itself off. So, you don't have to worry about safety while you are out. Another great advantage of this flat iron is its heating time. Unbelievable, but it takes only 15 seconds to reach the temperature up to 446°F.
To wrap things up, the Conair Infiniti Pro Tourmaline Ceramic Flat Iron is a decent flat iron that is safe to use on different hair types. Thanks to its extra-wide plates, straightening long thick hair will become a breeze. It will stay smooth, silky and without static.
Additional Info
---
Conair INFINITIPRO
What Is a Flat Iron?
If you have unruly curls but want to have straight shiny hair with no frizz, there is a decision for you. A flat iron is an ideal tool for hair styling. It is perfect for turning frizzy hair into smooth and shiny. And, alternatively, this tool is also great if you wish to make loose waves for a new look.
How does it work? This magic tool solders the hair cuticles using the heat. Thus, the hair looks shiny and smooth. However, keep in mind that heat can severely damage your hair, hence you need to be extra gentle with it. In our flat iron review, you will find more about the best models available on the market today. They vary in size, temperature range, and plate material to fit every need and budget.

And in case you want to have beautiful curls, we recommend you to pay attention to our selection of the best curling irons. You also may want to check out the best hair dryers.
What Features to Compare
Plates Material
When choosing a flat iron, the most important thing to consider is the material of the plates or, to be more precise, the coating. Most flat irons that are presented on the market have either a tourmaline or ceramic coating. Ceramic plates are good and will get hot in an instant allowing you to style your hair almost immediately. What's more, they perfectly maintain the pre-set temperature throughout the whole use. With regard to the tourmaline plates, these work a tad bit gentler and will better suit owners of thin or weak hair. That said, both materials have proved themselves to be highly effective and safe in use so that they can be applied to all hair types without the risk of damage. Along with ceramic and tourmaline plates, you can find a titanium coating which is considered the safest option among all available. The only flaw: titanium flat irons are quite expensive and will cost you several times more than an average deal.
Plates Size
Another thing to consider is the size of the plates. They can be narrow, measuring in up to 1 inch, and wide, more than 1 inch. The former works wonders straightening thin hair, short hair, and fringes while the latter will allow you to quickly style thick locks, adding to the convenience of use.

Thermoregulator
A thermoregulator is an important feature in a flat iron, especially if your hair is prone to splitting and fraying. It can be of two types: mechanical and electronic. Mechanical thermoregulators are very simple in use; however, they do not allow selecting the temperature with one-degree precision like electronic thermoregulators do. Flat irons with an electronic thermoregulator offer a greater multitude of settings, enabling you to choose from the range of 240°F to 450°F. As a rule, they feature LCD screens or a marked dial and allow customising the heat. General recommendations are to use low settings if your hair is thin and higher mode if your strands are rather thick and unmanageable.

Extra Options
Finally, pay attention to extra options. By this, we mean the heating speed - some models heat up in 30 seconds while others need only 10 seconds to reach the max heat; whether the flat iron has an auto shut-off function allowing you to prevent fire hazards; heat-resistant gloves for comfortable and safe styling; a bag for storing a hot tool, a stand or mat for convenience of use, and more. Such little things as indicators can make a difference too, so make sure to learn what accessories along with a flat iron come in the package before making a final choice.

Did you know?
All the owners of frizzy unruly hair try different ways to keep it a bit under control. With the invention of the straight irons, the life many people became so much easier because now they can rock a smooth silky hairstyle every day. Flat irons can straighten your locks and make them look longer and shinier. However, every rose has a thorn, and such styles are not an exception. Since flat irons use heat to straighten your locks, they can cause a lot of damage to your hairdo. That's why we decided to share a few tips on how to keep your hair strong and healthy even if you straighten it every day.
Purchase a "soothing" shampoo
Even though such a solution won't make your hair perfectly straight, it still can leave some positive impact. It adds moisture to your hair and makes it less unruly, thus prepares it for the straightening. You can also try straightening shampoos. They may have a better effect in smoothing your hair out, but they may not be suitable for all hair types. Plus, no shampoos can compete with results the iron gives you.
Always use a conditioner
We are sure there is no need to tell you about all the advantages of using additional hair care products like conditioner or moisturizer. However, we want to stress how important it is not to skip them in your routine if you straighten or curl your hair. Conditioning your hair will nourish your hair and make it look much stronger and healthier even amid the effect of the heat.
Never iron wet hair
Sometimes in a rush, we can break a few rules, but this one is an exception. Never, and we really mean it, never use a flat iron or a straightening brush on wet or damp hair. It can cause so much damage that you may have to cut your locks. If you are limited in time, use a hair dryer first. Although adding more heat to your hair may not like a very good idea, it is still nearly as dangerous as using an iron directly on a wet hair. Some people, who have very strong locks that are hard to straighten, have to use a hair dryer and a straightener each time they style their hair. There are some models of straighteners that are suitable for wet hair, however, their safety is still pretty questionable.
Always use a heat protector
Before straightening your hair, no matter if you are going straight for the flat iron or use a hair dryer first, apply a heat protector. As the name suggests, this product protects your hair and helps to keep it healthy and shiny.
Invest in a good device
No matter how tempting the desire to purchase the cheapest product may be, we recommend investing in a high-quality hair care device. There are many blow dryers and flat irons that use various technologies to reduce the damage your hair gets. Flat irons are completed with plates made of different materials. so you can choose the safest one. They also come with a wide temperature range that allows selecting the perfect one for your hair type. Plus, you can find pretty decent models at a very affordable price.
Following these steps, you can keep your hair healthy and shiny even if you love styling it with the heat on a frequent basis.
Sources:
1. How to Choose the Best Hair Straightener for Your Hair, Overstock. June 12, 2015.
2. Choosing the Best Hair Straightener for You, Hairfinder.
3. Stella Rose Saint Clair Flatirons: The Perfect Plate For You, Beautylish. September 27, 2012
4. Phillip Picardi The Top 10 Flatiron Mistakes When Straightening Hair, teenVOGUE. August 14, 2016.
5. Julyne Derrick How to Use a Flat Iron, About. June 27, 2016.
6. Augusta Falletta 17 Useful Tricks For Anyone Who Uses A Hair Straightener, BuzzFeed. July 2, 2015.
7.Anna Jimenez Hair Care: How To Straighten Hair Like a Pro, TotalBeauty.
8. Devri Velazquez Are You Using the Best Flat Iron for Your Hair Type? NATURALLYCurly. October 12, 2015.