If you want to look attractive, the Flat Iron can make your hairstyle smooth and beautiful. It can do a quick job straightening your
hair. So, in order to make your choice easier, we propose you to look through our Flat Irons review!
...
Read more
...Read less
CHI GF7057
For Coarse Hair
The CHI G2 Ceramic and Titanium Hairstyling Iron is an excellent choice for those with long, thick, and unruly hair. The iron features 1.25" titanium-infused ceramic plates that straighten larger hair sections in one go. It will glide through coarse hair effortlessly even if you take large chunks, leaving your hair super soft. Of course, if you need to smooth very frizzy hair, you should choose the highest temperature setting (400-425 degrees F). If you want to straighten long but thin fine hair, you need to choose the low heat mode (0-370 degrees F). And for medium wavy hair, it's better to select moderate heat (375-395 degrees F). Like pro CHI models, this one has a color-coded LCD digital screen that flashes Blue, Green, or Red depending on the temperature mode. Also, this straightener uses famous CHI ceramic floating plates infused with high-grade titanium. Therefore, you can be sure that the iron will stand the test of time. Even after 5 years of daily use, the plates will still provide you with effective snag-free styling.
The CHI G2 flat iron comes with the red thermal mat which allows you to wrap the device right after use and carry it wherever you need. We would like to point out that this is a dual-voltage straightener, so you can take it on trips.
Straighten Like a Pro
Straightening unruly and frizzy hair can be tough. However, the CHI G2 Ceramic and Titanium Hairstyling Iron with wide 1.25-inch plates will really make even extremely coarse hair super smooth if follow these tips.
1. If you have very thick and kink hair, try to avoid shampoos with suds. Instead, use sulfate-free shampoos which won't dry out your hair.
2. Before using the CHI G2 straightener, always dry your hair completely. However, you don't have to blow-dry it perfectly. Give it a rough drying. Just shake your dryer back and forth, keep its nozzle facing downwards to prevent frizziness.
3. Try to use brushes with boar bristle, since plastic can cause static. Boar bristles will smooth and polish your hair, instead.
4. Apply a thermal protective haircare product before straightening. You can use CHI 44 Iron Guard thermal spray that can protect up to 450 degrees F and resist humidity to reduce the frizz factor.
5. Avoid too high temperatures. Actually, the CHI PRO G2 425-degree setting was designed for in-salon use. Only extremely coarse hair does need the super high heat. If you have thin, damaged, or color-treated hair, you'd better choose 300 - 350 degrees F temperature settings.
6. The CHI G2 uses titanium-infused ceramic plates that heat evenly so that you won't need to run through one section more than once.
7. Don't grab randomly strands of hair. Create sections so that you can easily track your progress. Plus, sectioning will save you time significantly.
8. Pass each strand only once. Fewer passes means less damage. Create some tension, and then pull the CHI G2 iron downward starting from the root
9. Add finishing products to add shine and reduce frizz. You can use famous CHI Silk Infusion. It's better to wait until your hair cools down.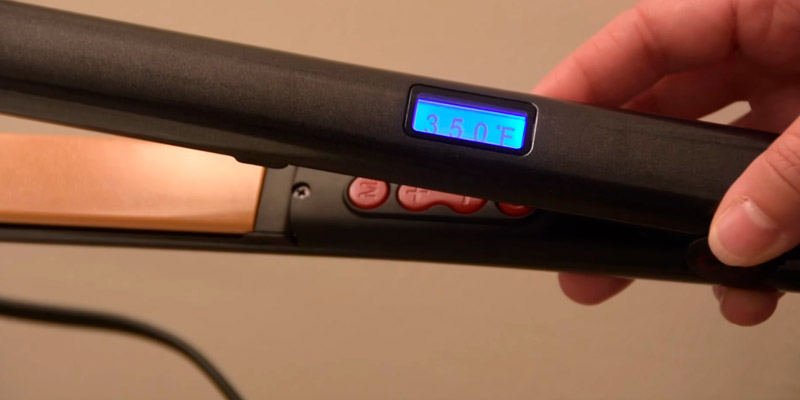 Additional Info
---
CHI GF7057
Conair INFINITIPRO
Smooth Hair Without Static
If you cannot tame your curly, thick and coarse hair, there is nothing better than Conair Infiniti Pro flat iron. For starters, the material of the plates features ceramic and tourmaline coating. Thus, this hair straightener has a high-quality working surface. The ceramic material heats up evenly and holds the optimal temperature very well. And tourmaline coating eliminates the static. As a result, you'll have smooth and straight hair for considerably longer.
This is a popular hair styler, widely used in beauty salons. And the reason is the awesome results after each use and the positive feedback of satisfied customers. That is to say, the Conair Infiniti Pro can cope even with unruly hair.
This model has extra long floating plates. The width of the plates makes 2 inches, which makes it a perfect solution for owners of long, coarse and thick hair. Still, it is convenient to straighten any hair type with Conair Infinity, as the plates can easily and smoothly slide along the entire length. The straightener always works in close contact with the hair, thus, straightening your hair much faster. Also, you can optionally choose models with 1 and 1.5-inch plates.
No Overheating
Generally, this tool can heat up to 446°F, but for the gentle straightening, the temperature can be as low as 240°F. And if you have long, coarse and curly hair, we suggest setting a high temperature somewhere about 365°F. The maximum 446°F works perfectly for extremely unruly and frizzy hair.

Like most modern hair straighteners, the Conair flat iron has got the LED indicator lights and an auto shut-off function. Thus, it will never overheat and cause a fire. How does it work? If it is out of use for a long time, the unit just shuts itself off. So, you don't have to worry about safety while you are out. Another great advantage of this flat iron is its heating time. Unbelievable, but it takes only 15 seconds to reach the temperature up to 446°F.
To wrap things up, the Conair Infiniti Pro Tourmaline Ceramic Flat Iron is a decent flat iron that is safe to use on different hair types. Thanks to its extra-wide plates, straightening long thick hair will become a breeze. It will stay smooth, silky and without static.
Additional Info
---
Conair INFINITIPRO
Remington S9500PP Pearl Pro
The Magic of Pearls
Are you looking for a reasonably-priced device that guarantees perfect straightening results? If so, the Remington Pearl Pro Ceramic Flat Iron is just what you need. This styling tool from a well-known manufacturer will take care of your hair and make it look straight, shiny and sleek.
Starting off with the plates, we would like to emphasize that we particularly liked the materials they are made of. Featuring advanced pearl ceramic technology, they reduce frizz on your hair and carefully straighten it without damage. A lot of users point out that these floating plates glide very easily, without tangling. The size of the plates is 1", so the iron works great for both straightening and making curls.
This device is suitable for users that have normal and thick hair. Its temperature range is 300°F - 450°F . When using the flat iron at the highest temperature, you will be able to make even small tight curls and afros perfectly straight. But for the best results, it is recommended to pass over one section a couple of times.
We also find the controls of this model very convenient. Unlike most other models, this flat iron has the adjustment buttons on the side and not between the plates. They are easy to reach and adjust. You can see the chosen temperature setting on the LCD screen that is situated above the buttons.

Advanced Heating Element
Moving on to the heating element, we have to admit that this hair straightener from Remington is pretty powerful. Even if you set the highest temperature, it will get hot in half a minute. When the desired temperature is reached, you will hear a beeping sound. And thanks to the temperature lock feature, the device will maintain consistent temperature throughout the whole straightening process.
The hair straightener from Remington is also safe to use. It has an auto shut-off feature, so even if you leave it turned on, it will turn off automatically in 1 hour of non-use. Hence, the risk of a fire is minimal.
In the end, we can say that the Remington Pearl Pro Ceramic Flat Iron is a truly great straightener that has the best value for this money. It offers a lot of convenient features that make the use of the device a breeze. On top of that, this flat iron comes at a budget-friendly price and offers you a 3-year limited warranty.
Additional Info
---
What customers say about this product
The flat iron is easy to use, and the 1 inch ceramic plates are of high quality.
Light weight yet straightens hair beautifully.
It looks sleek and the digital readout is awesome.
I also like the swivel cord, doesn't get in your way.
Remington S9500PP Pearl Pro
BaBylissPRO Dual Voltage Straightening Iron
Ultra Compact
In case you're looking for an ultra-portable straightener to take in a suitcase, gym bag, or even toiletry bag, you should seriously consider the BaBylissPRO 1-inch mini travel flat iron. It looks like a toy yet does a good job straightening most hair types. It's thoughtfully designed and comfortable to hold.
The straightener is lightweight (just over a pound) and 6 inches in length. So, it's compact enough to fit into a purse and lightweight enough not to weigh it down.
Being a mini iron, it still does its job really well. It doesn't have a heat regulator and comes with a preset temperature. The plates heat up to the constant 440°F, ensuring the straightener is always hot enough to tackle coarse and frizzy hair. It heats up in just a few seconds, so you don't have to waste much time waiting. But if you are an owner of thin or damaged hair, keep in mind that such a high temperature may not suit your hair type.
Moving on to the plates, they are no slouch either. Their size is 1 inch and they can take up a good portion of hair, leaving it shiny and straight. Thanks to the small size of the plates and of the iron itself, you will be able to get as close to the roots as possible. Normal hair gets smooth with only one slide. As for their material, they are made of Nano Titanium-Ceramic that is gentle on your hair and doesn't damage it as much as metal plates do.
Flat Iron with Dual Voltage
The BaBylissPRO iron is designed with advanced titanium-ceramic plates that heat up quickly and remain hot. This makes the straightener perfect for people who need a good mini styler for quick touch-ups.
In addition to this, this hair straightener can become your trusted travel companion thanks to a dual voltage feature. Combined with a small size, it is one of the best options to use while you go on vacation. It is compact and won't take much space in your bag, plus it can work in any part of the world.
The single inconvenience you may face when using this iron is that the cord doesn't swivel and can tangle a bit while you straighten hair.
The flat iron is also pretty robust and comes with a 4-year limited warranty. Hence, you can be sure that it will serve you well for a few years at least.
We believe the BaBylissPRO is one of the most portable offers on the market. It's highly functional and incredibly small. With the size that can easily fit in any toiletry bag, we would definitely recommend it for both daily and traveling purposes.
Additional Info
---
BaBylissPRO Dual Voltage Straightening Iron
MHU Keratin Ion
Advanced Plate Material
To always have sleek hair that would look like you've just come out of a beauty salon, we recommend purchasing the MHU Keratin Flat Iron. With such a device, professional results are guaranteed.
One of the best things about this model is its plates, namely the coating. Made of Tourmaline Ceramic, they are safe to use on any hair type without the risk of damaging it. What's more, they are also infused with keratin and negative ions, which allows them to give more hair luster and eliminate static. Another benefit of this combo is that it keeps all the moisture in the follicles making sure your hair stays shiny and doesn't get dry.

As for the dimensions of the plates, the MHU Keratin Flat Iron's available in one size - 1 inch. This means the plates aren't very wide nor very thick and can be used for straightening hair as well as creating voluminous curls conveniently. And since these are 3D floating plates, they will glide from the roots down the ends smoothly without snagging.

Another advantage of this device is the versatility it offers. With a working temperature range varying between 285°F and 450°F, it will fit users with different hair types, no matter whether you have unruly curls or your hair's been bleached or is naturally thin and brittle. It's worth noting though that when you select a maximum temperature setting, the device may get hotter than the stated 450°F, so make sure to test it first and use with precaution.

Straightener with a Memory Function
The next thing customers like about this flat iron is the fact that it has a powerful heating element capable of reaching the maximum temperature in just one minute. Therefore, if you use lower settings, it will take even shorter time to heat up and, thus, will spare you from wasting time. The controls of this appliance are pretty convenient, too.
The model features a manual heat regulator that is situated between the plates. There are 2 buttons to let you adjust the temperature, a power button to switch on/off the device, and a button for Memory function. If you don't want to select the temperature manually, press the "M" button and the device will heat up to 390°F automatically. By the way, you can check the set temperature on the LCD display on the top of the plate.
Like the majority of advanced hair styling devices, the flat iron from MHU has a safety feature and turns off after 1 hour of non-use.
Lastly, we really like that the unit features a long swivel cord. It is 8.6 feet long, so this professional iron will be a good choice not only for home use but for a salon as well.
In conclusion, the MHU Keratin Flat Iron is a decent device that will keep your hair straight, sleek and shiny. It has an ergonomic body, convenient and clear controls, and suits all hair types. It is definitely a worthy investment.
---
MHU Keratin Ion
What Is a Flat Iron?
If you have unruly curls but want to have straight shiny hair with no frizz, a flat iron is an ideal solution for you. It is easy to use and it works wonders turning frizzy hair into smooth and shiny locks in a matter of minutes. What's more, it can also be used for creating loose waves, which adds to its versatility, making it a great alternative to owning a curling iron.

How does it work? A flat iron uses heat which allows it to solder hair cuticles to deliver a shiny and smooth look. Fitted with an adjustable heat regulator, it can work in a wide range of temperatures allowing everyone to find the most suitable one depending on their hair type. As for the plates, they can slightly vary in shape and size. You will find straight, tapered, wide and thin varieties. Also, they may include a different package of additional accessories, making them perfect for various styling tasks. In general, we recommend you to opt for wider plates if you have long hair since these will help reduce styling time. And if you look for a flat iron to use on short hair (fridges, beards, etc), thinner plates will be a better choice. The good thing is, the market's overrun with various models so you'll definitely find what you need.

In this article, we take a look at the five best flat irons that are available on sale today. We compare their design, functionality, and efficiency to give you our recommendations and help you with your choice.

You may also be interested in checking out our selections of keratin flat irons and steam flat irons.

What Features to Compare
Plates Material
When choosing a flat iron, the most important thing to consider is the material of the plates or, to be more precise, the coating. Most flat irons that are presented on the market have either a tourmaline or ceramic coating. Ceramic plates are good and will get hot in an instant allowing you to style your hair almost immediately. What's more, they perfectly maintain the pre-set temperature throughout the whole use. With regard to the tourmaline plates, these work a tad bit gentler and will better suit owners of thin or weak hair. That said, both materials have proved themselves to be highly effective and safe in use so that they can be applied to all hair types without the risk of damage. Along with ceramic and tourmaline plates, you can find a titanium coating which is considered the safest option among all available. The only flaw: titanium flat irons are quite expensive and will cost you several times more than an average deal.
Plates Size
Another thing to consider is the size of the plates. They can be narrow, measuring in up to 1 inch, and wide, more than 1 inch. The former works wonders straightening thin hair, short hair, and fringes while the latter will allow you to quickly style thick locks, adding to the convenience of use.

Thermoregulator
A thermoregulator is an important feature in a flat iron, especially if your hair is prone to splitting and fraying. It can be of two types: mechanical and electronic. Mechanical thermoregulators are very simple in use; however, they do not allow selecting the temperature with one-degree precision like electronic thermoregulators do. Flat irons with an electronic thermoregulator offer a greater multitude of settings, enabling you to choose from the range of 240°F to 450°F. As a rule, they feature LCD screens or a marked dial and allow customising the heat. General recommendations are to use low settings if your hair is thin and higher mode if your strands are rather thick and unmanageable.

Extra Options
Finally, pay attention to extra options. By this, we mean the heating speed - some models heat up in 30 seconds while others need only 10 seconds to reach the max heat; whether the flat iron has an auto shut-off function allowing you to prevent fire hazards; heat-resistant gloves for comfortable and safe styling; a bag for storing a hot tool, a stand or mat for convenience of use, and more. Such little things as indicators can make a difference too, so make sure to learn what accessories along with a flat iron come in the package before making a final choice.

Did you know?
All the owners of frizzy unruly hair try different ways to keep it a bit under control. With the invention of the straight irons, the life many people became so much easier because now they can rock a smooth silky hairstyle every day. Flat irons can straighten your locks and make them look longer and shinier. However, every rose has a thorn, and such styles are not an exception. Since flat irons use heat to straighten your locks, they can cause a lot of damage to your hairdo. That's why we decided to share a few tips on how to keep your hair strong and healthy even if you straighten it every day.
Purchase a "soothing" shampoo
Even though such a solution won't make your hair perfectly straight, it still can leave some positive impact. It adds moisture to your hair and makes it less unruly, thus prepares it for the straightening. You can also try straightening shampoos. They may have a better effect in smoothing your hair out, but they may not be suitable for all hair types. Plus, no shampoos can compete with results the iron gives you.
Always use a conditioner
We are sure there is no need to tell you about all the advantages of using additional hair care products like conditioner or moisturizer. However, we want to stress how important it is not to skip them in your routine if you straighten or curl your hair. Conditioning your hair will nourish your hair and make it look much stronger and healthier even amid the effect of the heat.
Never iron wet hair
Sometimes in a rush, we can break a few rules, but this one is an exception. Never, and we really mean it, never use a flat iron or a straightening brush on wet or damp hair. It can cause so much damage that you may have to cut your locks. If you are limited in time, use a hair dryer first. Although adding more heat to your hair may not like a very good idea, it is still nearly as dangerous as using an iron directly on a wet hair. Some people, who have very strong locks that are hard to straighten, have to use a hair dryer and a straightener each time they style their hair. There are some models of straighteners that are suitable for wet hair, however, their safety is still pretty questionable.
Always use a heat protector
Before straightening your hair, no matter if you are going straight for the flat iron or use a hair dryer first, apply a heat protector. As the name suggests, this product protects your hair and helps to keep it healthy and shiny.
Invest in a good device
No matter how tempting the desire to purchase the cheapest product may be, we recommend investing in a high-quality hair care device. There are many blow dryers and flat irons that use various technologies to reduce the damage your hair gets. Flat irons are completed with plates made of different materials. so you can choose the safest one. They also come with a wide temperature range that allows selecting the perfect one for your hair type. Plus, you can find pretty decent models at a very affordable price.
Following these steps, you can keep your hair healthy and shiny even if you love styling it with the heat on a frequent basis.
Sources:
1. How to Choose the Best Hair Straightener for Your Hair, Overstock. June 12, 2015.
2. Choosing the Best Hair Straightener for You, Hairfinder.
3. Stella Rose Saint Clair Flatirons: The Perfect Plate For You, Beautylish. September 27, 2012
4. Phillip Picardi The Top 10 Flatiron Mistakes When Straightening Hair, teenVOGUE. August 14, 2016.
5. Julyne Derrick How to Use a Flat Iron, About. June 27, 2016.
6. Augusta Falletta 17 Useful Tricks For Anyone Who Uses A Hair Straightener, BuzzFeed. July 2, 2015.
7. Anna Jimenez Hair Care: How To Straighten Hair Like a Pro, TotalBeauty.
8. Devri Velazquez Are You Using the Best Flat Iron for Your Hair Type? NATURALLYCurly. October 12, 2015.