Are you dreaming about beachy waves that would attract the attention of people day and night? Then, a triple barrel curling iron
is just what you need. Make your choice out of 5 best 3-barrel wavers we've reviewed below.
...
Read more
...Read less
Convenience and Safety Features
Revlon Jumbo (RV084C)
Perfect Hair Waver for Perfect Waves
If you need a high-quality waver to last you a lifetime, the Perfect Heat Jumbo model from the world-renowned Revlon is worth your consideration. The device has 30 heat settings, so there's no doubt you'll find an appropriate one for you. By the way, the maximum temperature of this waver is 420°F, and it means that even the thickest hair can be handled with this device easily. In addition to great specifications, the device also boasts elaborate design. For example, choosing the necessary temperature is the easiest thing ever with a heat dial. And a special latch keeps the plates together for more convenient storage of the device when it's not in use. 
Pros:
User-friendly controls;
Cool tips to avoid burns.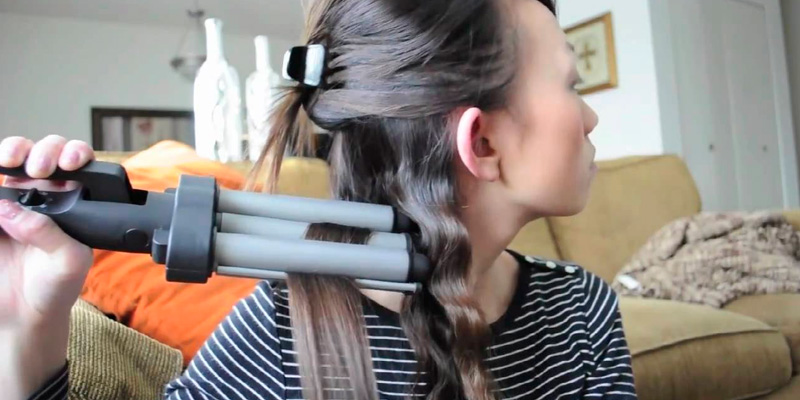 Additional Info
---
What customers say about this product
This is a great curling iron. It opens wide, it heats up fast, it has a locking handle so you can store it easily, and best of all, my very straight hair looks like I have natural curls/beach waves!
It creates the perfect size waves for my hair.
Love it, I ise this almost daily, love the heat setting, prevents my hair from getting fried, I've had it for over a year, and it lasts, it's great for bouncy waves, adds a lot of volume to flat hair.
Revlon Jumbo (RV084C)
Hot Tools 2179
Deep Waves for Striking Look
The Hot Tools 2179 Waver is all about functionality, safety, and usability. Featuring the maximum temperature of 430°F, this device can be used even on thick hair. And variable heat settings allow you to adjust the temperature to your hair type. The materials of this device are worth mentioning, too. Ceramic and tourmaline coating ensures negative ionization to make fuzzy hair smooth and shiny, while titanium provides even heat-up of all heating elements to avoid hot spots. Cool tips also add to the safety of use excluding the possibility to burn your fingers. On top of that, the Hot Tools waver has a locking switch that holds the plates together for more convenient storage. 
Pros:
Long swivel cord;
Extra deep plates for more accentuated waves.
Additional Info
---
What customers say about this product
I don't even have to use the highest heat setting of 430 to get the results I need.
The size of the waves are realistic and gorgeous. I can do my entire head of medium length thick hair in 20 mins.
I love that it comes with different heat settings so I don't burn her 4 year old hair.
This is a very high voltage product, 300 watts so you will also require a voltage converter.
Hot Tools 2179
Bed Head Wave Artist (BH305)
Your Personal Classy Helper
Stylish and user-friendly, this deep waver from Bed Head is a great alternative to more expensive rivals. The device heats up to 400°F which is enough to manage even the most unruly head of hair. Also great is that you can adjust the temperature settings making sure the heat you apply is safe and gentle to your hair. What we also like about this model is that it has all the necessary features on it, including a swivel cord for easy movement, and a locking switch for safe and convenient storage of the device. Perhaps, the only downside of the model is that it takes a bit slower to reach the high heat setting. However, it is not that slow you can notice it and will take only a fraction longer than average. All in all, if you seek an inexpensive yet professional-quality styler to curl your hair at home, the BH305 Deep Waver from Bed Head can be the right choice.

Pros:
Affordable price;
Ceramic and tourmaline coating allows making even unruly hair smooth and shiny.
---
What customers say about this product
Love this styling tool - heats so quickly. You can't mess it up, and my hair looks amazing with just 5 mins of styling.
The lock function is practical so it does not take up too much space when storing it.
Easy to use, lightweight, which is very important.
The cord doesn't tangle and it comes with a heat resistant glove so that you won't burn yourself.
Bed Head Wave Artist (BH305)
Conair MiiniPRO YOU Wave (S7XR)
Must-Have Device on any Travel
Do you want to have perfect wavy hairstyle on vacation? It's possible with this styler from Conair at hand. Although 3-barrel curling irons are usually bulky, this one is quite compact to take to go. Perhaps, its travel size might make the styling process a bit longer, but don't let this insignificant detail change your impression of this decent model. The device heats up in 30 seconds and gives you a chance to choose low, medium, or high temperature to adjust to your hair perfectly. The manufacturer has also done its best to make the use of this waver safe by equipping it with a protective outer housing and a cool tip.
Pros:
LED indicator tells you the device is working;
Intuitively understandable controls.
---
What customers say about this product
It leaves you with small tight waves which i wouldnt classify as a crimp seeing as how they are still waves just small tight ones!
My 8 year old daughter loves this waver! It's tiny, so it's perfect for both her hands to use and her hair. To wear
Plus I like the dual voltage factor for when I travel overseas.
The cord is spinning around which prevent from getting tangle.
Conair MiiniPRO YOU Wave (S7XR)
HTG Ceramic Roller
Sleek and Elegant
Having a curling iron that not only works great, but looks great too is the dream of many a woman. So it is with the HTG Ceramic Roller Travel Wave Iron, a sleek, elegant, and lightweight triple barrel curling iron that has all of the right features and touches in its design. Featuring a fast heating PTC heating element, this curling iron starts up and reaches maximum heat in a minimum of time, letting you get to work on your hair instead of waiting for it to be ready. Also great with this model is that the PTC heating element features overheating protection that ensures that your hair will be protected from overheating, as well as the components of the device itself. The portability and lightweight design of this model means you can take it with you anywhere you go, as it will easily fit in a purse or bag without any fuss. The model is even available in a variety of different colors, so you can choose which color works and fits the best.
Pros:
PTC heating element contains overheating protection;
Available in different colors to suit your taste.
---
HTG Ceramic Roller
What Is a Triple Barrel Curling Iron?
The beauty market is full of tools to make your hair curly, straight, crimped, or wavy. If you prefer the latter hair style, using a triple barrel curling iron is the most efficient way to get perfect beachy waves. Boasting three barrels, this device turns even unmanageable hair into smooth silky S-shaped locks. However, note that a 3-barrel design affects the size and weight of a tool, thus, using it is less comfortable than a 1-barrel curler. Yet, when you get used to handling a three barrel curler, you'll be able to do your hair in no time.
What is also nice about triple barrel curling irons is that many models contain a lot of features, including settings for different temperatures, additional accessories, and much more. These models tend to be a bit more sophisticated that standard single barrel curling items, although this is not always the case. It is always best to check the features of a particular model to make sure that it includes the features and performance that you want.
Best Triple Barrel Curling Irons 2017