An automatic curling iron is a real break-through in the world of hair care. Created to do the most tiresome job for you, an automatic
curler will help you style your hair effortlessly every day. Choose the best tool for curling your hair among the 5 models represented in our review.
...
Read more
...Read less
What is an Automatic Curling Iron?
The beauty industry is constantly forging ahead with the manufacturers of hair tools doing their best to invent more effective and elaborate devices. An automatic curling iron is a great example. The name speaks for itself – with this tool at hand, you can forget about manual curling. To get great smooth locks, you only need to separate your hair into sections and let the curler do the rest of job for you. However, be ready to spend some time before you get used to a curl machine. At first, you might find it challenging to use the device since it's important to control its position. For example, you should make sure you hold it with its open part facing your head otherwise hair might tangle. Besides, hair section size should be quite small (0.5" – 1" wide) to prevent hair from sticking inside the curl chamber. Yet, if you follow these simple rules, an automatic curling iron will soon become your irreplaceable helper in doing your hair.
Best Automatic Curling Irons 2017
Babyliss Pro BABNTMC1 Nano Titanium Miracurl
Professional Styling for the Most Demanding Users
Yes, this BaByliss Pro model is quite costly, but beauty and health always were and always will be priceless and this tool for curling is worth every penny. With the user in mind, the manufacturer offers you a chance to control the styling process on your own. You can choose 8, 10, or 12-second time setting depending on how tight you want your curls to be. It's possible to set one of three (right, left, and alternate) curling directions, too. Heat options are also variable. Besides adjustable settings, the device has auto shut-off function and sleep mode for wiser energy consumption. On top of that, light weight and low vibration levels make the use of this curling iron convenient. 
Pros:
Audio signals inform you when it's time to release a hair lock;
Surround heat system ensures even heat-up of the chamber.
Additional Info
---
What customers say about this product
I love this curling iron it heats up fast and really curls your hair.
MiraCurl lets you select temperature, time and curl direction, providing the flexibility to form loose waves, soft swirls or defined curls.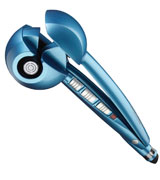 Babyliss Pro BABNTMC1 Nano Titanium Miracurl
ARINO BEA007BKUS
Curl and Moisturize
As its name implies, the automatic steam curler from ARINO curls your hair with the help of heat as well as steam. The beauty of this technology is that it not only curls but also moisturizes your hair so you get smooth silky locks without frizz. Yet, if you don't want to use steam option, just don't press the steam button. Besides this button, you'll find three more on the tool handle to control curl direction, time, and temperature. All the settings you choose will be displayed on a LED panel located above the buttons. The 2-meter power cord gives you the freedom of movement. Finally, don't overlook dual voltage option that means you can use the iron both in the USA and abroad.
Pros:
Choose one out of three time settings to make natural, soft, or tight curls;
Beep alarms help you control the time necessary for curling.
---
What customers say about this product
It really does work well though if you are patient and do not grab too much hair at a time.
After using the item couple time, the quality of the item is very good it is not that heavy.
It also comes with the bottle for water so that you can measure and know how much water you're using.
ARINO BEA007BKUS
Conair CD203R
The Secret of Perfect Curl
With the InfinityPro Curl Secret by Conair, you'll definitely know how to make perfect curls. This automatic hair curler has two heat settings with the maximum temperature of 400°F, so whether you have thin or thick hair, the device will handle it effortlessly. You can also control the tightness of your curls. It has become possible due to three timer settings – 8, 10, and 12 seconds. The higher the setting you choose, the curlier your locks will become. In addition to fast and effective operation, the Conair automatic curling iron can boast safety of use. Unfortunately, hair might tangle inside a curling chamber, but with a special sensor, you'll always know when it happens to take control over the situation in time.
Pros:
Barrel cleaner is included in the box;
The best price-quality ratio.
Additional Info
---
What customers say about this product
It works really well in the highest temperature. The curls are nice and hair does not get stuck if used according to instructions.
You can select low or high temperature and 8 or 10 seconds. I have a lot of hair and it kind of takes for ever to do evenly curls all over.
The iron is weighty but, I had no issues with the weight.
Conair CD203R
Natalie Styx NS4001A
More Than an Automatic Curling Iron
At first sight, it might seem that the Natalie Styx Curl Machine doesn't differ from its rivals. It has the standard set of functions an automatic curler should possess – 3 direction control options and 3 temperature settings allow you to create great curls quickly and effortlessly. However, if you take a closer look at this device, you'll notice some distinctive features. A large LCD display shows you all the information you need to know while doing your hair, such as temperature, time, steam option, and direction settings – not all devices can boast a display this informative. Also, you'll appreciate the dual voltage option if you often travel abroad. On top of that, by choosing this hair tool from Natalie Styx, you'll get useful accessories including a storage case, heat glove, dropper, and 2 clips for more convenient usage.
Pros:
Intuitively understandable controls;
Relatively light weight as compared to its counterparts.
Additional Info
---
What customers say about this product
I have long thick and frizzy natural hair. My hair is in the middle of my back. But this hair curler works amazing! It takes about 10 minutes to finish the hair style.
With the 360°long cord you can get the style more easy.
I have A LOT of hair. Not only is it down to my waist, but it's on the thicker side & the weight of it usually pulls curls out. Not with this curler.
The curler comes with a heat resistant glove (don't know why it's so hard to burn yourself on this), a dropper for the steam function, and a pouch for storage.
Natalie Styx NS4001A
Conair CD213
Stay Fashionable With Conair
The Conair Fashion Curl iron is what you need to enjoy ideal curls every day. The tool heats up in 30 seconds enabling you to start styling your hair right after you turn it on while two temperature settings allow you to choose the one to fit your hair type. We'd also like you to take notice of the material of the curl chamber. Made of tourmaline ceramic, it makes your locks smooth and shiny, protecting them from harmful influence of heat. Along with effective, safe, and easy operation, the Conair curling iron can impress you with its energy efficiency. Sleep mode and auto shut-off functions were specifically developed in order to not increase your electricity bills much.
Pros:
Safety sensor indicates tangled hair;
Swivel cord adds to the usability.
Additional Info
---
What customers say about this product
Two heat settings for how tight you want curls.
Great price too, and love the color options, easy to store.
Conair CD213