Hair Care
Croc Classic Nano Titanium vs CHI PRO GF-1001
Product Comparison: Croc Classic Nano Titanium vs CHI PRO GF-1001
Model
Classic Nano Titanium
GF-1001
About the Product
The Croc Infrared Iron 1.5 Inch Wide is a powerful styling tool that works with an infra-generator to produce infrared heat to style hair with professional skill. The given flat iron is designed to provide silky and smooth hair with optimal efficiency and output.
Our professional salon model analog hair styling irons have a versatile 'all-in-one' ergonomic design and use advanced ceramic technology to create silky, shiny, and frizz free hair instantly. Ceramic Flat Iron utilizes the latest innovative technology combining ceramic with even heat distribution, producing an exceptionally high amount of negative ions and Far Infrared which reduce static electricity for that perfect style. Hair is left smooth and silky with an unparalleled shine.
Plates material
Titanium
Ionic Ceramic Tourmaline
Croc Classic Nano Titanium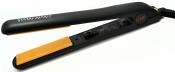 CHI PRO GF-1001
What customers say about "Key Specs"
Croc Classic Nano Titanium Flat Iron
I even reduced the temperature to 400 degrees (from 450) to ensure no split ends, and is leaves my hair silky.
Heats up super fast.
It has cut down on having to do my hair multiple times to straighten it.
The chord is long without being a pain, the straightener heats up in practically no time, and it gets amazingly hot but doesn't scorch my hair. It leaves my hair smooth and evenly straight, and it has cut my hair straightening time down from 20-25 min to 10-12 min
It's made my hair look great - I love that it heats up to 450 degrees since I have such thick hair.
CHI PRO GF-1001 Ceramic Hairstyling Iron
I'm a man, and only use it on my bangs sometimes, and it's a really fast process which makes me happy.
It heated quickly and the temperature was perfect.
It heats up in seconds and it gets HOT.
It seems that the 1" Chi gets hotter than the 2" with the temperature setting, and works better for straightening.
The positive aspects of this one is that it does heat up more quickly and maintains it's temperature.
What customers say about "Size & Weight"
Croc Classic Nano Titanium Flat Iron
Has very high heat and good size.
It is also light weight and works perfectly.
I am especially happy with the shape of the handle and the weight of the device.
Love it. Medium-light weight.
The only thing I have to get used to is the weight. It's not necessarily heavy, but it's sort of oddly shaped with the finger grips.
CHI PRO GF-1001 Ceramic Hairstyling Iron
Loved that it didn't snag my hair like my old flat iron did at times. Perfect travel size too!
I really appreciate the smaller size as well, since my last straightener was considerably larger and heavier.
The iron is a good size, light with a nice long cord- longer than that of my hairdryer which is helpful.
Worth every cent! Heats up quickly! Compact in size.
It's also a good size to be able to make curls/waves too.
Number Of Temperature Levels
Croc Classic Nano Titanium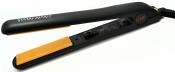 CHI PRO GF-1001
What customers say about "Features"
Croc Classic Nano Titanium Flat Iron
It heats up quickly, the digital temperature display is very helpful.
Easy to read display.
The digital display lets you set the temperature you want and it shows you what temperature the hair iron is at as it is warming up.
I love the automatic shut off after 20 min so I don't have to worry if I turned it of. Its a great product!
I have long, curly hair and love that I can adjust the heat level.
CHI PRO GF-1001 Ceramic Hairstyling Iron
The plates actually move so there is no tugging to the hair - i didn't realize how bad it was with my previous flat irons, but with this Chi everything is so smooth.
This iron has ceramic plates so it doesn't damage your hair.
The 1" ceramic plate is nice, because you can use it to make curls or straighten your hair.
The ceramic plates work a miracle on your hair.
Also, the on/off switch is in an awkward position - in between the paddles instead of on the side. It is easy to burn your fingers when you reach in to shut it off.
There is only one temperature setting, so it might not be good for people with delicate hair.
What customers say about "Power"
Croc Classic Nano Titanium Flat Iron
The cord is extra long which is a plus. I would recommend this product.
I also like the long swivel cord.
It feels well made and the cord feels strong.
Good flat iron. also dual voltage which is a big benefit for those who travel. easy to use and accurate temperature.
The only negative I have is the cord is very long, nine feet.
CHI PRO GF-1001 Ceramic Hairstyling Iron
I love that it has a long cord and also has a strap to hold the cord once you wrap it up.
The cord is also very long and swivels where it connects to the iron, so it tangles much less frequently. The cord also has a Velcro strap for better storage and easier transportation.
The new swivel cord design avoids any cord frustration, and there is an attached Velcro piece that keeps the cord folded neatly and secure when not in use.
The only thing I dislike is the cord, which is unbearably long.
The cord stiff and cheap and the whole thing like a light plastic toy.
Warranty / Certifications
Croc Classic Nano Titanium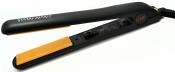 CHI PRO GF-1001