"You can't workout while sitting down", they say. Well, why not? The exercise bike is a great solution for getting your body
in shape without leaving home! And our review of the best exercise bikes will help you choose the one that will allow you to pedal your way to health and shape!
...
Read more
...Read less
X
This site is a free online resource that strives to offer helpful content and comparison features to its visitors. Please be advised that the operator of this site accepts advertising compensation from certain companies that appear on the site, and such compensation impacts the location and order in which the companies (and/or their products) are presented, and in some cases may also impact the scoring that is assigned to them. The scoring that appears on this site is determined by the site operator in its sole discretion, and should NOT be relied upon for accuracy purposes. In fact, Company/product listings on this page DO NOT imply endorsement by the site operator. Except as expressly set forth in our Terms of Use, all representations and warranties regarding the information presented on this page are disclaimed. The information which appears on this site is subject to change at any time. More info
Schwinn 230 Recumbent Series
Heavy Duty Machine
Just like with all Schwinn equipment, you'll get the highest quality by purchasing the Schwinn 230 trainer. It's a professional, gym-grade exercise bike that is really built to last. Sporting a durable steel frame construction, it's extremely solid and occupies a considerable space. However, its increased dimensions and weight only add to its durability and stability.
Coming with a 13.2-lb flywheel magnetic system, the 230 bike provides good resistance while staying quiet and, therefore, allowing you to use the machine without disturbing the people around you. Unlike many other recumbent bikes, the seat here has a well-ventilated back that offers great spinal support and can bear the maximum user weight of 300 Ibs. It fits users up to 6 ft tall and can be moved backward or forward along the metal rail for enhanced comfort.
Schwinn is really confident in this bike trainer so it backs it with a very generous warranty - 10 years on frame, 2 years on parts, 1 year on electronics, 90 days on labor. So, you shouldn't worry about the longevity of the product.

Not surprisingly, the beefy machine like this is going to take a reasonable time for assembly and even may require extra help. Although it comes with an illustrated, step-by-step assembly guide, a lot of pieces are rather tricky to put together.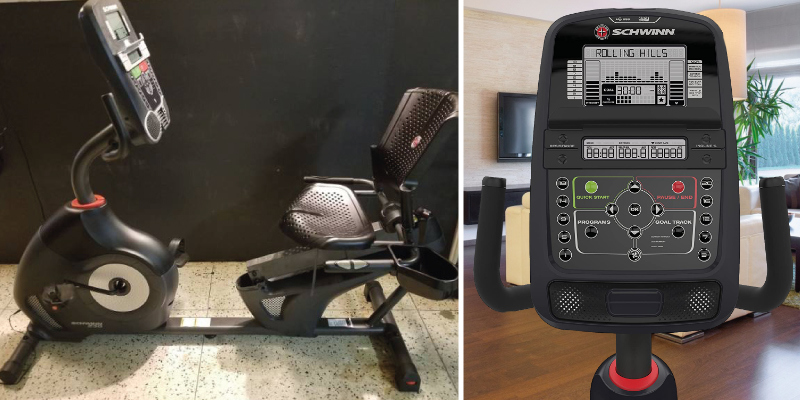 So Many Options to Choose from
The Schwinn 230 is also one of the most feature-rich recumbent bikes on the market. Equipped with a large, dual-display console, it lets you see all your metrics at once. The digital controls below the display allow you to choose a proper resistance level (among 20 available) or let it be controlled by one of 22 pre-sets. The programmed workouts go from fun, leisure riding to the more strenuous mountain rides. The most challenging of them can really get your heart rate up. Speaking of which, the pulse is displayed on the screen if you maintain contact with sensors on the handlebars.
As for other extras, you can add a tablet or MP3 player to make your workout sessions more engaging. The machine has a media shelf and a USB charging port for them. It also comes with small speakers to amplify your music, a three-speed fan for cooling down, a water bottle holder and an accessory tray that can be attached to either side of the trainer.
In all, the 230 recumbent bike by Schwinn is a feature-rich and a reasonably good performer for intense workouts and enjoyable exercises alike. Loaded with plenty of pre-programmed workouts, it'll suit both beginners and pro users.
Additional Info
Last updated price

$

660.00

Stock
In stock
ASIN

B01KAGX74E
---
Schwinn 230 Recumbent Series
YOSUDA L-001A
Solid Option
The Yosuda Indoor stationary bike is another model that has caught our attention because of the high quality of craftsmanship and sustainable operation. If you've never heard about the Yosuda brand before, you might find it interesting to know that it's a Chinese company specializing solely in exercise bike production, so all its trainers are very sturdy and the L-001A model is a great proof. It belongs to the "mid-range" home trainer bike category and has a simple design that is very user-friendly and effective. It's made with a corrosion-resistant sturdy steel frame and low-maintenance belt-driven technology for quiet and smooth workout experience.
What's notable about this Yosuda stationary bike is that is has a relatively heavy flywheel that weighs 35 pounds, which should be enough to give users a fairly challenging exercise experience. Since it's a belt-driven bike, it doesn't require post-lubrication and additional adjustment. It's almost maintenance-free and noise-free.
The other benefit of a belt-driven system is that no matter what your fitness level is, you can adapt the resistance according to your very needs. There is an adjustable knob on the frame that can help you tailor the ride for your pace.
The LCD monitor between the handlebars will track time, speed, distance, odometer, and calories burned to help you stay focused on achieving your fitness goals. The monitor is non-backlit and is powered by 2 AAA batteries (included in the package). Under the monitor, there is a flat bracket for holding your phone or tablet.
Good Adjustability
From a design point of view, the Yosuda L-001A bike looks good and seems to be much sturdier than most models intended for home use. Thanks to the rubber inserts on each leg, it doesn't wobble even during the most vigorous rides. The anti-skid cage pedals also add to comfort during high-intensity exercising, since they won't snap off of the crank even if you're riding this bike out of the saddle.
The handlebar here is two-way adjustable (can be adjusted vertically, upward and downward). Plus, the multi-grip design offers different grip options to add some variety to your riding experience.
What's more important, the Yosuda L-001A features an industry-leading 177-mm Q-factor, meaning your feet, knees, and hips will stay properly aligned. This way, you won't experience excessive pressure and impact on your lower-body joints. So, if you're serious about indoor cycling and need a comfortable trainer for longer cardio workouts, the Yosuda L-001A can become your best personal coach.
Last updated price

$

279.99

Stock
In stock
ASIN

B07D528W98
---
YOSUDA L-001A
Exerpeutic Folding Magnetic Upright Bike with Pulse
Great Value
If you still think that you can't afford an exercise bike, we're going to surprise you. The Exerpeutic company offers a super fitness cycle for a super price. Available for less than $150, the Exerpeutic indoor bike is a very good alternative to training outdoors in bad weather or driving to the gym and paying for reoccurring membership fees.
Yet, despite being a quite cost-effective machine, the Exerpeutic bike has a lot of features that can help you achieve your fitness goals. Due to the upright design, it allows you to train both the lower and upper parts of your body - legs, abs, buttocks. The bicycle uses a magnetic type of resistance and is made with a well-balanced flywheel and V-belt drive to provide quiet and smooth operation. In total, the trainer offers 8 levels of resistance to make your workouts more challenging and versatile. The first one is really light and may be great for recovery training or warming up. Conversely, the maximum resistance level does provide a distinguishable increased pedal tension, giving you an opportunity to reach a higher cardiovascular rate in a shorter time.
Do note that it's quite a simple model that doesn't have any pre-programmed workout options and the resistance should be changed manually with a dial tension knob.
Well-Balanced Design
While some fitness bikes are rather bulky, others may be too shoddy. But with Exerpeutic Folding Magnetic Upright Bike, you will never face such problems. Though it's a pretty small (31"L x 19"W x 46"H) machine, it's ultimately stable owing to the pretty wide legs. And to understand how steady it is, just consider the fact that the bike boasts a load-bearing capacity of up to 300 lbs, which is actually a bit more than bulky, professional models offer. To be comfortable for larger users, the trainer is fitted with a super-sized seat covered with soft foam. However, despite being so supportive and stable, the trainer weighs only 39 lbs and is easy to move around.
When it comes to the convenience of use, the model offers a handy holder under the steering wheel that accommodates any smartphone or TV remote. To let you track your progress, there is a small LCD display between the handlebars, showing time, speed, distance, heart rate, odometer, and calories burned. To measure the heart rate, you just need to put your hands on the handles.
All things considered, the Exerpeutic folding bike is a real bargain. Although it has no bells and whistles, it's very steady, supportive, and durable. Owing to the extra-large seat and whopping bearing capacity, it's a particularly attractive choice for heavier users desiring to lose some weight.
Last updated price

$

161.23

Stock
In stock
ASIN

B007595TKU
---
VIDEO
Exerpeutic Folding Magnetic Upright Bike with Pulse Assembly
Exerpeutic Folding Magnetic Upright Bike with Pulse
XTERRA FB350
Super Portable
Need a compact solution for exercising? Then, the XTERRA FB350 indoor bike may interest you. It's a very portable piece of fitness equipment with an unusual X-type design. The main part of the steel frame here consists of two parallel tubes that are slightly curved at the top. The seat bar goes through the said parallel tubes and attaches to them right in the middle, while the core (drive and resistance) elements are neatly secured on the bottom section of the seat tube. As a result, you get a very small yet sturdy trainer for home workouts.
That is to say, the bike takes approximately 31" x 21" of floor space, meaning you'll be able to install it even in a quite confined place. For compact storage, the machine can be folded together from the middle and locked with a pop-pin. When folded, the unit makes 20" x 21"x 50.5" and can be easily moved to the closet owing to the built-in front base wheels. The bike isn't too heavy either (42.3 lbs) and can be transported by one person only. Despite that, it can support a maximum user weight of 225 lbs. Thanks to the two-way seat posture with seven adjustment notches, it easily accommodates users from 4'10" to 5'10". Though, take note that the handlebar here is non-adjustable.
So Straighforward!
Despite being so compact and portable, the XTERRA Fitness FB350 has quite a lot to offer to its users. Just like higher-end models, it has pulse sensors built into the side grips of the handlebar. The handlebars, as well as the seat, are generously padded and anatomically-designed for long-lasting comfort.
Since it's a light-capacity exercise bike, you shouldn't expect a super-heavy flywheel here. It weighs approx. 3.3 lbs but has a well-balanced design to provide users with a smooth pedaling motion. It's also bi-directional, letting you pedal in reverse.
The whole resistance system of the XTERRA FB350 consists of a small magnetic brake that is attached to the large dial at the top of the frame. By turning it clockwise, the brake gets closer to the flywheel, thus, increasing the pedaling difficulty. This may seem to be an old-school method, especially if you're used to digital equipment, but it's fool-proof and quick. The same goes for an LCD display that shows only the most important workout metrics like count time, distance, speed, calories, and pulse.
Bottom line, if portability and ease of use are the things you cherish the most, the XTERRA Fitness FB350 may fit you to a T. It's a good-value trainer designed for light cardio training, general muscle toning, stamina development, and quick weight loss.
Additional Info
Last updated price

$

147.99

Stock
In stock
ASIN

B01LYY95VW
---
XTERRA FB350
Marcy ME-709
Super Comfortable
The Marcy ME-709 is another moderately-priced exercise bike that is stoutly-built and solid. But what definitely sets it apart from most other models in our review is its step-through design. Unlike many other indoor cycles that are fitted with an awkward bar in the middle of the frame and require you to step one leg over, the ME-709 model has no hindrances. That's why even seniors, recovering athletes, or people with some mobility issues will be able to climb on and off this bike quickly and easily. You'll need just to walk through and sit down.
Moreover, this recumbent bike will help to lower the stress on your knees and back since it features a padded seat with a strong backrest for all-around support. Not only is the seat well-cushioned, but also it is ergonomically designed to conform to your body curves. As a nice touch, the manufacturer has equipped the bike with handlebars around the seat, allowing you to rest your arms or elbows as you're pedaling.
On top of that, the model boasts extra-large pedals with safety straps. Therefore, you'll have a consistent and safe pedaling motion. As you pedal on this stationary bike, all the important metrics will be shown on an LCD computer screen. The stats are displayed in large numbers, so you won't need to disrupt your ride just to see how you're doing.
Simplicity of Use
The simplicity doesn't end here. It's also worth noting that most people find the Marcy ME-709 very easy to assemble with all the tools and a step-by-step manual included in the box. Once put together, the recumbent bike streams durability and sturdiness. It comes with leg stabilizers on the front and back, so it doesn't move around or wobble. The 14-gauge steel tubing reliably holds everything in place, while the powder-coated finish prevents rust and scratches.
The only slight niggle about the Marcy ME-709 is that it has no pulse grip sensors on the handlebars, and accordingly, can't read your heart rate. But if you can overcome that minor con and don't really need to track your pulse (or you already have a good fitness tracker), you'll find a lot to love above this solid machine. With its comfortable backrest seat and walk-through design, it's surely one of the best offerings for elderly people, post-recovery users, and anyone else who wants ultra-comfortable workouts.
Additional Info
Last updated price

$

151.08

Stock
In stock
ASIN

B002KV1MJU
---
Marcy ME-709
What Is an Exercise Bike?
Back to out salad days, almost all of us loved riding a bike, but very few knew how beneficial it was. Riding a bicycle, we work out our legs, buttocks, and abdominal muscles. Riding also gives us a fantastic cardio workout that strengthens our lungs and cardiovascular system. But now, when the childhood is over, we don't always have time or opportunity to ride a bike. In this case, the exercise bike is an indispensable assistant that will help you achieve your fitness goals.
Stationary exercise bike is an exact imitation of the bicycle which sometimes has even more features and is designed specifically for those who want to exercise without leaving home, in any weather! Let's see what you should look at before getting such a useful exercise machine!
If you are a real fitness lover, give some attention to the rowing machines, those are very useful for your cardiovascular and respiratory systems as well as for muscles.

What Features to Compare
Type and Resistance
Exercise bicycles may vary according to their type and resistance.
Bikes may be upright, recumbent, portable, and hybrid.
Classic upright models provide pressure on almost all muscle groups and don't take up much space.
Recumbent bikes are characterized by the vertical back and raised pedals that reduce the load on your lower back, back muscles, and abs. In other words, they work out only your legs. Such exercise machines are the best choice for people with various back problems or those who are recovering from serious injuries.
Portable exercise bikes have no seats and the load distribution is not so precise, but they are very compact and easily fit, for example, in the trunk of your car.
Hybrid models are the combination of upright and recumbent bikes; such bikes are very rare since the demand for them is rather small.
Regardless of the bike type, the resistance may also differ. It can be mechanical, brake-based, fan-based, magnetic, electromagnetic, ergometer.
The most common is a mechanical type. Such a bike is equipped with straps that change the tension degree depending on the required resistance level. Mechanical bikes are the least wear-resistant and they are a bit noisy but very simple and cheap.
The next type is brake-based machines. Bikes of this type have a heavy flywheel which stops the brake. The load on a flywheel occurs due to the pressure pads on it, i.e. the user turns the knob to the right or left, thereby increasing or decreasing the tension on the top of the flywheel.
Magnetic bikes have two magnets in addition to a flywheel. They use electromagnetic induction to provide resistance. Their elements don't wear and tear since there is no direct friction.
One of the most effective exercise cycles is an electromagnetic bike. It is similar to the magnetic one but is controlled by the electromagnetic field. They are the most durable but need a power supply.
Ergometer - is a new type of training device that offers high efficiency and functionality. They are very often used in rehabilitation facilities and hospitals as their special design creates minimal stress on the joints and spine.
Extras
Extras also play an important role, dramatically adding to the convenience of use. For example, today a lot of bikes are fitted with computers that can display speed, distance, time, resistance level, heart rate, and calories. When working out on a conventional bike, the user must control the whole process while the ergometers are able to monitor the user's physical condition and pick a special program according to it. In addition to displaying information, some computers boast built-in and optional features, such as MP3-player, Bluetooth, an application that synchronizes with your computer to show the progress. Another distinctive feature of some models is that they can provide users with additional exercises. For example, some models have movable handles for hand training that improve cardio.
Conveniences
It is vitally important that the exercises be comfortable. Now stationary bikes are more friendly to their users and are made with convenience in mind. For example, you can adjust the seat, tilt or raise steering wheel, and with a folding frame and built-in wheels, the bike can be easily moved to another room. Nowadays almost all stationary bikes are equipped with very comfortable pedals with a non-slip, textured surface, and some models even have a stand for a laptop or a tablet.