Drifting is one of the coolest things ever and now it has also become more affordable and less dangerous. Instead of watching pros
on hi-end cars drifting in competitions, get a drift trike and take up the challenge yourself.
...
Read more
...Read less
X
This site is a free online resource that strives to offer helpful content and comparison features to its visitors. Please be advised that the operator of this site accepts advertising compensation from certain companies that appear on the site, and such compensation impacts the location and order in which the companies (and/or their products) are presented, and in some cases may also impact the scoring that is assigned to them. The scoring that appears on this site is determined by the site operator in its sole discretion, and should NOT be relied upon for accuracy purposes. In fact, Company/product listings on this page DO NOT imply endorsement by the site operator. Except as expressly set forth in our Terms of Use, all representations and warranties regarding the information presented on this page are disclaimed. The information which appears on this site is subject to change at any time. More info
Triad Underworld
Race with the Beings from Hell
If Hades ever decided to upgrade his chariot to be on the same page with the modern world, he would be pleased with this drift trike—it is quite fast, maneuverable, and sturdy enough to handle steep roads no doubt paving the Underworld. Maybe his young wife would be willing to stay with him without any seeds, then. Or maybe she would "borrow" it to run away, outmaneuvering Cerberus the three-headed hound of Hell. But alas.
Jokes aside, though, the Triad Underworld 3 is a very fine model. First of all, you can use it both as a trike and as a scooter thanks to the Sentinel platform behind the seat (a feature exclusively used by Triad). It is also possible to ride with the driver in the seat and a second person behind them on the platform but check out the weight limit (222 lbs according to the manufacturer) and always wear a bike helmet and other means of protection.
This drift bike has replaceable 49er drifting wheels on big bearings necessary due to the enhanced rear axle made of strong boron steel. The front frame is twin-tube, also for enhanced strength. The lotus seat is designed specifically for racing and drifting with comfort, it is adjustable in height up to 17 cm and has an adjustable slider for the base.
The trike is good for adults and kids alike though we recommend having someone watch over the kids, at least, when they drive for the first couple times.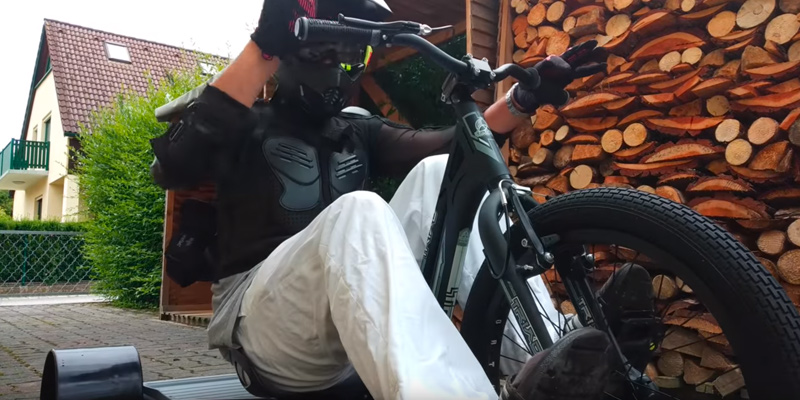 Additional Info
Last updated price

$

0.00

Stock
May be out of stock
ASIN

B01M0PHXNJ
---
Triad Underworld
Madd Gear 204-878
Kids' Favorite Toy
MADD Gear is an Australian company that has exploded worldwide around the 2010s with their action sports equipment and has upheld their reputation since then to the point that professional sports people prefer MADD equipment to any other.
Seeing the part "Mini" in the name of this drift trike, you have probably guessed that it is mainly created for kids. Well, maybe some teenagers who are not too tall or heavy, too, considering the weight limit this model has is 150 lbs. All the same, most users are kids, 5 years and older.
Everything in this 3-wheel vehicle was designed for the kids' first drifting sessions. The big flat rear tires drift smoothly while the tire on the front wheel is treaded for better grip on the road, allowing 360° turns without having the trike tip over. The frame and the handlebars are heavy-duty, made of high-tensile steel. You will need to check the bolts frequently, though you'll do that anyway when it's your kids on the drift trike, right?
There is another point in favor of this drift tricycle for kids: it has taken its breaking system from BMX bikes. Since these bikes are designed to do tricks, they must have extremely reliable brakes to make the extreme sports a little less extreme. If you are looking for something exciting yet relatively safe for your kid, do try this model.
Last updated price

$

0.00

Stock
May be out of stock
ASIN

B0140Y7K40
---
Madd Gear 204-878
Razor 20030501
Pro-level Trike From a Famous Manufacturer
Razor is one of the first names that come to mind when you start looking for sports vehicles for kids and adults alike. From hoverboards to scooters to replacement parts for them, this company is famous for the variety of products and high quality.
The Razor DXT drift trike has a 2-piece steel frame with moto-style handlebars. It is highly durable, definitely, and it also looks absolutely the coolest in its neon yellow color with a stark black logo. The 10" rear wheels are easy to control the riding with and they handle drifting with perfect precision, maneuvering to show-off your skills, covering all the turns and curves at high speed thanks to quality bearings with strong chrome caps. Professional grips will help you hold on tight and not lose control.
The seat here is adjustable, though it offers two positions rather than manually controlled height. According to the majority of customers, assembling this 3-wheel bike is fairly simple, especially as the purchase includes the necessary tools for that. The BMX-style pedals might be somewhat tight at first but with some practice, the use will come naturally.
DXT is an adult drift trike, with its big front wheel that kids won't properly see over. However, teenagers can use it too.
Last updated price

$

295.03

Stock
In stock
ASIN

B00WBVXYJK
---
Razor 20030501
ScooterX Drifter 6.5hp 196cc
Speed Up with Engine
The ScooterX model is a gas-powered adult drift trike, meaning there is no need to pedal. Hence, there are no pedals, obviously. There are foot pegs, though, adjustable for your comfort during the ride.
The engine is an industrial-grade 4-stroke OHV one, with 6.5 horsepower in it, fast enough for a good deal of drifting but limited enough to make the control easily manageable and accidents nearly non-existent. It is, again, a gas engine, which needs refueling and can be smelly at times so we recommend keeping the trike in a garage and not at home, but otherwise, it is quite simple to maintain.
This drift bike has a 16" flat bike front wheel with street-adapted tire, both front and rear disc brakes, and enhanced upgradeable exhaust and intake, providing carefree and comfortable riding. The seat you will sit on is designed after racing seats, it is easy to move when you do your maneuvers. The maneuverability, in general, is further enhanced with a BMX-style stem and handlebars—they are easy to move at the speed, offering you the extra seconds to make the perfect turn with a drift.
ScooterX Drifter can handle quite the weight, up to 250 lbs. This model is the best choice for tall and big riders.
Last updated price

$

0.00

Stock
May be out of stock
ASIN

B018BDSC84
---
ScooterX Drifter 6.5hp 196cc
Triad Syndicate
Stunt Machine
Whatever else one might doubt about the Triad company but the product naming is a talent one can't deny them; their drift trike models tend to have fairly intimidating and thus easily remembered names. However, names are not the only things this brand is good at.
The Triad Syndicate 3 is a strong competitor on the market thanks to its design, heavily geared towards performing stunts without breaking down. It has a twin-tube frame that transitions into the CroMoly bladed fork, which is quite hard to damage. It is further reinforced with a wraparound head tube gusset. The stem and handlebars are also made of metal—aluminum, in this case—and handlebars have grips with screw end caps that will not let your hands slip; losing control due to sweaty palms is no longer an issue.
Instead of flat tires, the rear wheels are PVC-covered for perfect 360° trike drift.
The seat is adjustable in height up to 20 cm, making this tricycle convenient for a wide range of users with a different build. The quick-release slider is easy to use. Behind the seat, there is a platform where you can stand for stunts yourself or give your kid a ride with you.
In the package with this adult drift trike, you will find some extras. The coolest of those would be the seat cover. You don't find that included often, and it is a comfy addition—the seat cover is thermoformed, it will absorb vibration (at least, to some level), making your ride comfier and letting you do stunts better and for longer.
Last updated price

$

0.00

Stock
May be out of stock
ASIN

B01LZ2ZR2B
---
Triad Syndicate
What Is a Drift Trike?
Trike drifting is a young sport that nevertheless has got quite a following already. The American Drift Trike Association was even created in 2011, and this means something! So what is it?
If you've stumbled upon this article, you probably know about drifting, right? In case you don't, it's a driving technique, a fairly flashy one, at that, which basically consists of oversteering when passing a corner at a very high speed. Most people know it thanks to the Fast and the Furious: Tokyo Drift movie from the famous franchise. Although the classic drifting is associated with cars and motorcycles, it is possible with tricycles as well.
A drift trike is a trike with a front wheel larger than that of a normal tricycle and hard plastic rear wheels that create traction loss and, thus, drifting effect. These trikes used to mostly be DIY projects, home-made. Today, you can find a variety of models, some with electric or even gas engines, there are different types of frames, seats, and wheels. The selection is quite rich.
If you are a drift fan in search of more toys, check out the RC drift cars.