Moving through town, with its heavy traffic and constant crowds, can be a bothersome process. However, if you master the art of riding
an electric skateboard, you can get to places much faster while having a lot of fun at the same time!
...
Read more
...Read less
X
This site is a free online resource that strives to offer helpful content and comparison features to its visitors. Please be advised that the operator of this site accepts advertising compensation from certain companies that appear on the site, and such compensation impacts the location and order in which the companies (and/or their products) are presented, and in some cases may also impact the scoring that is assigned to them. The scoring that appears on this site is determined by the site operator in its sole discretion, and should NOT be relied upon for accuracy purposes. In fact, Company/product listings on this page DO NOT imply endorsement by the site operator. Except as expressly set forth in our Terms of Use, all representations and warranties regarding the information presented on this page are disclaimed. The information which appears on this site is subject to change at any time. More info
Evolve Skateboards Bamboo GTX
Outstanding Hybrid of Power and Style
The Bamboo GTX Street skateboard by Evolve is the pinnacle of the company's efforts in producing skateboarding equipment. It incorporates all the best possible qualities of a solid board combining excellent performance with attractive design.
The heart of the skateboard is the deck. With its 7 layers of Canadian maple and 2 layers of bamboo, the board provides exceptional sturdiness and endurance. The superb strength of the material allows the board to support up to 220 lbs of weight. The W-concave shape and drop-down style facilitate low-profile riding while ensuring comfort and maneuverability. The dome fits the arches of your feet and helps lock them in during riding. The deck is also equipped with enough flex for you to feel in control at any speed.
The oversized 3.8-in wheels provide great traction and allow you to ride on different kinds of city terrains, like tarmac, bitumen, concrete. Together with the powerful, custom-made 36V 10Ah lithium-ion battery, they allow you to reach the speed of up to 26 mph and ride without stopping for up to 31 miles on a single charge.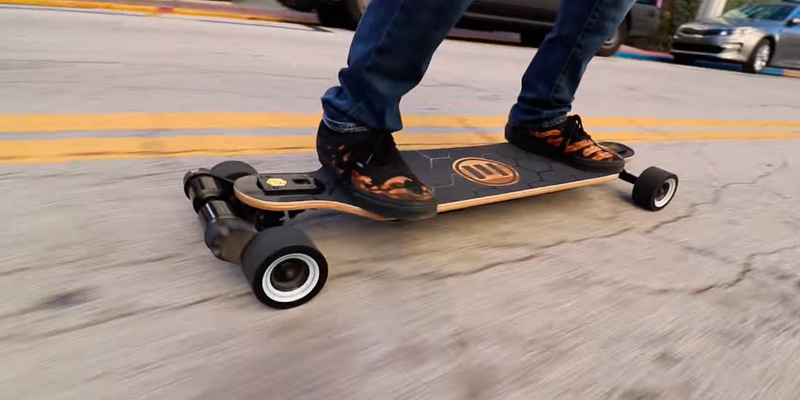 Variety of Riding Styles and Easy Control
The unique 3000-watt high-performance dual brush out-runner motors make the device powerful, durable, and reliable. The top-quality technology used in this appliance allows you to accelerate from slow to top speed smoothly. The regenerative braking function ensures firm but gradual ABS braking giving you maximum control over speed; you can come to a complete stop at any time during riding.
The skateboard has four original riding modes you can choose from. They are SLOW, FAST, ECO and GT. If you are a beginner and want to be in maximum control over speed and ride very carefully, then choose the SLOW mode. After you start feeling more comfortable and confident on your board, you can change the mode to ECO, which will give you more speed options but also ensure a great range. The FAST mode will be a good fit if you want to rush past traffic and get to your destination quickly. And if you are really ready for an adrenaline rush, then switch to GT mode and enjoy lightning speed and acceleration with the ability to climb hills of up to 25 percent gradient.
The cherry on top of this amazing device is the cutting-edge ergonomic remote. With its digital LCD display, it provides you instant, real-time feedback on your riding stats, like the selected mode, speed, range, and battery level.
Additional Info
Last updated price

$

0.00

Stock
In stock
ASIN

B07BYPC5RD
---
Evolve Skateboards Bamboo GTX
Boosted BPN-102044
Prime Quality in Every Detail
This original skateboard positions itself as a premium-level board that offers an exceptional experience for true connoisseurs of e-board riding. It is a product designed and built with great care for customer satisfaction, which is proven by the board's incredible performance and sophisticated details it includes.
The construction of the composite deck is elaborate and advanced. It consists of four high-tech parts, each of which has its own function: the lightweight but at the same time sturdy poplar core ensures flexible riding; the dense foam layer absorbs vibration and shock for a smoother feel beneath your feet; the reinforced fiberglass provides durability and strength of the board; the polymer sidewalls shield the deck from possible impact. Moreover, the design of this Super Flex board was created based on techniques used in snowboard production to provide a pure and impeccable riding experience.

The state-of-the-art 85mm Stratus wheels give this electric board even more edge over its numerous competitors. Due to their innovative construction that includes metal pullies, the wheels offer increased efficiency, durability, and speed. Moreover, they are extremely quiet and shock-absorbing, which ensures a soft and pleasant ride no matter where you go.

Ride With Efficiency and Comfort
Exceptional power and torque is provided by the impeccable belt-drive motor system that can guarantee a quick and safe ride to your destination. You can also come to a comfortable stop any time you like, all thanks to the electric regenerative brakes the board is equipped with. The acceleration in this device is both powerful and smooth, with its built-in Anti-Jerk Technology. This forceful skateboard can get you up a 25% grade hill in no time! The extended battery capacity allows you to travel for up to 14 miles on one charge. At the same time, the battery takes just 1 hour and 45 minutes to charge.

There are five riding modes you can choose while riding the Stealth, including the new and original Hyper Mode, which allows you to reach the speed of up to 24 mph. To switch between modes and speeds, you can use the convenient and functional remote controller with built-in Bluetooth sensors. Together with the excellent performance and strong build, the distant control provides a simple and enjoyable riding experience.
Additional Info
Last updated price

$

0.00

Stock
In stock
ASIN

B07D9XKGK6
---
Boosted BPN-102044
SuperbProductions 49000000
Universal Off-Road Transport
This electric skateboard is an off-road product, which means you can use it on all kinds of tough surfaces. SuperbProductions have put their best effort into creating this electric skateboard that can make your wildest riding dreams come true. 
The board is made of top-quality 11-ply Canadian maple, which is known for its strength and endurance. The pneumatic rubber tires go beyond any comparison, with their impressive size (7.8 x 2 inches), bulgy tire pattern, and strong build. These sturdy off-road wheels will allow you to conquer any terrain and freely cross grass patches, gravel areas, as well as various bumps and potholes. The abrasive surface and detachable protective gear complete the construction and make the device comfortable to stand and balance on. 
This striking device is powered by a 3300W dual motor that ensures excellent performance and efficiency. There are two brushless motors, 1650W each, that provide enough power to travel anywhere you can possibly want! There is also another great news for adrenaline lovers: this board is one of the fastest on the market, as you can reach the speed of up to 31 mph while riding on it.
Battery and Remote Control
Another obvious advantage of this skateboard is its high-quality battery. The device is equipped with a rechargeable 11Ah 36V lithium-ion battery. For convenience, it is attached to the bottom of the deck and protected by a strong and solid case. The characteristics of the battery provide enough capacity for up to 19 miles of riding on a single charge. Moreover, while the battery is certainly powerful, it only takes 3 hours for it to fully charge and be ready for further usage. With all this in mind, you can be sure you are all set to take on any adventure that comes your way.
When it comes to board operation, it is also very well thought out and refined. The product comes with a wireless remote control that can boast of convenient ergonomic design and comprehensible interface. This functional appliance includes a joystick for speed control, a switch for high and low speed modes, a reverse button, and an indicator of signal strength. Just like the battery, the remote is rechargeable; in 1.5 hours it will be as good as new. The remote truly complements the outstanding performance and power of the board making your riding experience easy and enjoyable.
Last updated price

$

0.00

Stock
In stock
ASIN

B07K9LLLT6
---
SuperbProductions 49000000
SKATEBOLT Longboard
Quality and Safety Above All
The Skatebolt Tornado electric board is an excellent budget option for those who wish to experience real, unadulterated riding. The company pays great attention to the safety and comfort of their customers, which can be seen in all its products, including this skateboard.
The eight layers of northeastern maple that make up the deck of this product offer exceptional durability and sturdiness. The widened shape of the board ensures great feeling of balance and steadiness — the dimensions are 38 x 9.4 x 5.5 inches. These parameters allow the device to support the weight of up to 280 lbs while still providing a smooth ride. The large 90mm wheels will make your trip dynamic and safe. The rugged surface of the board helps you secure your feet for a more in-control feel.
There is an incredibly useful feature built into the bottom of the base — taillights. Two bright red warning lights blink every time you hold the brakes warning the drivers behind you that you are stopping. The lights are meant to protect the rider in the dark part of the day.

Technical Characteristics of a Lightning Skateboard
You can enjoy the two riding modes this board has to offer: normal mode and sports mode. If your goal is to move through traffic and cruise between people, then choose the normal mode and travel at the speed of up to 13.75 mph. However, if you feel like going a little extreme, then select the sports mode and fly like the wind at the whopping 25 mph. The board can comfortably withstand this speed due to the durable dual-hub motor system that has a combined power of 1000W. 
The capacious battery of the Skatebolt Tornado allows you to ride for up to 18.6 miles without needing to recharge. This gives you plenty of flexibility in travelling around the streets of the city or practicing tricks. Furthermore, you can easily climb a 25% incline hill on this strong and reliable board. The regenerative braking system makes it possible to stop the device at any point of the trip, even on high speed. Moreover, the battery gets charged every time you stop. 
The product also comes with a wireless remote control that offers great comfort of use. You can effortlessly turn the board on and off, switch between forward and brake, choose the speed mode, go into reverse, as well as see the battery level with the help of a small device that fits into the palm of your hand. 
Last updated price

$

0.00

Stock
May be out of stock
ASIN

B0723DDBBT
---
SKATEBOLT Longboard
Teamgee H8
Convenient and Powerful Device
The H8 electric skateboard by Teamgee is a wonderful compact option for those who do not want to drag heavy lumber around. This 4 wheel board is small, light, and thin, but still powerful enough to get you places.
The board's build is sturdy and professional. The U-type concave shape makes your riding more controlled and enjoyable. The deck is made up of two parts: 10-layer Canadian maple and 1-layer fiberglass. Such construction provides medium flex and bend as well as makes your ride balanced and smooth. The tough top layer makes the board strong and steady, while the scratch- and collision-resistant bottom plate protects your transport from damage. The device is capable of holding up to 160 lbs. With all these impressive contents and characteristics, the product is still considered the thinnest electric skateboard — only 0.5 inch. The weight of the board is also rather small, just 11.6 lbs, which makes it easy to carry and transport.
The large 85mm wheels are an excellent fit for free riding down city roads. The highly flexible 83A material offers ideal hardness and protection from everyday wear. Moreover, if needed, the wheels can be easily replaced. Between the wheels, there is a 0.1-inch shock pad made of highly elastic silica gel; it makes all the bumps and holes on the road less noticeable during the ride.
Smart Battery and Efficient Motor
The 480W brushless single hub motor is small but strong enough for effective support of the basic functions. It ensures excellent airtightness, less drag, as well as less noise while running. The acceleration and brakes are quick to respond, which means you have complete control over your board. The motor ensures a top speed of 15 mph and 15% hill climbing. The product's height is 4.17 inches, which together with its reverse-mounted bridge provides a low center of gravity and a stable ride even when you go fast.
You can control the board via a wireless remote, which has a cruising mode, 3 speed levels (low, medium, high), and a battery indicator.
The battery is placed inside the deck, which gives the board even more flexibility and efficiency. With its 9.3-mile range, the board can satisfy both your traveling and stunt needs. It can be charged in just two hours, and it's ready to go again. If you suddenly find yourself out of battery, you can kick push your board and be on the move again.
Additional Info
Last updated price

$

319.00

Stock
In stock
ASIN

B07TJVNK1B
---
Teamgee H8
Infographics
---
What Is an Electric Skateboard?
Nowadays, people are searching for new convenient ways to get from one place to another, and one of such ways is a portable electric skateboard. It is a comparably recent form of personal transportation based on a regular skateboard, with the addition of a motor, a battery, and a hand-held remote controller. You can use it to commute to and from school or work, get to a place in town, or just play around and do stunts with your friends.
Electric skateboards vary in length, width, and thickness. Smaller and thinner versions will be a good fit for a child or a teenager, but adult riders should make sure to take into account their weight when buying this product as they come with different weight limitations.
The boards also have various styles, so that anyone can choose the best fit for themselves. You can select between a shortboard, a cruiser, an old-school board, and a longboard.
A very important part of the board is the concave, which is the curve between the front and back. The concave can have various shapes too, namely radial, progressive, W-concave, tub, asymmetric, convex, and flat.
To make sure you get the best electric skateboard for your specific needs and parameters, read our detailed review of the top items on the market right now.
What Features to Compare
Electric skateboards are rapidly gaining popularity. This innovative kind of transport is steadily winning over the hearts of both the pragmatics, who wish to choose the most efficient way of getting around, and the adrenaline lovers, who crave thrill and adventure.
Although these boards are a relatively new product on the market, it is already very easy to get lost in the numerous parameters and specs when you are trying to choose the best electric skateboard for yourself. Only after taking into account the following criteria can you pick the device that will truly fit your needs.
Type of motor. There are two kinds of motors used in e-boards: belt-driven and hub motors. While a belt-driven system offers a better acceleration and brakes, a hub motor is quieter, has less lag, and can be kick pushed when out of battery.
Power. Make sure to check the wattage of the board. More watts equal greater power. You will need that high power for hills, inclinations, or fast acceleration. If you know you will be using the board on bumpy roads, select the item with at least 1500W.

Speed. There is no point in buying an electric skateboard if you are not planning to ride fast. Different manufacturers and models provide various top speeds, but it is always best to choose the one with the highest option in your price range.
Battery. This is another crucial factor in choosing an electric skateboard. It is important for the battery to have enough capacity for your specific needs. Pay attention to the range claimed by the manufacturer. If you are planning to travel for long distances on your board, then choose one with a bigger range; if you need it for practicing tricks in the park, then the range should not be your priority. Also, do not forget to note how much time it takes for the battery to charge.
Deck material. The deck is usually made of wood/bamboo, fiberglass, or composite material. The basic difference is that the firberglass is stiffer, and the bamboo is more flexible.
Loading weight. Some boards are designed to carry no more than the weight of a child or teenager, while others can hold up to 350 lbs. It is always best to check the maximum weight limit before the purchase.
Weight of the board. If you know you might occasionally have to carry the board around, you should find out how heavy it is and think whether you will be able to handle it.
Remote Control. While this is not the most substantial factor, it is still nice to have a remote that is convenient and easy to use. Look for a remote with a trigger at the index finger rather than one with thumb control.
You can study every technical characteristic there is, but remember that the board should also feel good under your feet. So try it out before you buy it and see if it agrees with you.
Did you know?
While skateboarding emerged from the desire to experience speed and thrill, the creation of an electric skateboard made it a whole different story. The device became an excellent alternative to regular transportation. In addition to being fun, an e-board is an eco-friendly and cost-efficient product enjoyed by so many people today.
The earliest known version of an electric skateboard was the MotoBoard. It was the first motorized skateboard produced and sold globally. The board appeared on the market in 1975 but was later banned due to causing a lot of noise and pollution as it was powered by gasoline.

The modern electric skateboard is dated back to 1997, when Louie Finkle designed the first wireless e-board in Seal Beach, California. He proceeded to patent his invention in 1999. However, the first truly efficient products with enough power and torque for comfortable riding appeared only in 2004.
According to Guinness World Records, the highest speed on an electric skateboard was 59.55 mph. It was reached by Mischo Erban at Portorož airport, Piran, Slovenia, on October 27, 2015. Mr. Erban also holds the record for fastest skateboard speed downhill.
The fastest electric skateboard to date is the Nextboard by NGV. The manufacturers claim that it is possible to reach the speed of 68 mph on this board. The second-fastest is the Carbon Evo 4WD, with its 50 mph, and the third place belongs to regular Carbon Evo — 40 mph.
The Bamboo GTX 2in1 skateboard has the longest range out of all models on the market today. The board can cover the distance of 31 miles on a single charge.
Research proves that riding an electric skateboard can make you smarter. Cognitive psychologist Lawrence W. Barsalou claims that a trip on an e-board is similar to a workout for your brain. When you are on your way to school, work, or meeting with friends, you alternate routes, choose the optimal distance, react to obstacles, and even use your problem-solving abilities. All this ensures excellent training for parts of your brain responsible for motor skills, memory, and perception.
It is technically illegal to ride an electric skateboard on the road, but the whole world is currently working on changing the situation due to the increasing popularity of e-boards. In the US, only the state of California officially allows electric skateboards on bicycle paths, including roads, on the condition that the rider wears a helmet, is at least 16 years old, and has protectors and a headlight on the board.