Best Longboards
If you've just come to longboarding, it's time to think of buying a skateboard to master your skills and comfortably
cruise around the city and ride up and down the hills. Not sure how to choose the right longboard skateboard? Here you'll find the selection of the best longboards.
...Read more
...Read less
Wheels (Hardness and Material)
What is a Longboard
Constructed in a similar way to a skateboard, a longboard has better grip and hardness for cruising and riding on rough surfaces. As a counter to any typical skateboard, the longboard isn't used for performing tricks or jumping. Offered in the variety of shapes, longboards differ in their longer decks and softer, bigger wheels. This all ensures greater stability and safety of the rider and allows for comfortable riding around the city and transportation.
In the following review, we've selected 5 best longboards and their most important features so that you can find the most suitable one. However, if you're not sure about a longboard, we recommend you to check our comparison of the best Skateboards.
What To Look For
Riding Style
Shaped and constructed differently, all longboards are suitable for different needs. Cruiser longboards look very much like typical skateboards but slightly differ in design. With a kick tail, their deck is also a bit longer and reaches about 41 inches in length. It's good if the longboard's designed with the tail and nose to easily follow the chosen direction. If you'd mainly like to do cruising on rough surfaces, it's better to go with a flex deck that greatly reduces vibration on bumps and hills. Those who prefer calm cruising to mad racing should consider electric longboards. They are easily controllable and well-balanced. If you're buying a longboard to try out your skating skills and ride down the serpentine roads, it'd be better to go for a longboard with a lowered deck fixed at 36-45-inch distance above the ground. The fans of downhill riding may also want to consider the longboards with concave decks or longer wheel bases. They provide enhanced stability and safety when turning and riding down the hills. Freeriding is another popular way of skating which involves jumps from the stairs, jumps on the curbs, and some other tricks that may be performed while riding downhill. The longboards for freestyle riding reach 37-41-inches in length and about 8.5-10.5 inches in width. They're also a bit stiffer to standard decks.
Material and Design
Pay attention to the material which a longboard is made of. As a rule, all longboards are made of solid wood, though you can also find plastic models. 8-9 ply maple longboards are recognized as most durable and lightweight. Plastic longboards are a bit heavier. They are also suitable for all weather use. Make sure that the surface of the longboard is covered with the grip tape to provide greater stability when in use. Colored in different colors, the grip tape is replaceable, allowing you to change it at any time. The choice of colors and designs is truly vast so you'll definitely stand out from the crowd with your unique, vivid longboard deck in the street.
Suspension
The longboard consists of the deck and trucks (suspension) - most important components to consider when buying a longboard. There are also two possible ways to connect the skateboard truck to the deck - top mount and drop through. The top mount is a traditional way when the deck is directly connected to the wheels while the drop-through mounting implies the connection of the truck to the deck through some special cutouts. Longboards with drop-through mounting ensure greater stability and balance, allowing for easier pushing and racing.
The full control of the longboard is possible thanks to the bushings. However, the size of the truck should match the riding style. For example, if you need the longboard for downhill racing, you can choose the one with a low-wheeled suspension (or, in other words, drop-through deck), which will keep up the speed very well. If you need a longboard for cruising in the park, you can choose the one with the top mount deck. From the technical point of view, the suspension of longboards consists of several components, the most important of which is a baseplate (with 4 holes) attached right to the deck. The baseplate is connected to a hanger with the help of the kingpin, which drops through bushings (the pieces of urethane located on the longboard truck).
Don't forget to pay attention to the wheels. Usually, all manufacturers make the wheels of urethane, because this material is the safest for skateboarding. You can also distinguish wheels by their rigidity: the softer the wheels are, the better the road grip will be. For example, you need big and soft wheels (75-79A) for downslide riding, but the wheels from 78A to 81A are suitable for cruising or freeride. The diameter of most longboard wheels varies between 62-99 mm. The wheels of a bigger diameter (80 mm and more) are faster and get higher acceleration, but you need to put more effort into it. However, huge wheels are quite good for zipping through small stones and other road obstacles. As for small wheels (60-70 mm), they aren't so fast, but they're easier in getting acceleration. If you're a novice, longboards are the best option for you. Also, you should pay attention to the bearings that affect the speed of the board. Typically, there are bearings (ABEC) from 1 to 11. The higher the ABEC is, the faster the longboard will move. For instance, you should use ABEC 11 for downhill and ABEC 5, 7, 9 for cruising and freeride.
...Read more
...Read less
Sector 9 Cruiser Freeride Complete Longboard
Sector 9 Cruiser Freeride Complete Longboard
Riding Style
Sector 9 is a great choice for cruising or calm riding in the nearest park or neighborhood. You will surely enjoy any riding style. Thanks to its design, you'll be able to skate on different surfaces, smooth and coarse, and perform various tricks. Thus, you can use it not only for cruising but also freeride. Also, if you're a fan of downhill, this longboard is an excellent choice due to its low mounting design, which allows you to keep balance at high speeds.
Material and Design
Sector 9 is made of the laminated 8 ply maple, so the deck is lightweight and very durable. The concaved shape of the deck is well suited for cruising so that a rider can race and accelerate the speed. Also, such a shape of the deck ensures good backfire during high-speed riding. The surface of the deck is covered with a fine-grained sandpaper, the best material for keeping balance while riding a longboard (your feet won't ever slip off). You can notice aerography reminding the wave on the underside.
Suspension
Gullwing Sidewinder trucks are attached to a drop-through deck of the longboard, providing high stability and maneuverability at high speeds. Since the size of the axle is only 180 mm, the turning radius is rather small. The 70-mm wheel diameter is sufficient for any even surface because of 80A hardness and what's more, it helps pass rubbles and potholes on the road. Sector 9 is equipped with ABEC 5 bearings which are good for cruising and freeride. Yet, if you prefer sliding down the hill at high speeds, you may want to consider longboards with ABEC 7, 9 and 11 bearings.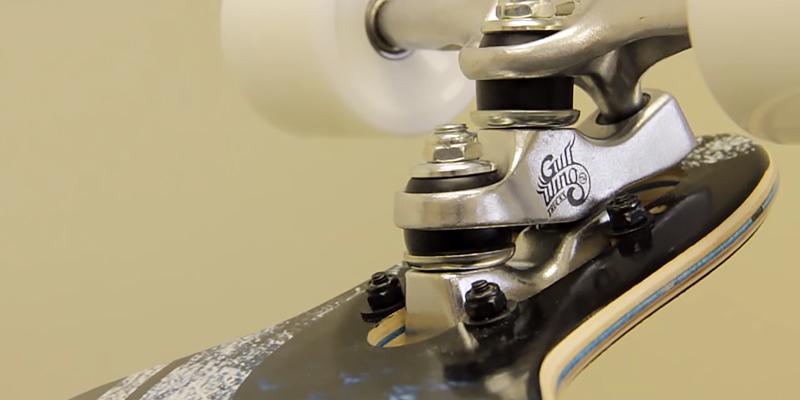 ---
VIDEO
Sector 9 Lookout Bamboo 41 Inch Drop Through Complete Longboard Review - Tactics.com
Sector 9 Cruiser Freeride Complete Longboard
Rimable Drop-through Longboard
Rimable Drop-through Longboard
Riding Style
If you are a fan of downhill or cruising, Rimable drop-through longboard will be a great pick for you. It's a cross-functional longboard suitable for a wide variety of riding styles. It's important to note that using this board allows you to perform tricks and sliding. Thanks to its multi-purpose design, this longboard is good for both beginners and skilled riders. Moreover, it has good maneuverability for your comfort when cruising around the city.
Material and Design
Due to the 9 ply maple, the deck is very robust and lightweight. The shape of the board is slightly concaved at the tail and the nose for comfort cruising and performing tricks. Just like the other long boards, this one is covered with an abrasive cloth strip for a better balance of the rider. However, there are 2 strips without abrasive cloth that give the longboard a rather sporty look. The color does not fade away and the deck looks new even after a long period of use. Also, there are stickers on the reverse side of the board.
Suspension
This longboard has a drop-through truck mounting and the trucks are 180 mm wide. Thus, the unit is lowered and what is more important, fantastically balanced. The 75-mm urethane wheels with 85A hardness provide for better sliding down the hills. Therefore, they provide nice sliding while you are performing stunts. These wheels are durable and give a smooth ride on rough terrain. Also, we should admit that this longboard shows impressive acceleration thanks to the ABEC 11 bearings that allow this board to move as fast as 100 km/h.
---
VIDEO
Rimable Drop Deck 41" Longboard Review - CA Reviews
Rimable Drop-through Longboard
Atom Drop-through Longboard
Atom Drop-through Longboard
Riding Style
It should be noted that Atom Drop Through Longboard is great for both beginners and skilled riders who like cruising in the parks or ride at high speed. First of all, this board has a cross functional shape of the deck, so you can use it not only for cruising but also for downhill riding. The deck has a nose and a tail, allowing you to easily change the direction while performing tricks. This strong and decent board is suitable for different riding styles and meets the needs of all riders.
Material and Design
An important point is that the deck is made of a single-piece maple, so it's very durable and lightweight. The board has a slightly concaved shape, so it shows an excellent performance during acceleration. The edges are slightly bent, which provides better control while riding. The surface of the deck is covered with an abrasive cloth strip to provide the balancing of the rider. The aerography on the underside is a nice supplement to the design.
Suspension
The first thing we should emphasize about this longboard is its low drop-through suspension. It has a 245-mm axle that provides a good balance for downhill riding and, in addition, it prevents swaying at high speeds. As for riding at a low speed, cruising in the areas with intensive road traffic may be rather inconvenient due to the small turning radius. By the way, the wheels are made of urethane and their diameter is 70 mm. Also, the bearings are ABEC 9 - great for high-speed riding.
---
VIDEO
Atom Drop Through Longboard Review
Atom Drop-through Longboard
Quest Skateboards Super Cruiser Longboard
Quest Skateboards Super Cruiser Longboard
Riding Style
Quest Skateboards Super Cruiser is a great longboard for cruising and dancing. Ride slowly via an esplanade feeling on top of the world. This longboard is so stable and well, long, that you will easily perform tricks and even dance on it! All eyes will be on you! Furthermore, the Quest longboard is equally comfortable for beginners and for riders with years of expertise. Be it a street performance or just a way to ride through your town, this longboard is a way to go.
Material and Design
A pintail deck of these Quest Skateboards is a great choice for long walks or just traveling fairly far places. With a comfy kicktail, you will easily maneuver tons of people on your way and bypass obstacles. And you know what? That's still far from all of the good news. This longboard looks stunning, you'll see just about everybody staring at it when you ride. The deck is a multi-ply maple and bamboo, and we assure you it is really flexible, durable, and will serve you or your kid for many years. Covered with a grip tape on the top, it provides wonderful adhesion. And the bottom side is a coated wood that looks extremely elegant.
Suspension
This longboard features suspensions with reverse kingpins which make it more stable if you speed up. The suspensions themselves are 178 mm wide. This is in order to make the board easier to maneuver as the radius is not large. Due to the ABEC 5 bearings, the Quest Skateboards Super Cruiser Longboard may not speed up as fast as freeride boards do, but it does keep the speed well when you reach the desired one. The 70-mm polyurethane wheels ride so smooth you will never notice the road unevenness. Riding this longboard is a lot of fun!
---
VIDEO
RUNNER VLOG DAY 41 ( Quest Super Cruiser Artisan Bamboo LongBoard Review)
Quest Skateboards Super Cruiser Longboard
Santa Cruz Lion God Rasta Cruzer Freeride Longboard
Santa Cruz Lion God Rasta Cruzer Freeride Longboard
Riding Style
The wide deck of Santa Cruz longboard will satisfy all fans of freeride. Moreover, if you like performing different tricks, this longboard is a perfect pick too. Another advantage of this unit is that it's suitable for skilled riders and novices who have just started practicing different riding styles. Also, you can cruise around the city on this longboard, since it is stable and very easy-to-control, especially during rush hours.
Material and Design
Like other rival models, the deck of this longboard is made of the 8 ply maple, that's why the item is lightweight and durable. The deck construction will surprise you when you first try it at freeride. The deck design is symmetrical, with large wheel grooves that allow performing tricks and jumping down the steps, hopping on the pavement and so on. The surface is covered with an abrasive tape, and on the reverse side you can find some Rasta Lion aerography.
Suspension
The drop-through truck mounting makes this longboard fantastic for freeride. As for the trucks, they have 180-mm axles. This kind of suspension gives you the full control over your board and ensures excellent maneuverability. Please, note that the wheels are made of urethane, which is considered to be the safest material for longboard wheels. The hardness and diameter of wheels are 78A and 75 mm respectively, so they provide good sliding while performing various freeride tricks.
---
VIDEO
Santa Cruz Lion god rasta Longboard review
Santa Cruz Lion God Rasta Cruzer Freeride Longboard