Are you looking for a fun and cool way to go from point A to point B, or just want something fun to do while in the park? What you
need is an electric longboard. Read our reviews of the top 5 models and find the best electric skateboard for your entertainment!
...
Read more
...Read less
X
This site is a free online resource that strives to offer helpful content and comparison features to its visitors. Please be advised that the operator of this site accepts advertising compensation from certain companies that appear on the site, and such compensation impacts the location and order in which the companies (and/or their products) are presented, and in some cases may also impact the scoring that is assigned to them. The scoring that appears on this site is determined by the site operator in its sole discretion, and should NOT be relied upon for accuracy purposes. In fact, Company/product listings on this page DO NOT imply endorsement by the site operator. Except as expressly set forth in our Terms of Use, all representations and warranties regarding the information presented on this page are disclaimed. The information which appears on this site is subject to change at any time. More info
Exway X1
A Longboard For Everyone
Getting an electric longboard can be a bit intimidating of an experience for first time users, but it can also be difficult for those who are experienced with them. The latter group, in particular, will already have an idea of what kind of longboard they want to buy, but finding one with all of the features and capabilities that they want can be just as daunting of a task as finding one that is great for beginners. Many longboards simply won't have the right combination of power, max speed, or maneuverability as what an experienced user will want, making the search for just the right one more difficult than they would like.
Fortunately, there is a model that has the right mix of features and convenience that should appeal to both groups. The Exway X1 Waterproof/Dust-Proof/Anti-Collision electric longboard has a slate of features that make it ideal both for beginners and experienced users. This longboard is ideal for comfortable movement on city roads, while it will appeal to both lovers of a calm driving style and fans of extreme skating. The kit even comes with a set of rear wheels for aggressive riding, as what is preferred by experienced users, while beginners and novices should appreciate the ease of use and control of this model.
Easy to Control
Although the controls on some longboard models often leave much to be desired, the control options for this electric longboard will be well suited for everyone. Included is an ergonomic remote control with an LCD screen that allows you to switch modes, and monitor battery life and speed at a glance. The device also supports control using the ExwayBoard app (available on iOS and Android), letting those who prefer to use their smartphones for everything possible a great full screened remote. The controls themselves are clearly labeled and quite easy to follow for anyone, which helps make this model one of the more ideal ones for beginners.
Despite its ease of use and control, this longboard doesn't have to sacrifice any of its other features to reach those achievements. This 2000 W longboard is one of the more powerful models available. with the max speed of up to 25 MPH suitable for those who enjoy going as fast as possible. Furthermore, the included battery power has a high enough capacity to give the longboard a total distance of 10 miles on a full charge, giving users plenty of distance to travel between recharges. With the right mix of power and features, this premium longboard from Exway should delight any user, no matter their experience level.
Additional Info
Last updated price

$

0.00

Stock
In stock
ASIN

B075K69461
---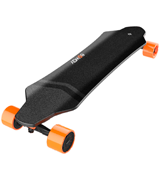 Exway X1
Teamgee H9
A Trickster's Dream
Experienced longboard riders inevitably learn a few tricks throughout their extensive time riding such devices. The same, of course, can be said for skateboards. The problem, though, is that many electric longboards haven't been built to withstand the trial and error period of learning new tricks, nor is their form conducive to those that can be brought over from the skateboarding world. Boards that are designed to handle tricks often require some special characteristics, not the least of which is an overall build that allows the board to withstand or even completely avoid the type of damage that can occur should one go wrong.
The Teamgee H9 Electric Longboard is a great example of a model that was built for more than just simple riding. If you are looking for a practical board that will allow you to practice mastering new tricks - make a choice in favor of this model: the ultra-thin design of the board minimizes the risk of damage to the battery or internal components when hitting obstacles. Furthermore, the deck is made of a combination of Canadian Maple and Fibreglass, giving the board a very sturdy overall design that should prove itself to be extremely durable, even to the most dangerous stunts.
Easy to Replace Wheels
Another great design decision of this electric longboard is in its wheels. The replaceable wheel design will be relevant for people who want to ride a skateboard not only on roads or sidewalks, but also on skate platforms, letting you choose and easily replace the right wheels for whichever type of terrain or surface you will be riding on. Moreover, by default, the longboard comes with quality 90 mm wheels with PU-coating, which should prove to be quite durable as well as well-suited for most types of surfaces. Those who often find themselves needing to worry about the wheels on their longboard will find this model to be a welcome relief.
This board isn't one of the most powerful models we have reviewed - its motor is only 960 W, which is well below the power of the higher-end models. However, don't let this lower number deceive you, this board is plenty powerful enough for many experienced users, especially those who prefer doing fancy tricks rather than maxing out their top speed. Speaking of which, the top speed of this model is up to 25 MPH, making it surprisingly fast for one of its power level. Furthermore, the battery level lets you ride for a total distance of 11 miles on a full charge, making this board's performance easily on par with higher-end and more expensive models. All told, any experienced longboard rider who wants an electric skateboard capable and durable enough to meet their demands will find this model to be ideal.
Additional Info
Last updated price

$

0.00

Stock
In stock
ASIN

B07L5KT1SN
---
Teamgee H9
Aceshin Electric
Perfect for Children
Electric longboards have the same kind of appeal to people as skateboards have long had. They are fun to ride and are often seen and even marketed as toys geared towards children. However, this doesn't mean that all models are really suitable for children - far from it, in fact. Many longboards are made with characteristics that appeal more towards older children and teenagers, with many focused on performance at top speeds rather than being simple and easy to use, even for novices. This, combined with the high prices of many models, puts most of them well out of the range of younger children who want to get started with these devices.
The Aceshin Electric Dual Motor Longboard is an exception to this rule. The Aceshin longboard was created primarily for children and adolescents who have never ridden on the board but want to master this fascinating mode of transport. And although it travels at a top speed of only 12.4 MPH - this is plenty enough for riding in parks and squares, and in fact, this lower top speed helps make this board a much safer option for children who are inexperienced at handing or even staying balanced on a board going at higher speeds. The well-balanced build gives children a safe option for mastering their balance and control on such a device without worries of injury.
Suitable for Damp Conditions
One of the primary hurdles that many motorized skateboard owners face is wet weather. Whenever there has been any kind of precipitation, most especially rain. longboard owners often find themselves needing to keep their longboards stored away until it dries up. This is because many longboards simply aren't made to be used in wet or even damp conditions, with just a little bit of water having the ability to cause permanent damage to the motor. With this model, though, riders have a little more flexibility. The water-resistant housing eliminates the risk of damage to the powered skateboard when riding after rain, albeit only in shallow puddles. Just as long as the board isn't being ridden through very large puddles, it is completely safe to use in damp conditions.
This board is also surprising light and easy to carry with you. The handle cut in the board does not in any way affect its strength, but it greatly facilitates transportation, making it easy for anyone to carry. The battery lets you ride the board for up to 6 miles, which should be plenty of distance for children or any other novices who are using the board. All told, anyone with small children who wants a safe and suitable option to give them as a gift will find this model to be the best choice.
Last updated price

$

0.00

Stock
May be out of stock
ASIN

B07XYZCRD8
---
Aceshin Electric
Ride1UP 10S3P
Extremely Powerful Motor
Just like skateboards, electric longboards are great to use on flat and even surfaces. However, things start to get tricky whenever a surface isn't flat. Having to navigate any kind of grade can cause problems, especially when trying to go up a grade when you don't have enough speed to carry you up all of the way. This is especially true with large grades that no amount of speed can overcome, such as riding on a long street that is uphill the entire way. As powerful as the motors are with most electric longboards, many of them simply aren't powerful enough to take someone up a steep or long grade without running out of power.
The Ride1UP 10S3P 4-Speed Electric Longboard is one longboard that was made with such instances in mind. The electric motor with a power of 2400 W can cope with long lifts (up to 30% grade) without any problems. To power the motor, the 7.5AH 10S3P Samsung Battery is provided here, which provides an amazing range of up to 18 miles. This makes this electric longboard the most powerful one that we have reviewed here, as well as one of the most powerful models you can find on the market. Those looking for a serious longboard with a very powerful motor should take a close look at this model.
For Experienced Users
Many electric longboards are made either for novices, or for being good for both novices and experienced users. Unfortunately, boards of the latter type tend to compromise on some issues in order to be suitable for novices. That is certainly not the case here. Ride1UP has released an advanced longboard for professional riders who have many years of experience riding such boards. It can reach an amazing speed of up to 30 MPH, which means that you can quickly get to any place you need to go on it, making it one of the fastest models available.
Not everything needs to be at top speed with this longboard, though. This model comes with an ergonomic remote that lets you change between 1 of the 4 offered speeds, as well as to easily view everything you need to know, including the current speed of the longboard, the current trip distance, the speed settings, and even the current battery life. You won't be left guessing about how the longboard is operating or how much battery life is left. The board itself is quite durable, with the deck made entirely of bamboo. Just take note that the board is quite heavy to carry, so plan accordingly. All in all, any experienced longboard rider who wants a seriously powerful longboard that doesn't compromise on anything will find this model to be just what they need.
Additional Info
Last updated price

$

0.00

Stock
In stock
ASIN

B07NSCK43H
---
Ride1UP 10S3P
BLITZART Huracane
For Riders of All Sizes
With the different longboard models available, it can be a challenge to find one that is geared towards people of all sizes. Many longboards are either made for children or for adults, with relatively few that are made to accommodate riders of all ages. Some models that can accommodate adults tend to be high end models that are made only for experienced users, while those that can accommodate novices tend to be underpowered and not fully able to accommodate larger people. This is a shame, as longboards can be fun for people of all ages, and having one that the whole family can share would be great.
The BLITZART Huracane Electronic Longboard is a model for people of all sizes and ages. Furthermore, this model is ideal for skaters for whom high riding comfort plays a key role: a 7-layer maple and 2-ply bamboo board provides a smooth and stable ride at any speed. And due to this design, the deck can withstand weight up to 250 lbs, so riders of all sizes can find this board able to accommodate them, letting the whole family have fun on the longboard. Just note that the model probably won't be able to effectively reach top speed when larger riders are using it, so those who are well under the weight limit are the ones who will get the best results.
Regenerative Braking
This unit comes with a 350 W motor that is able to handle speeds of up to 17 MPH, which is plenty fast for most people. On a full charge, the battery has enough power to go up to 8 miles. However, this can actually be extended thanks to one of the unique features of this board. During intensive or emergency braking, part of the energy generated by the braking action is returned to the battery in the form of a charge, thereby prolonging the battery life: this solution will be especially useful for novice riders who accelerate sharply and often slow down, and allows all users to get a little bit of extra life out of the battery.
As mentioned before, the deck itself is quite sturdy, but also surprisingly lightweight. It includes a carry handle carved out of the board itself, which does not affect the strength of the board. The board comes with an ergonomic wireless remote that gives you easy controls for accelerating and decelerating, and even includes separate modes for beginners and advanced users that allow for settings appropriate for each. If you have a full family and are looking for an engine powered longboard that can be enjoyed by all, then this model gives you the best mix of ease of use and power to let everyone enjoy it.
Additional Info
Last updated price

$

299.00

Stock
In stock
ASIN

B078HM367M
---
BLITZART Huracane
What is an Electric Longboard?
Skateboards have been a favorite way to spend time for many people, both for adults and children. However, they have some inconveniences to them. For one, they can be difficult to master for any novice who hasn't spent a lot of time on them before. They also take quite a bit of effort to get going, making them less than ideal to use as any kind of practical transportation. Due to these factors, along with a few others, skateboards are less than practical to use in many places, as they often aren't well suited for a city street.
Electric Longboards are a relatively recent appearance, with some saying that they are a natural progression of the old skateboard. These devices are similar in appearance to a typical skateboard although a bit longer, but with one important exception: they are self-powered, thus making them easier for people to learn. Electric longboards include a built-in motor that powers the board, meaning that first time riders can focus more on staying balanced rather than on having to constantly push the board for movement. This makes them not only fun but much more practical to use as a method of transport. These boards also include a built-in battery that gives the board enough power to travel several miles at a minimum, adding to their convenience.
If you are looking for a classic skateboard rather than an electric longboard, read our reviews of the best skateboards.
What Features to Compare
Anyone who hasn't used an electric longboard before most likely won't have much of an idea of what to look for in one. Sure, they highly resemble skateboards, but due to being self-powered, there is a bit more to their characteristics than one would think to look for in a skateboard. If you are looking for your first electric longboard, then take a look at the below characteristics to help you find the best electric skateboard for what you want.
One of the most important characteristics, and often the first thing to look for, in any electric longboard is in the Power of the device. The total power output of an electric longboard will help dictate some of the other important characteristics of a longboard, including such things as the top speed that it can achieve. Generally, the higher the power of a longboard, the more powerful overall it will be.
Of course, the power of a longboard isn't everything. Another characteristic that can be just as important is the Max Range of the device. This will dictate how far the longboard can travel on a full charge, so those who plan on using it for regular transport will generally want to make sure that the max range is no more than the distance they plan on traveling.
The Top Speed of an electric longboard is one of the most important things that people look for in a model. This number can greatly vary among the different models. Those who are purchasing an electric longboard for children will probably want one that doesn't have a very high top speed, whereas teenagers or adults who plan to use it frequently may want the fastest one available. Whatever your need is in an electric longboard, you will want to make sure that the top speed of the device meets your expectations.
An important characteristic that is often overlooked in an electric longboard is the Max Load of the device. This shows the maximum amount of weight that the device is rated to carry. This usually isn't much of a concern for children, but for adults, the max weight allowed by the device is an extremely important thing to pay attention to.
Some other secondary characteristics of electric longboards can be important to different people. For instance, the types of Wheels that the device uses may be important to those who plan on using the device on different surfaces. The Control of a device is important for everyone, as most electric longboards require external control rather than shifting the weight of the rider. The Material that the deck is made of can also show how sturdy and durable the longboard will be. Make sure that you pay plenty of attention to these characteristics when choosing a device!
Did you know?
How to Ride an Electric Longboard
Whether you are an experienced skateboarder or a complete novice, riding an electric longboard for the first time can be a challenge. Although experienced users can make it look easy, actually doing it yourself can show that it can be anything but. As with almost anything that requires some skill, there is a right way for riding an electric longboard that will yield the best results. If you are purchasing your first electric longboard and want a short tutorial on how to get started with one, read on for some great advice that should help you master the basics quickly.
Stance
The first thing to be concerned about on an electric longboard is your stance. You will need to determine which kind of stance that you have while riding on the board, or in other words, the order of your feet on the board. Your two feet will be known as the lead foot and balance foot, and which one is which will depend on which foot is the stronger one for you. An easy way to determine this is to kick a soccer ball. Whichever foot you kick better with will be your balance foot, and the other will be your lead foot.
Once you have determined this, try standing on the longboard without moving. You want to space your feet about hip-width apart on the board to help give you the best balance. Bending your knees a little will also greatly help in maintaining your balance, especially once the board starts moving.
Remote Control
All electric longboards come with a remote control of some kind that allows you to control the board while you are riding. Before riding the board for the first time, get familiar with the remote, learning where all the buttons are to the point where you don't need to look at the remote in order to operate it. Having to take time to look for a specific button on the remote while riding can be dangerous, as it takes your eyes off the road.
Accelerating
Once you have familiarized yourself with the remote, and have found a comfortable stance on the board that keeps you well-balanced, it is time to try accelerating for the first time. Before you do this, though, you need to remember what will happen when you do. The forward momentum of the board will push your body backward, so if you are not prepared for it, the board will slip away from you. Before accelerating, put a slight bit more weight on your front foot, which should keep you from falling backward. Once you have done this, start accelerating slowly, letting the board's momentum push your weight backward so that you have a good balance on the board.
Braking
Slowing down and stopping a longboard will basically require you to do the opposite of what you do when accelerating. Instead of shifting your weight towards your front foot, you will want to shift your weight towards the backfoot so that the momentum of your body doesn't fling you off in front of the board. Make sure that braking is done slowly and evening instead of braking full force all of a sudden.
Practice
Once you have got those basic fundamentals down, you will want to try practicing with turns. Don't worry if you don't get the hang of it at first. Every longboarder needs to start somewhere, and it always requires plenty of practice before you really get the hang of it.