An attic antenna is any TV antenna that you can install in your attic. The best attic antenna performs equally well inside and outside,
able to pick up a quality signal from a great range, and lets you enjoy quality TV entertainment without paying a cable subscription.
...
Read more
...Read less
Mohu SkyHDTV (MH-110585)
Improved Form Factor
Mohu SkyHDTV is a little expensive, we aren't going to lie. Then again, the model more than pays for itself in the long run. First and foremost, the antenna's range extends up to 75 miles in the sky. With it, you'll be able to access HD over-the-air TV channels without paying for a cable or satellite subscription. The list of the channels includes but isn't limited to ABC, NBC CBS, PBS, Fox, Univision, and so on.
But it isn't just about its reach either. Equipped with the Clean Peak Filter technology, the model is capable of filtering out cellular and FM signals. This way, it is able to deliver a signal with very little noise, a much clearer picture, as well as access to more free HDTV channels in Full HD.
The antenna is multidirectional, so you won't have to constantly readjust it for that optimal signal strength.
Its unique form factor is another thing that favorably separates this antenna from its competition. It weighs just 3 pounds. With a mounting pole, the whole thing adds up to 21" x 3" x 27.5" in overall dimensions. You'll be able to easily mount it in any attic.
Bottom line, without taking the somewhat elevated price into account, Mohu SkyHDTV is easily the best multidirectional antenna on this list and one of the more impressive models on the market right now. With it, you'll be able to enjoy a stable and reliable quality signal anywhere, anytime.
Mohu SkyHDTV (MH-110585)
Antennas Direct ClearStream 4 (C4-CJM)
Only the Leading Technologies
The ClearStream 4 is a really universal TV antenna, you can install it outdoors and indoors alike. With this TV antenna, you will receive TV signal in a Full HD resolution 1080 and even UHD 4K Ready where available. The patented Loop ClearStream™ technology provides a wide frequency rate and a wide beam angle, so you won't need to rotate the antenna. Also, the reflector creates a focus for the antenna power to add range and protect the signal from multipath interference. To top it all, we would like to point out that the ClearStream 4 TV antenna is really easy to mount, you will only need a mount and a mounting hardware, and they are included in the package. Catch your signals wherever your antenna is, outdoors on the roof or indoors hanging on a wall.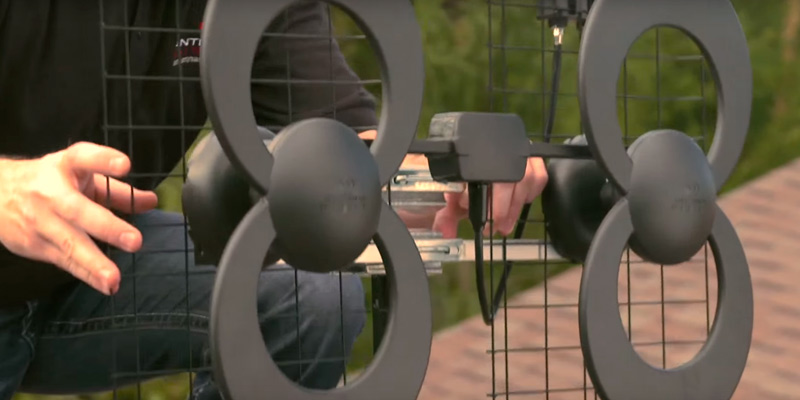 Something Interesting
When you choose a TV antenna, look at its shape. The first thought is — how could it affect the performance? Well, there is an opinion that it can! Some experts, for example, say that the gain of the round loop antenna is higher than that of a square one, and the highest gain belongs to the ellipse-shaped antennas with the diameters ratio of 1:3. The reason, they say, is that the round and ellipse shapes have no corners which may create reflective waves and thus worsen antenna's reception.
Taking into account the information above, we'd say that the ClearStream 4 is one of the best options offered on the market as it complies with the recommendations. It is highly efficient when it comes to the signal reception and strengthening. The radius this TV antenna operates at is 70 miles from the broadcast towers at UFH frequencies even without the amplifier. And the quality will be top-notch.
Additional Info
---
VIDEO
ClearStream™ 4 Assembly, Antennas Direct
What customers say about this product
Excellent range for most metro areas.
Its small size is within the range that permits mounting outdoors.
This antenna is really for outside placement. Using this antenna outside you will not be dissatisfied.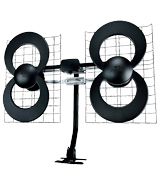 Antennas Direct ClearStream 4 (C4-CJM)
GE 33692
Does it the Old Way
GE PRO 33692, for the most part, is an old school TV antenna from a trusted brand. Putting it in your attic, you'll be able to keep the antenna out of sight, all without decreasing the strength of the signal. By the way, that "putting" part shouldn't prove to be a challenge either.
Since a mounting bracket, mast, and assembly instructions come supplied with the antenna itself, you should be able to set it up in no time at all. Though it isn't necessarily the smallest model on this list, the aforementioned mounting hardware should allow you to install it even in the most restricted areas.
Again, this is, in just about every way, a traditional attic antenna. Incorporating signal enhancing reflectors, it will prove particularly suitable for people looking to use the antenna to set up their FM/DAB radio.
Using GE PRO 33692, you'll be able to access Fox, PBS, CBS, ABC, NBC, and an abundance of local channels in 1080p (Full HD) resolution.
The only issue we have with this model is that its gain is limited and it doesn't include an amplifier, so we would recommend purchasing one separately.
Apart from that, what we have here is an effective and relatively versatile attic antenna. With its excellent reception for both UHF and VHF stations, you'll be able to enjoy an uncompressed 1080p signal. Plus, it doesn't take a genius to set it up.
GE 33692
Tree New Bee TNB-WA2608
150 Miles is not a bad Range
The people behind Tree New Bee TNB-WA2608 claim that this attic mounted antenna boasts a 150-mile range. We have been able to neither confirm or deny it. But we can tell you that while its range may be a little shorter than advertised, it is definitely up there, somewhere in that 150-mile vicinity. There's practically no distance that will prevent this model from picking up a signal. There definitely isn't a single antenna capable of matching this range that comes at a similar price.
Furthermore, this thing comes equipped with a 360-degree motorized mechanism. You can use it to rotate the antenna however you want, pointing it into the optimal signal direction. What's more, you'll be able to control that mechanism via remote control. Sure, you'll have to point the remote directly at the receiver to make it work but that's hardly something to complain about.
Measuring just 12" x 18" x 6" in overall dimensions, this rotating model is as compact as they come. Though these numbers don't take a mounting pole into account, there's still no way you won't be able to find enough space for it in your attic.
To sum it all up, with its long range, Tree New Bee TNB-WA2608 is a great amplified attic antenna that comes at a really affordable price. You'll hardly be able to find a more powerful or practical model within the same price range. On top of it all, the product comes supplied with a really long (40 ft) coaxial cable, making it possible to use it with 2 TVs.
Additional Info
---
Tree New Bee TNB-WA2608
1byone OUS00-0551
More of a Roof Top Antenna
1byone OUS00-0551 is that huge classic TV antenna. It is really powerful, something that we definitely like to see in our antennas. The problem is, it is also kind of huge. See, even without a mounting pole, the antenna measures 11" x 35" x 9". With size like that, it just might not be able to fit smaller attics, so some people will have to install it on the roof. Other than that, however, we really don't have any major complaints.
Sure, you'll probably have to put it on the roof. But, with its cross-phase, multi-element design and metal construction, the model easily withstands the toughest outdoor weather conditions.
The range of this antenna is no joke either. As always, it will depend on a number of conditions but, more often than not, it should be able to reach any signal within a 150-mile radius. It is able to pick up and transmit channels that broadcast in UHD (4K) and 3D as well as those that employ the Dolby 5.1 Surround Sound technology.
The model comes with a robust AC-powered amplifier that boasts a solid 18 dBi gain. A 5-feet long 5 coaxial cable is also supplied with the antenna, so you'll be able to use it to transmit a signal to 2 separate TV sets.
To put it differently, the only major problem with 1byone OUS00-0551 is its size. Provided you have a large attic or don't mind putting it on the roof, we don't see any reason not to give this model a shot. It is easy to assemble and install and, for the most part, the antenna works extremely well.
1byone OUS00-0551
What Is an Attic Antenna?
Well, this one isn't difficult, is it? We all know what a regular TV antenna is, right? That specialized device designed to receive analog and/or digital signals that come from a tower or satellite? The device that, afterwards, transmits that signal directly to your TV set, which is, normally, how you get the picture to appear on your screen and how you're able to enjoy your favorite series? Alright, good, we're on the same page here.
There's practically no difference between a regular antenna and an attic antenna. In fact, most people probably associate the term "regular antenna" with attic models. As you'd imagine, the biggest difference is that these attic models are designed to fit your average attic. That being said, the majority of these antennas can be just as well used as rooftop antennas.
Just make sure to find out whether it comes supplied with an amplifier before you buy one and check how powerful the amplifier is. Other than that, keep in mind the size of the antenna and how it compares to the size of your attic and you should be able to figure out the rest.
After that, you can pick up a new TV remote or a wireless HDMI to declutter your living room.