An attic antenna is any TV antenna that you can install in your attic. The best attic antenna performs equally well inside and outside,
able to pick up a quality signal from a great range, and lets you enjoy quality TV entertainment without paying a cable subscription.
...
Read more
...Read less
X
This site is a free online resource that strives to offer helpful content and comparison features to its visitors. Please be advised that the operator of this site accepts advertising compensation from certain companies that appear on the site, and such compensation impacts the location and order in which the companies (and/or their products) are presented, and in some cases may also impact the scoring that is assigned to them. The scoring that appears on this site is determined by the site operator in its sole discretion, and should NOT be relied upon for accuracy purposes. In fact, Company/product listings on this page DO NOT imply endorsement by the site operator. Except as expressly set forth in our Terms of Use, all representations and warranties regarding the information presented on this page are disclaimed. The information which appears on this site is subject to change at any time. More info
Antennas Direct ClearStream 4 (C4-CJM)
Only the Leading Technologies
Looking at the compact dimensions of the ClearStream 4, very few people would suggest that it is a powerful attic antenna. But somehow, it's exactly what it is.
Encased in a small construction measuring just 18" x 28" x 8", the antenna requires very little place, allowing you to fix it on the rooftop, in your attic, as well as on the wall. At the same time, it lacks no power. Need proof? It is the patented loop technology. Thanks to this technology, the ClearStream 4 virtually pulls in the station and captures channels at a wider angle, saving you the need to keep adjusting its position with remote control. Plus, the antenna is fitted with a reflector. Not only does it give the added boost needed to extend the range of detected frequencies but also it prevents the signal from being affected by multipath interference. As a result, you can enjoy your favorite sitcoms and TV shows in fantastic Full HD quality with no delays or signal loss.
Similarly to most other antennas, the ClearStream 4 features a splitter function. This means you will be able to share your content between two TVs, which may come in handy for dwellings that have a couple of screens. Furthermore, it needs no extra amplification, which is more proof that powerful things don't necessarily have to be big.
The only gripe some users have about this antenna is that its wingnuts tend to get loose if you don't get them tightened well enough. That said, spending more time and doing everything properly from the get go will help avoid that issue.
All told, the ClearStream 4 is easily one of the best attic antennas on the market. It compiles with the highest quality standards and operates at a range of up to 70 miles from broadcast towers at UFH frequencies without using any amplifiers, so the top-notch quality of the image produced on your screen is guaranteed.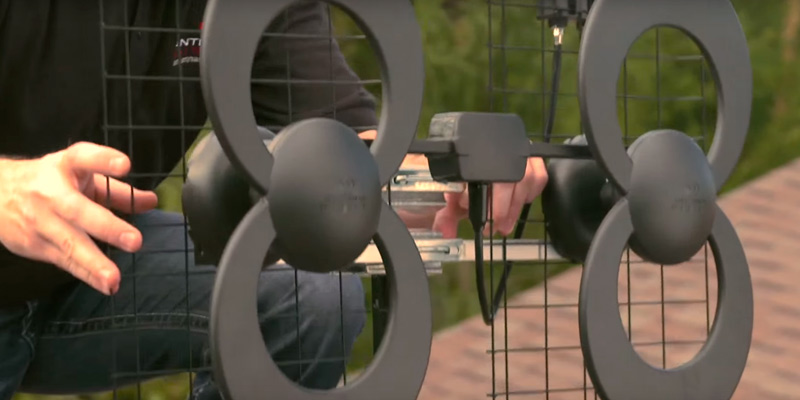 Additional Info
Last updated price

$

72.99

Stock
In stock
ASIN

B008PBTPOI
---
VIDEO
ClearStream™ 4 Assembly, Antennas Direct
What customers say about this product
Im running two 4k tv's with this antenna in my attic. I get all great pictures.
Reasonable size. All necessary hardware was included, including mounting lag bolts.
No matter which channel I went to, the picture was perfect. Instead of outdoors, I mounted it in the attic.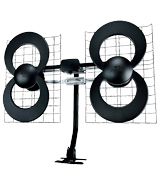 Antennas Direct ClearStream 4 (C4-CJM)
Five Star Outdoor
Best Solution for Areas With Lots of Interference
There are a lot of things to like about the Five Star Outdoor Attic Digital Amplified HDTV Antenna. First things first, it is its 200-mile range. With a range this wide, the unit will provide you with a strong HD TV signal with a slew of channels to choose from, giving you high resolution for local channels, news, weather and sports programs at VHF 40 - 230MHz and UHF 470 - 860MHz frequencies. Moreover, you can use it for as many as 5 TVs at a time, which will save you from having to purchase five separate devices. As a nice bonus, the upgraded 2020 version is featured with a strong gain booster (15-35dBi), meaning it'll provide high quality for HDTV too.
What sells the Five Star Outdoor Attic Digital Amplified HDTV Antenna before anything else, though, is its Advanced VHF UHF Reception with 6 reflector elements designed to improve the quality of the image 25% better than the usual four. To add to that, these reflectors are made with durability in mind so you can rest assured that they won't shift or fall off once you fix the antenna outdoors even if the weather gets windy. Also contributing to the stabilized signal is the LTE filter which ensures clear and accurate image by removing all kinds of interference coming from smartphones.
Finally, the other crucial aspect of the Five Star Outdoor Attic Digital Amplified HDTV Antenna is that it has 360-degree rotation. Thanks to that, you can expect to achieve a wider range by simply pressing one single button on the wireless remote control without even leaving your couch.
All of this makes the upgraded Five Star Outdoor Attic Digital Amplified HDTV Antenna perfect for people who live in rural areas with lots of signal interference as well as for those who need a means of sharing local channels or sports programs with their family members over five TVs at a time. The price for the product might seem steep, but given all the benefits you get in return, it's well worth it.
Additional Info
Last updated price

$

76.49

Stock
In stock
ASIN

B07YN62TM1
---
Five Star Outdoor
GE 33692
Does it the Old Way
The GE PRO 33692, for the most part, is an old school TV antenna from a trusted brand. Putting it in your attic, you'll be able to keep the antenna out of sight, all without decreasing the strength of the signal. By the way, that "putting" part shouldn't prove to be a challenge either.
Since a mounting bracket, mast, and assembly instructions come supplied with the antenna itself, you should be able to set it up in no time at all. Though it isn't necessarily the smallest model on this list, the aforementioned mounting hardware should allow you to install it even in the most restricted areas.
Again, this is, in just about every way, a traditional attic antenna. Incorporating signal enhancing reflectors, it will prove particularly suitable for people looking to use the antenna to set up their FM/DAB radio.
Using GE PRO 33692, you'll be able to access Fox, PBS, CBS, ABC, NBC, and an abundance of local channels in 1080p (Full HD) resolution.
The only issue we have with this model is that its gain is limited and it doesn't include an amplifier, so we would recommend purchasing one separately.
Apart from that, what we have here is an effective and relatively versatile attic antenna. With its excellent reception for both UHF and VHF stations, you'll be able to enjoy an uncompressed 1080p signal. Plus, it doesn't take a genius to set it up.
Additional Info
Last updated price

$

24.99

Stock
In stock
ASIN

B00DNJZ58M
---
GE 33692
GE home electrical 29884
Alternative to Satellite
Produced by one of the well-known brands, the GE Attic Mount TV Antenna has quite a number of functions necessary for a strong performance, bringing it on par with some of the best attic antennas in its range. Those customers who've already used it confirm it by praising its ability to pick up both VHF and UHF stations in Full HD quality within the range of 70 miles from a broadcast source, which is more than a decent range for a unit of this size. Plus, not dissimilar to most other attic antennas, it features a built-in reflector ensuring an unmatched viewing experience with no compromises in quality and with enhanced signal reception no matter the weather outside.
The thing we also like about this antenna is that it's very easy to set up. In fact, it comes supplied with all the necessary hardware including assembly instructions and a mounting pole for a broader signal range, so you can fix it on your rooftop or attic right out of the box. As is usually the case, the position that will get you the best signal reception is the highest spot on the roof, with the antenna being placed facing the nearest broadcast tower in your area.
What we also like is that it has a rough construction that can hold up to different weather conditions, and is supplied with a limited lifetime warranty, meaning if you have any issues with the product, the manufacturer will replace it shortly.
In all, if you are looking for a way to ditch using cables and paying monthly satellite bills, the GE Attic Mount TV Antenna ticks most of the right boxes. Not only will it provide you with access to the most popular channels, it is also 4K Ultra HD, meaning the quality of everything you'll see and hear on your TV will be top-notch. Besides, it doesn't cost a premium, making it a sound choice for pretty much anyone.
Additional Info
Last updated price

$

39.99

Stock
In stock
ASIN

B01MYMVPVX
---
GE home electrical 29884
MATIS 150 Miles
Drop Cable TV
Would you like to drop cable TV and save up to 960-2400 dollars per year? With the MATIS 150 Miles Digital Outdoor Attic Amplified HD TV antenna, it is possible to do. Using this antenna, you will be able to enjoy plenty of free content in high definition including most of the popular TV shows, sports, weather, news, as well as sitcoms and kids programs without having to pay the cost of satellite or cable television. More importantly, all those channels will be accessible for life, all broadcast in mesmerizing 4K Ultra HD quality.
What is surprising about this MATIS's outdoor antenna is that despite its lightweight design, it doesn't lack stability. In fact, according to the manufacturer, the product is amazingly robust and is capable of holding against snow, rain, hail, storm and whatnot, so once you mount it on your roof, it'll stay there as long as you want. Speaking of which, the installation kit necessary for mounting is included, making the setup process a real breeze.
To wrap up a few more things, the antenna offers a brilliant reception range of up 150 miles from a broadcast source, making it suitable for suburban and rural areas where people rarely part with their smartphones. To add to that, it has a built-in motor with 360-degree rotation, letting you rotate it and change its direction for the best possible signal perception. It's also worth noting that the product can pick digital FM, UHF and VHF signals, which's a lot more than what you'd get with many similar antennas at this price tag point.
Summing up, the MATIS 150 Miles Digital Outdoor Attic Amplified HD TV antenna is a fantastic option for installation on your roof. It is 4K ready, can pick signal from all top stations, has a built-in split function for broadcasting content between 2 TVs, and offers an incredible signal perception range up to 150 miles while coming at a more than affordable cost. So, if you want to cut down the cord and save money, it's a go-to option.
Last updated price

$

42.99

Stock
In stock
ASIN

B08LL8HQGS
---
MATIS 150 Miles
What Is an Attic Antenna?
Well, this one isn't difficult, is it? We all know what a regular TV antenna is, right? That specialized device designed to receive analog and/or digital signals that come from a tower or satellite? The device that, afterwards, transmits that signal directly to your TV set, which is, normally, how you get the picture to appear on your screen and how you're able to enjoy your favorite series? Alright, good, we're on the same page here.
There's practically no difference between a regular antenna and an attic antenna. In fact, most people probably associate the term "regular antenna" with attic models. As you'd imagine, the biggest difference is that these attic models are designed to fit your average attic. That being said, the majority of these antennas can be just as well used as rooftop antennas.
Just make sure to find out whether it comes supplied with an amplifier before you buy one and check how powerful the amplifier is. Other than that, keep in mind the size of the antenna and how it compares to the size of your attic and you should be able to figure out the rest.
After that, you can pick up a new TV remote or a wireless HDMI to declutter your living room.