Spanish can open many doors for you. However, if you haven't had a chance to learn it when you were a child, learning it might
be quite difficult and take a lot of time. Luckily, the market constantly introduces new methods and ways of studying Spanish, making it much easier for newbies to become fluent in Spanish and do it in a short amount of time. We've evaluated some of the most popular approaches used in education sector today, to help you find the one that will fully meet your requirements.
...
Read more
...Read less
X
This site is a free online resource that strives to offer helpful content and comparison features to its visitors. Please be advised that the operator of this site accepts advertising compensation from certain companies that appear on the site, and such compensation impacts the location and order in which the companies (and/or their products) are presented, and in some cases may also impact the scoring that is assigned to them. The scoring that appears on this site is determined by the site operator in its sole discretion, and should NOT be relied upon for accuracy purposes. In fact, Company/product listings on this page DO NOT imply endorsement by the site operator. Except as expressly set forth in our Terms of Use, all representations and warranties regarding the information presented on this page are disclaimed. The information which appears on this site is subject to change at any time. More info
What are the Best Spanish Courses Online?
Given that over 400 mln of people worldwide speak Spanish, it's not surprising now we've got such an array of online services with their own methods and approaches to delivering classes. For novice students who've just got into Spanish and are wondering which of the courses to choose, it may be quite a tricky task to pick out of thousands of sites the one that will offer relevant content with the focus on the questions they want to ask. This review is our attempt to help students find an easy way of learning Spanish and start speaking it fluently within months. We've evaluated a great number of Spanish courses online, paying attention to the content, the duration of program, interaction activities, dedicated assistance, as well as whether these classes were free or not, to offer you the major services to sign up and start your lessons at. Learning a foreign language shouldn't be difficult. It may take you time, but it should not take a lot of time. Looking through these courses, you will know it is true.
Fluent in 3 Months Plus Why Spanish is Easy
The Language of Love
"The language of love", - that's how Benny Lewis, a creator of "Why Spanish is Easy", calls Spanish, the language he managed to learn and start to speak from the day one. Traveling around the world in search of new ideas, he started to accumulate his own collection of shortcuts and with it, very soon succeeded to become a confident speaker. Now he offers students from all over the globe to join him in this venture and see for themselves that learning a language doesn't necessarily have to be difficult or take a lot of time. Even if you didn't yet have enough vocabulary to be fluent, he promises you would still be able to speak Spanish confidently, without a nerve, finding the exact words to say in different situations."Why Spanish is Easy" isn't a series of online courses in a proper sense of the word. It is a unique author's project, revealing a new and effective approach to learning Spanish. Written in a form of a book, "Why Spanish is Easy" manifests the best ideas on how one can improve communication skills without being intimidated by grammar rules, scarce vocabulary, and simple innate fears of talking to people of other nations. More to that, he promises you yourself will be encouraged and motivated to make contacts with natives to practice speaking Spanish. Spanish can open many doors for you, and with the"Why Spanish is Easy" at hand, you will open them quicker.
Who "Why Spanish Is Easy" Won't Fit
If you're a native or advanced speaker, "Why Spanish is Easy" isn't for you. It's written mainly for newbies and unconfident speakers who seek an effective means of learning basic vocabulary and grammar aspects to become fluent within a short while. It is also not for you if you want a complete language course with detailed guidelines and explanatory exercises. Remember, this isn't a course. "Why Spanish is Easy" stands out from the rest of the services by a completely new concept of learning the Spanish language. If you're not ready to go out of your comfort zone and live a busy day diligently following your daily schedule, this book will not work for you either.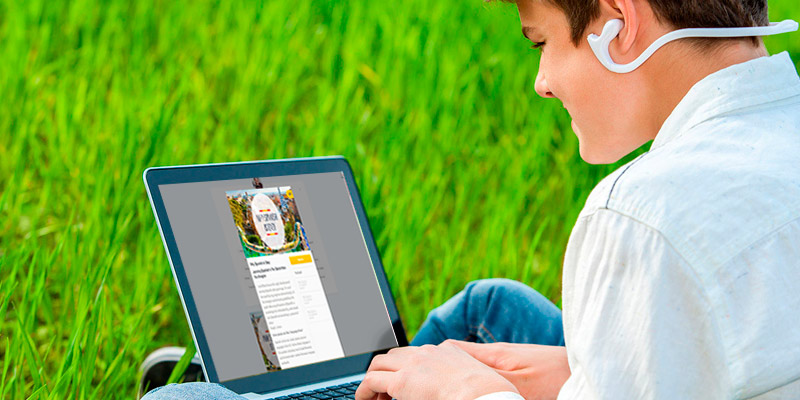 All Benefits and Extras You Get
What you'll get in the end is confidence, desire to speak Spanish and speak it most of the time. You will not confuse masculine and feminine genders, will be good at using verbs, recognize a lot of "new" words you've already known and will discover a lot of new ways to remember things. Instead of loading on you all the information, both relevant and irrelevant, Benni Lewis focuses on the grammar aspects that you should learn first and then, while you progress, unveils other aspects that can wait. The best of it all, you get complete independence, as you are not obliged to sit in front of the computer waiting for your lesson to start. You can take this book with you anywhere you go and keep practicing Spanish in a manner convenient to you. "Why Spanish is Easy" isn't free, and yet its price is by far cheaper than that you'd pay for private classes with a teacher. The bonus is, your access to materials and lessons will be totally limitless. And you will always be aware of the latest updates and releases as they will come right on your phone.
Additional Info
---
Fluent in 3 Months Plus Why Spanish is Easy
Coursera Learn Spanish
Meet New People Out of the Spanish-speaking World...
Coursera Learn Spanish online course unites people from all the corners of the world, making them go online at the same time, doing exercises together, listening to videos, speaking and learning new words, and doing it all in a fun and interactive way. Thus, if you struggle with self-discipline and find most teach-yourself books a waste of time, group classes are what may work for you best. According to thousands of people who've already completed this course, constant challenge and competition with peers allowed them to keep motivated and progress much faster than they did taking individual lessons.Coursera Learn Spanish online course is intended for beginning learners with a very basic vocabulary or none at all. It's divided into several courses with each containing grammar rules, video, interactive activities, and test in the end. Although it's recommended users follow specialization courses one by one, it is yet possible to take them in any order. This may come in handy if you've decided to terminate your previous course and start to learn Spanish with Coursera.
... and in the World of Romantic Spain
All students who complete specialization courses with Coursera have got a chance to go to Spain to apply their skills in practice. A single training course shouldn't take you longer than 5 months considering that you don't ignore recommendations and spend at least a short amount of time every day learning something new. Within this period of time, according to what creators of Coursera course claim, one can easily learn around 1500-2000 words, which should be enough to make dialogues and make out the plot of conversation with natives. Since Coursera course comprises a lot of interactive activities, you'll quickly get used to a quick Spanish speech and won't have a problem recognizing words when making a conversation with a native speaker in person.
The Benefits You Get With Coursera
The first and the obvious benefit you get is a competitive spirit. Working in a group of people joined together by a mutual passion for Spanish motivates to work harder and showcase in front of each other the knowledge you've already gained. The Coursera course can help students enter many new doors they couldn't walk through before without Spanish. Upon completing the course, everyone receives a certificate confirming the grade and their level of Spanish which they can further use to apply for a new job abroad the U.S. or use for travel purposes. Adding new skills to a LinkedIn profile may also be beneficial.
---
Coursera Learn Spanish
Fiverr Online Teacher
Your Individual Online Teacher
If you do believe that learning a foreign language can be done well only with the assistance of a proficient teacher, Fiverr global marketspace is your place of destination. Here you will find thousands of qualified teachers to start your lessons with. Driven mostly by freelancers, Fiverr platform remains a popular place for many people both learners and sellers, to come and practice their communication and writing skills. The idea of creating this platform was to give people an option to choose a teacher within the price range they can afford, take advantage of the individual courses without sharing one teacher with a dozen of other students, and arrange these classes to fit in their schedule. The tricky part is, you can never guess whether or not you will like the teacher and whether or not the lessons will really be good. Thus, this may feel like playing a gamble. On the other hand, you may find yourself in a great student-teacher relationship and have excellent lessons at a fraction of the cost of those given on many other online sources.
Why Do People Register With Fiverr?
This platform is good for many reasons and purposes. On Fiverr, you can be both a student and a seller, offering your services to other users willing to learn your native language. Since all sellers are rated, it's easy to figure who of them is more popular. People go on this marketspace to find professionals to involve in their projects and they find them. And we're more than sure you will also be lucky to find your teacher. Fiverr offers plenty of options and is accessible for everyone at the rates you can pay.
---
Fiverr Online Teacher
edX Basic Spanish Courses
Learn Spanish for Free
The edX is a big open-source platform that offers multiple online courses with the round-the-clock access to tutorial materials and lessons to all users willing to master their skills in different fields including Spanish. Governed by the best members of the world leading universities, the edX provides a great score of interactive activities, involving group classes and lessons running at a self-pace. Thus, you've got a chance to try several lesson samples for free and see which one of them works for you better. Using the edX, you will be able to improve your comprehensive, writing, and communication skills, as well as learn a lot of new words used throughout Spain and Latin America, get the dedicated assistance support, improve your pronunciation watching films with subtitles, and much more. The length of each course varies and lasts from 1 to several weeks. The platform includes a whole load of courses and learning material for students of all levels - beginners, intermediate, upper-intermediate and advanced.
Quality Education is Accessible for Everyone and from Everywhere
On the edX, you will get access to quality education and gain professional skills in the subjects and fields you're most interested in. More to that, in the end, you may get a verified certificate to showcase to your colleagues your new skills or post it on LinkedIn or Tweeter to add a few more scores to your profile. Taking courses on the edX, one can get free types of certificates - MicroMasters Certificate, Professional Certificate, and XSeries Certificate. Thus, it's possible to proceed with classes, upgrading your level from introductory to advanced, and get a certificate from the world-known teachers working in such giant universities as Harvard, UC Berkely, and MIT.
Advantages of Taking Lessons on the edX
The best about the edX platform is that it is good for all types of learners regardless of a learning style they prefer. It contains an enormous amount of content and provides a great number of tools, allowing visuals, auditors, and kinesthetics to discover different learning approaches and stick with the one they find most effective. Another obvious advantage of taking lessons on the edX is that you always get an updated content with the latest language changes and cultural peculiarities. Besides, you can make your own contribution to the platform by expanding its content with the information you know is relevant to the specific field.
---
edX Basic Spanish Courses
Lingualia Spanish Courses Online
Artificial Intelligence or Personalized Courses
You don't need to dedicate several hours a day to become fluent in Spanish. Even if you've got a couple of minutes a day, you can use them for your benefit. All you need to do is sign up with Lingualia and start learning Spanish already today. Driven by artificial-intelligence engine, this revolutionary new social network delivers customized lessons, instructions, and exercises according to your level and allows you to proceed with your results advancing in skills. The beauty about this software is that it can be used in parallel with other classes. Once you decide how many hours you're ready or want to spend a week, the program will tailor the course to fit your individual schedule and needs. As much entertaining and engaging as this social network is, it can nevertheless be regarded as a complete course. The moment your course starts, the page will display 10 Units with 5 lessons each. The structure of lessons is strict, and it's not possible to jump to a different lesson without passing the previous one. At the beginning of each lesson, students receive basic vocabulary that they need to learn, then they listen to it, and only then come to practicing it, doing written exercises and comprehensive tests. Lingua has got a great community of native speakers who will help you improve your language giving valuable recommendations and tips after each lesson. You will surely love your new experience.
New and Hi-tech Way of Learning Languages
You know what it's like to have private lessons with tutors. You need to set aside some of your other tasks just to be there on time. This isn't always convenient, especially for business people living on a busy schedule. Knowing that modern society is often very short on time, Lingualia allows you to access your lessons from mobile gadgets to let you keep learning Spanish even on the go. The progress you make throughout lessons automatically syncs with your smartphone and you can continue your lesson from the very that point you've left.
Why You Should Take Advantage of Lingualia
Lingualia offers all its students and newcomers an individual and wise teacher with who they can start their exciting adventure in the world of Spanish culture. This teacher, however, doesn't even slightly remind the one you saw in a lecture room. Boasting of an artificial intelligence, Lingu, that's what he's named, will follow you on your path to mastering a language, delivering personalized courses to meet your level skills. Lingu will ask you to pass a simple language test and then, based on these results, will tailor for you an individual course with the requested intensity of lessons and tasks. Basically, even if 5 minutes is the maximum you can spend a day to practice Spanish, you will be able to take advantage of this time.
---
Lingualia Spanish Courses Online