If you love music, if you wake up and go to bed with beats playing in your head, maybe it is time to bring the tunes to life? No
more excuses for putting off your dream! Now you can choose one of the best drum lessons to practice in the comfort of your home at any convenient time.
...
Read more
...Read less
X
This site is a free online resource that strives to offer helpful content and comparison features to its visitors. Please be advised that the operator of this site accepts advertising compensation from certain companies that appear on the site, and such compensation impacts the location and order in which the companies (and/or their products) are presented, and in some cases may also impact the scoring that is assigned to them. The scoring that appears on this site is determined by the site operator in its sole discretion, and should NOT be relied upon for accuracy purposes. In fact, Company/product listings on this page DO NOT imply endorsement by the site operator. Except as expressly set forth in our Terms of Use, all representations and warranties regarding the information presented on this page are disclaimed. The information which appears on this site is subject to change at any time. More info
Learn and master DVD Drum course
Get Motivated
It might be pretty challenging to learn something new. However, if you go from simple to complex, if the material is introduced in a sequential order and is clearly explained and demonstrated, mastering new skills will be both manageable and enjoyable. This DVD drum course was created to help you learn the basics and, step by step, beat by beat, help you improve your skills, bringing them to the next level each time you practice.
It is motivating to see your progress; it is even more encouraging and inspiring when your instructor is in love with his/her occupation and is dedicated to teaching. Dann Sherrill, an in-demand session drummer and percussionist who performs with an array of wonderful musicians and has recorded lots of CDs, publisher demos, and jingles, will guide you through the course. Dann's passion for playing and teaching drums inspires; he makes the material engaging and easy to comprehend, so you will have a great time practicing.
Play with a Band
In addition to a lesson book and DVDs, the package includes 5 Play-Along CDs with over 70 tracks, allowing you to practice with a band, which is a great fun and wonderful experience. All tracks are recorded in a studio with professional musicians; there are plenty of songs for both beginner and intermediate level, so you will be able to learn to accompany the band from the very start, bringing the skills you have just mastered to perfection. The tracks are mixed both with (allowing you to practice playing along with Dann) and without the drum part (so you can impress your family and friends soloing with the band).
Strive for Perfection
With these drum lessons, you will acquire fundamental knowledge and various skills, from setting up your drum kit and good practice habits to advanced techniques and creative soloing. In other words, it is perfect both for beginners and for more advanced drummers seeking to improve their performance. Moreover, this Learn & Master course covers various styles of playing drums, including rock, funk, jazz, blues, latin, and reggae. You can practice one or a couple of your favorites, or even try them all. What is more important, these lessons allow you to elaborate your own style and express your feelings through music.
Summing up, the course includes all the material to help you learn and master the drums in an easy and engaging way. There is no limit for perfection, of course, but a good start is half the battle.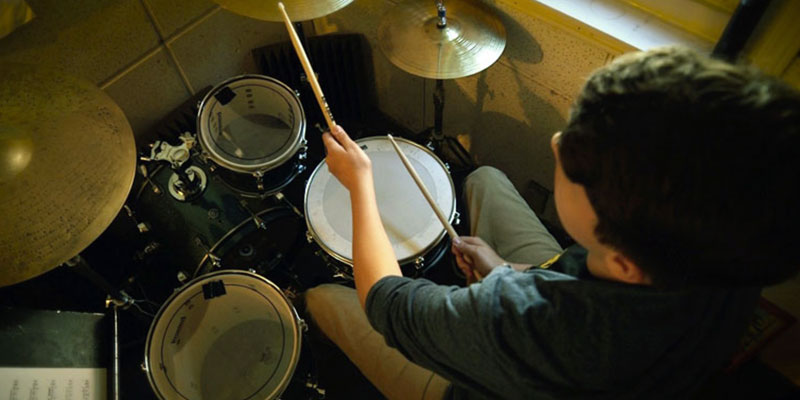 ---
Learn and master DVD Drum course
Hear and Play Secrets To Playing Drums Like A Pro
Secrets of the Craft
Each craft has its methods and tricks that only adepts know, and playing drums is not an exception. Not so long ago it took years for struggling musicians to discover them. Today, with this Hear and Play drum course, you can get the "secret knowledge" and use it right away. We are not saying you do not need to practice a lot to become a pro drummer. However, knowing the shortcuts, you will spend significantly less time learning. The instructor of the course Kennieth "Bam" Alexander, a wonderful drummer with over 20 years experience, will show you techniques and tricks and share the secrets of his craft. You will see how music is made, and you will learn to make it.
Play Like a Pro
It does not matter if you are just starting your journey or you have some experience and want to improve your drumming skills and master professional techniques; the course covers everything you need to learn to play like an expert, from basic to advanced level. Accordingly, it consists of three parts:
101: Basics and Fundamentals of Playing Drums by Ear (60+ minutes). It's just what you need to get started. You will learn how to hold your drumsticks, develop coordination and independence between your hands and feet, master "straight-ahead" beats, basic fills, and pocket-playing.
102: Intermediate Techniques and Rhythms (90+ minutes). You will learn to incorporate rudiments (single-, double-, and 5-stroke rolls, flams, flam taps, and paradiddles) into drum set playing. You will be shown how to play various patterns in different styles (jazz, rock, funk, gospel, Latin, and more) and will be taught lots of fills and tricks.
103: Advanced Licks, Tricks, and Grooves (60+ minutes). In this part, you will find even more leaks and tricks to expand your repertoire. You will master grooves and beats, stop patterns, hi-hat runs, crossovers, double bass pedal techniques, and many other advanced skills.
Nothing to Lose, Everything to Gain
Believe it or not, for this wonderful course a 100% 1-year satisfaction guarantee, a flexible payment plan, and various bonuses are offered. This is because the creators of Hear and Play drum lessons do believe in their product and have done everything to make their drum lessons interesting, informative, and easy to comprehend.
---
Hear and Play Secrets To Playing Drums Like A Pro
Zzounds Play Drums Today Beginner's Pack
Ideal for Beginners
Created by Hal Leonard Corporation, the world's largest print music publisher, this course is a perfect guide to the basics of playing drums. You will learn basics and fundamentals like holding your sticks, setting up your drums, reading music; parts of your instruments and how to play them, independence and coordination, music notation and basic song structure. And, certainly, you will master beats, fills, and various playing techniques. In addition, the tutorial covers all musical styles, allowing you to practice your favorite one and play in other styles. The course is ideal for self-teaching; it can also be used as an informative tutorial for private or group drum lessons. It is a great value for the money. Besides, zZounds, as a Hal Leonard authorized dealer, offers the lowest price on the market.
Book + DVD + CD
The package includes a book (48 pages) with clear instructions and detailed pictures and diagrams, a DVD to demonstrate techniques described in the book, and a high-quality CD with 99 demo tracks. Many users prefer paperback books to e-books, for they are nice to hold in hands and you do not have to turn your gadget on each time you want to check something. This wonderful tutorial was created to help you learn to play drums from scratch and gradually improve your skills in a fun and enjoyable way.
For Those Obsessed with Music
As this drum course is advertised, "it has everything you need - except the drums". As for the drums or any other musical equipment you need, you can find them at zZounds. Offering a huge selection of high-quality gear, they guarantee the lowest price, the best possible shipping costs, immediate shipment, and prompt delivery. No wonder zZounds.com is so popular among music lovers. Whatever you need for your music, you will find it on their website, and you are most likely to order again because of their excellent customer service.
---
Zzounds Play Drums Today Beginner's Pack
Musicademy Worship Drums for beginners
Good Start
This video tutorial is perfect both for beginners who have never played drums before and for those willing to go over the basics to improve their technique. The course includes three DVDs and lasts for 6 hours. In addition to beats, rhythms, and breaks, you will get tips on choosing and tuning your drum kit, good posture, and proper grip. You will master single and double strokes and paradiddles, learn to play with a click, and improve your timing. You will acquire some percussion skills, including djembe and conga. In addition to basics and fundamentals you can find in most beginners drum lessons, this Musicademy Worship Drums course covers techniques for playing hymns (contemporary style). If you want to play in a church worship band, this course is the perfect option.
Worship Music Lessons
Musicademy is famous all over the world for its training resources and courses created for Cristian musicians. They provide DVD and online worship-focused lessons for guitar, bass, keyboard players, drummers, and other instruments, as well as for singers and whole bands. They have created a great number of excellent tutorials for beginner, intermediate, and advanced levels, so you can learn from scratch or bring your skills to the next level. Depending on your needs, you can get DVD tutorials, download lessons, or subscribe to get access to the streams. On their website, you can also find worship backing tracks for smaller churches with no band and free worship-focused downloads. Musicademy offers highest quality worship courses on the web, and at the lowest price.
Improve Your Skills
In addition to this course for beginners, you can get Musicademy Intermediate Worship Drum course to further improve your technique, Hand Drumming & Percussion course to master hand drumming, and Drums Work-out CD for warming up and daily rehearsals. You can also download Drum Training tracks to practice with a band. All these tutorials will help you polish your skills, but what is more important, you will be taught by devoted teachers and professional worship musicians.
---
Musicademy Worship Drums for beginners
Fiverr Drum Lesson
Have It Done for You
Fiverr is a marketplace platform where you can buy and sell services. It's an ideal place to find your perfect music teacher for online lessons. Actually, you can find here almost any service you need. Being a convenient web platform for those who need some work done, Fiverr is also a perfect place for freelancers to offer their services. In case they maintain good quality and deliver on time, sellers get special opportunities and tools to grow their business. This, on the other hand, is a perfect way to guarantee that the users will have their tasks done well and on time. You can find a professional in almost any field, including writing, design, translation, marketing, programming, and more. You can purchase services (or gigs, as they are called here), using your Credit Card, PayPal or Fiverr Credit.
Learning in 21st Century
Modern technologies have made education available for anyone who's got a computer and internet connection. Today, you can gain almost any knowledge and learn any skill online, staying at home or any other comfortable place. If you like to communicate and get immediate feedback on your work, the best option is to take private lessons. It is sometimes difficult to find a good tutor; it is even more difficult to find time for such lessons. Things are different when you are learning online. For a Skype lesson, you can find teachers from any part of the world and "invite" them to your country, to your place for a 20-minute lesson, get the knowledge you need, and go back to your training with new skills and new tasks to master.
Personal Approach
Finding a good teacher is as important as finding a reliable friend. It is cool when your instructor inspires you and makes the material interesting and easy to comprehend. It is even better when you can communicate and tell them what style you are interested in. If you have a tutor, you can get personalized advice which will help you improve your technique. You can ask them questions, discuss your progress, correct any mistakes that otherwise may slow down your improvement. In other words, personal approach is a wonderful way to make drum lessons much more efficient and help you achieve impressive results in a shorter period of time.
---
Fiverr Drum Lesson
Infographics
---
What Are the Best Drum Lessons?
Because the web is now overwhelmed with information literally on any theme and subject, it is getting harder and harder to choose the right resource. You can spend hours searching for quality video, audio, and printed tutorials and find no suitable one. We've made this selection of drum lessons online to help you narrow down your choice while also making it easy for you to learn the benefits and advantages of different types of courses. Most of these courses come with step-by-step tutorials which not only fully cover the topic but also reveal shortcuts and secrets teaching you how to play drums and become successful. As a rule, they also include a lot of comprehensive video material that helps keep learners interested, engaged, and motivated. Most packs come with a book with the basic terms and concepts, DVDs that demonstrate techniques, and play-along CDs that allow practicing with a band. Alternatively, you can choose to take online lessons from a tutor. In this case, you will be given tasks according to your needs and your teacher's lesson plan and will be able to take advantage of personal approach while learning drums in the comfort of your home.
If you are interested in learning other musical instruments, you will find fantastic tutorials in our reviews on the best guitar and piano lessons.